Meal prepping is a key success strategy to make healthy meals and to stay on track to meet weight loss goals. This easy guide will get you get in the swing with healthy meal prep ideas and recipe suggestions.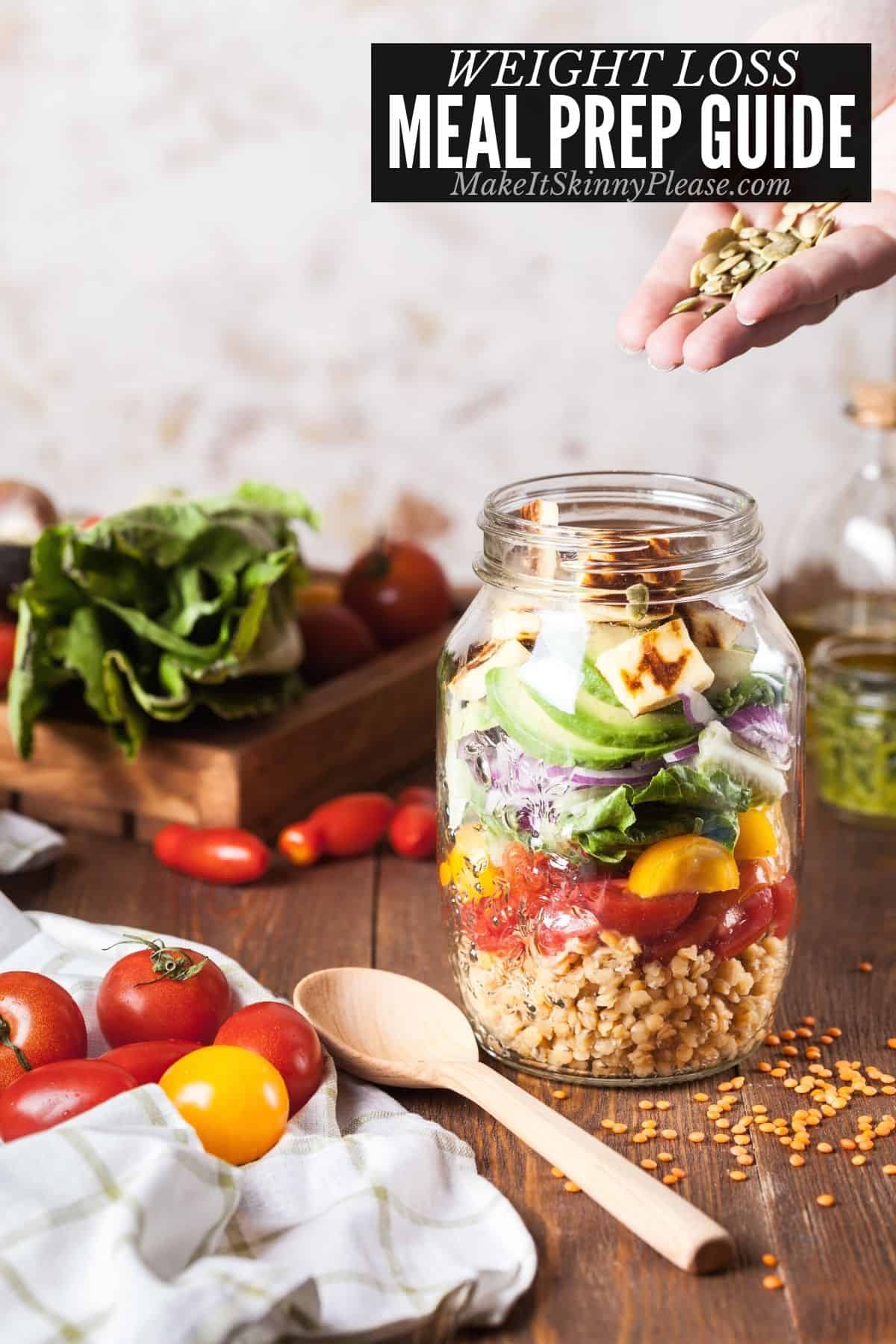 Do you find yourself staring into the refrigerator wondering what to eat? Or getting over hungry without a plan, then your eating plan goes off the rails?
Weekly meal prep is a great way to avoid that. It's homemade 'fast food' to grab and heat up quickly without any effort. It's a great tool to add to a weight loss journey to stick to your plan and let's you avoid lots of time spent daily preparing meals.
Figuring out what to eat for each meal can take a lot of time. Deciding WHAT to make can take the most time. Actively planning time to figure it all out and make it happen is a great strategy to support a healthy eating plan.
With active meal preparation you can create a week's worth of food in one sitting! Turn your favorite recipes into easy meals with weekly meal plans that will save you time and keep you on track.
We've got a GREAT free planner to help out too!
Jump to: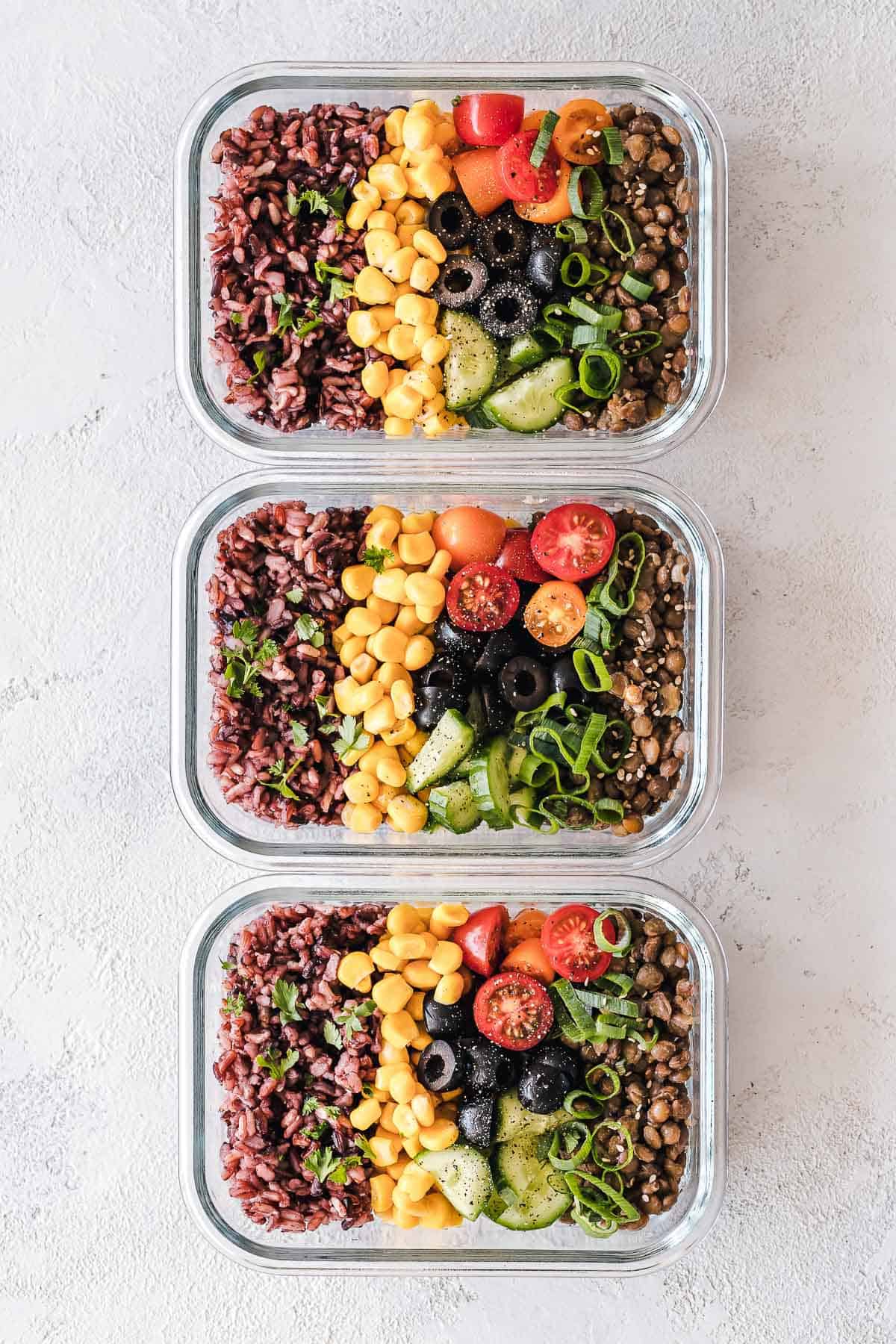 What is meal prepping?
Simply put, it's a practice of bulk preparing and portioning food in one session to be available in advance. It's great to do over a weekend before a busy week.
Instead of cooking daily or wondering what to eat for a given meal, you'll prepare a few recipes at once, package them up and have them on the ready to quickly heat up when needed.
What it isn't:
it doesn't mean making every meal for an entire week (unless you want to do that)
it's not for everyone. If planning ahead isn't for you, no worries!
Why meal prep?
When maintaining a healthy lifestyle, changing habits, monitoring calories or WW points, keeping track is a key for success. Did you know that those who keep a food journal can lose more weight?
Multiple medical studies have shown those who keep food journals are more likely to take weight off and keep it off. Why? Because they are tracking exactly what they are eating and how many calories (or WW points).
Meal prep definitely dovetails into that strategy in a couple ways:
You can track the calories or WW points when you portion out the meals
Reduce the temptation to order out for less healthy food choices
If tracking macros you can record the amount of protein, fats and carbohydrate in the meals prepped
It allows mixing and matching meals to meet daily nutrition and/or calorie targets
It's built in portion control
Gives you extra time during a busy week to do something else: see friends, get some exercise in or just relax!
You can prepare any meal of the day or snacks for an entire week!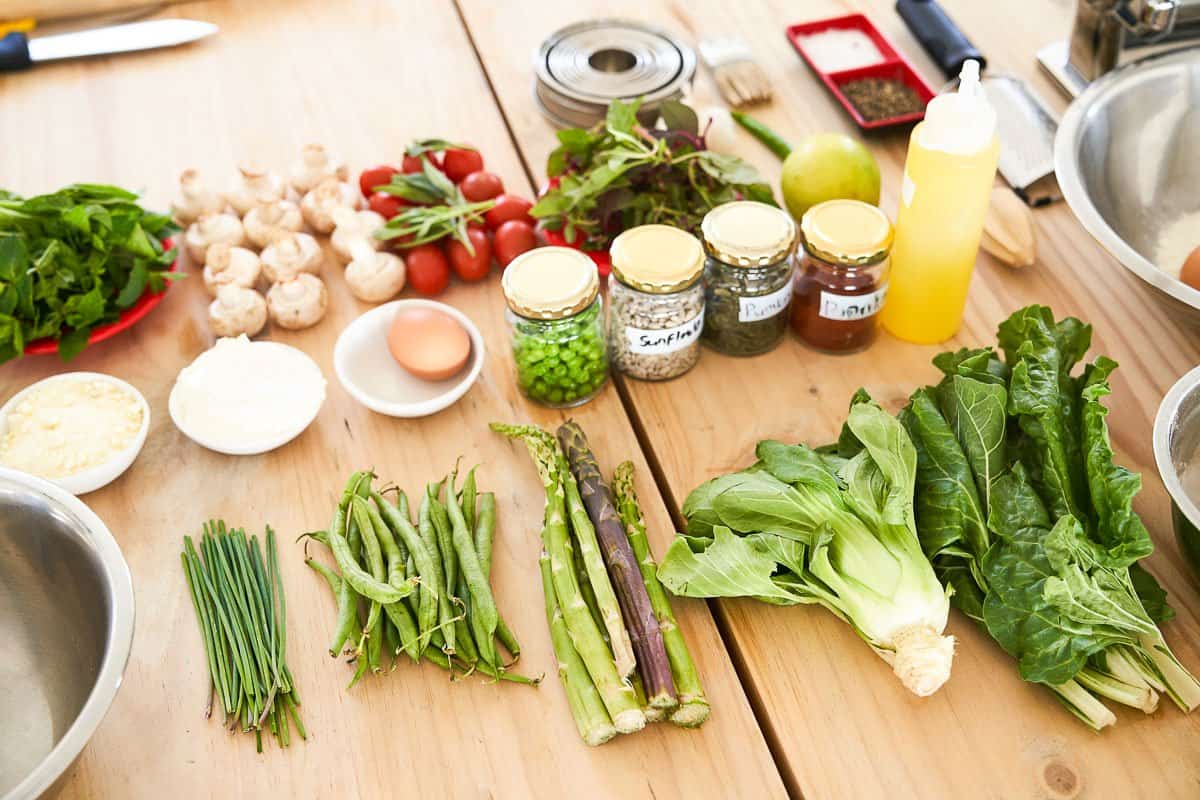 Questions to Ask Yourself
Thinking through these questions will help you decide what level of meal prepping would be helpful for you:
Do you want full meals or to prepare ingredients to make cooking meals faster?
Do you like trying new recipes or have some favorites you'd rather make on repeat?
What works best for you: a couple meals repeated throughout the week then changing to a new menu of meals the following week?
Do you want to only prepare a particular meal of the day or multiple meals?
These answers will also determine how much time you will need to set aside to meet your weekly meal prepping time. The more meals the more time (though many recipes can overlap each other too when making them).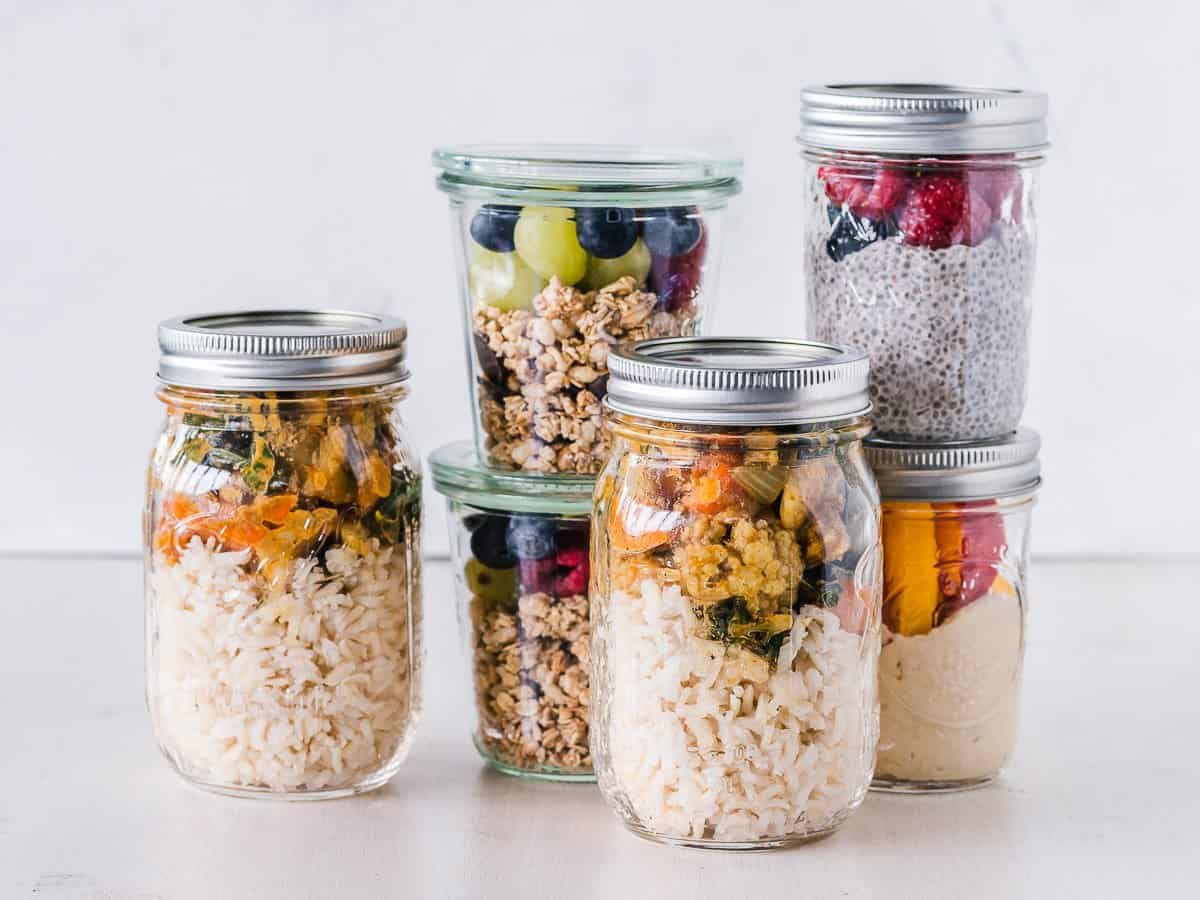 Containers are key
Since every meal will be stored in a container pick airtight containers that work for your needs. You'll find your favorite meal prep containers as you start creating meals. Here are some ideas:
Using a reliable food scale is also very handy for determining portions.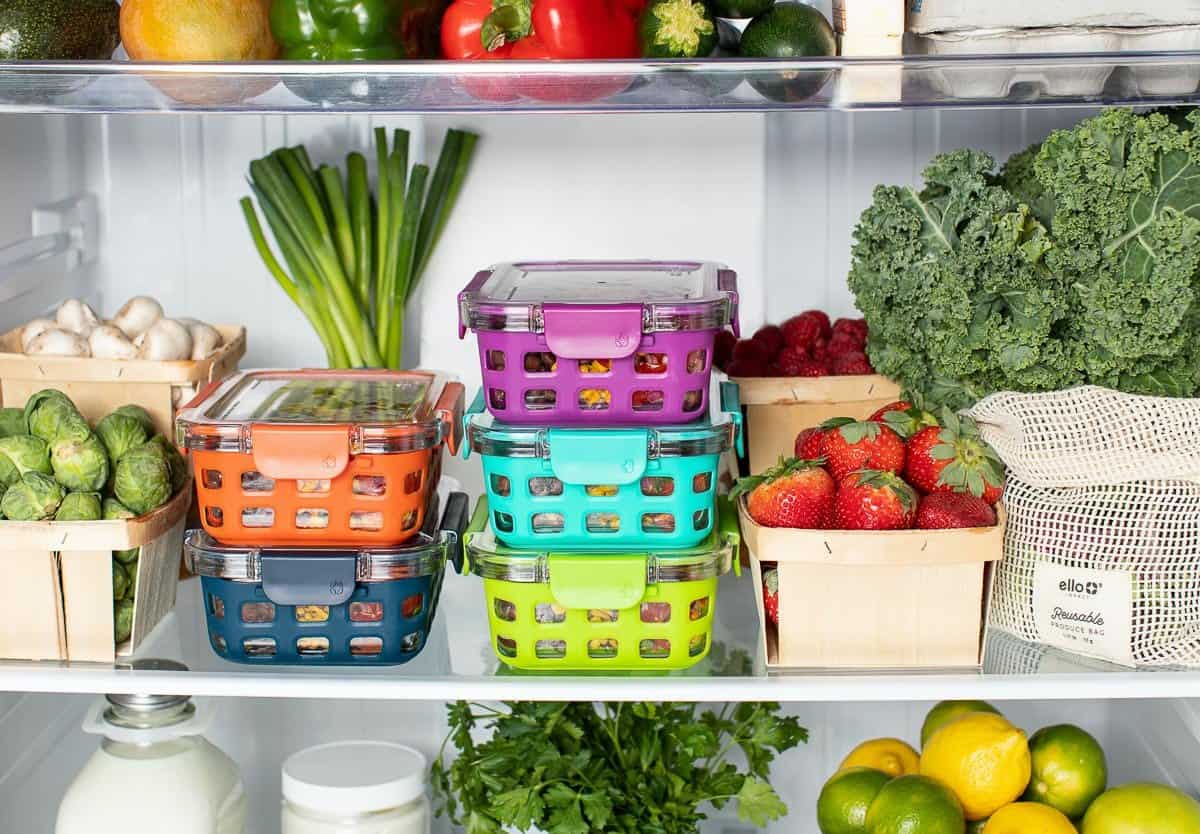 Stock the Pantry and Refrigerator
If you begin regular meal prepping you'll find certain ingredients are used more often which will help in grocery shopping too. Here are some basics to consider and add your own ingredients you use often:
Pantry Staples
Olive oil
Dried or canned beans and lentils
Low sodium soups
Whole grains (rolled oats, brown rice, quinoa)
Vinegars: apple cider vinegar, balsamic vinegar, rice vinegar
Kosher salt
Black peppercorns for freshly ground pepper
Spices
Low sodium chicken broth and vegetable stock
Refrigerator staples
Eggs
Milk: dairy or plant milk
Nut butters: no sugar added (though this is a calorie dense food a little bit used in the right recipe offers some great nutrition)
Low fat mayonnaise
Low sodium Soy Sauce
Unsalted butter or low calorie butter spread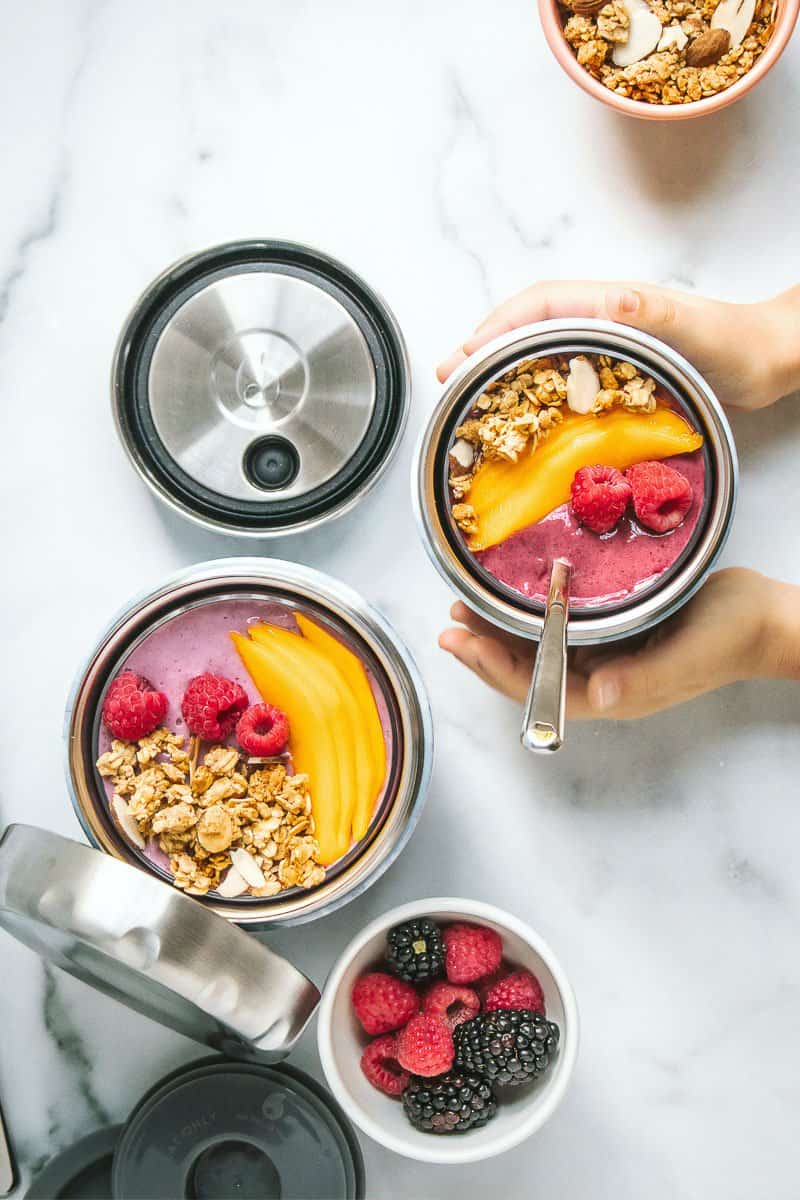 Meal planning
Next is setting up your meal prep routine. You may have to play around with this for a few weeks until you find the most effective way for you to make this work for you. For instance Sunday meal prep time is perfect before the week but maybe a better choice for you is to do it during the week so you have more free time on your weekend. There's not right or wrong way to do it!
Pick your menu for the week. Determine the meals and snacks you want to prepare and gather the recipes. This may mean full recipes for meals or ingredients you want to prep (cooking boneless chicken breasts, vegetables, grains like rice or quinoa, etc.) to use to create meals on the fly.
Create a list of needed ingredients. Whether for making recipes or ingredients, create a list. This could include ingredients prepped available to buy at the store too like zucchini noodles, cauliflower rice, bags of broccoli florets or cauliflower florets, or containers of lettuce or greens. Shopping with a list helps stick to your plan and avoid impulse (calorie-dense) buys when at the store too.
How often do you want to grocery shop? Some people want to get it all done for the week only once a week. Or are you a warehouse store once a month supply shopper? Others prepare to shop a few times a week. Consider that when making your plan and ingredient list. This also helps ensure perishable ingredients won't go bad (reduced food waste) and can save money.
Pick a day and set aside a couple hours. The good news? This shouldn't take all day. Give your self a time budget so your efforts are focused and bracketed (e.g. don't let it take all day....unless you want it to). Have fun with it. You could even invite a friend to join you, each prepare different meals and swap to get a variety for the week!
Free Meal Prep Planner
We have an awesome free 43-page Meal Prep Planner that will help you plan, set up a shopping list, keep track of what's in your pantry and freezer and more!
Food Storage Guidelines
This aspect of meal prepping is key: how long food are safe to keep. You want to store food together that have a similar timeframe and always eat them by the timing of the shortest food storage timeframe.
Example: you have a meal of cooked fish which should be stored up to 2 days and a salad which can be stored up to 4 days. You'd want to eat this meal within 2 days.
This handy chart from FoodSafety.gov spells out all the chilled storage specifics for different foods.
Food Safety Guidelines
There are some food safety basics when cooking or preparing meals.
Safe Cooking Temperatures
Using a food thermometer is the only sure way to determine if meats and poultry are fully cooked. Appearance of the meat and juices is not a guarantee to ensure foods are fully cooked; the doneness temperatures indicate no harmful bacteria is still present.
These temperatures from the Center for Disease Control.
| Meat and Poultry | Minimum Internal Cooking Temperature |
| --- | --- |
| Whole cuts of beef, pork or lamb | 145°F (rest for 3 minutes before carving) |
| Fin fish | 145°F (flesh must be opaque) |
| Raw, fresh ham | 145°F |
| Ground meats (beef and pork) | 160°F |
| All poultry (including ground chicken and turkey) | 165°F |
| Casseroles and heating leftovers | 165°F |
Center for Disease Control 'Four Steps to Food Safety'
Food handling
These are important to ensure harmful bacteria does not make anyone sick.
Wash hands and food preparation surfaces (cutting boards, knives, countertops)
wash before starting
after handing unpeeled vegetables, raw eggs, uncooked poultry, seafood or meat OR their juices
Rinse raw fruits and vegetables even if you plan to peel them. Bacteria can spread from the outside into the fruit as you peel them.
Do NOT rinse eggs, poultry or meat. It used to be a practice to rinse chicken before cooking. This is actually a no no. It can spread bacteria to other surfaces. Cooking will kill any bacteria present.
Use separate cutting boards and knives. If prepping multiple types of food at once, especially raw proteins, use separate cutting boards for each and separate knives. OR prep all of one type, thoroughly wash the cutting board and knives then prepare the next protein.
Don't thaw frozen meals or ingredients at room temperature. Always thaw in the refrigerator to avoid bacteria risk.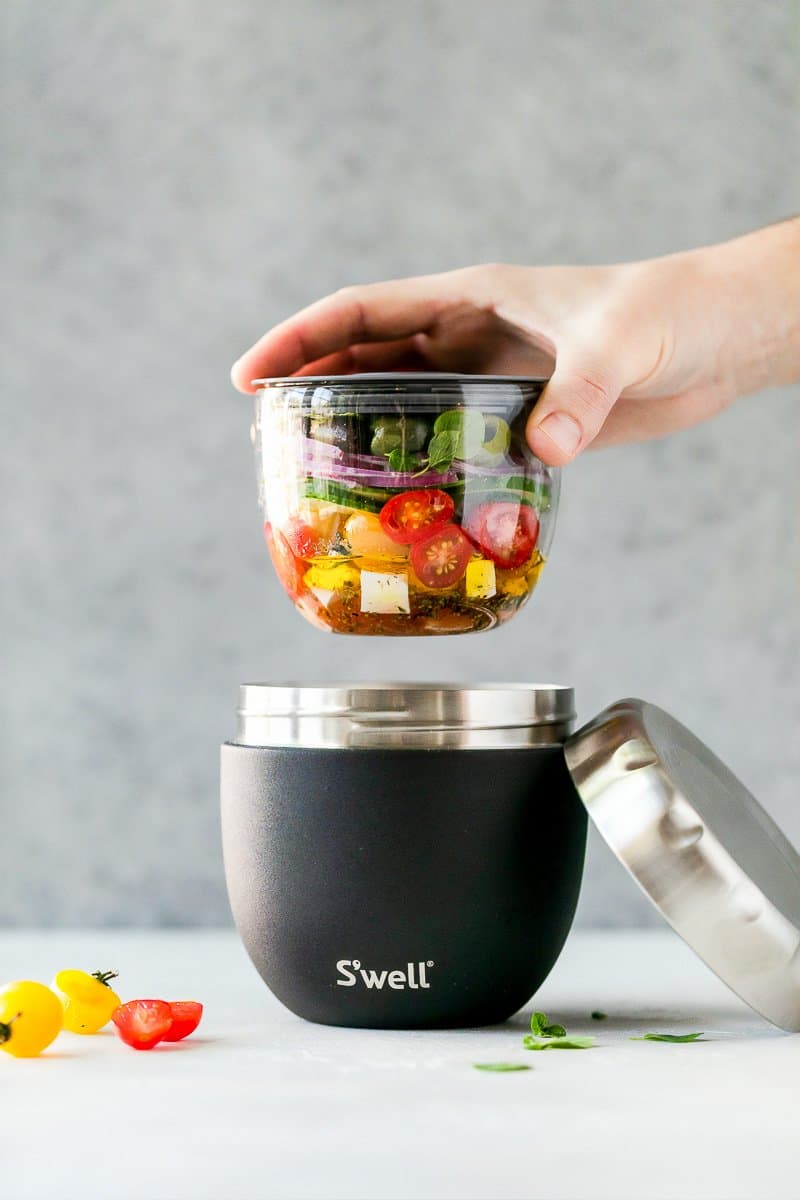 Tips for Success
Start small. Meal prepping can become overwhelming if you start with more meals than you can manage. Pick two to four meals for the week, gather the ingredients, set up a time to prepare and pack up the meals. See how that feels and add more (or less) the next week. The goal is to make this work for your lifestyle; there's no right or wrong way to do it.
Trying new recipes? Limit to two-three for the week max. Trying new recipes demands more time and focus, and can become overwhelming. Stick to just a couple a week plus old standards you've made before.
Pick your macronutrients. Picking a main protein source, carbohydrate (vegetables and grains) and healthy fats allows you to streamline recipes rather than having loads of different ingredients.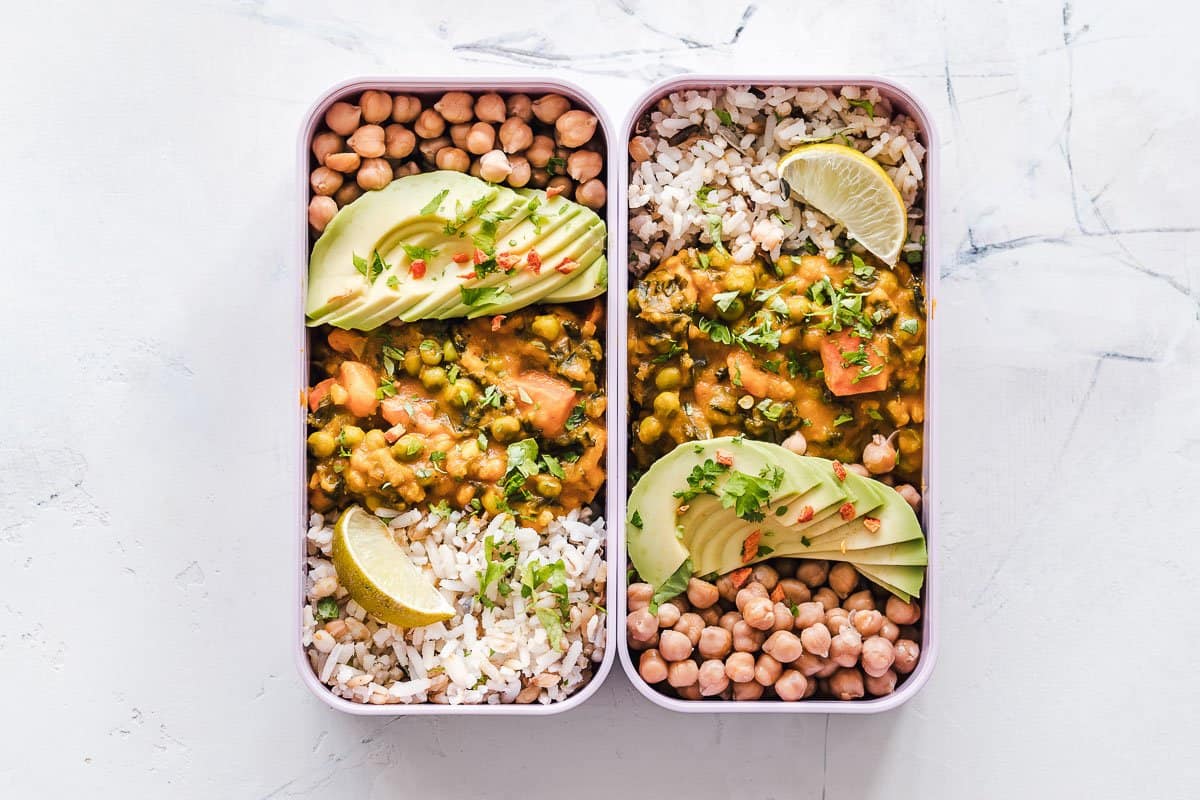 Nutrition Thoughts
Protein is filling and takes a longer time to digest so will keep you full longer. When on a weight loss journey it's also important to help preserve lean muscle mass while reducing calories.
Adding a good portion of protein to breakfast and lunch provides energy and will better avoid hunger pangs.
Carbohydrates are the body's primary source of energy so fueling up with a good selection of fruits, vegetables and healthy grains is a great choice for balanced meals.
Don't forget the fat! Sometimes thought of as the 'bad macro' but healthy fats are key for everything from brain function of healthy nails and skin. Using a little bit of olive oil in meal prep or snacks like nuts are a great choice and should fit within your weight loss plan.
Recipe Suggestions
Here are some recipes ideas to get you started! These recipes all do well for prepping multiple meals.
Cauliflower rice does not stay fresh as long as regular rice but it is a great option for the right protein pairing. Air Fryer recipes are fantastic for meal prep because they are so fast to prepare.
Snacks