It only takes 20 minutes to whip up this delicious simple Baked Salmon recipe. The lightly spicy-salty-sweet orange glaze makes it a favorite easy dinner the whole family loves.
There is nothing better than an easy baked salmon recipe for fast delicious dinners. It's no wonder salmon is such a popular fish. It's perfect for serving to guests too.
With only 15 minutes of cooking time it's an easy weeknight dinner win and a healthy dinner option too. Pair it with our air fryer carrots, air fryer green beans or some red cabbage slaw! It's a great dinner recipe for fresh salmon or frozen, thawed salmon.
Jump to:
What makes this skinny?
Though salmon is considered a 'fatty fish' that's not a bad thing. It is loaded with healthy fats, Omega-3 fatty acids and vitamin D. It's a leaner choice than beef or other higher calorie dishes like creamy pasta.
Using wild salmon brings down the calories, though either wild caught or farm raised salmon work with this recipe.
No butter used
Recipe Ingredient Notes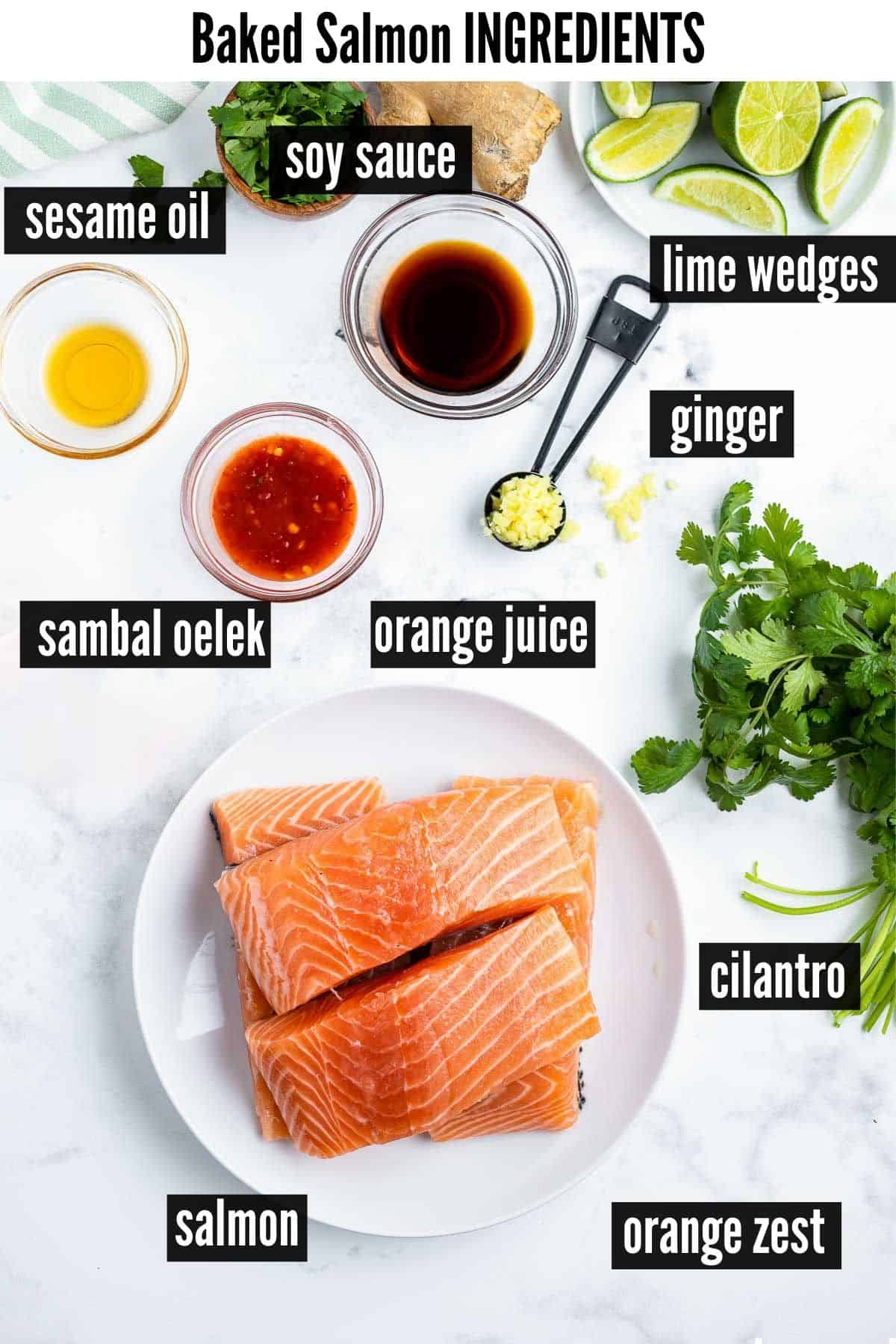 Salmon. You'll need 4 6-ounce salmon filets. They can be fresh fish or frozen and thawed. Try to get fillets the same size. The thickness of your salmon will determine cooking time. If they are all the same size they will cook in the same minutes of cook time.
Sambal Oelek. This is a thick spicy chili paste available in the international aisle of the grocery store. More details below.
Soy sauce. Use low sodium soy sauce, regular or gluten-free. For gluten-free regular tamari may be used.
Orange juice. Both zest and juice will be used. Always zest the orange before juicing it.
Sesame oil. Oil is needed in a sauce or marinade to convey the flavors into the salmon (or any meat being marinated). Only ½ teaspoon is used.
What is Sambal Oelek?
Sambal Oelek is a chili sauce or paste, typically made from a mixture of a variety of chili peppers with other ingredients such as garlic, ginger, shallot, scallion, palm sugar, and lime juice.
The word "sambal" is an Indonesian word referring to a sauce made primarily with chili peppers. "Oelek" refers to a mortar and pestle. It goes with everything. It is so good.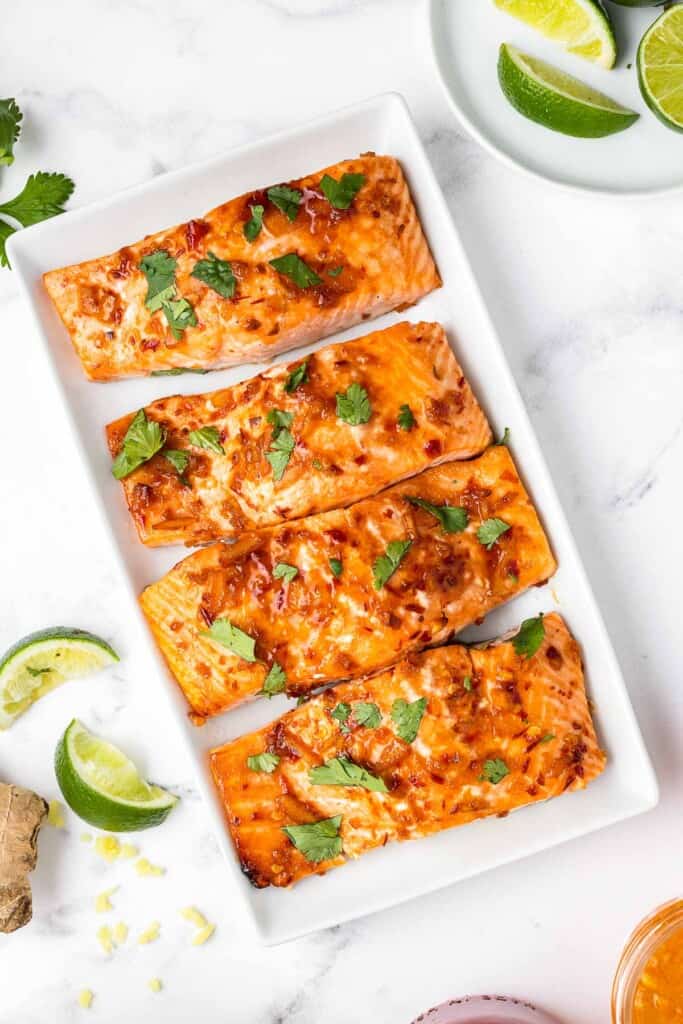 Wild Salmon vs Farm raised Salmon
There are different varieties of salmon: chinook salmon, coho salmon, sockeye salmon, king salmon, Atlantic salmon. The main thing that separates out the types of salmon is whether the salmon is farm raised or wild caught.
There are a few differences between farm raised and wild caught salmon. Farm raised salmon is available fresh all year long. It has a milder flavor and 38% more calories than wild caught salmon. It's usually less expensive than wild salmon too.
Wild salmon is available fresh during the summer months and other times of the year is available frozen. It has a stronger flavor and distinct deep salmon-red color. The texture is firmer and the salmon flakes wonderfully when cooked.
We based the calories for this recipe on wild salmon though any salmon can we used. Sockeye salmon for instance has 45 grams of protein in a 6-ounce fillet compared to 38 grams in the same size farm raised salmon. It has only 133 calories and 4.7 grams of fat making it a great choice.
Where to buy wild salmon?
Whole foods carries 2 pound frozen packages of each wild salmon and farm raised salmon in the frozen section. The fillets are sealed individually making it easy to grab one or two and leave the rest for later.
How to make Baked Salmon - Step-by-Step
STEP 1. Preparation
Preheat the oven to 425 degrees F. Line a rimmed sheet pan with foil lightly sprayed with non-stick cooking spray.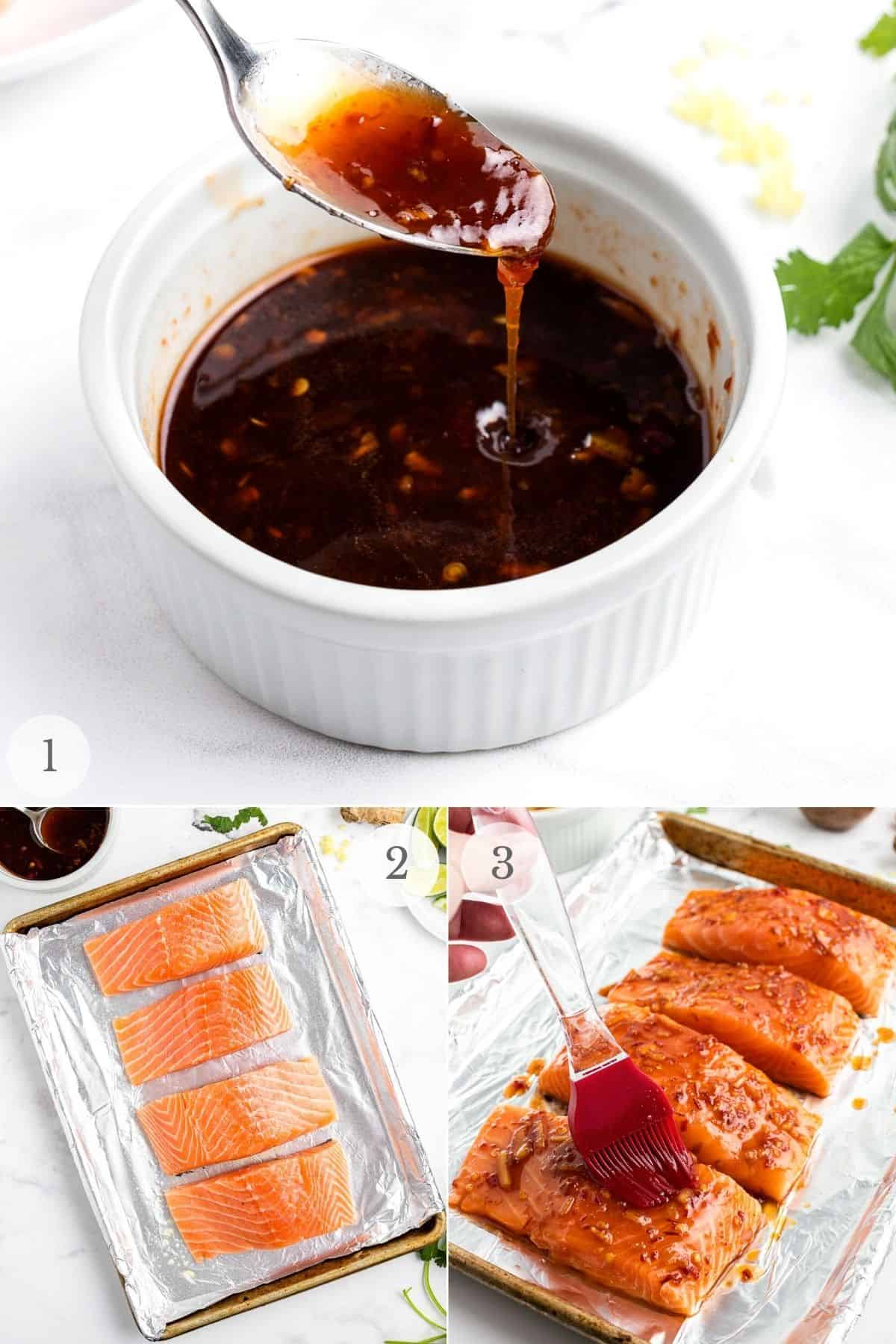 STEP 2. Make glaze
In a small bowl whisk together the sambal oelek, soy sauce, orange juice, sesame oil, ginger and orange zest (photo 1).
STEP 3. Bake salmon
Place salmon fillets skin side down on the prepared baking sheet (photo 2). Brush with the prepared glaze (photo 3-4). Cook for 15 minutes or until the internal temperature of the salmon reaches 145 degrees Fahrenheit.
If you have leftover glaze, brush more glaze on halfway through cooking.
Allow the salmon to rest a few minutes before serving. Serve with a sprinkling of freshly chopped cilantro and a lime wedge (photo 5).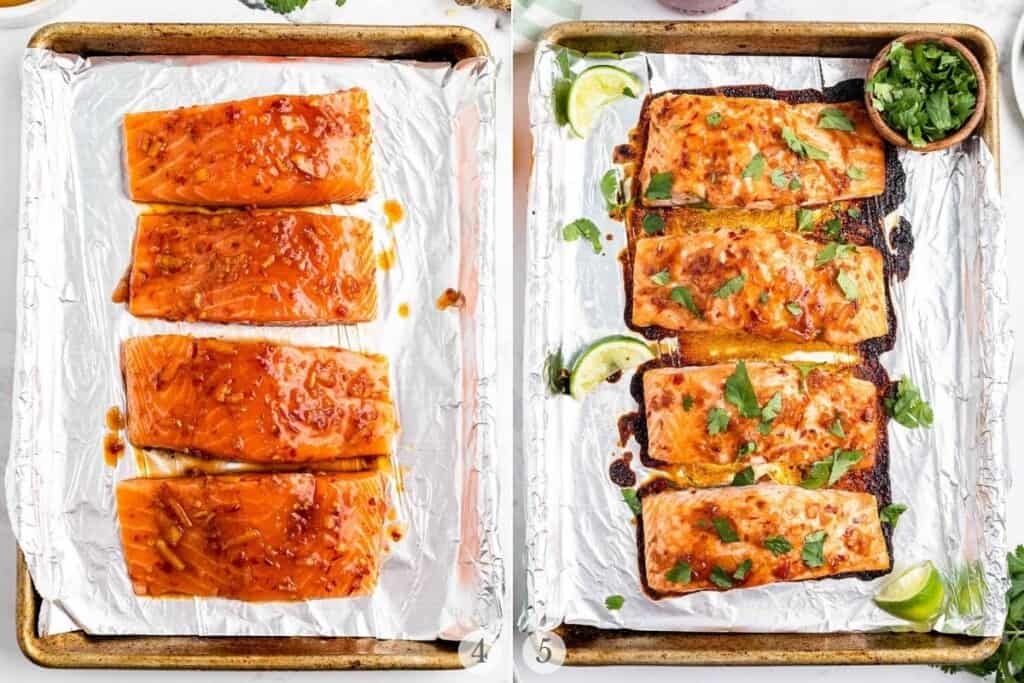 Frequently Asked Question
Is salmon skin edible?
Yes. Salmon skin contains many of the same Omega-3 oils and nutrients as the salmon. It's mild in flavor too. It's easy to remove after the salmon has cooked if you prefer not to eat it.
How to know if salmon is cooked?
It needs to reach 145 degrees F internal temperature. Using an instant-read thermometer for food is the most accurate way to determine the temperature. Insert the probe into the thickest part of the fillet.
How to remove salmon skin?
This is most easily done after the salmon is cooked. Gently lift the skin away from the meat with a fork and remove.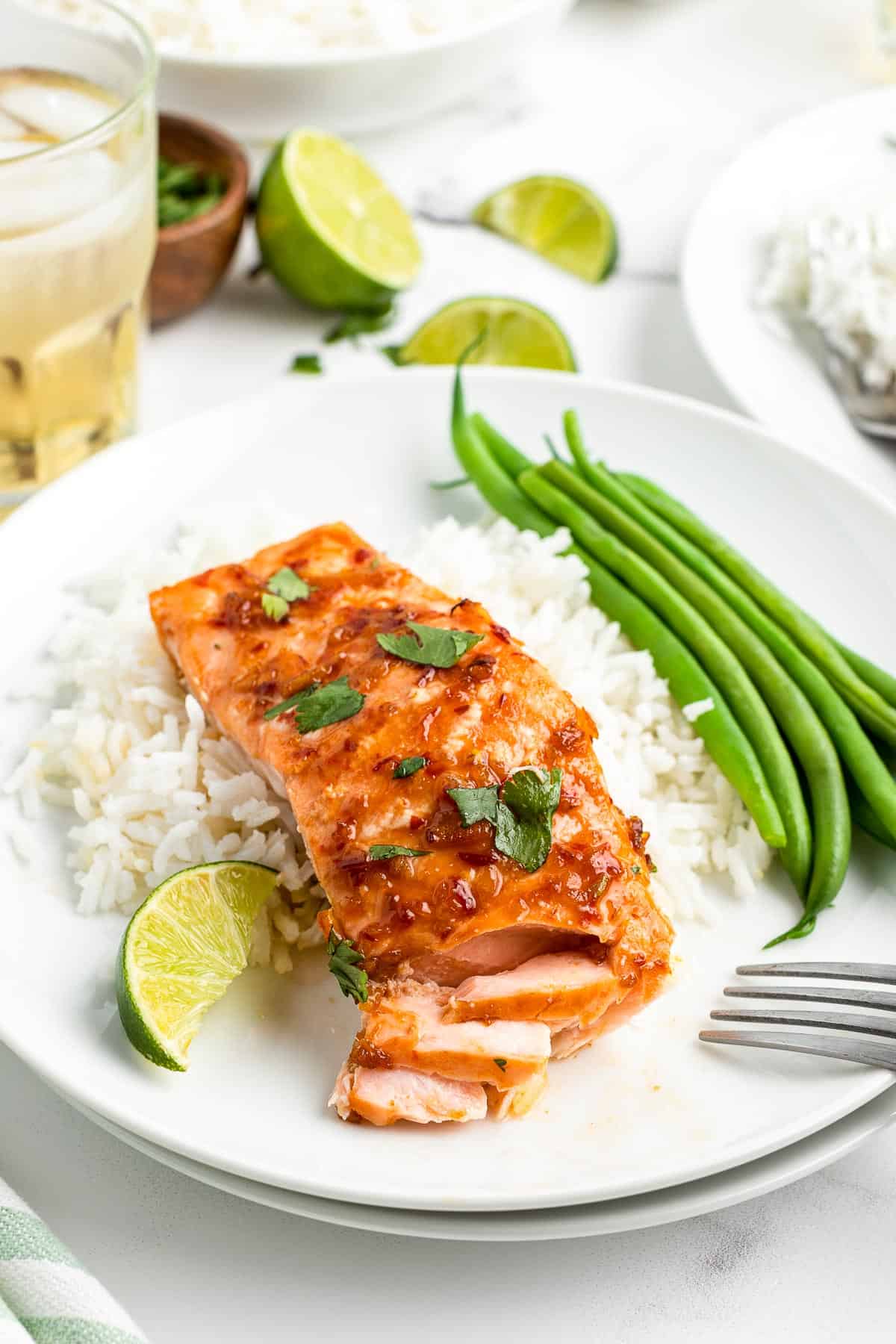 How to store
Store any leftover salmon in an airtight container in the refrigerator for up to 2 days. It can be rewarmed or eaten cold in a salad.
More recipes you'll love!
Recipe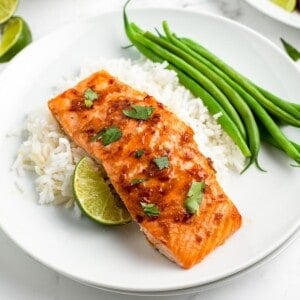 Ingredients
1

tablespoon

sambal oelek chili paste

2

tablespoons

low sodium soy sauce

regular or gluten-free

2

tablespoons

orange juice

1

teaspoon

orange zest

½

teaspoon

sesame oil

1

teaspoon

diced fresh ginger

4

6-oumce

salmon filets

wild salmon if possible

1

Tablespoon

chopped cilantro

optional garnish

Lime wedges

optional granish
Instructions
Preheat oven to 425 degrees. Line a rimmed baking sheet with foil lightly sprayed with non-stick cooking spray.

For the glaze: In a small mixing bowl, whisk together the chili paste, soy sauce, orange juice and zest, sesame oil and ginger. Set aside.

Place salmon filets on prepared pan, skin side down.

Brush salmon with the glaze. Place in oven for 15 minutes until just cooked through, and the fillets reach an internal temperature of 145 degrees.

Remove from oven, cover and allow to rest 5 minutes before serving.

Squeeze a lime wedge and sprinkle salmon with cilantro if using.
Notes
Weight Watchers points from previous program (WW SmartPoints):
Green: 4
Blue: 0
Purple: 0
The points values above are using wild caught sockeye salmon which is very lean. If substituting farm raised salmon the points would be:
Green: 8 Blue and Purple: 0
How to store leftovers
Store any leftover salmon in an airtight container in the refrigerator for up to 2 days. It can be rewarmed or eaten cold in a salad.
Nutrition
Calories:
259
kcal
|
Carbohydrates:
3
g
|
Protein:
34
g
|
Fat:
11
g
|
Saturated Fat:
2
g
|
Polyunsaturated Fat:
5
g
|
Monounsaturated Fat:
4
g
|
Cholesterol:
94
mg
|
Sodium:
342
mg
|
Potassium:
883
mg
|
Fiber:
1
g
|
Sugar:
1
g
|
Vitamin A:
102
IU
|
Vitamin C:
6
mg
|
Calcium:
24
mg
|
Iron:
2
mg