A Charcuterie Platter is a perfect appetizer for entertaining or a 'crackers-and-cheese' type dinner. With some simple choices it doesn't have to be a calorie trap either! We are sharing the easiest way to make this favorite appetizer skinny!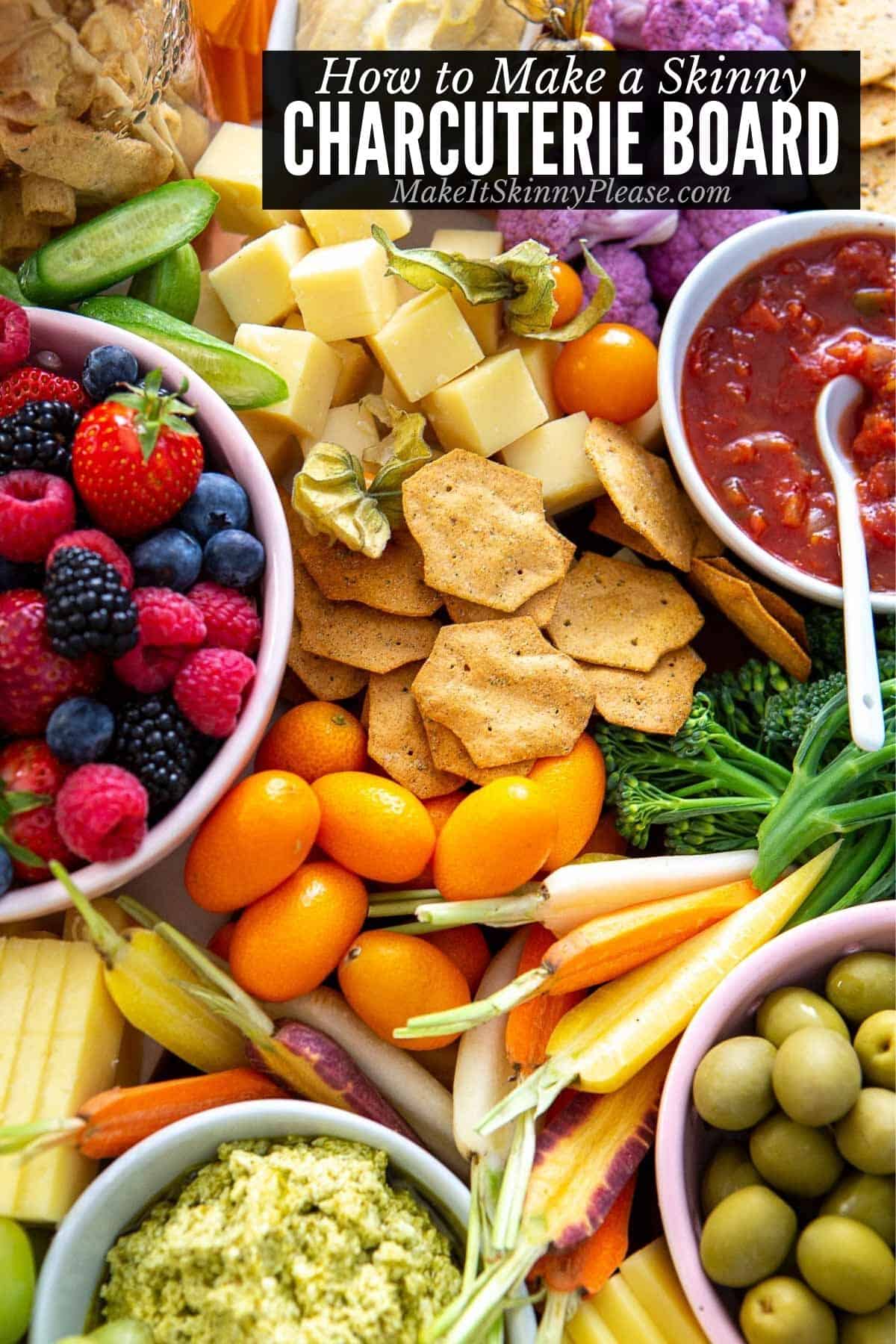 The best charcuterie boards provide a feast for the eyes and the stomach. They are an art-meets-food type appetizer or snacky dinner platter. Great for special occasions or just a lazy meal with your favorite things.
What you include is totally up to you and we have some guidelines (and a free printable CHEAT SHEET) to make them a favorite entertaining option rather than a scary calorie nightmare.
Making your own simple charcuterie board is easy with our skinny tips. Included is a free printable complete guide cheat sheet to help you make a beautiful board every time!
Jump to:
What is a charcuterie board?
The term charcuterie is a French word referring to cooking related to prepared and cured meat products (think bacon, ham, sausages, salami, etc). The 'board' part can refer literally to a board used on which a mosaic of meat is placed or to the dish as a whole.
Though technically charcuterie is all about meat, charcuterie boards or platters have become wildly popular over the past few years on social media. They have evolved to be a combo of a traditional charcuterie board and a cheese board.
You'll see them with everything from breakfast foods to desserts but still using the same name.
How to pronounce charcuterie?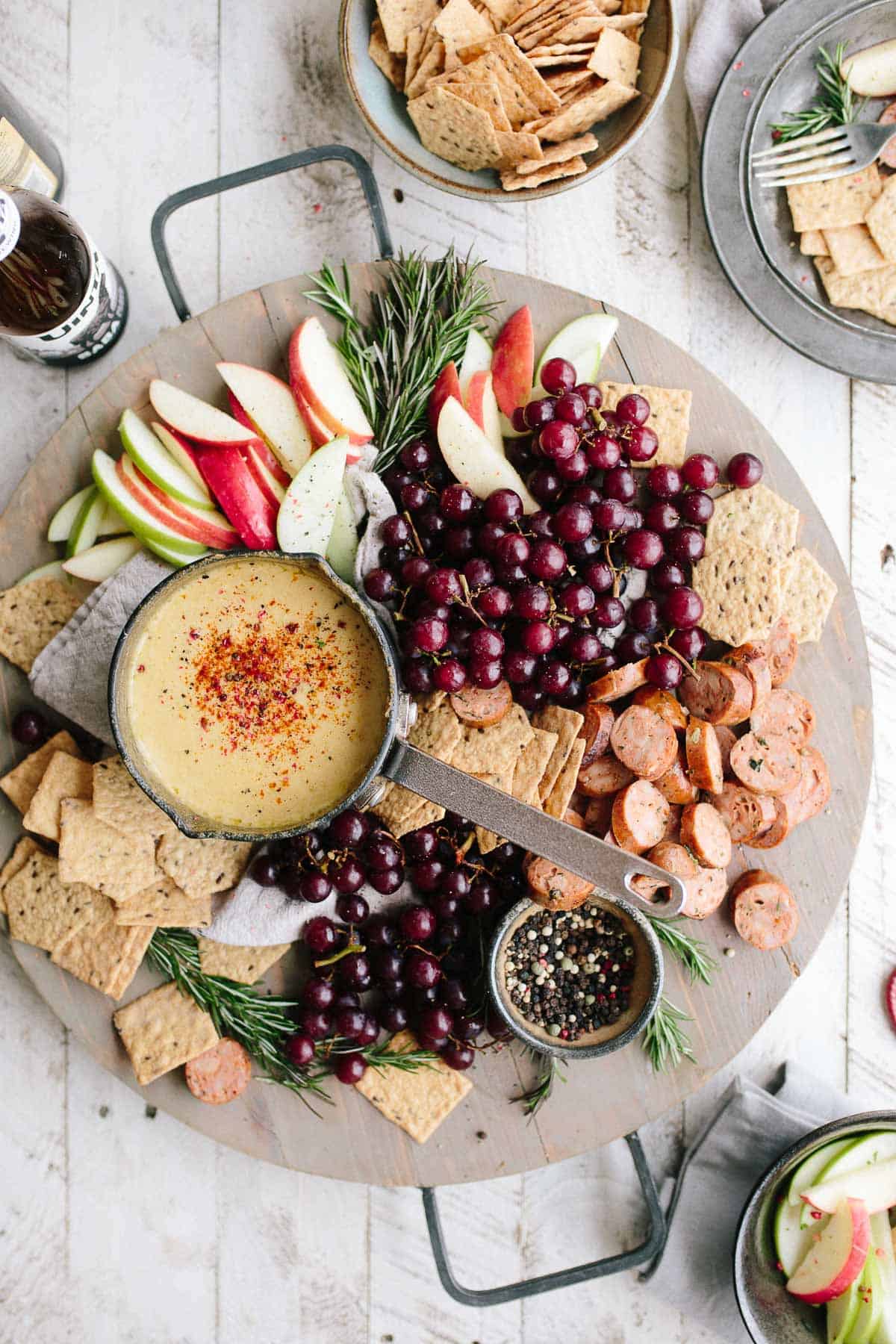 Skinny Charcuterie Board Tips
What makes a good charcuterie board? Great ingredients, different shapes, favorite meats, different cheeses and loads of fresh low calorie choices!
If you are making it for entertaining be sure to include plenty of things you know you can eat and enjoy!
When setting it up think about portions. Place ingredients in ways you can quickly assess and keep track of what you are eating. Use small bowls for individual portions of nuts, clumps of grapes, cubed cheese, etc.
When making is skinny load up on the fruits and vegetables rather than making an epic charcuterie board of mainly meats and cheeses.
Include a combination of texture, colors and flavors. They should be exciting to the eyes and the palette.
Combine salty, sweet, and savory flavors.
We are sharing photos of different ways to organize boards too for inspiration! They are not all 'skinny' but illustrate ways to combine ingredients.
Supplies
You'll need a board. It can be an official charcuterie board or a large cutting board. Consider how many you'll be serving to choose a large board or smaller board.
Cheese knives are great to set out. They make knives for soft cheeses and hard cheese.
Disposable appetizer forks. Also called tasting forks these are a great way for guests to serve themselves from their plate especially if you won't include lots of crackers or bread sliced.
Toothpicks. Both to stick into ingredients like cheese cubes or vegetables like cherry tomatoes. Decorative toothpicks or holiday toothpicks are fun for a party!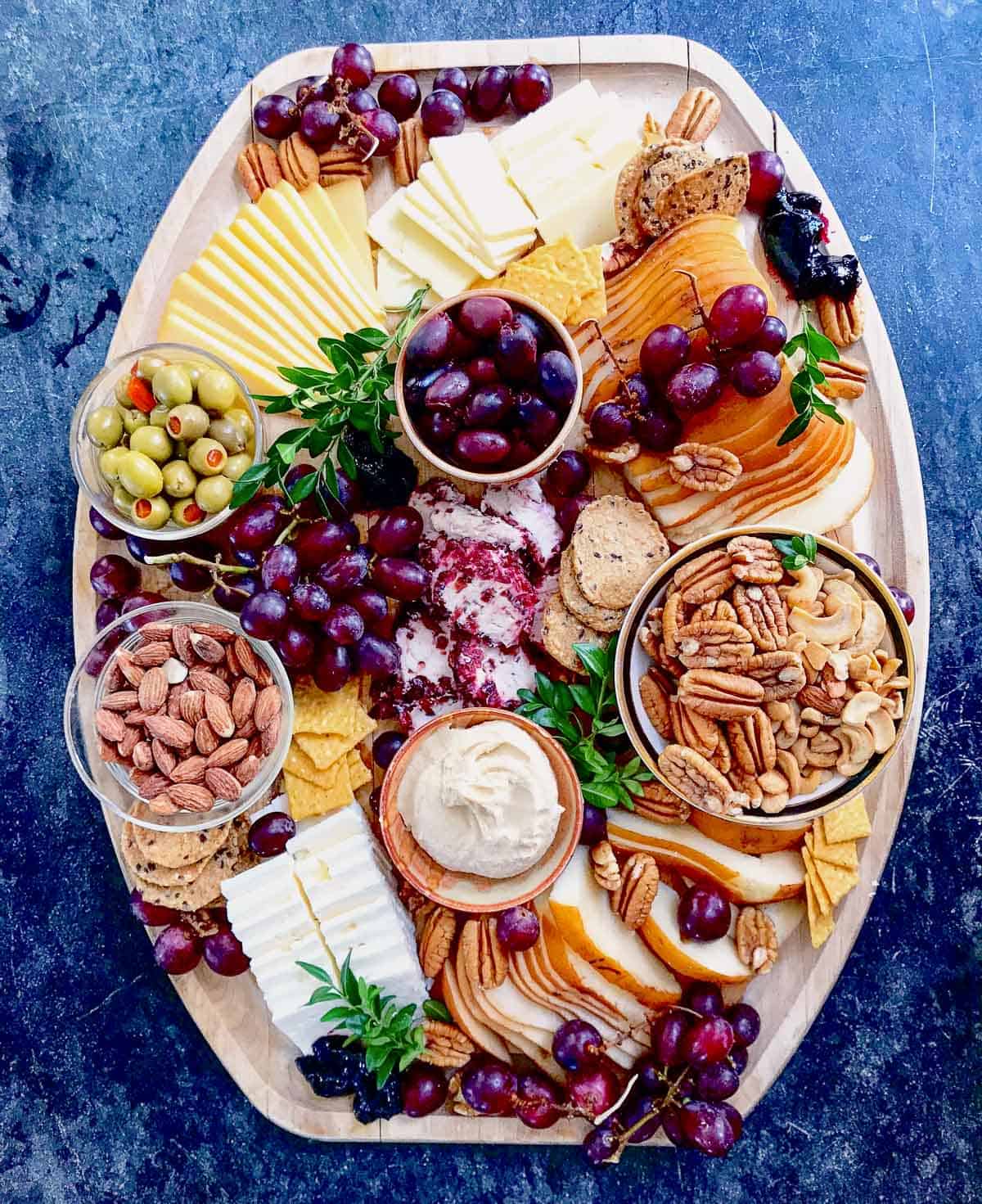 How to Make a Perfect Skinny Charcuterie Board cheat sheet - Printable!
Download a FREE printable Charcuterie Board cheat sheet!
This one page guide tells you step by step how to set up a Charcuterie Board at home using our ingredient ideas shared here.
Ingredient amounts
As a general rule of thumb use the following serving amounts to build the perfect board. Recommended amounts per guest (for an appetizer):
Meat - 2 ounces
Cheese - 2 ounces
Crackers or sliced bread - 4 ounces (this is optional)
Fruits or vegetables - equivalent of 2 whole
If serving this as a dinner double the amounts.
Simple Charcuterie Board Ideas
Meat
Use lean sliced deli meats: ham, turkey, smoked turkey, even very thinly sliced salami instead of fatty cured meats like thickly cut salami. Having a selection of lean meats adds skinny options and makes a beautiful charcuterie board.
Slices of fully cooked chicken sausages are great too (the type of sausage you buy fully cooked). They usually are lower in calories and Weight Watchers points and come in different flavors.
Cheese
Having a variety of cheeses from firm cheese to creamy cheese adds versatility but can pack on the calories too. Choose reduced fat cheeses or plan the portions out beforehand.
Slicing it yourself can end up in 100's of calories quickly unless it's done very thinly. Here are some of our favorite choices:
Light babybel cheese. Remove the outer wrapping and the red wax covering is festive for the Christmas holidays and no one knows it's light from the flavor. It adds a beautiful color and shape to the platter.
A favorite is salami wrapped around a stick of mozzarella cheese. Here's how to make it skinny:
Use a low fat mozzarella cheese stick and use a leaner meat. Frigo makes a delicious light mozzarella stick (string cheese) that's low in calories and Weight Watchers points.
Use a salami 'lunch meat' which is cut thinner. Hormel makes an Uncured Hard Salami in their Natural Choice line. It's thinly cut, no artificial ingredients, gluten-free and 110 calories for 4 slices.
Wrap 1 slice around 1 cheese stick and add to your board.
Choose a few types of cheese cut into cubes or sliced squares. Figure out ahead of time how many ounces they are and how many calories or WW points so you can create an allowance for yourself. Smaller cubes are often sold pre-packaged in the dairy department of the grocery store.
Serve with toothpicks for more sanitary grabbing. You can make it fun with decorative toothpicks for gathering theme too.
For sliceable hard cheese: Parmesan is a great choice. Serve a wedge not pre-grated cheese as you'd use in a recipe like our Zucchini Lasagna Roll Ups. It has a bold flavor and a little goes a long way. Guests can slice a bit off on their own. It pairs well with slices of apple and pear as well as on a slice of meat.
Soft Cheese: If adding a soft cheese goat cheese is a good choice. There are different flavors usually with fresh herbs. It adds a tangy flavor and is lower in calories than something like blue cheese.
Nuts
Nuts are a wholesome choice but the calories add up quickly. If serving a crowd creating small cups of nuts that guests can take (rather than a big bowl) works great. Use something like paper nut cups that are disposable that you can portion them out beforehand so you know how many calories each one has.
Serving some whole raw almonds, spiced nuts or pistachios (in the shell so there is some effort to eat them) are a great compliment both visually and flavor wise.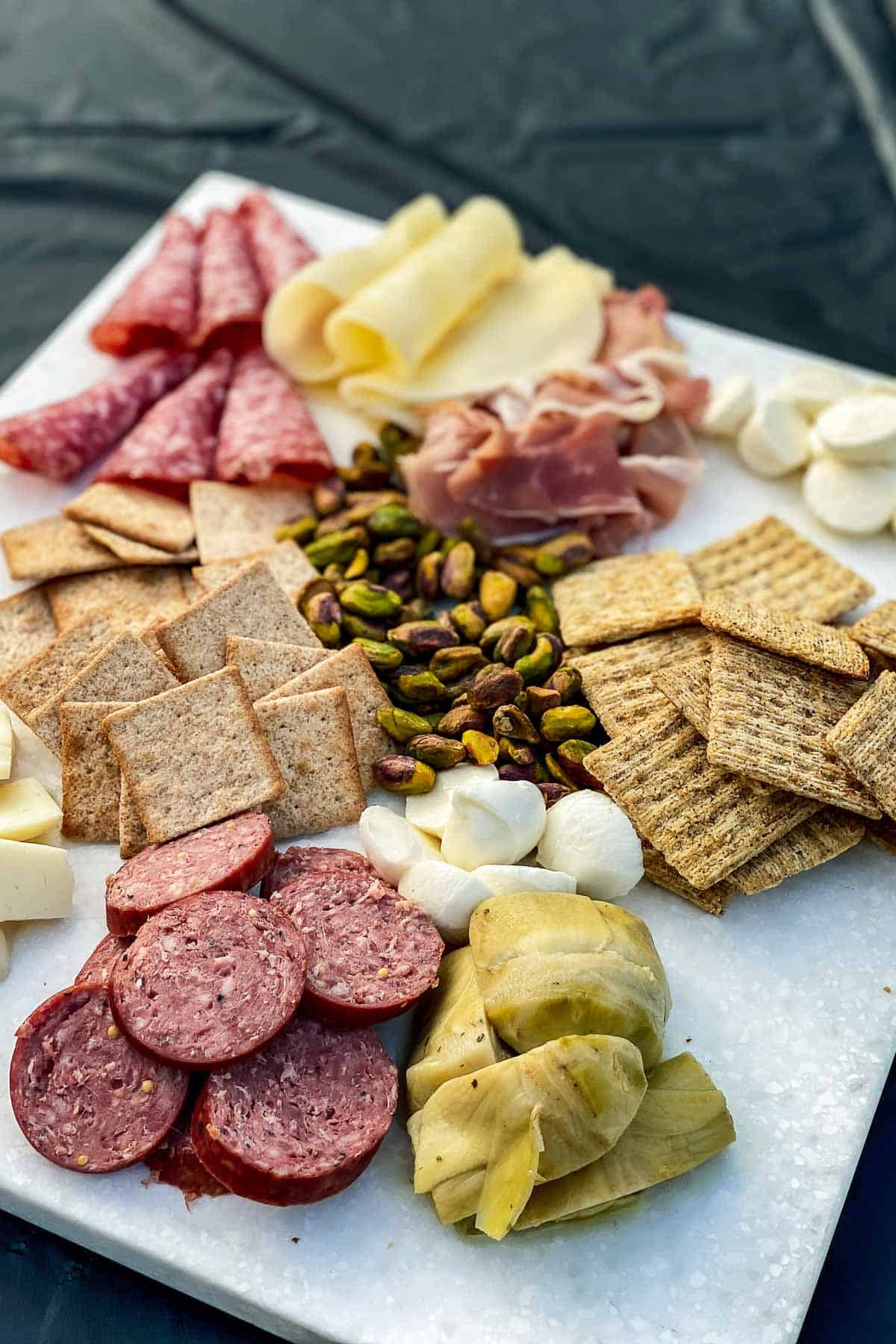 Fruit
Fresh fruit is always a great healthy and calorie-wise option.
Individual clumps of grape guests can grab and put on their plate. Mix different colors on the charcuterie board.
Sliced pears and sliced apples are great. They will begin to brown if sitting out. You can dip them in lemon juice before adding them to the board to make them last longer before browning.
Fresh berries.
Using dried fruit. Because dried fruit has been dehydrated it is significantly higher in calories than fresh fruit. Example: 430 calories in a cup of raisins versus 60 calories in cup of grapes. For a skinny charcuterie plate stick to fresh fruits.
Vegetables
This category is the land of opportunity. You can add loads of flavor, color, shapes and textures with a very low calorie spend. Bulk up on these!
Baby Carrots
Slices of bell peppers (choose different colors)
Celery
Cherry tomatoes or grape tomatoes
Jicama sticks (these are great for dipping too)
Snap peas
Radishes
Cucumber slices or spears
Broccoli florets
Cauliflower florets (try different colors if you can find them)
Crackers
Often crackers or sliced thin baguette are included. This is definitely a calorie trap if you aren't paying attention.
The general guideline is 4-ounces per person for a regular charcuterie platter. Adding more vegetables and decreasing the crackers will make it more filling and lower the calories!
Choose lower calorie crackers like Mary's Gone Crackers seed crackers, Nut Thins or Good Thins. You get the benefit of a cracker but they are thin and lower calorie.
Extras
Condiments are a great addition. Grainy mustard or hummus. A light yogurt based dip (skinny Tzatziki Sauce) or even salsa depending on the other ingredients are low calorie dipping options.
Some tiny cornichon or petite dill pickles for some crunch and pop of flavor.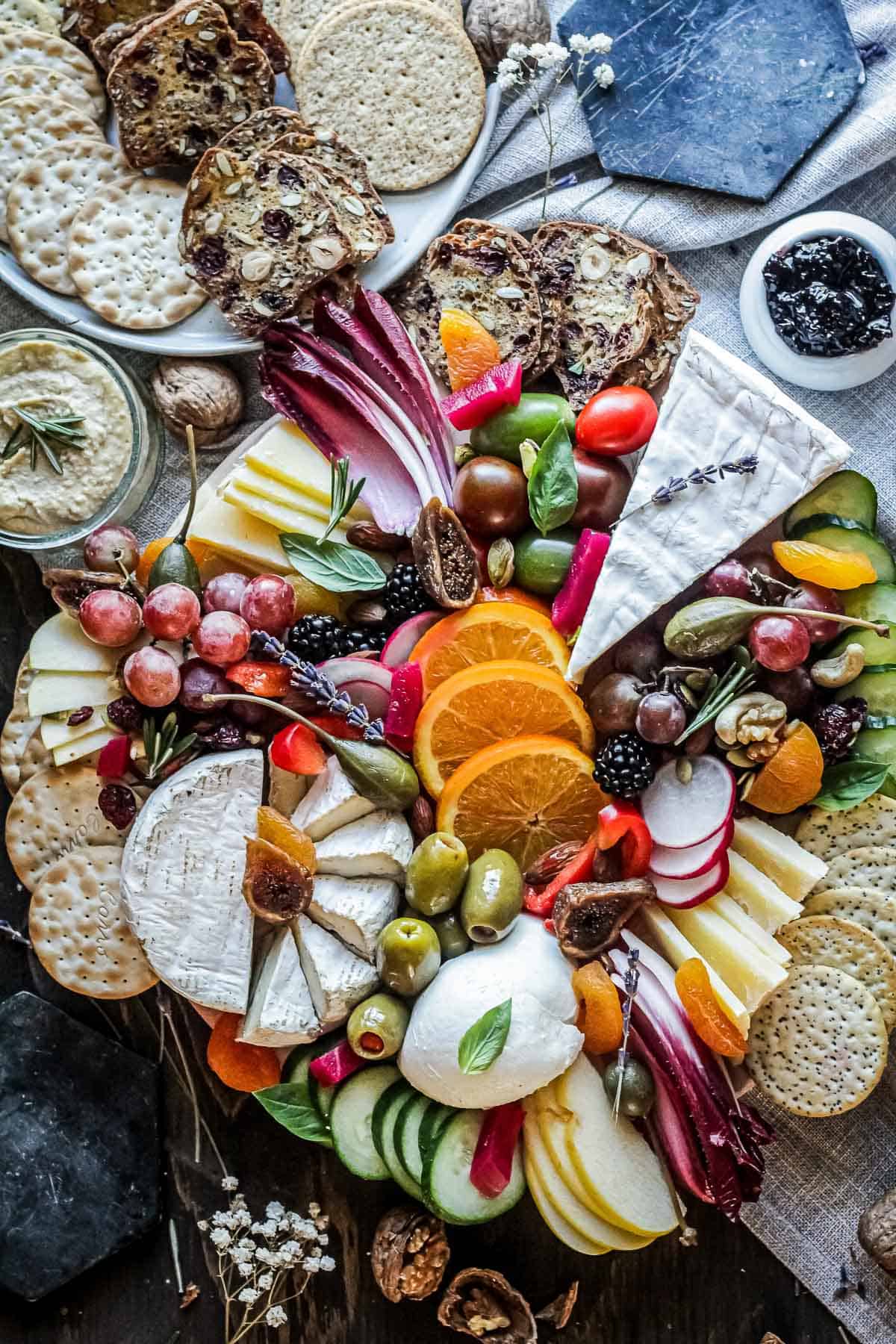 Recipe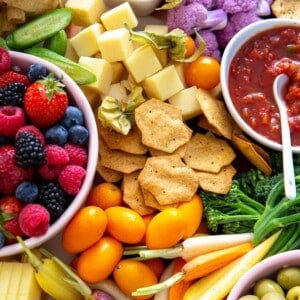 Ingredients
8

ounces

lean sliced deli meats

smoked turkey, oven baked turkey, ham, salami, roast beef

8

ounces

low fat cheeses

light mozzarella sticks, light Babybel cheese, goat cheese, parmesan cheese

1

large

apple

sliced

1

pear

sliced

1

bunch

red seedless grapes

rinsed and cut into clumps

1

cup

baby carrots

1

cup

cherry or grape tomatoes

1

cup

cucumber slices

1

cup

snap peas

8

ounces

low fat crackers
Optional additional ingredients
whole almonds or pistachios in the shell

condiments such as grainy mustard, low fat yogurt dip

French cornichons or petite dill pickles
Instructions
Select a board large enough to hold all the ingredients you'll use. Set out small bowls or ramekins for any items needing containers (dips, nuts, condiments, etc).

Arrange the other food items in a decorative way.
Notes
Weight Watchers points and nutritional information will be dependent on the ingredients used.

Nutritional information is a example only.
Ingredient note
The fruits and vegetables listed in the recipe are options. Any favorite fruits or vegetables can be used.
Ingredient amounts
This recipe can be expanded or decreased for any amount of people. Here is the rule of thumb on ingredient amounts:
For an appetizer (amount per person)
Meat: 2 ounces
Cheese: 2 ounces
Fruit or vegetables: equivalent of 2 whole fruits or vegetables
Crackers or bread: 4 ounces*
For dinner (amount per person)
Meat: 4 ounces
Cheese: 4 ounces
Fruit or vegetables: equivalent of 4 whole fruits or vegetables
Crackers or bread: 8 ounces*
*Because this is a guide for a slimmed down platter the crackers and bread can be decreased and vegetables and fruit increased to make a filling portion per person.
Nutrition
Calories:
505
kcal
|
Carbohydrates:
76
g
|
Protein:
31
g
|
Fat:
11
g
|
Saturated Fat:
4
g
|
Polyunsaturated Fat:
1
g
|
Monounsaturated Fat:
1
g
|
Trans Fat:
1
g
|
Cholesterol:
55
mg
|
Sodium:
1336
mg
|
Potassium:
712
mg
|
Fiber:
5
g
|
Sugar:
34
g
|
Vitamin A:
5075
IU
|
Vitamin C:
27
mg
|
Calcium:
45
mg
|
Iron:
1
mg