Air Fryer Side Dishes are the easiest way to make healthy side dishes in a flash! These easy Air Fryer recipes make the perfect side dish for busy weeknight dinner and Thanksgiving dinner alike!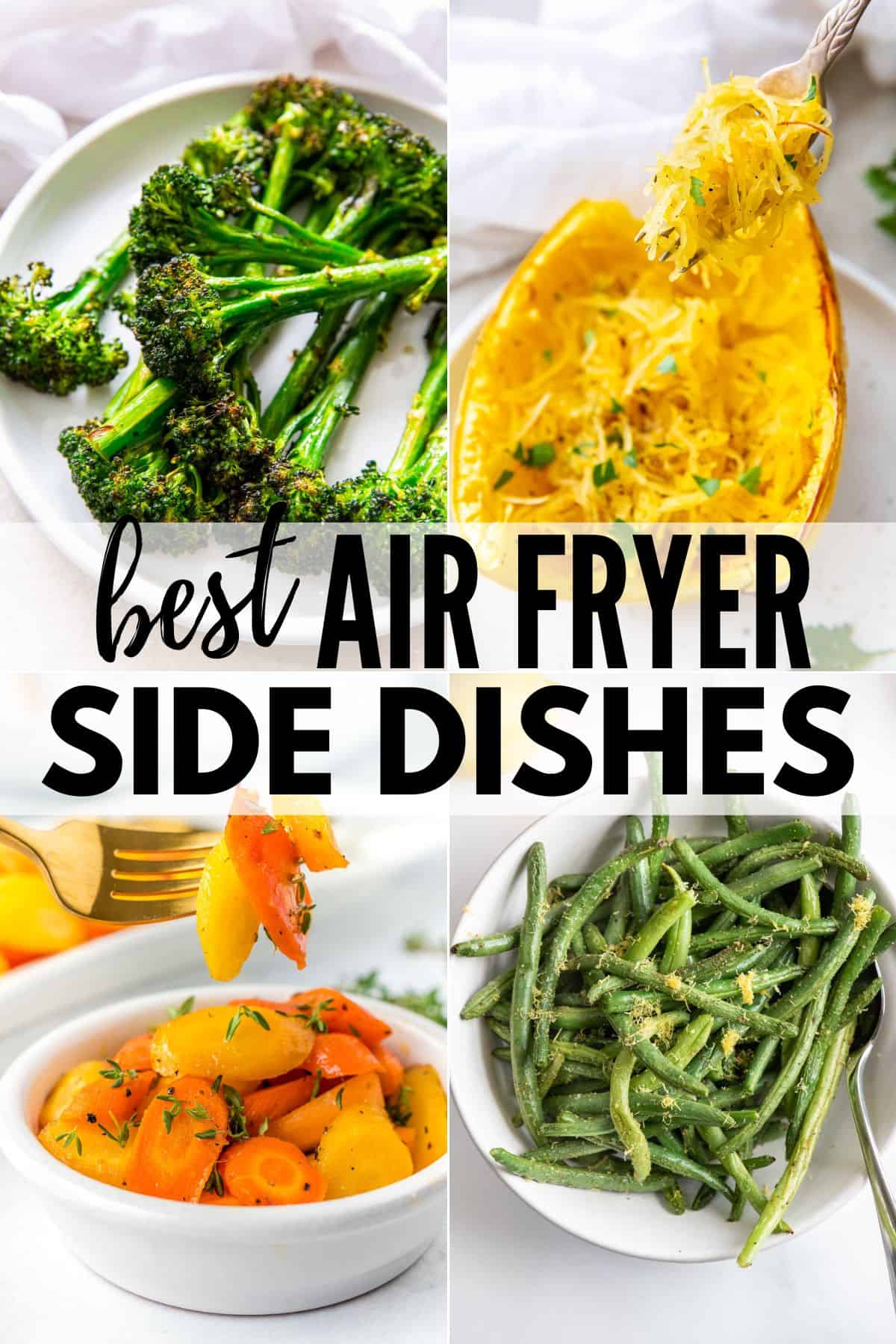 Whenever you need a delicious side dish to go with all of your favorite main dishes, these great air fryer recipes deliver. A simple side dish or two can be whipped up in minutes.
The best thing when you are watching calories or fat is that they use far less oil or fats for cooking. You'll get a crispy texture without any traditional frying.
No matter what you are serving air fryer vegetables are a great choice for easy side dishes. They are a healthy food choice with great taste and one of the best things is the whole family will love them.
Jump to:
These side dish recipes were picked for the following reasons:
Fast and easy to make
Big flavors and great texture
High nutritional value
Skinny on the calories
Versatility: they can be paired with lots of main dish recipe or used as ingredients in bowl recipes, wraps, on salads and more!
Cooking in an Air Fryer
If you wonder why people love their air fryer so much it's because you can get fried results using very little olive oil, butter or other fats typically used when frying. Our recipes rarely use more than olive oil spray which produces crunchy textures but keeps the fat-related calories to a minimum.
An air fryer is a countertop appliance that cooks with convection technology. It circulated hot air around the food cooking it quickly. They are very easy to operate and like an Instant Pot you can do other things while the food is cooking.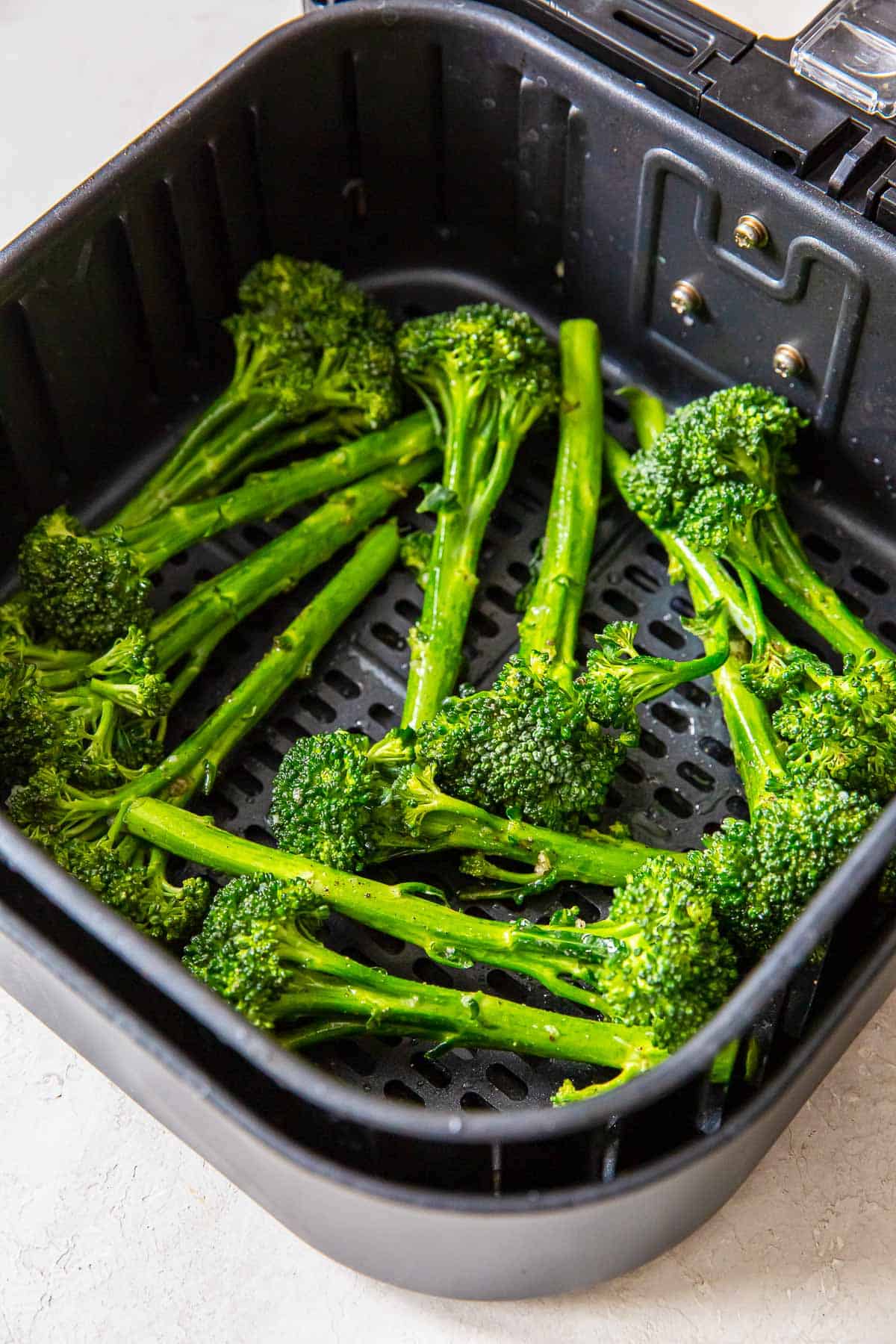 Air fryer brands all cook slightly differently based on the size and power (wattage). This makes it important to monitor the food so it doesn't overcook and to know your type of air fryer to know how to adjust when air frying. The best way to do this is to check a few minutes before the end of cooking and adjust as needed.
We use a Cosori 5.8 quart air fryer which has a larger basket and is a more powerful machine (1700 watts). You may find when using a machine with a smaller basket multiple batches are necessary or a longer cooking time is needed. It's easy to adjust on the fly for these things.
Delicious Air Fryer Side Dishes
Air fryer side dish recipes are a perfect accompaniment to any main dish. They are fast to make and use simple ingredients you probably have on hand already. Air fryer vegetable recipes are a great way to add more nutrition and substance to any meal while keeping the calories lower too. Often they just need some olive oil spray and staple pantry spices!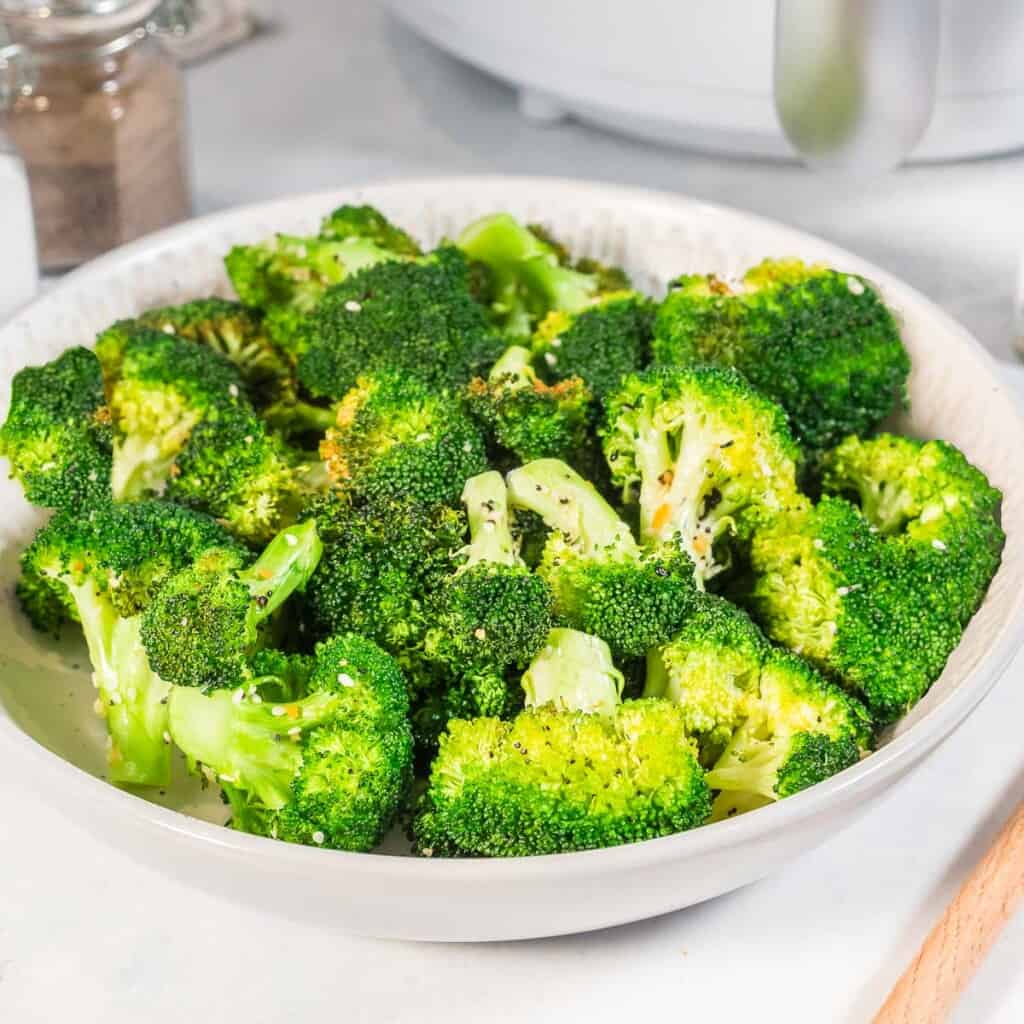 Air Fryer Broccoli with Everything Bagel seasoning
Air Fryer Broccoli is ready in 5 minutes! Loaded with Everything Bagel seasoning for some onion and garlic flavor. This fresh crisp broccoli is a favorite for the whole family.
Check out this recipe
Air Fryer Cauliflower
Delicious seasoned Air Fryer Cauliflower has a nutty roasted flavor that is irresistibly good! Cooks in 15 minutes making it a perfect side dish any time.
Check out this recipe
Air Fryer Green Beans
Air Fryer Green Beans are easy, fast and delicious! Only 8 minutes cooking time for perfectly cooked green beans with a little crunch and delicious spices.
Check out this recipe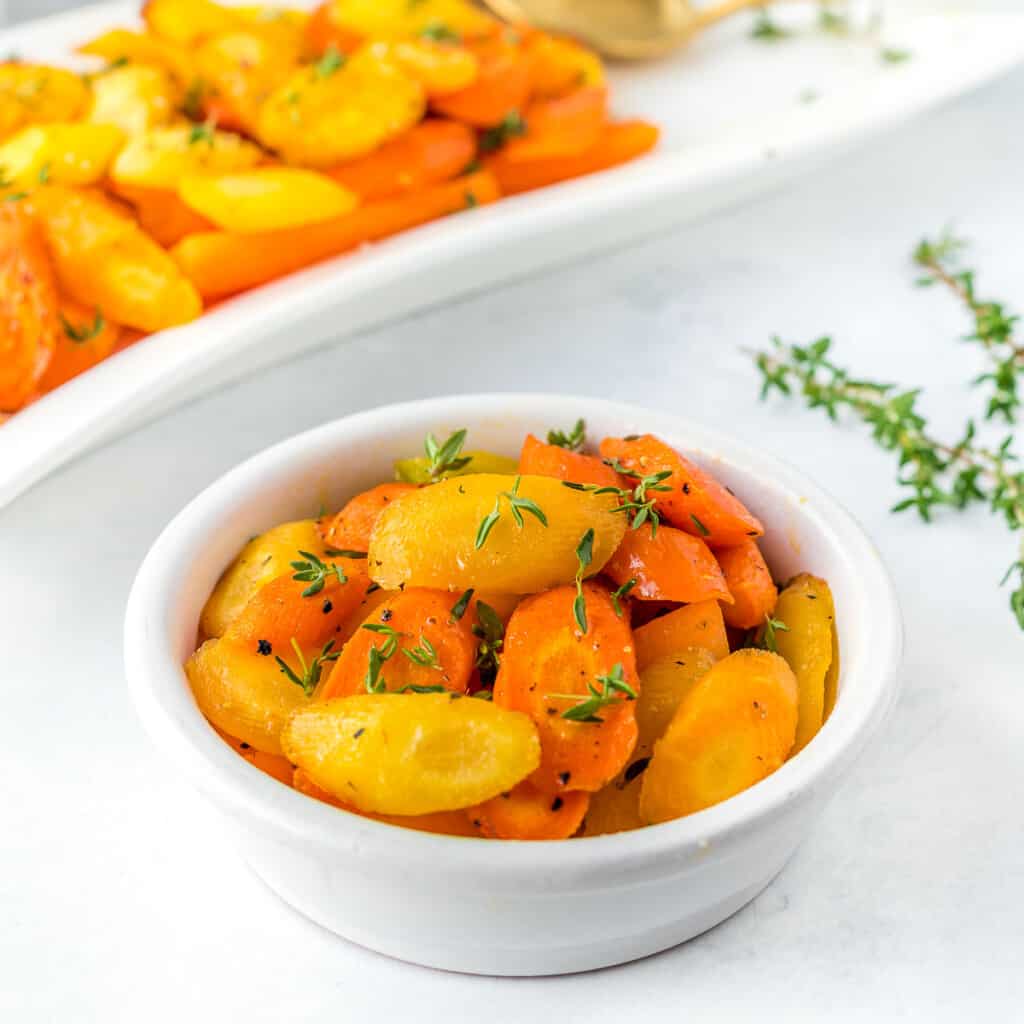 Maple Roasted Air Fryer Carrots (+ oven method)
Easy Air Fryer Carrots are roasting with maple syrup and seasonings for a delicious side dish in 10 mintues cooking time! Oven method included too.
Check out this recipe
Air Fryer Spaghetti Squash
Air Fryer Spaghetti Squash takes less than 18 minutes to cook! It's a delicious, nutritious low calorie low carb pasta substitution that goes with any pasta sauce (try our marinara sauce) and so much more!
Check out this recipe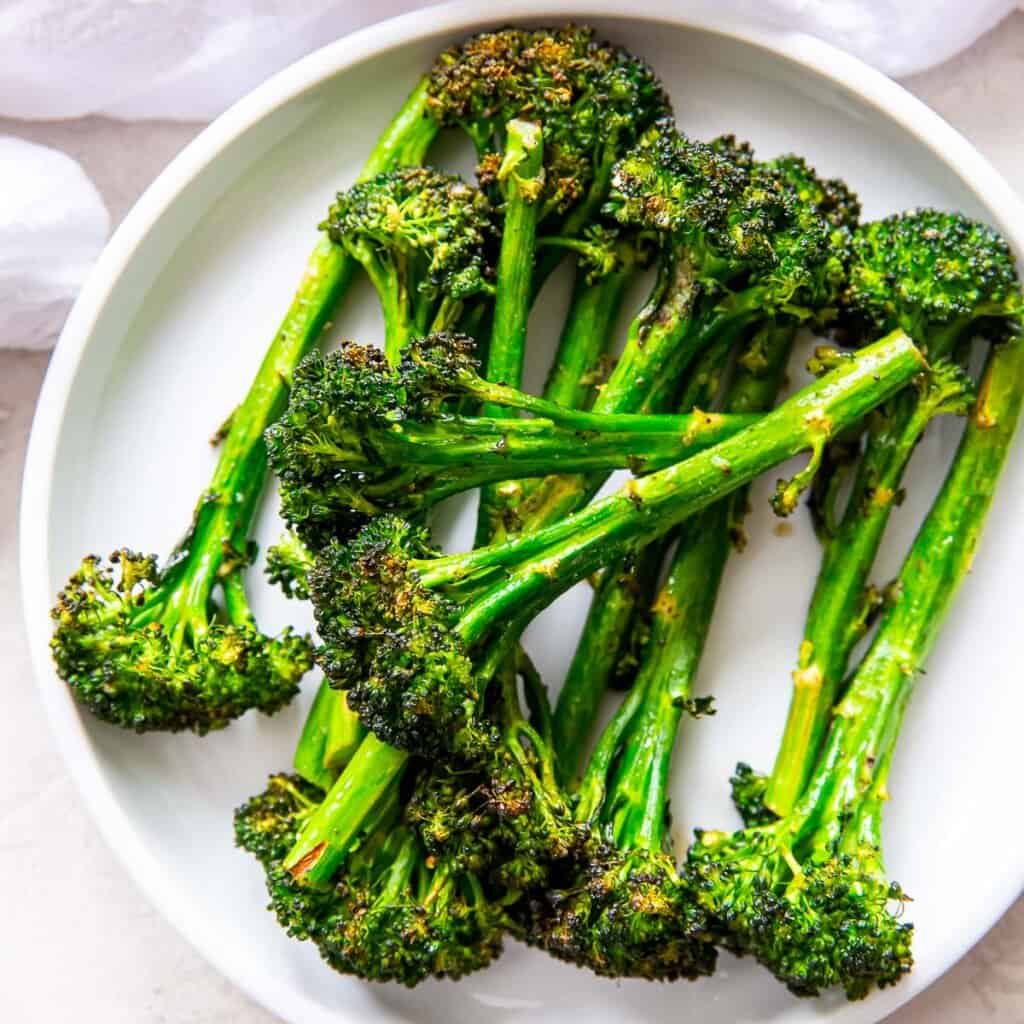 Air Fryer Broccolini (baby broccoli)
Lightly sweet broccolini is perfectly cooked in the air fryer in just 5 minutes! This delicious delicate vegetable is fast and easy and pairs wonderfully with any main dish
Check out this recipe
Air Fryer Roasted Vegetables
Air Fryer roasted vegetables are cooked perfectly in less than 20 minutes. Change up this colorful mixture to include your favorite vegetables or what's seasonally available. The possibilities are endless.
Check out this recipe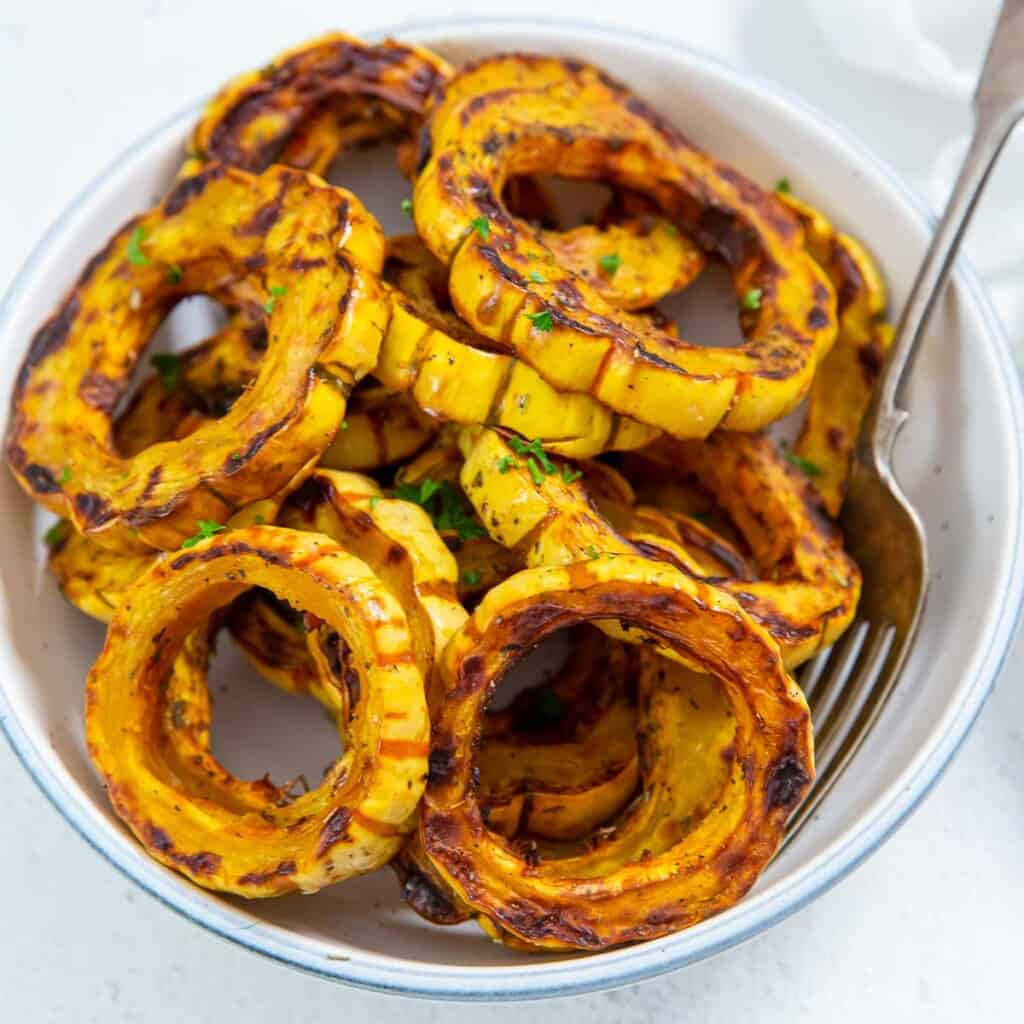 Air Fryer Delicata Squash
Sweet nutty Delicata Squash is a fast, easy, delicious low calorie air fryer side dish. Perfect for winter holiday meals or any night with your favorite main dish.
Check out this recipe
Air Fryer Baby Carrots
Air Fryer Baby Carrots are fast and easy to make with almost no prep time. Use regular or rainbow baby carrots. Lots of ways to change up the seasonings for any holiday meal or dinner.
Check out this recipe
Air Fryer Roast Vegetables with Pecans and Pomegranate
This fast and easy recipe for Air Fryer Roast Vegetables combines butternut squash, sweet parsnips, and crisp Brussels sprouts with nutty pecans and sweet pomegranate. The fast cooking time makes them great during the busy week and for Thanksgiving!
Check out this recipe
Air Fryer Brussels Sprouts
Fast and easy Air Fryer Brussels Sprouts are done in 10 minutes using only simple ingredients! They are a perfect side dish for dinner or holiday meals.
Check out this recipe