This easy Homemade Marinara Sauce is made from just a handful of ingredients. It's a delicious versatile sauce to use anywhere you'd use a jar sauce.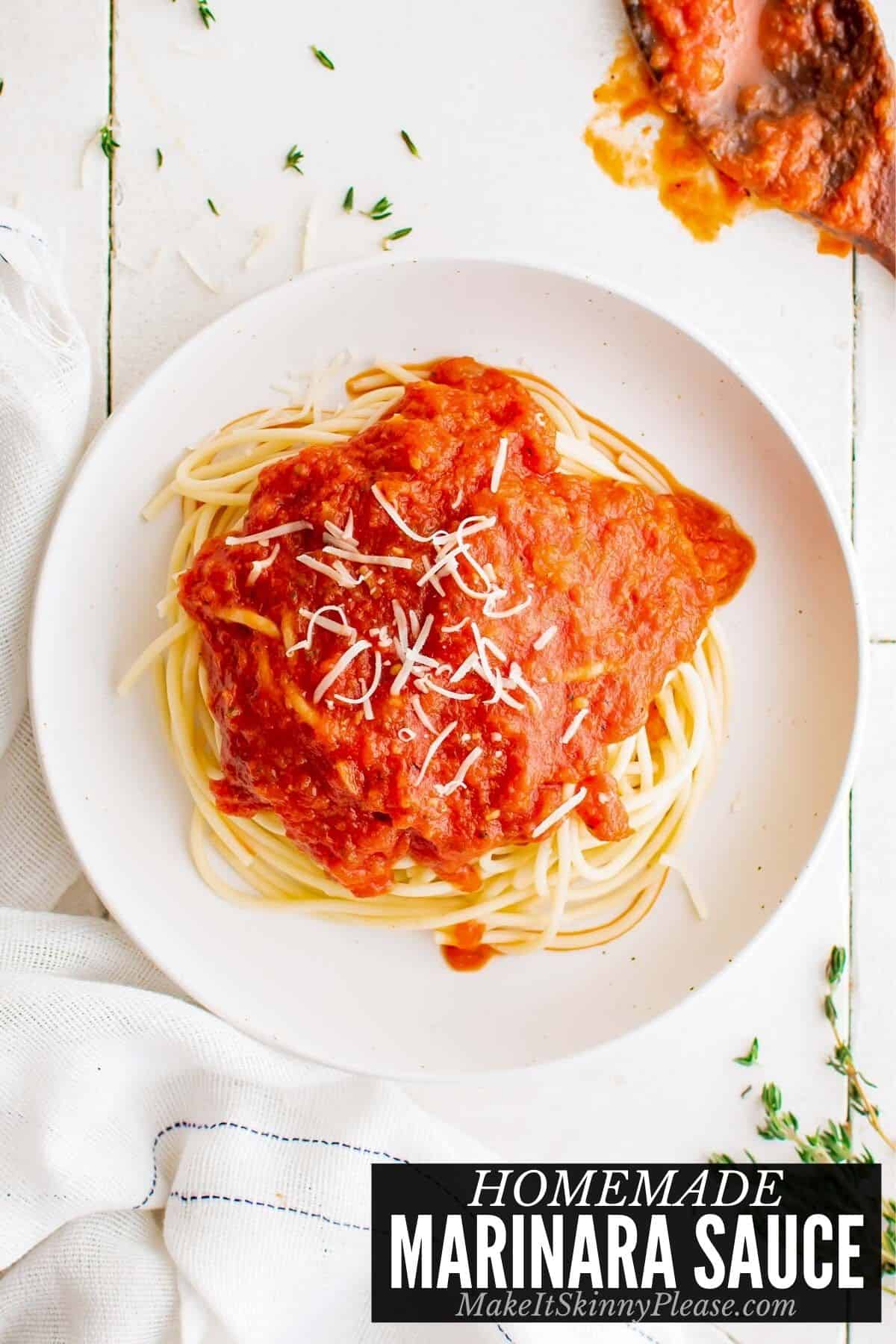 It's handy to have a jar of pasta sauce in the pantry. There are so many ways to quickly turn it into a meal.
This simple marinara sauce is made with basic pantry ingredients and it's easy to make in less than 30 minutes.
Perfect homemade marinara sauce with so many favorite ways to use it! And it's a low calorie sauce for anything from pasta to proteins.
Jump to:
What is Marinara Sauce?
Classic marinara sauce is believed to have originates in southern Italy. The name marinara means 'mariner' or sailor-style referring to the sauce being used on seafaring voyages by Italian sailors. The sauce was developed in the 1700's after traders introduced tomatoes to Italy.
Marinara is a type of tomato sauce. It's a simple sauce and it's a thinner sauce by design. It can be used on pasta, in pasta dishes but is also popular as a fish sauce. There are lots of ways to use it and we share some favorites below.
The best marinara sauce is just a handful of simple ingredients. Tomatoes (San Marzano tomatoes usually), fresh garlic, basil, extra virgin olive oil and salt. Onion is also very popular as are other herbs.
It's a very easy sauce to make at home to use for pizza sauce, as a dipping sauce, and pasta sauce.
Difference between Marinara and Spaghetti Sauce?
Spaghetti Sauce is a type of marinara sauce. It usually includes meat and other ingredients like tomato paste, tomato puree or whole tomatoes. It is thicker than traditional marinara sauce.
This easy marinara sauce recipe can be used in place of spaghetti sauce. And like any authentic marinara sauce can be a base to modify with your favorite additional ingredients.
What makes this skinny?
simple wholesome ingredients
no brown sugar added which can be added to pasta sauces
usually uses up to ¼ cup of olive oil; this recipe uses 1 tablespoon
vegetable and herb only sauce
Recipe Ingredients + Notes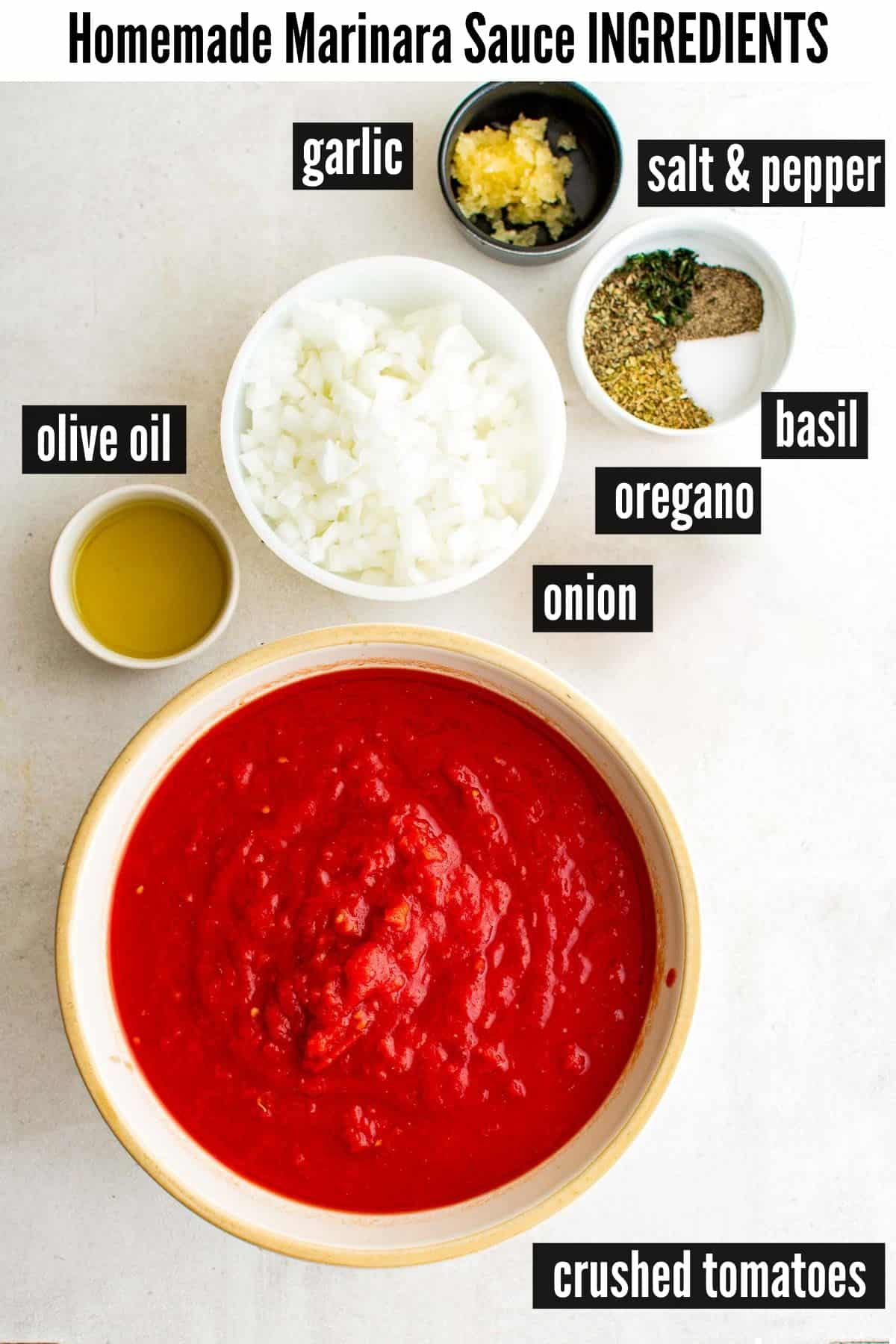 Olive oil. Used for sautéing the onion.
Yellow onion. Use a medium onion, finely chopped.
Garlic cloves. You'll use three garlic cloves, diced.
Dried Basil. Basil is a signature flavor in marinara sauce. We use dried basil which is easy and cooks with the rest of the ingredients.
Dried Oregano. Another favorite Italian spice.
Salt. We recommend kosher salt which is a less salty flavored salt.
Black pepper. Freshly ground black pepper has the best flavor.
Canned Crushed Tomatoes. Instead of fresh tomatoes this recipe uses crushed tomatoes. If possible use San Marzano tomatoes (a type Italian tomatoes). They are a low acid less watery tomato with great flavor. Any crushed tomatoes will work!
Variations
Using fresh herbs. Some marinara recipes call for fresh basil leaves which can be substituted. Omit the dried basil and stir in 1-4 tablespoons thinly sliced fresh basil after the sauce has cooked.
Add a pinch of red pepper flakes. This gives the sauce a bit of a kick.
Add some red wine. Some versions include a splash of red wine. Most of the alcohol evaporates and it adds a depth of flavor to the sauce.
Try different herbs. Using Italian Seasoning or other classic herbs you love (thyme, rosemary, etc).
How to Make it - Step-by-Step
STEP 1. Sauté
Heat a large pan over medium heat with the olive oil. When the surface of the oil is rippling add the onions (photo 1). Sauté until they have softened and are becoming translucent.
Add the garlic, basil, oregano, salt and pepper. Sauté until the garlic become fragrant (30-60 seconds) (photos 2-3).
STEP 2. Simmer the sauce
Add the crushed tomatoes (photo 4) and bring the mixture to a gently boil. Lower the heat and simmer for 20 minutes stirring periodically.
Salt and pepper to taste before serving.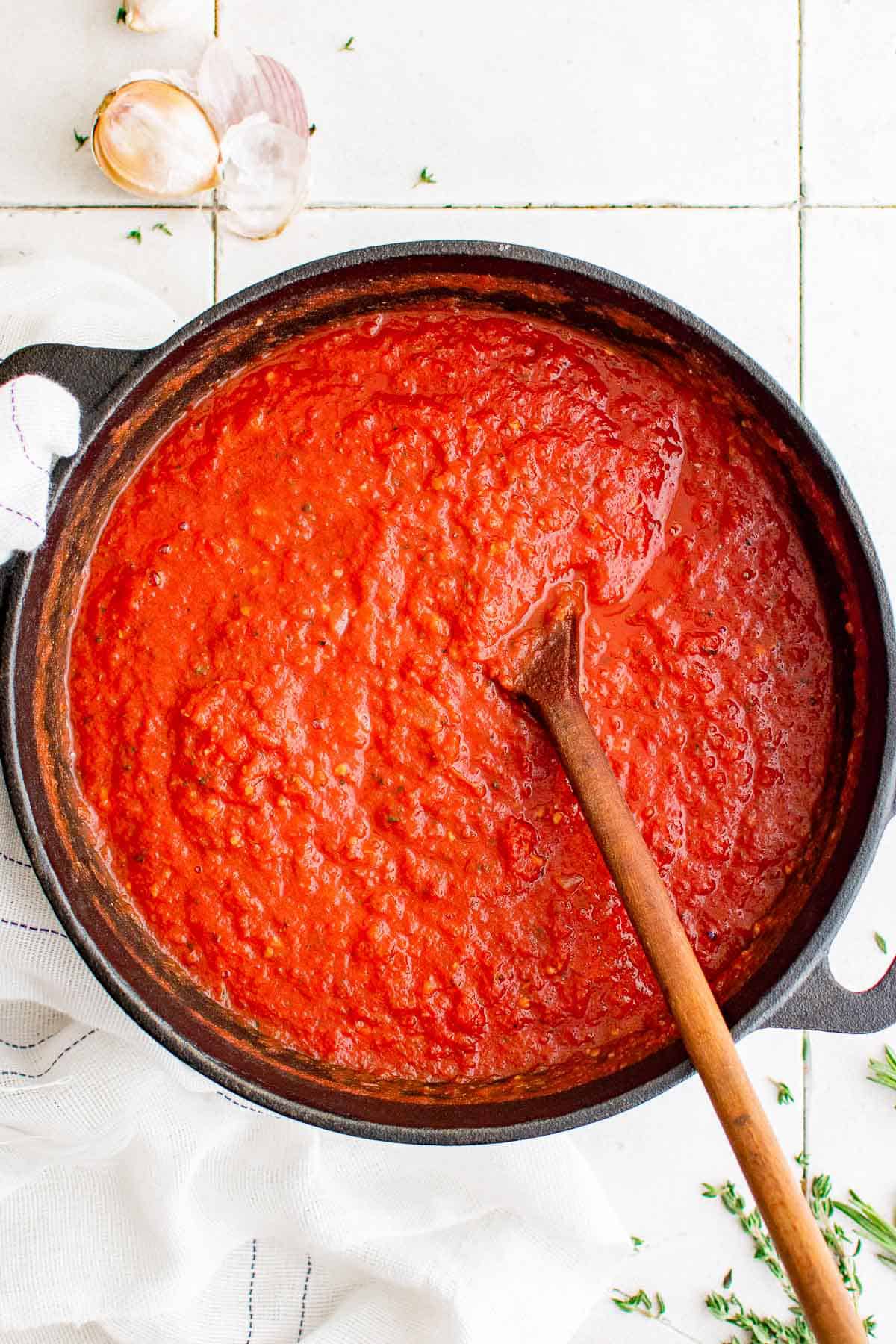 How to make a smooth sauce
The end marinara sauce will have a slight texture. If you want it completely smooth marinara sauce use an immersion blender or regular blender to process it until it is the desired consistency.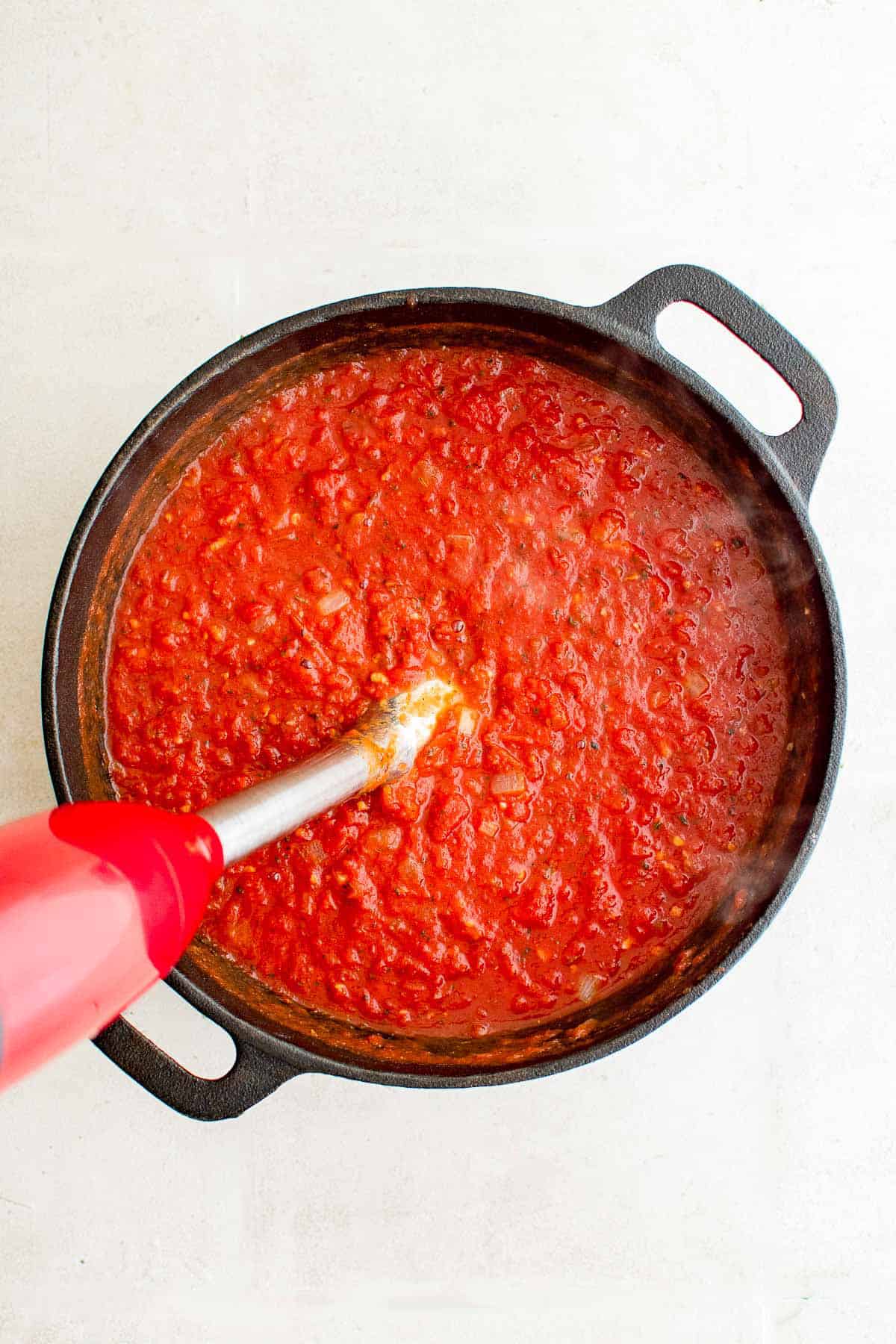 How to use Marinara Sauce
Your own marinara sauce can be used anywhere you'd use the jarred stuff.
Pasta. Use it over your favorite pasta or Zoodles (zucchini noodles) or other favorite vegetable noodles (spaghetti squash for instance)
Over protein. It's a great sauce over cooked chicken breasts or white fist.
How to Store it
After it cools store in an airtight container or jar in the refrigerator for up to 4 days.
How to Freeze it
Allow the sauce to fully cool. Add to a freezer-safe airtight container or freezer bag (squeeze out as much air as possible before sealing) and freeze for up to 4 months.
We recommend freezing a full batch (one recipe worth) as that is the standard amount of sauce found in purchases jar sauces. So it can be swapped into recipes calling for that amount.
More recipes you'll love!
Recipe
Homemade Marinara Sauce
Click to track Weight Watchers Points
This delicious easy Marinara Sauce is made with just a few wholesome ingredients and is ready in about 25 minutes. Perfect anywhere you'd use jarred sauce but it tastes so much better!
Print
Pin
Rate
Servings:
6
½-cup servings (total yield: 3 cups)
Ingredients
1

tablespoon

olive oil

1

medium

yellow onion

chopped

3

large

garlic cloves

diced

1

teaspoon

dried basil

½

teaspoon

dried oregano

½

teaspoon

kosher salt

plus more for final seasoning

¼

teaspoon

ground black pepper

plus more for final seasoning

1

28-ounce can

crushed tomatoes
Instructions
Add the olive oil to a large sauce pan and heat over medium high heat.

When the oils surface is rippling add the onion. Sauté until translucent and softened.

Add the garlic and sauté for 30-60 seconds.

Add the basil, oregano, salt and pepper and stir to combine.

Stir in the crushed tomatoes and bring it to a low boil then reduce the heat to medium-low or low to allow the sauce to gently simmer.

NOTE: it can be partially covered to avoid splattering if desired.

Simmer, stirring occasionally for 20 minutes. Salt to taste and use as desired.

If a fully smooth texture is desired, use an immersion blender to process the sauce into the desired texture.
Notes
The recipe makes 24 ounces or the equivalent of one jar of pasta sauce.
Fresh basil can be substituted. Use 1 tablespoons or more fresh basil and stir in at the end of cooking.
Other herbs can be added: thyme, Italian seasoning mix, a pinch of red chili flakes.
Use crushed San Marzano tomatoes if available. They are a classic Italian tomato with low acid and high in flavor.
Weight Watchers points on previous program (WW SmartPoints):
Green, Blue and Purple: 1
Nutrition
Calories:
74
kcal
|
Carbohydrates:
12
g
|
Protein:
3
g
|
Fat:
3
g
|
Saturated Fat:
1
g
|
Polyunsaturated Fat:
1
g
|
Monounsaturated Fat:
2
g
|
Sodium:
370
mg
|
Potassium:
428
mg
|
Fiber:
3
g
|
Sugar:
7
g
|
Vitamin A:
289
IU
|
Vitamin C:
14
mg
|
Calcium:
59
mg
|
Iron:
2
mg