Air Fryer Broccolini or 'baby broccoli' is a delicious easy healthy side dish recipe. Only few simple ingredients are needed to create an irresistibly good broccolini recipe in 5 minutes cook time!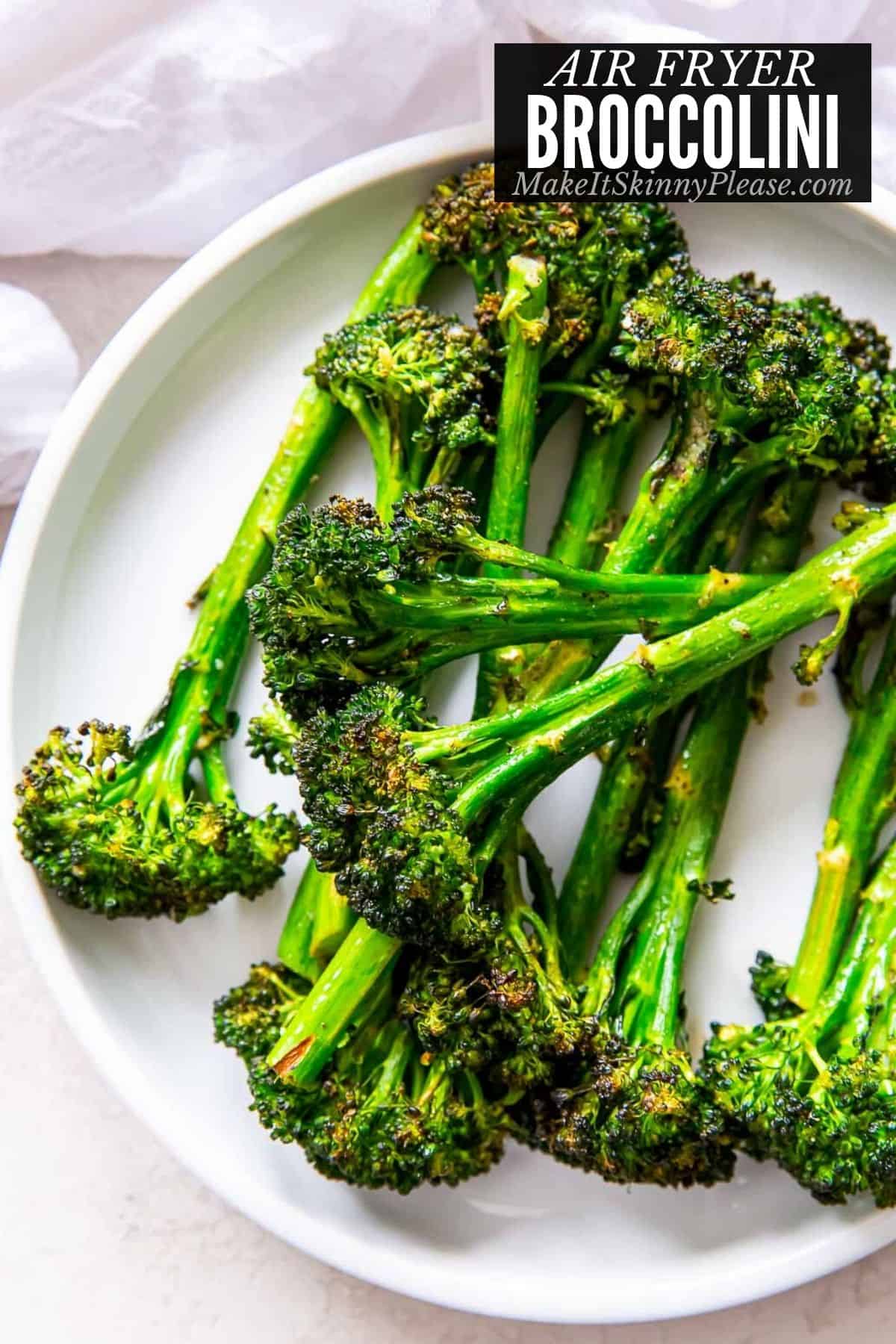 Air Fryer Broccolini is a delicious low calorie low carb side dish and pairs great with any protein! This recipe is essentially an oil-free air fryer broccolini recipe, only using a few sprays of olive oil spray to make it crispy when cooked.
We used our favorite simple seasonings of a squeeze of lemon juice and roasted garlic. The tender florets have wonderful slightly crispy texture when cooked and the sweet stalks are cooked al dente. This will become one of your favorite air fryer vegetable recipes. We think the whole family will love it!
Jump to:
What is broccolini?
This vegetable is a member of the cruciferous vegetable family and looks like emerald green thin, long-stalked broccoli with a pop of small delicate florets on top. It tastes slightly sweet like a cross between broccoli and asparagus (but isn't related to asparagus at all). It can be eaten raw or cooked as you would regular broccoli.
This delicious vegetable is a hybrid plant crossing traditional broccoli with Chinese broccoli. The name broccolini was actually trademarked when it was originally developed in 1993 and is owned by the Mann Packing company.
Therefore you may find it called 'baby broccoli' or 'broccolette' at the grocery store depending on who grew it. New versions are continuing to be developed including a purple version.
The entire vegetable can be eaten: stalks, leaves, opened and unopened flowers. It takes minimal preparation, making it a great addition to your easy side dish recipes.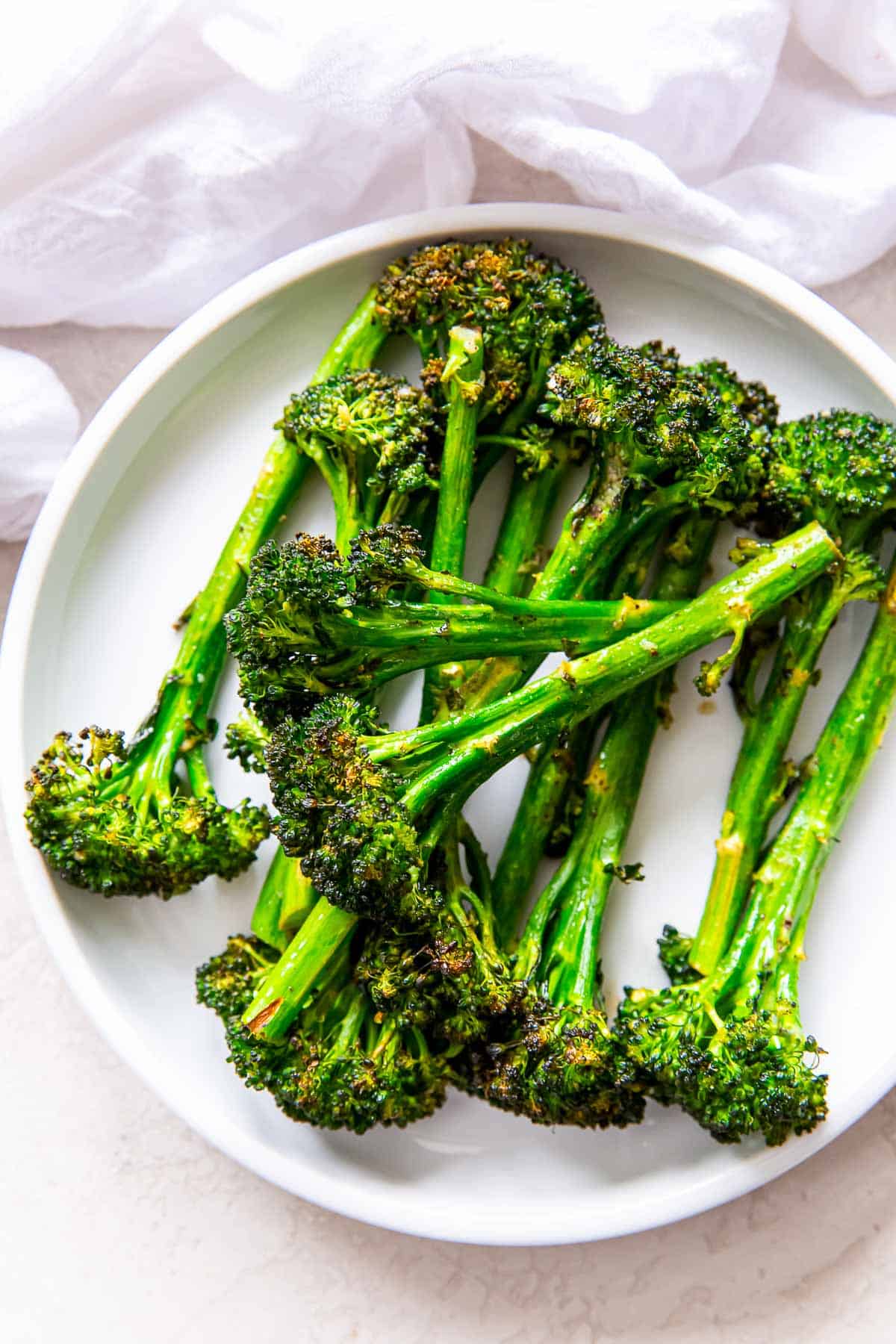 Difference between Broccolini & Broccoli
Baby broccoli differs from traditional broccoli in its milder flavor. The thin stalks are tender when cooked and eaten along with the delicate florets. No peeling is required of the stalks.
Regular broccoli stalks are generally are not eaten (though they are great peeled and cooked too) and are very woody.
Difference between Broccolini & Broccoli Rabe
Broccolini should not be confused with broccoli rabe which looks sort of similar (though less leafy) but broccoli rabe is actually closer to the turnip family than broccoli or broccolini.
Where and when to buy it
Broccolini can be hard to find. It's available all year long with peak season being October to April. Check at higher end grocery stores, grocery stores with a large varied produce department (Whole Foods) or Asian grocery stores.
Definitely grab it when you see it!
What makes this skinny?
Unlike restaurant prepared broccolini which generally is sautéed in lots of oil or butter, this easy air fryer broccolini recipe is a light delicious side dish. Air frying is the key!
This nutrient-packed calorie-slim side dish only has a few spritzes of olive oil spray versus being tossed in oil. The other ingredients are seasonings which have minimal calories.
Recipe Ingredient Notes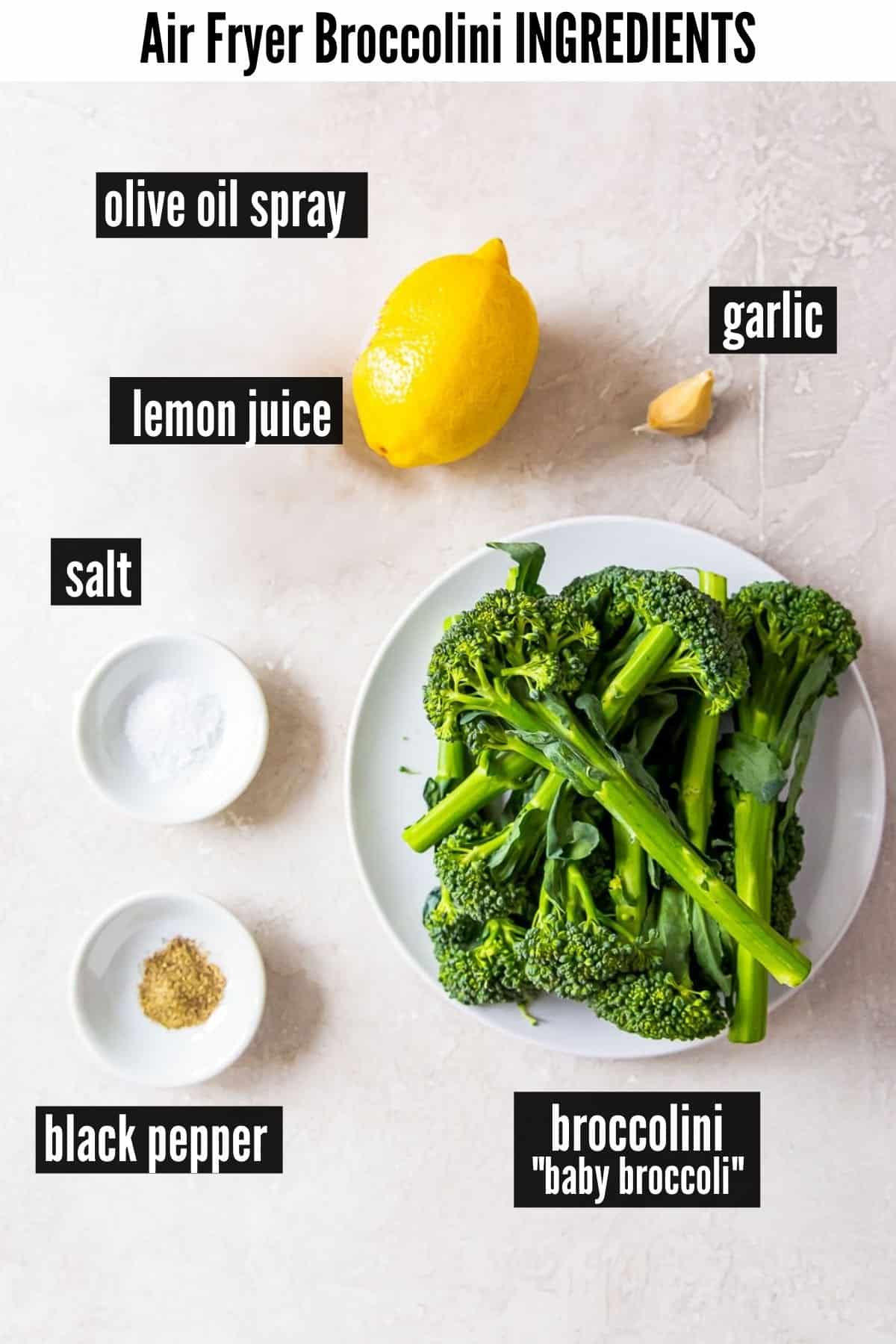 Broccolini. You'll use 8 ounces of baby broccoli (bunches sold in the store are generally this size). Rinse and pat dry with paper towels. Cut off the woody stalk at the bottom.
Olive oil spray. Instead of tossing in oil we use olive oil spray.
Fresh lemon juice. The juice of half a medium lemon brightens up the flavors!
Garlic. You can use 1 large clove minced garlic or ½ teaspoon of garlic powder. Or substitute the equivalent of 1 clove of garlic paste.
Lemon zest. The broccolini has a definite citrus tang with the first bite from the lemon juice. Adding a bit of zest is optional but delicious to garnish and season before serving (we love it on our Air Fryer Green Beans). Zest the lemon before juicing.
How to make Air Fryer Broccolini - Step-by-Step
STEP 1. Season
Add the rinsed, dried, trimmed broccolini to a large bowl. Spritz lightly with olive oil spray to lightly coat.
Drizzle in the lemon juice, garlic, kosher salt (or sea salt) and black pepper (photos 1-4). Toss to coat the broccolini.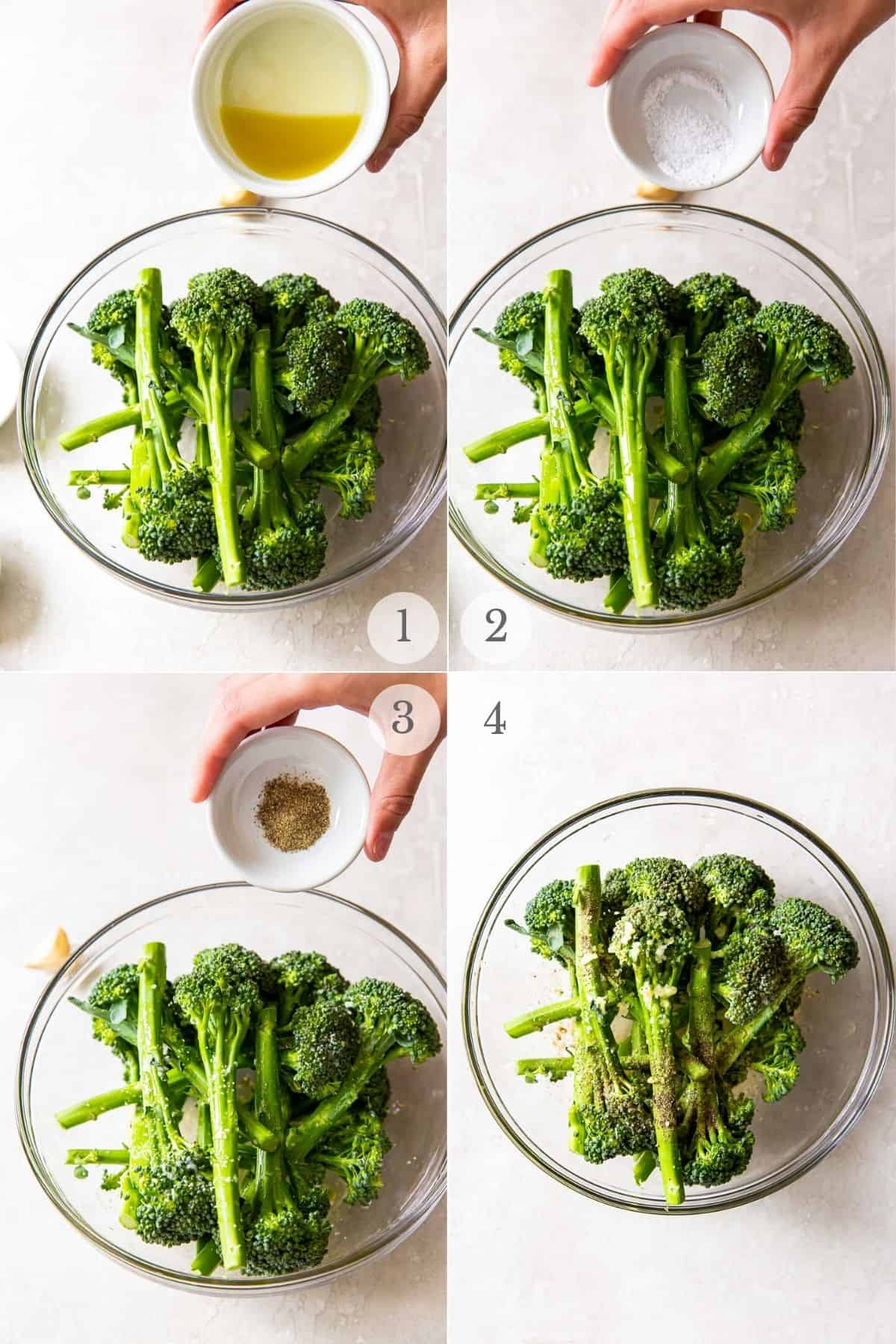 STEP 2. Cook
Add the broccolini in a single layer to the air fryer basket (photo 5). Cook on 390 degrees F for 5 minutes until desired consistency. NOTE: this timing make an al dente texture of the stems but the florets will begin to char (see photo 6 below). For softer baby broccoli add 1-2 minutes after checking the results.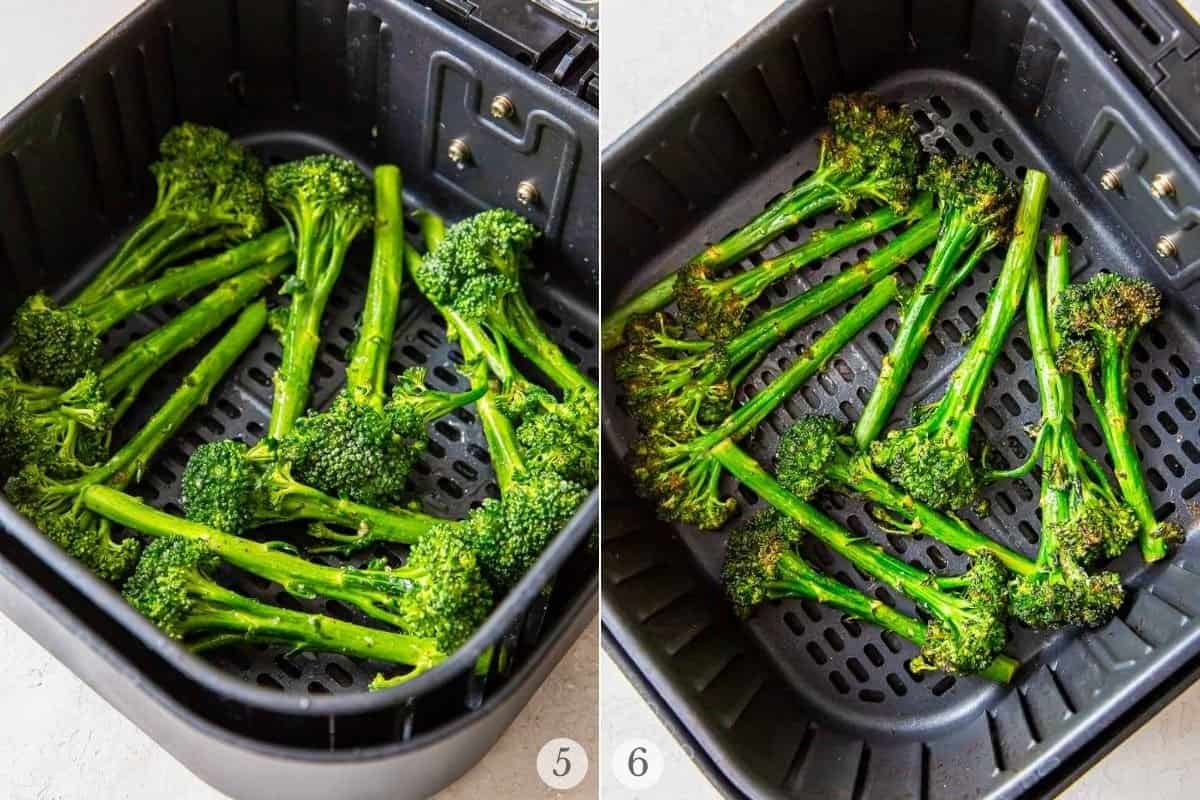 Variations
Spice-y it up! Add a sprinkle of red pepper flakes before serving for a spicy touch.
Sesame Seeds. These give a classic sesame flavor and nice look. Sprinkle on before serving.
Parmesan cheese. Add just a bit of freshly grated parmesan cheese (do not use the stuff in the round green container) before serving. Only a little bit is needed for some bold flavor.
Air Fryer cooking variations
Each different size and brand of air fryer cooks slightly differently, making it important to monitor the doneness of the food being cooked. This recipe was prepared in a Cosori 5.8 quart Air Fryer which is a 1700 watt machine.
Air fryers with smaller baskets or with less wattage may require additional minutes cooking time or multiple batches.
Frequently Asked Questions
Do you eat the broccolini whole?
Yes! The stalks, leaves and the florets. No peeling of the stalks is needed either.
Do I need to preheat the air fryer?
No! Not for this recipe.
How to Store leftovers
Store any leftovers in an airtight container in the refrigerator for up to 2 days.
More recipes you'll love!
Recipe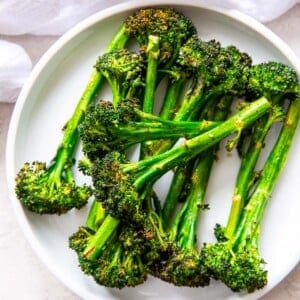 Air Fryer Broccolini (baby broccoli)
Click to track Weight Watchers Points
Lightly sweet broccolini is perfectly cooked in the air fryer in just 5 minutes! This delicious delicate vegetable is fast and easy and pairs wonderfully with any main dish
Print
Pin
Rate
Servings:
2
see Notes below
Ingredients
1

bunch (8 ounces)

broccolini

rinsed, patted dry and bottoms of stalks trimmed

olive oil spray

juice of half a small lemon

1

large

garlic clove

minced

¼

teaspoon

kosher salt

or sea salt

¼

teaspoon

freshly ground black pepper
Instructions
Place the broccolini in a large mixing bowl. Spritz with olive oil spray to lightly coat (toss between sprays).

Drizzle in the lemon juice, minced garlic or garlic powder, salt and black pepper. Toss to coat the broccolini.

Place the broccolini into the air fryer basket in a single layer if possible.

Cook at 390 degrees F for 5 minutes or until desired doneness. The tender florets will have become crispy and the stalks cooked al dente. Serve immediately.
Notes
Serving size and doubling the recipe
One bunch of baby broccoli will serve 2 people with an ample portion. It could be divided between 3 people for a lighter serving.
The recipe can be doubled, keeping the proportions the same. It would require cooking in batches.
Storing leftovers
Store any leftovers in an airtight container in the refrigerator for up to 2 days.
Nutrition
Calories:
50
kcal
|
Carbohydrates:
9
g
|
Protein:
4
g
|
Fat:
1
g
|
Saturated Fat:
1
g
|
Polyunsaturated Fat:
1
g
|
Sodium:
615
mg
|
Potassium:
9
mg
|
Fiber:
1
g
|
Sugar:
3
g
|
Vitamin A:
2003
IU
|
Vitamin C:
105
mg
|
Calcium:
84
mg
|
Iron:
1
mg