What's the deal with peanut butter powder? This plant protein powder is wildly popular....and for good reason. Peanut butter lovers now you can have your peanut butter without the high calories. Everything you need to know about what it is, how to use it, and a top brand comparison.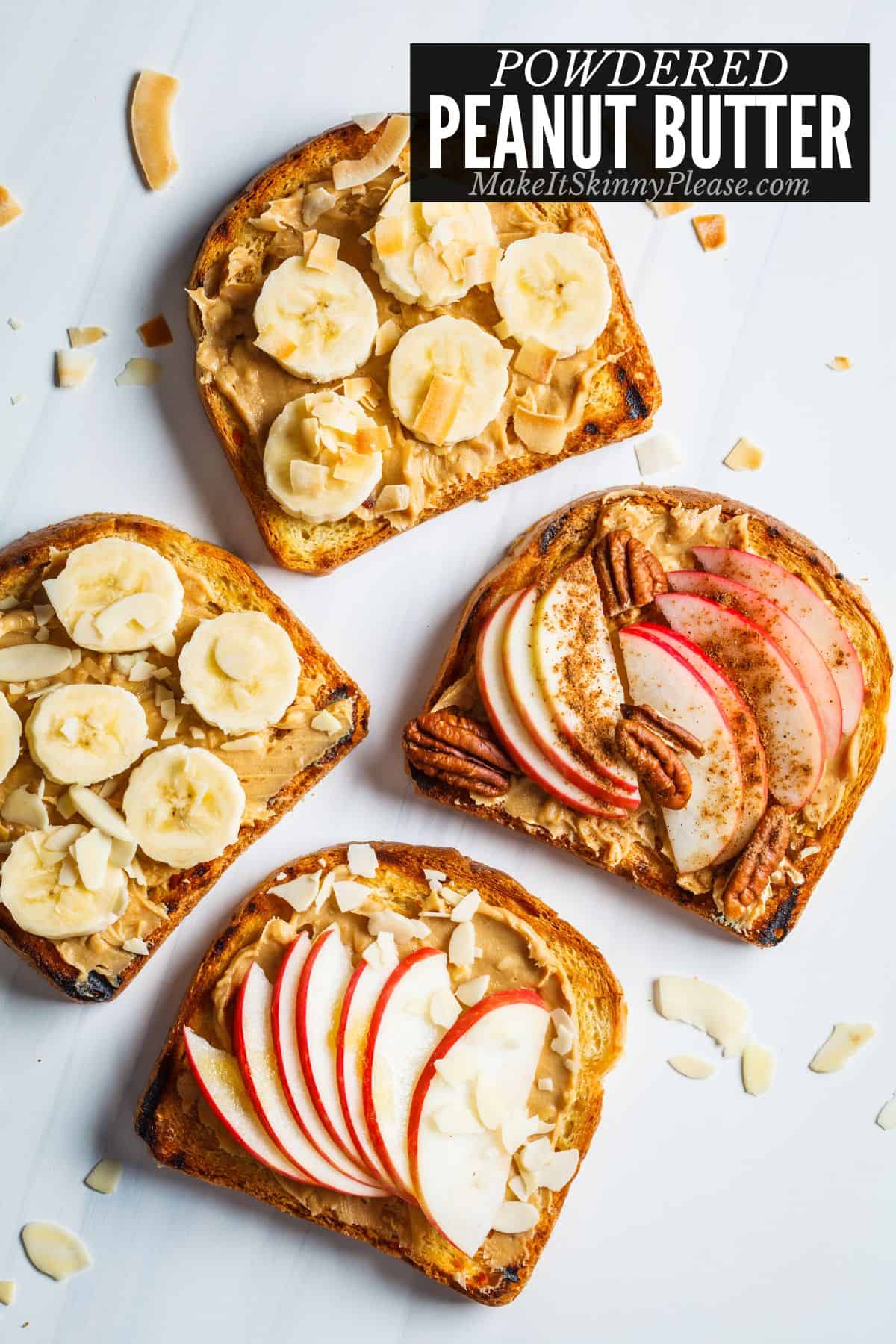 Why is peanut butter powder so popular? Bottom line: fewer calories and less fat with actual peanut butter flavor. And it has between 6-8 g protein per serving (brand dependent).
Seem too good to be true? We too were suspicious and researched three popular brands to get to the bottom of all the hype. And we are now sold on it.
Whether you are looking for more protein for a smoothie or post workout shakes, love peanut butter and can't work it into a low calorie eating plan, peanut butter powder is the answer.
It offers all the things you love about peanut butter without the attributes that make it unappealing for weight loss plans. And this opinion is from a life long peanut butter addict.
Jump to:
What is powdered peanut butter?
Peanut butter powder is made from roasted peanuts that are pressed to remove most of the oil. This removes most of the fat calories leaving the peanut flavor and plant protein.
As an example 2 tablespoons of peanut butter is 190 calories with 16 grams of fat. By comparison PB2, probably the most popular of the peanut butter powders, weighs in at 60 calories and 1.5 grams of fat for the same amount.
The powder can be used in many different ways as well as blended into peanut butter....but without all the calories.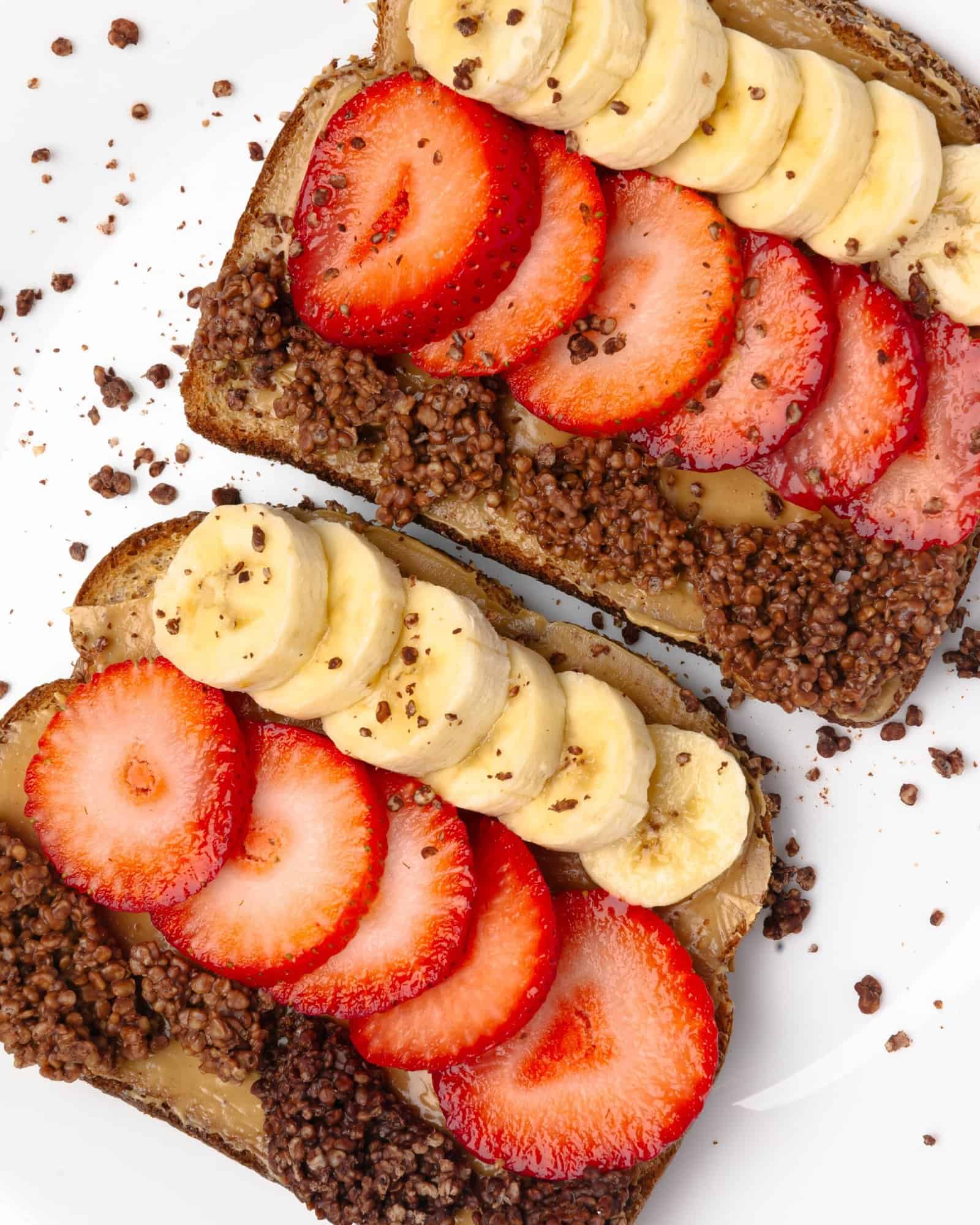 Why use peanut butter powder?
Besides the calorie benefits it's portable. It's a perfect take-along food whether you are traveling or want it in your gym bag to shake up a post work out smoothie with your blender bottle.
The high amount of plant protein and low calories makes it a great option over traditional peanut butter to reconstitute and use as you would peanut butter or in blended drinks, baking or other foods.
How to use it
The main ways you'd use the powder is blending, baking or mixing into other recipes. Any way you'd use regular peanut butter you could use peanut butter powder.
Smoothies and protein shakes (great for post workout protein shake without the calories)
In oatmeal, overnight oats or oatmeal cups
Baked goods like muffins, cookies or cakes
Blended into sauces. For instance a sauce like our Peanut Sauce could be modified to use peanut powder.
Blend into peanut butter for healthier dipping of celery or apple slices.
Mixed into breads, pancakes or waffles
Protein balls or granola bars
Add it to our Nice Cream for a delicious peanut butter banana flavor
Salad dressing for a Thai salad
Stir is into non-fat Greek yogurt
How to turn it into peanut butter
Use 2 tablespoons of powder combined with 1 ½ tablespoons water; mix until smooth. We compared the three test brands for use as lower calorie lower fat peanut butter. None use artificial sweeteners which we like. Naked PB is a peanuts-only brand for those wanting to avoid added sugar or salt.
Brand comparison
Only PB2 and PBfit (of the brands we tried) suggest reconstituting into peanut butter. They won the taste test too which is probably due to the added sugar and salt giving it a more real peanut butter flavor.
PB2
Makes creamy peanut butter (though it looks dry when it's mixed), lightly sweet, spreadable.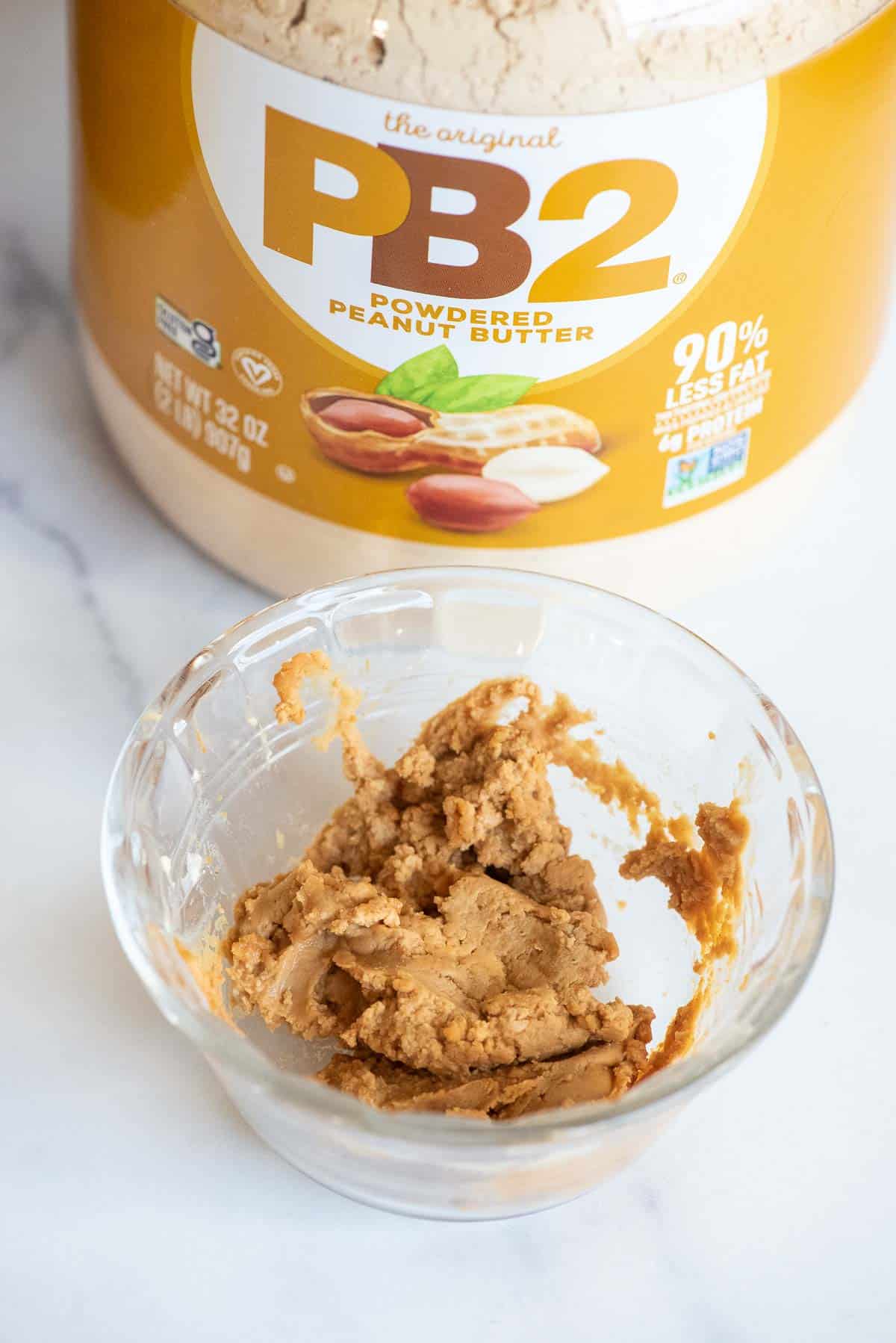 PBfit
This is the definite best tasting of the brands we tried when made into peanut butter. Soft, creamy, light, spreadable, definite sweetness and delicious.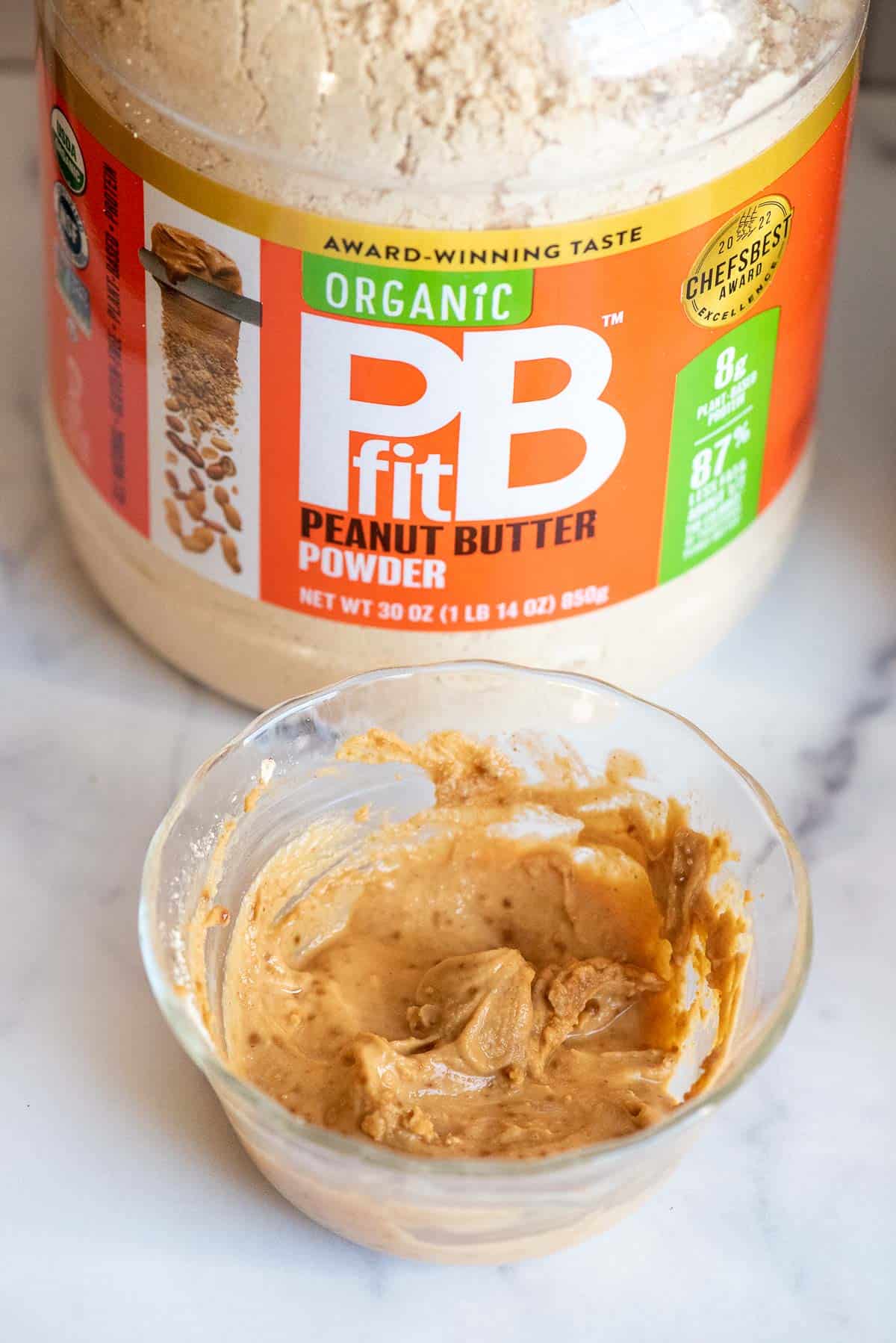 Naked PB
Naked PB does not advertise turning the powder into peanut butter as the other two brands do but we did it anyway.
It was spreadable and creamy but the flavor wasn't one we'd want if making into a peanut butter for spreading. This pb powder would be best in smoothies or possibly baked goods.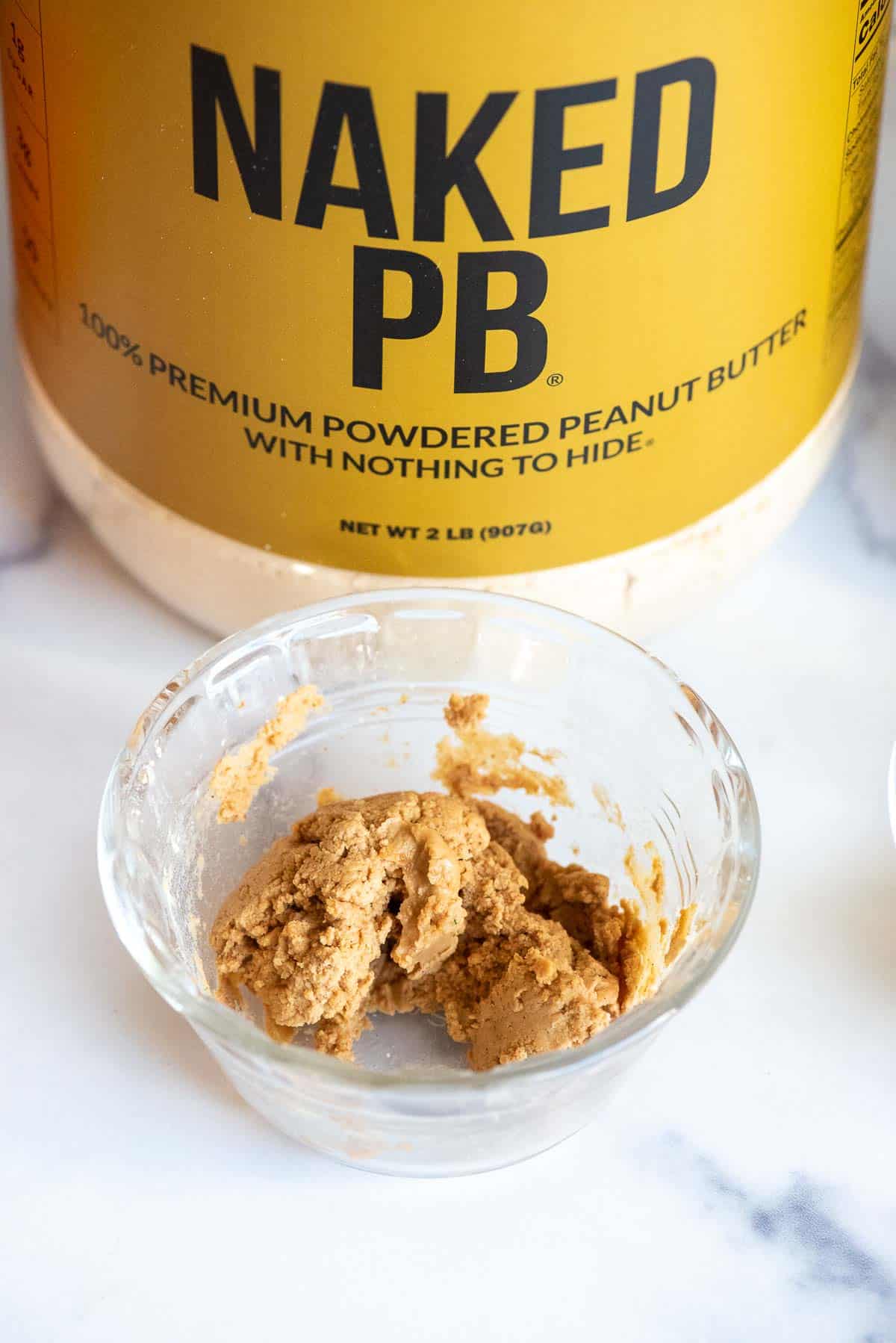 Brand Comparison
We chose three popular brands to compare side by side for nutritional values, flavor and value. We think they are all good quality brands and great choices for premium peanut butter powder.
If you can't find these brands at your local grocery store they are all available online. We've linked to the name of each below.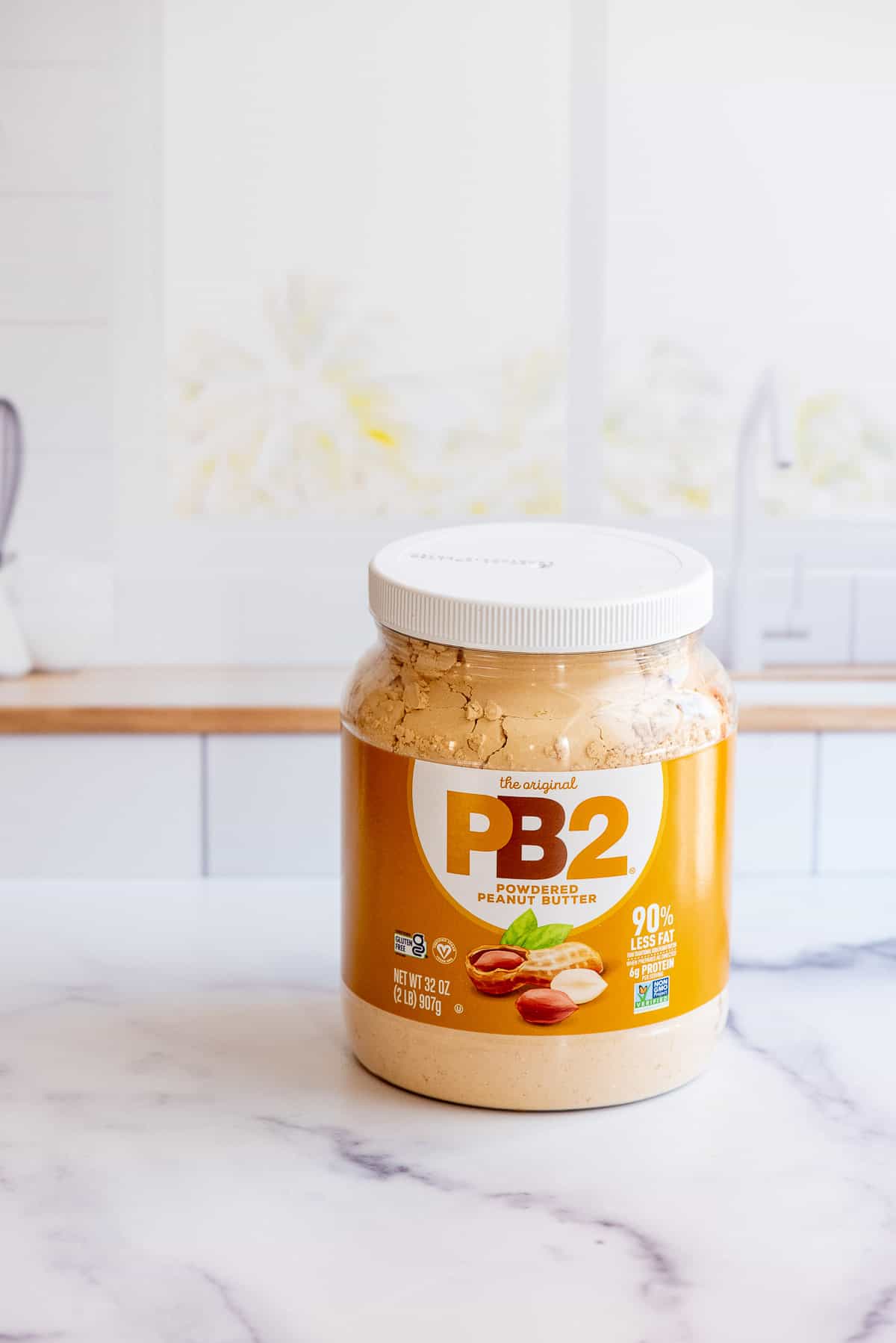 Contains roasted peanuts, sugar and salt.
Made in the USA
They make different varieties which each have different amounts of protein (we tested the Original)
Kosher, vegan, gluten-free, GMO-free (Non-GMO project verified)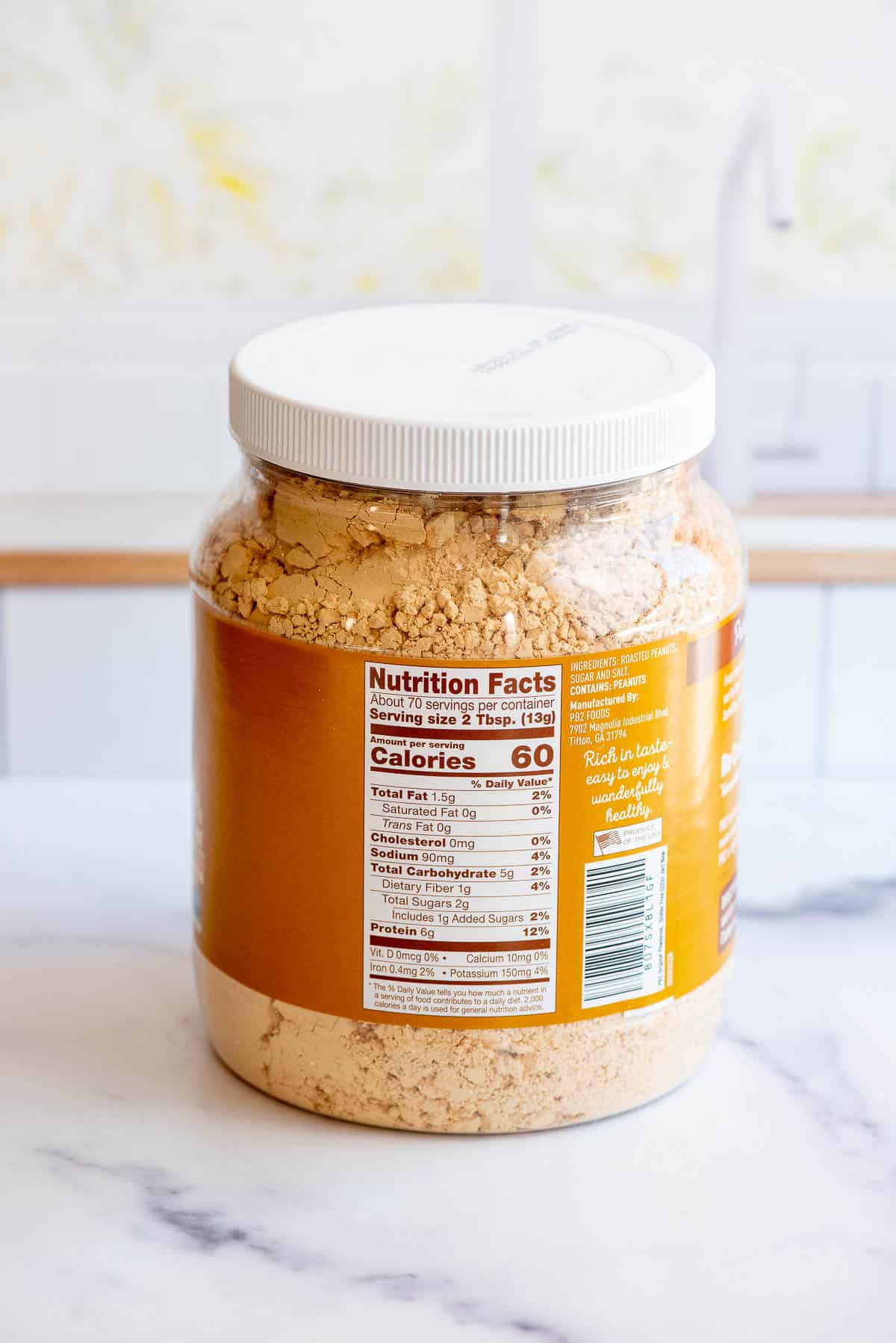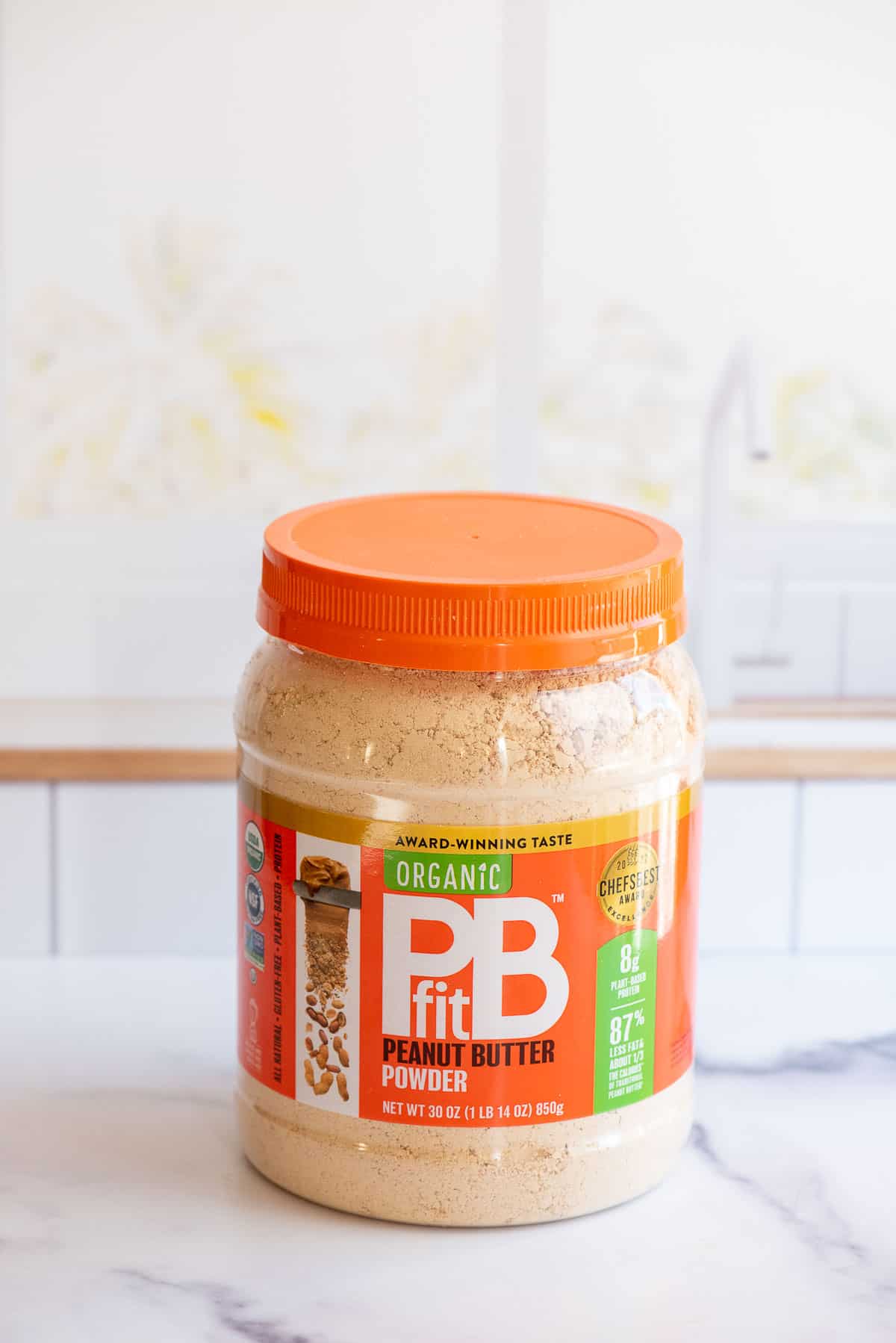 Contains organic peanut flour, organic coconut palm sugar and salt
Gluten-free, non-GMO certified (Non-GMO project verified) , all natural, certified organic
Peanut sourced from US (Georgia)
Make a variety of peanut butter powders including one that's sugar-free sweetened with a monk fruit blend (it's only 10 fewer calories than the organic version we tested)
Comes in a number of different sizes
Our favorite for mixing into peanut butter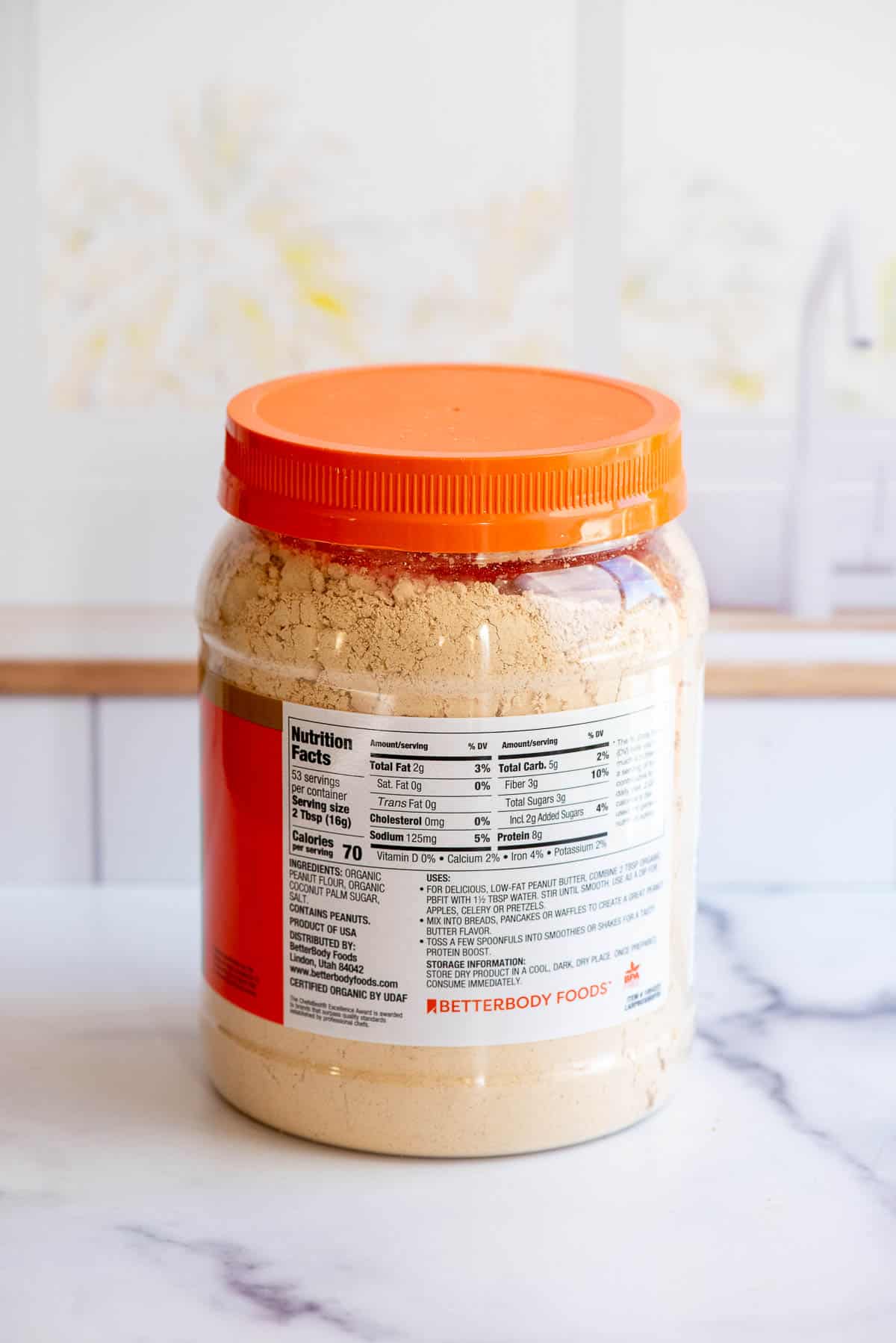 This was the only of peanuts-only brands we tried. We like the clean ingredients and integrity of the company overall. We feel this is best for mixing into foods for the nutritional value versus making actual peanut butter.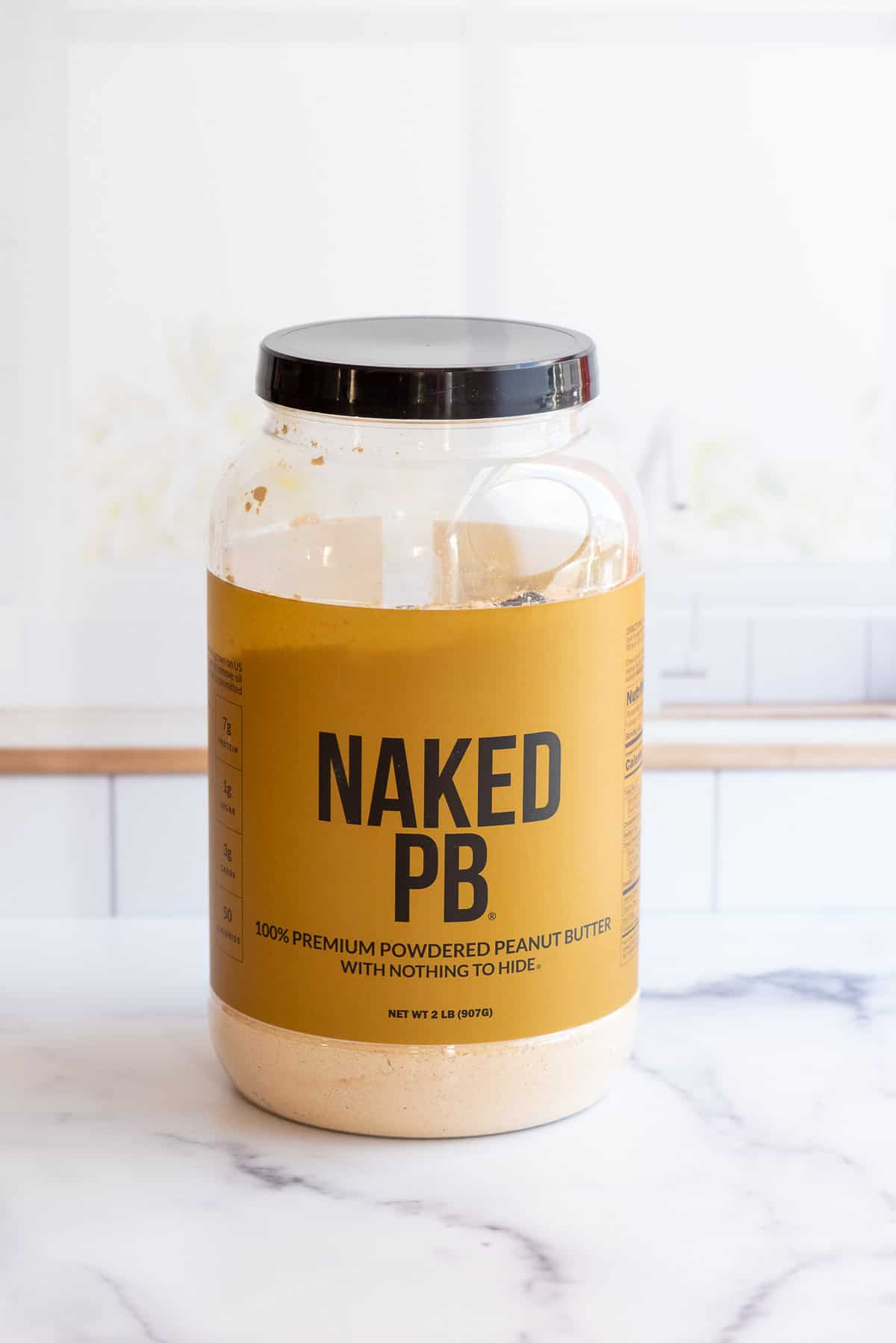 No sugar or salt added: peanuts only.
Made from U.S. farmed peanut only
Certified vegan and gluten-free
Soy, dairy and preservative free
Independent third party testing for heavy metals
Brand Comparison Chart
To get a sense of how these popular brands stack up we've compared their nutritional values and cost below.
PB2 Original
PB Fit Organic
Naked PB
Serving size
2 tablespoons
2 tablespoons
2 tablespoons
Calories
60
70
50
WW points
1
1
1
Protein
6 grams
8 grams
7 grams
Carbohydrates
5 grams
5 grams
3 grams
Fat
1.5 grams
2 grams
1 gram
Fiber
1 gram
3 grams
2 grams
Cost
$27.48 for 30 ounces ($0.87/ounce)
$27.48 for 2 pounds ($0.92/ounce)
$19.99 for 2 pounds ($0.62/ounce)
Amazon rating
15,803 ratings
4.7 out of 5 stars
26,716 ratings
4.8 out of 5 stars
8,763 ratings
4.7 out of 5 stars
Note on cost: these costs are based on buying the products on Amazon and the products are linked. The product may come in different sizes too which is why we noted the price per ounce for comparison.