It's here! If you are a Weight Watchers or WW member you may have been hearing about an updated plan to be rolling out in November. Starting November 14, 2022 it will be available to current and new members and we have all the details!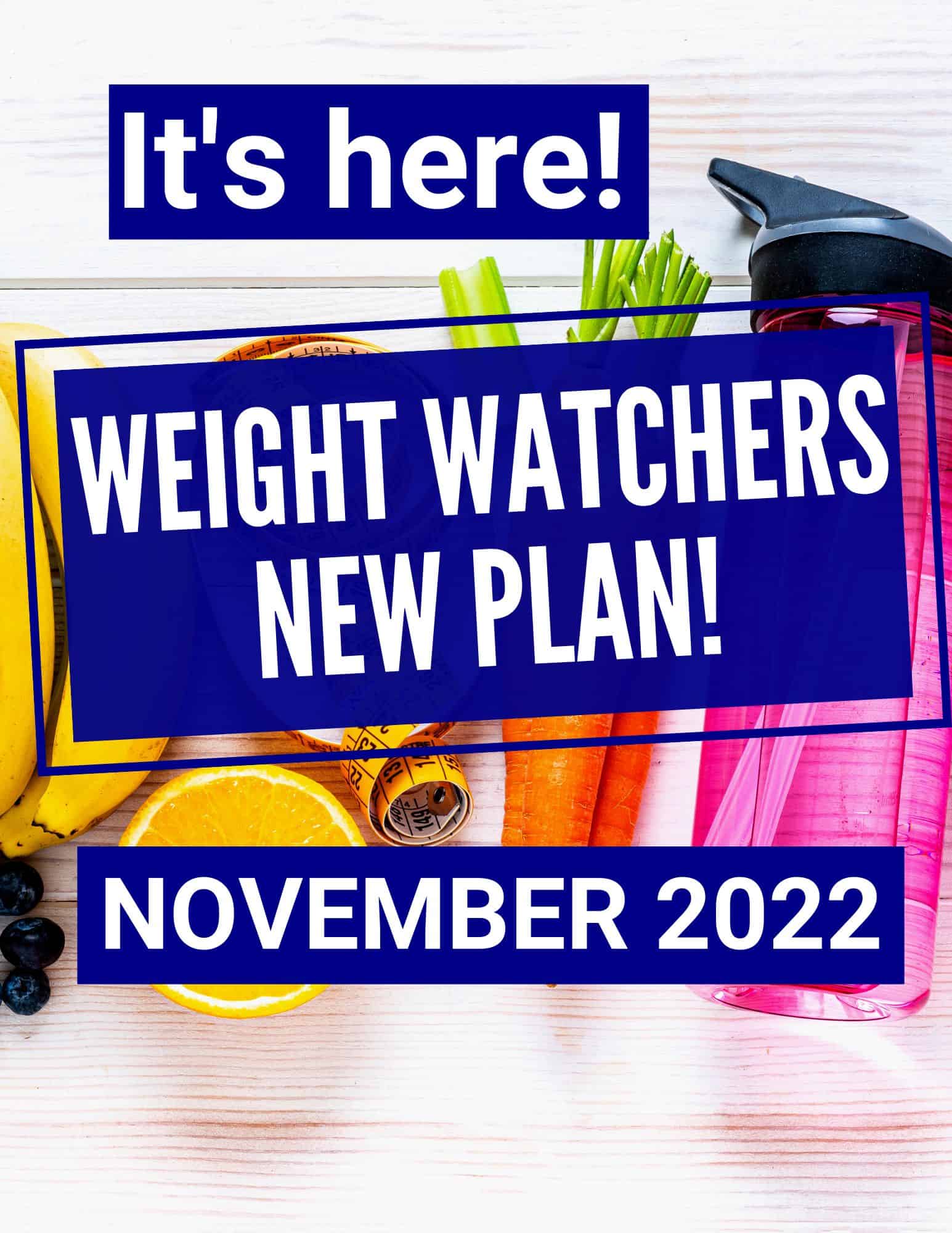 Weight Watchers or WW is always evaluating new approaches to weight loss, leveraging plans and methods that have been proven successful. Usually they update their plan every other November but this year they've made some changes and we think you'll be excited!
Jump to:
This information was shared in a virtual meeting on Sunday November 13, 2022. This post will be updated with any additional details as they are made available.
Highlights
"Life is complicated. Losing weight shouldn't be". This is the guiding idea behind the new change.
All members will once again be on one plan (the same plan)! This is great for a few reasons:
Community. With all members on one plan there is a shared experience and easier sharing of information, tips, recipes and wins. For meetings, live or virtual, all members will have the same criteria for their plan making discussion and support more successful for all.
Reduced complexity. Having one plan makes the program simpler which is a response to member requests.
When does the new plan start?
The new plan will be available to opt into as of Monday November 14, 2022 9:00 a.m. EST. The current WW Personal Points plan will still be available for members on the plan until December 12, 2022. However if a member updates their app to opt into the new plan it cannot be reversed.
So if you are currently on the WW Personal Points plan and don't want to switch immediately be sure NOT to update your app until you are ready.
Everyone will be switched to the new plan December 12, 2022.
If you have difficulty updating to the new plan, check in the app store to ensure your app has updated or contact Weight Watcher customer service for assistance.
What is the name of the new plan?
It is just called the Weight Watchers Plan. You'll note the Weight Watchers name is back in play and 'WW' is still being used too.
There is a 'core plan' however that is a name of a billing plan (online-only version of the digital program) not a food plan.
Will the points program change?
With the goal of making weight loss as easy for members as possible (as well as maintaining a scientifically backed approach) foods have been tracked by points.
The 2022-2023 Weight Watchers Plan will continue to use the point system. Here are some highlights with regard to the new plan:
Individual's daily points allowance will be calculated using sex, age, height and current weight. There is no longer an assessment of preferences as with the WW Personal Points plan.
The total number of points may differ from the WW Personal Point plan but are relative TO the new plan (so you won't really be losing points). 80% of member will see an increase number of point in their personal points budget.
Some zero points foods on the current WW Personal Points plan will no longer be zero points. And some new foods will become zero points (details below).
There will still be both a daily points allowance and a weekly points allowance with the new plan.
Members can still earn points for physical activity; referred to as Fit Points.
Members will no longer earn points for drinking water or eating vegetables. There will still be a water tracker in the Weight Watchers app though.
Rollover points of up to 4 points daily will continue with the new plan.
There will still be a Diabetic plan. It will vary slightly from the main plan.
The algorithm currently being used to calculate food points will still be used in the new plan.
The blue dots will continue as is.
All recipes in the app, created in the app (think Make It Skinny Please recipes!) or shared in the app will have the same points values for all members with the new plan.
Zero Points Food List - November 2022 plan
Following are the new zero point foods for the new plan:
fruit
non-starchy vegetables
lean poultry
fish
tofu
non-fat plain Greek yogurt
non-fat cottage cheese
eggs
lentils
peas
beans
corn
plain, air-popped popcorn
There will be approximately 200 zero points foods with the new plan. You can find the complete list in your Weight Watchers app. Go to the hamburger menu in the top left (the three lines), click that; under Toolkit you'll see ZeroPoint Foods. Click that for the complete list.
Potatoes, oatmeal, and brown rice will no longer be zero point foods on the new plan.
Some foods that offer healthy fats like avocados and almonds will not be as points penalized as in past programs.
For the Diabetic plan, the zero foods will be the same as above with exception of: fruit, peas, corn, and popcorn which will have points.
What does this mean for Make It Skinny Please recipes for points and tracking?
The great news is that when WW Personal Points program launched we installed a link in the recipe card for every Make It Skinny Please recipe which allows Weight Watchers members to click to see the recipe in their WW app.
This shows the points for the recipe for their WW Personal Points and will reflect the points for the new program once the member switches over.
In addition we plan to publish the points value for each recipe now that all members are on the same plan.
We will be working on these updates the week of November 14, 2022 and the tracking link is available now (it just may still say Click for WW Personal Points). It will work for either plan.
When will the new plan be available outside the United States?
Supposedly the end of November 2022 however we recommend checking with your local Weight Watchers chapter in your region for more local details.
Why is the WW Personal Points being discontinued?
Though Weight Watchers has not made an official statement about the end of the plan, recent interviews with the new CEO clarify some of their goals.
As a long time leader in the weight loss space, one of the core strengths and keys to success is community support and camaraderie. The impact of the pandemic and separation through multiple plans or individual plan (Personal Points) have served to isolate the Weight Watchers community making the weight loss challenge a lonely one.
Complexity of multiple plans and in the app's functionality have served to drive change as well. My personal guess is that Weight Watchers is responding to member feedback to come back to a unifying plan and approach which will drive more personal success on their plan and in a more simplified way.
When will WW Personal Points end?
It will no longer be available as of December 12, 2022.
How do I sign up for the Diabetes plan?
When in your WW app go to your profile (the head icon in the top right). When in your profile click the gear icon. The third setting is 'diabetes settings'; click that. You can toggle on the 'living with diabetes' setting.
If you are brand new you should be able to select that you are living with diabetes which will put you on the plan.
If help is needed use the 24 hour chat on the WW website or in the app.
Zero Point Recipes with the New Plan you'll love!