Spicy Blackened Air Fryer Mahi Mahi combines bold Cajun spices with a mild fish for a fast and easy dinner recipe idea. This easy air fryer recipe is a favorite! A 15-minute main dish recipe.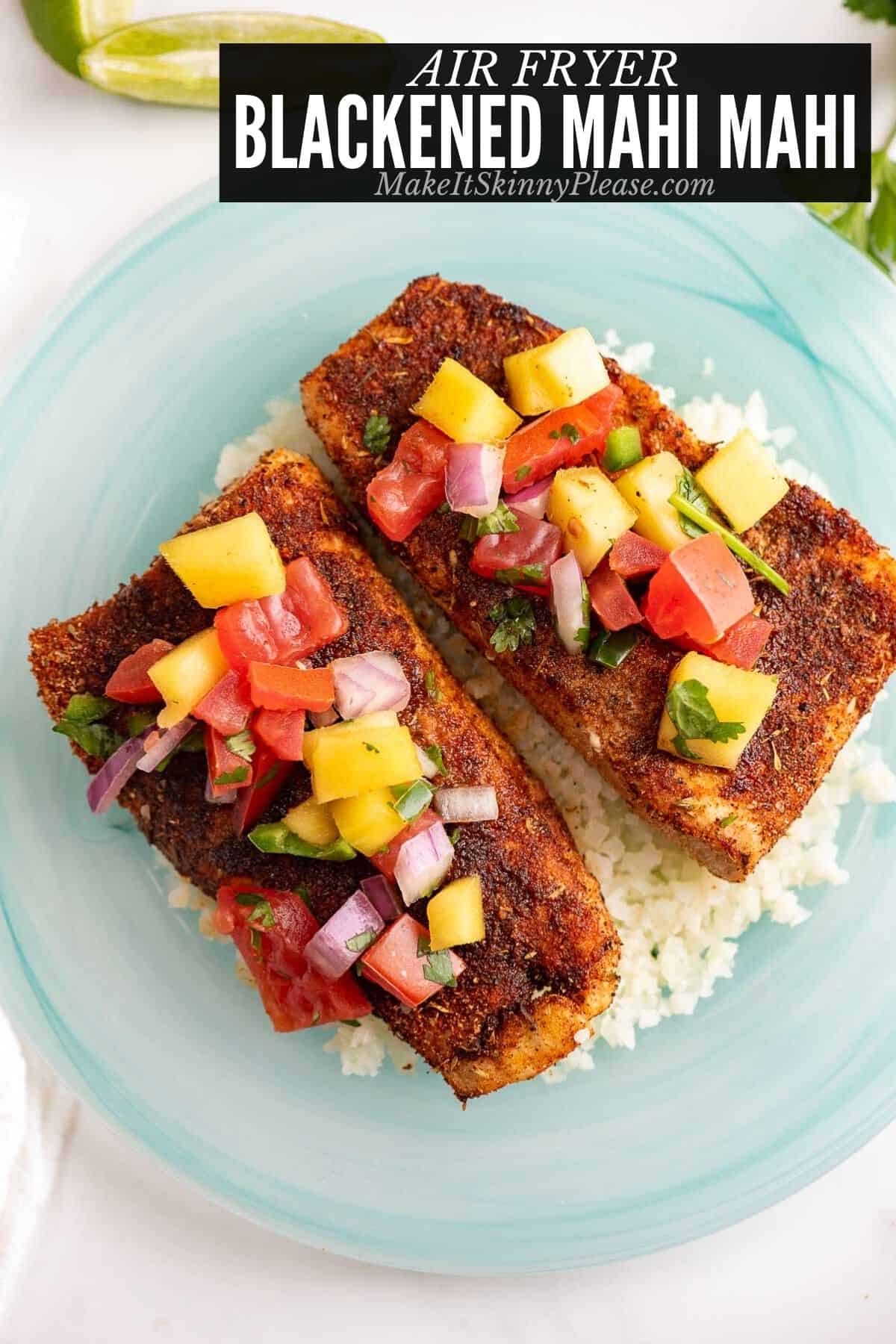 Fish is a great low calorie healthy food and this easy recipe serves it up in style. Delicious air fryer mahi mahi is a tasty recipe skipping any panko breading or deep frying.
We love serving this air fryer mahi mahi recipe with fresh Mango Pico de Gallo. The cool, sweet fresh mango salsa pairs wonderfully with the spicy Cajun seasoning and delicious flakey fish.
Serve with a side of air fryer green beans or air fryer broccoli for an easy weeknight dinner option. Or make air fryer fish tacos by breaking up the delicious fish and adding it some corn tortillas with other fresh ingredients and a squeeze of lime juice.
Jump to:
What is Mahi Mahi?
Also called dolphin fish, it should not be confused with the mammal dolphin. This white fish has a firm texture and mild flavor. It cooks quickly in the air fryer. It has a consistency similar to cod and the fish flakes nicely when cooked.
It's low calorie and high in protein too. It's sold in frozen fillets at most grocery stores so available all year long.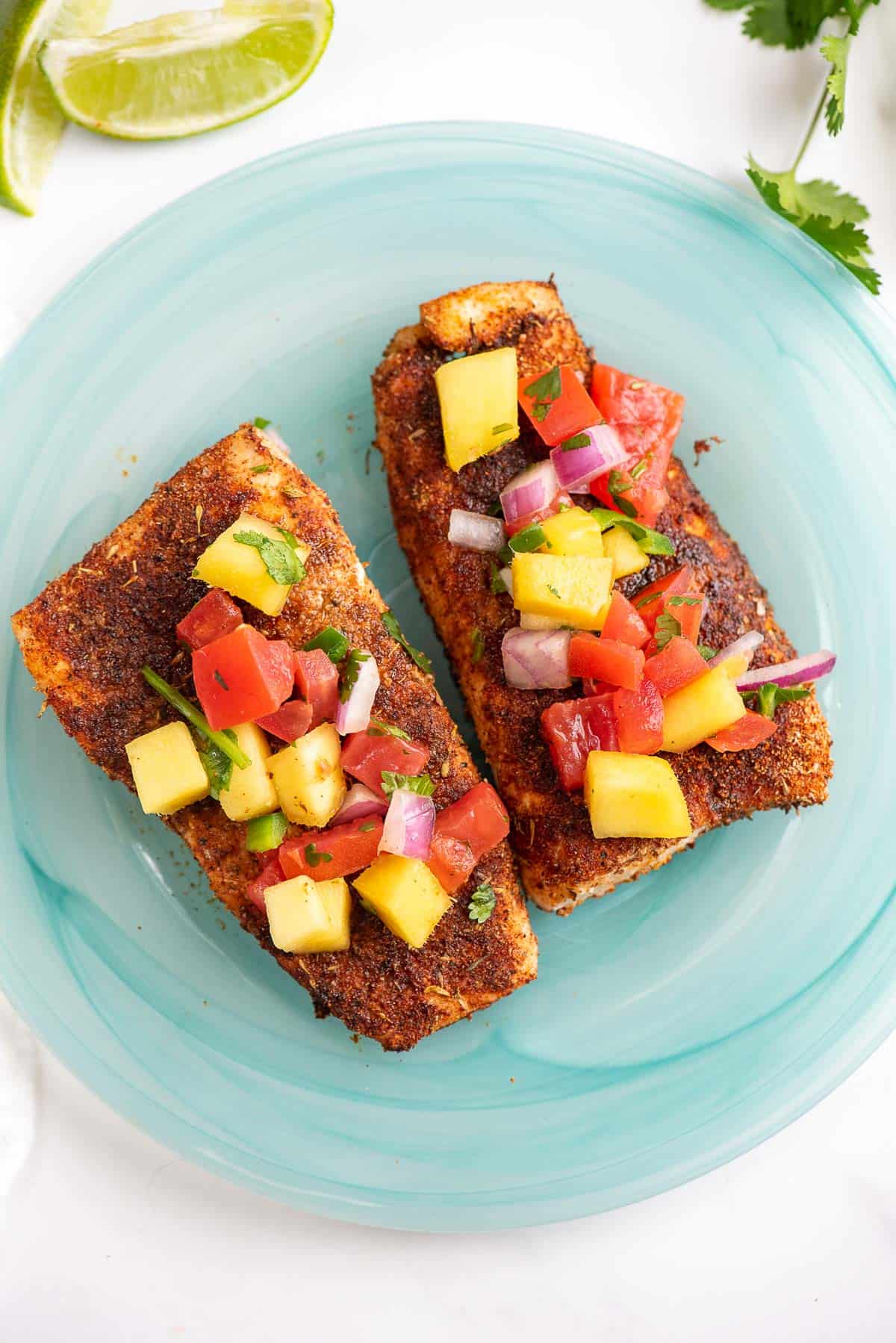 Blackened seasoning
Blackening is a process of coating a protein (usually chicken or fish) with a Cajun spice blend and cooking it until it develops a blackened crust. That usually is accomplished in a skillet cooking the seasoning covered chicken or fish in butter or oil.
The seasoning blend includes spicy and bold spices such as chili powder, paprika, cayenned pepper, onion powder, garlic powder and more. It gives big spicy flavor to the protein it's cooked on.
We prefer making a home blend rather than buying premade blackened seasoning. The store bought blends are usually very high in sodium so the taste is overly salty. This blend is a great one to keep on hand for other blackened dishes too.
What makes this skinny?
The mahi mahi is light and low calorie. The only fat in the recipe is a spritz of olive oil spray which adds very few calories.
Cooking in the air fryer allows creating the blackened mahi mahi with a delicious crust without the melted butter cooking in a skillet. There is no breading or dredging in flour as in the pan frying method.
Recipe Ingredients Notes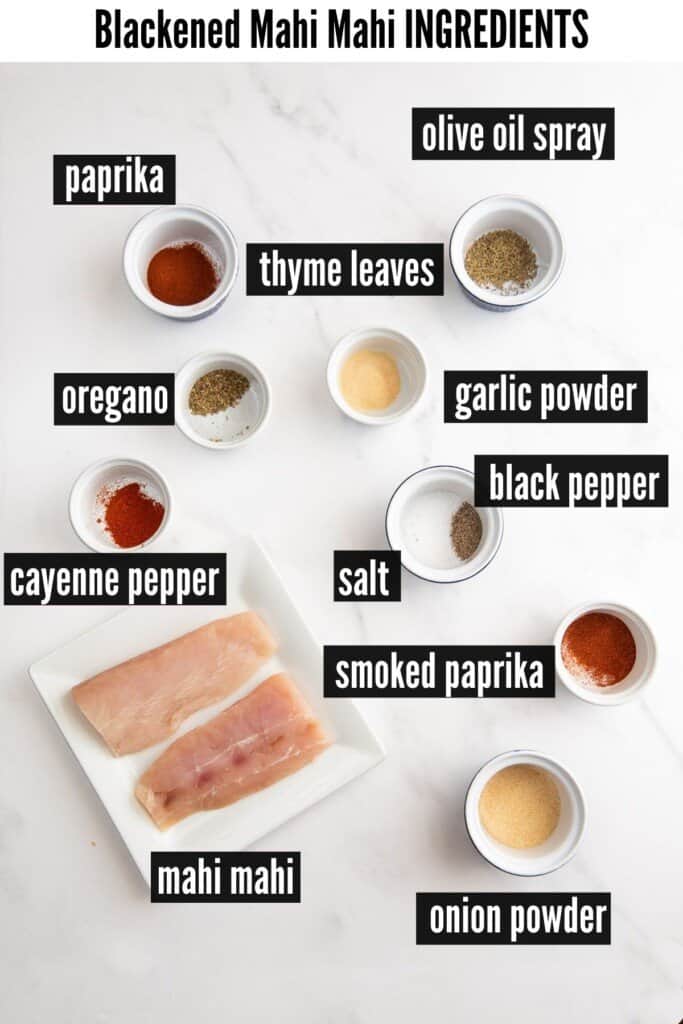 Mahi Mahi. You'll need 4 4-6 ounce fish fillets. It's easiest to find mahi mahi frozen and it's usually packaged in individual fillets all sold in a larger package.
The thickness of the fillet will effect cooking time. flatter fillets as shown in the photos will cook about 2 minutes faster than thicker square cut fillets.
Spices. For this home blend you'll need: sweet paprika (regular paprika), smoked paprika (regular not hot smoked paprika), cayenne pepper, dried thyme leaves, onion powder, garlic powder, dried oregano, salt and black pepper.
All Air Fryers Cook Differently
Depending on the size and wattage of your air fryer the cook time may be slightly different. With air fryer cooking it's important to monitor the food for this reason and check for doneness of meat by checking the internal temperature with an instant read food thermometer.
The internal temperature of mahi mahi needs to reach 137 degrees f to be done. Over cooking will dry it out.
We developed this recipe in a Cosori 5.8 quart air fryer which is a 1700 watt air fryer.
How to make Blackened Air Fryer Mahi Mahi
STEP 1. Preheat the air fryer
Preheat the air fryer to 400 degrees F.
STEP 2. Make the Cajun seasoning
Combine all the spices together in a small bowl. Whisk to fully mix together (photo 1).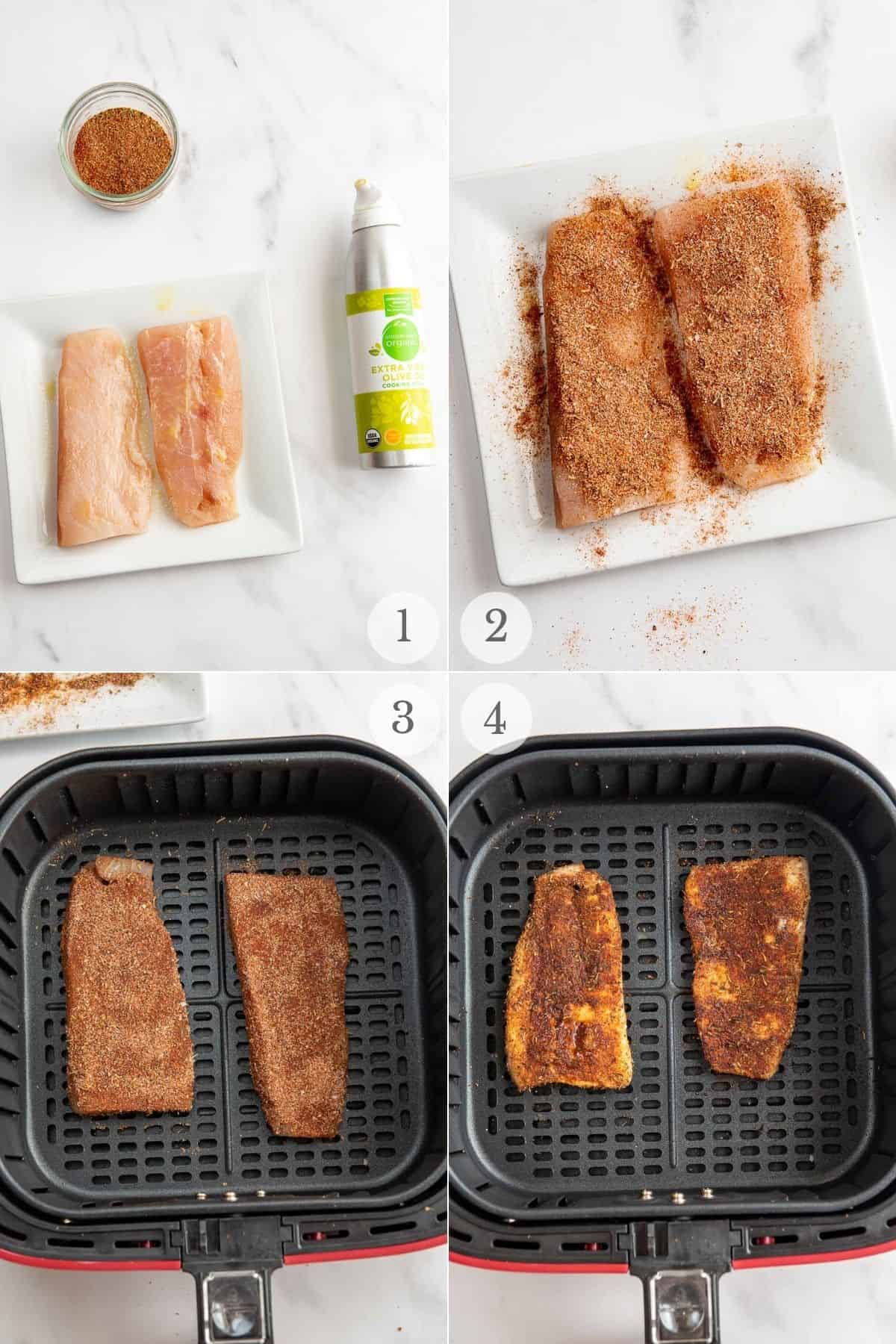 STEP 3. Prepare the fish
Dab the fish fillets with a paper towel to remove any excess moisture. Spritz lightly on both sides with olive oil spray.
Coat fish on both sides with the spice rub patting it to adhere to the fish (photo 2).

STEP 4. Cook
Place mahi mahi fillets in the preheated basket of your air fryer in a single layer leaving some room between them so the hot air can circulate (photo 3).
Cook for 8-10 minutes flipping the fillet over halfway through cooking (photo 4). Remove from the air fryer and allow to sit 1-2 minutes before serving.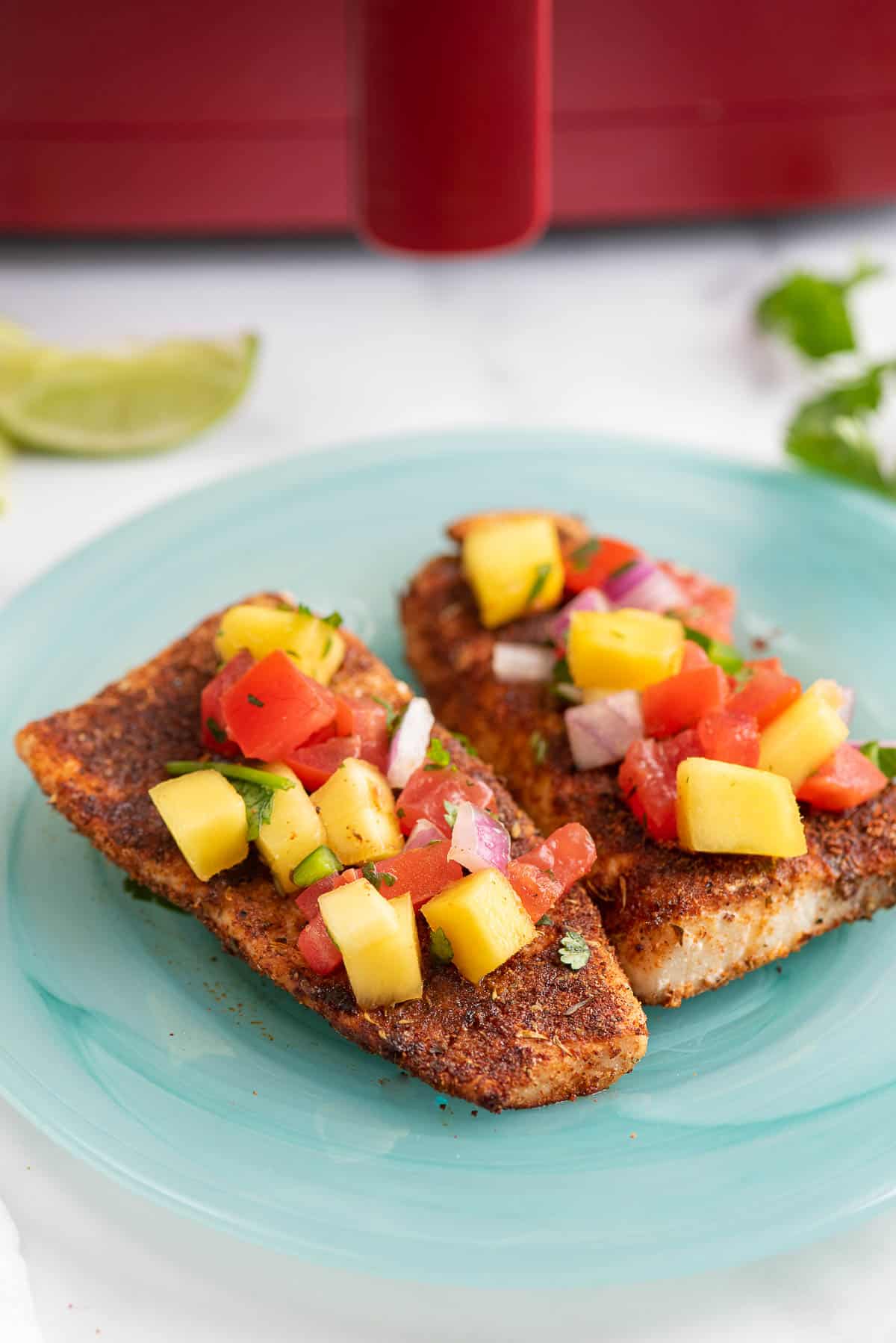 Recipe Tips
Select similar size and thickness fish fillets. Because the cooked time will be different for fillets that are different sizes or thicknesses choosing similar sizes ensures they will all cook in the same timeframe.
Flatter fillets will cook faster. We've made this recipe with flatter fillets (as seen in the photos) and thicker boxier cut fillets. The flatter fillets will cook faster so be sure to monitor so they do not overcook.

Cooking Times
As mentioned above cooking times will vary based on the air fryer being used and the thickness of the mahi mahi fish fillets. These are estimates and may vary for your air fryer:
4 ounce flatter fillets - 8 minutes
4 ounce thicker fillets - 8-10 minutes
6 ounce flatter fillets - 8-10 minutes
6 ounce thicker fillets - 10-12 minutes
How to store leftovers
Fish is usually best the day it's prepared however leftovers can be stored in an airtight container in the refrigerator for up to 2 days. Rewarm in the microwave; be careful not to overheat and dry out the fish.
More recipes you'll love!
Recipe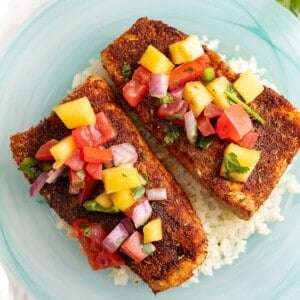 Blackened Air Fryer Mahi Mahi
Click to track Weight Watchers Points
Spicy Blackened Mahi Mahi is cooked perfectly in the Air Fryer in 15 minutes. A nice blacked crust on the mild firm fish is fantastic without any butter or oil in the cooking.
Print
Pin
Rate
Ingredients
1

tablespoon

onion powder

2

teaspoons

sweet paprika

1

teaspoon

smoked paprika

1

teaspoon

dried thyme leaves

1

teaspoon

garlic powder

1

teaspoon

oregano

1

teaspoon

salt

1

teaspoon

freshly ground black pepper

½

teaspoon

cayenne pepper

4

4-6 ounce

mahi mahi fillets
Instructions
Preheat the air fryer to 400 degrees F (for 5 minutes).

While the air fryer is preheating, mix all the spices together in a small bowl.

Lightly spritz the mahi mahi fillets with olive oil spray on both sides. Sprinkle the blackened seasoning to coat all sides of the fish fillets.

When the air fryer is heated, carefully place the fillets in the air fryer basket with some space in between. Depending on the size of your fillets and air fryer basket you may need to do this in batches.

Cook for 8-10 minutes (refer to cooking guidelines in the NOTES section below), turning the fillets over halfway through.

The mahi mahi should reach 137 degrees F internal temperature. When done cooking remove from the air fryer and allow to sit for 1-2 minutes before serving.
Notes
All Air Fryers cook slightly differently depending on their size (volume) and wattage. Our cooking time used the Cosori 5.8quart Air Fryer. Monitor the fish in your air fryer and use the internal temperature of 137 degrees F for doneness.
These are estimates and may vary for your air fryer:
4 ounce flatter fillets - 8 minutes
4 ounce thicker fillets - 8-10 minutes
6 ounce flatter fillets - 8-10 minutes
6 ounce thicker fillets - 10-12 minutes
Nutrition
Calories:
113
kcal
|
Carbohydrates:
4
g
|
Protein:
22
g
|
Fat:
1
g
|
Saturated Fat:
1
g
|
Polyunsaturated Fat:
1
g
|
Monounsaturated Fat:
1
g
|
Cholesterol:
83
mg
|
Sodium:
684
mg
|
Potassium:
553
mg
|
Fiber:
1
g
|
Sugar:
1
g
|
Vitamin A:
1082
IU
|
Vitamin C:
1
mg
|
Calcium:
41
mg
|
Iron:
2
mg