Low calorie low-fat Nice Cream is an easy guilt-free frozen dessert! Enjoy it thick and creamy like soft serve or scoopable like classic ice cream. We have loads of ways to change it up too! Zero WW Personal Points!!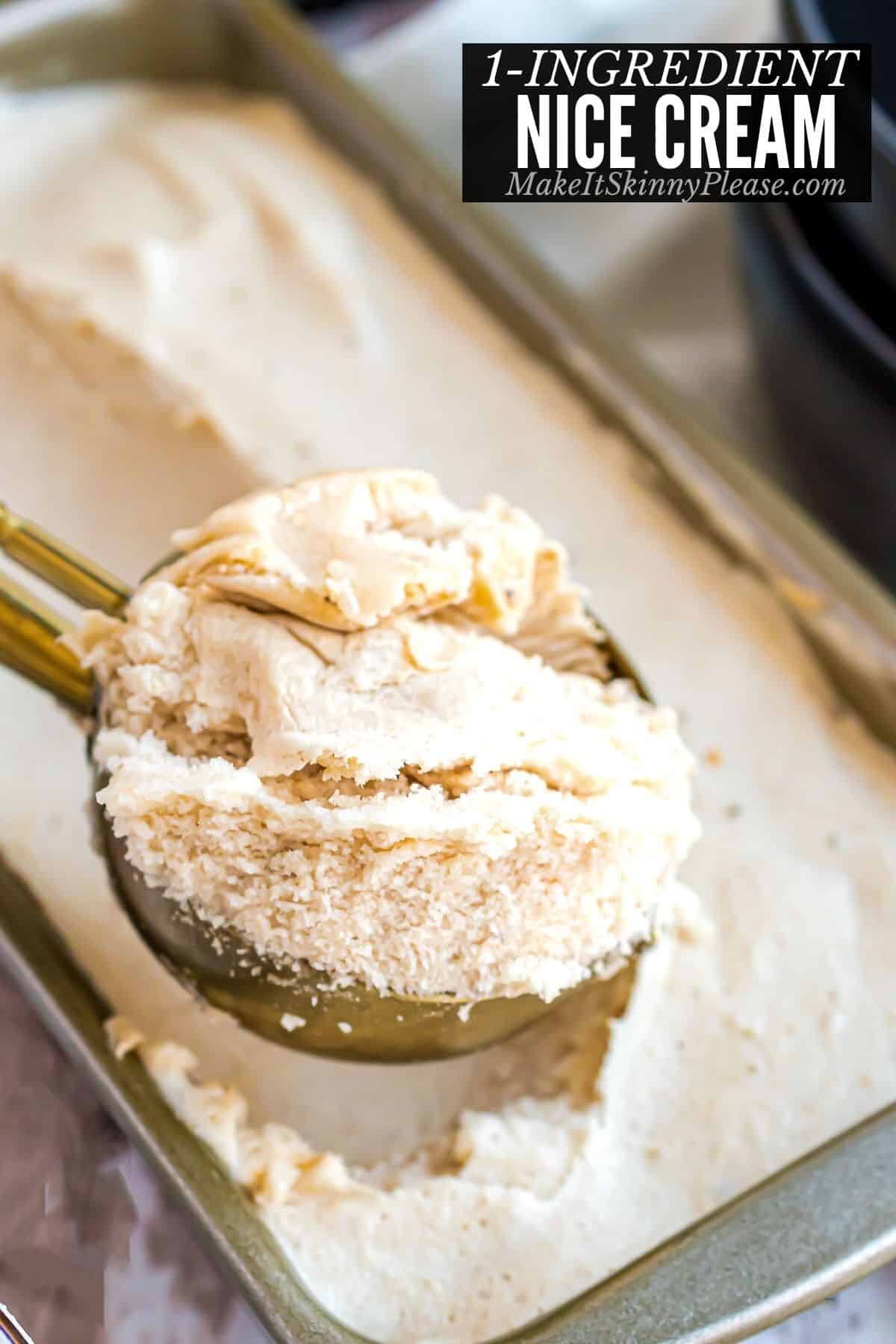 This healthy banana ice cream recipe has a creamy, smooth texture and is absolutely delicious. And you'd never guess it's a vegan, dairy-free dessert!
No ice cream maker is needed to make one-ingredient banana ice cream. A food processor or a high-speed blender (like a Vitamix) is all you need.
Enjoy the original nice cream recipe 'as is' or toss in favorite mix-ins for a whole new flavor. This wonderful recipe makes a frozen treat sure to satisfy any sweet tooth.
Jump to:
What is Nice Cream?
It's an ice cream consistency dessert made solely of frozen bananas blended in a blender or food processor. It makes the consistency of soft serve ice cream. Or freeze it longer for a more scoopable consistency.
The origins of the name are unclear but my guess is that it's because it's nice to your body and your waistline. Being dairy-free, gluten-free, plant-based, low calorie and low fat but still ice cream. It doesn't get much nicer than that.
What makes this skinny?
It is made only of bananas....but it's ice cream! There is no milk or cream in the recipe but you'll never know from the consistency. No added sugar either.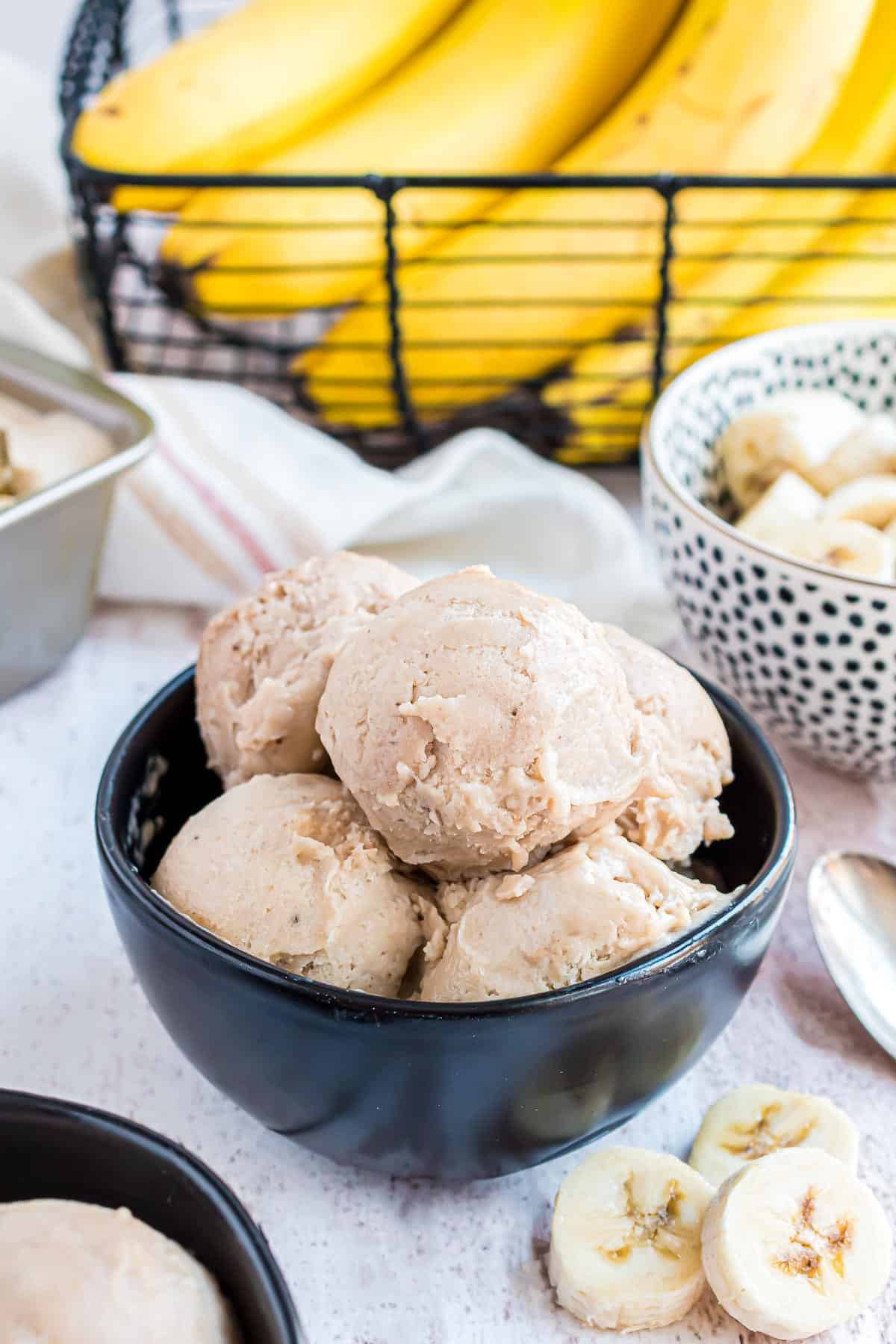 Ingredient Notes
You'll use 4 large overripe bananas. The natural sweetness of this recipe depends on how sweet the bananas are so make sure they are ripe. Also things don't taste as strongly when frozen.
Instead of using those spotty bananas for banana bread freeze them up for this creamy dessert recipe! Slice the bananas into ½-inch slices (no larger than 1-inch chunks).
The recipe can be made with smaller size bananas, or more or less bananas. The yield will just be different.
How to make Nice Cream - Step-by-Step
STEP 1. Freeze bananas
Peel and slice the bananas (photo 1). Place in a freezer bag in the freezer until fully frozen; 4 hours to overnight (recommended) (photo 2).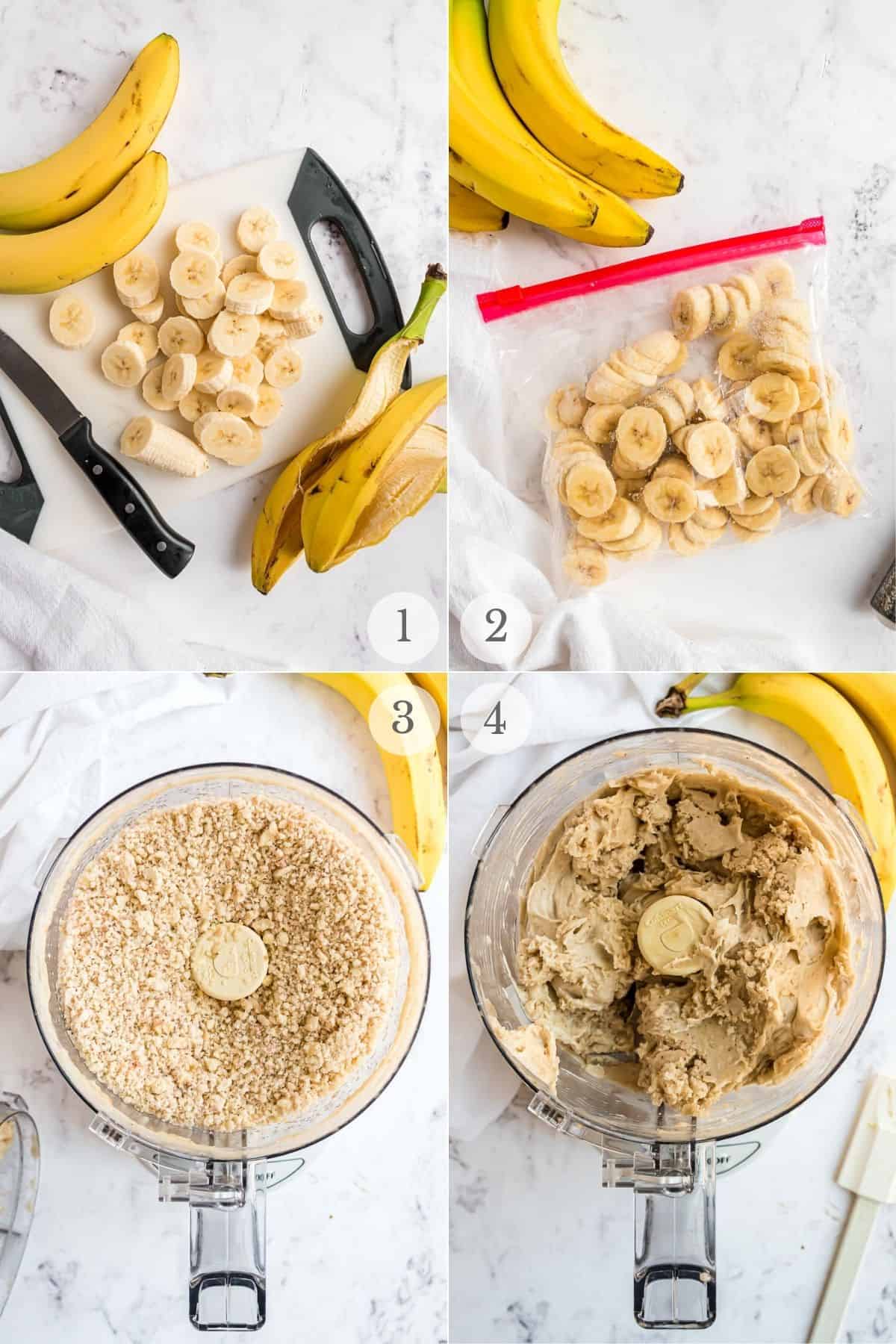 STEP 2. Blend
Place the frozen banana slices into a food processor or powerful blender (like a Vitamix blender). Pulse the mixture. In the food processor it will first look like crumbs (photo 3) then will blend into a silky smooth creamy texture (photo 4-5).
Scrape down the food processor bowl in the process or the sides of the blender. If using a blender you may need to stir the mixture to move unblended frozen bananas to the bottom of the blender as the mixture becomes creamy.
When the mixture resembles soft serve ice cream in texture blend/pulse 30 more seconds to get more air into it (photos 5-6).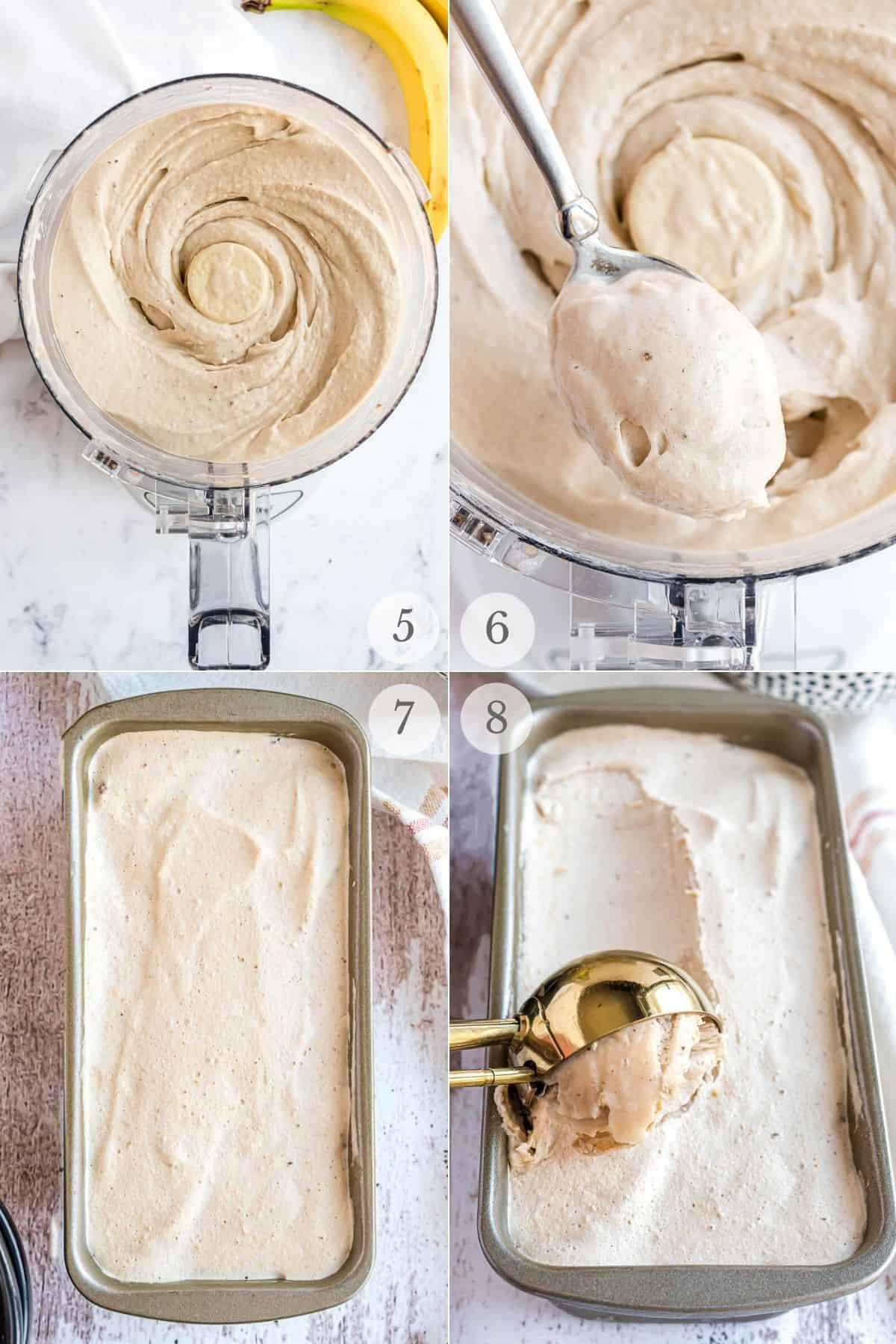 For soft serve ice cream: it can be eaten as soon as its blended (photo 6).
For firmer ice cream: transfer it to a freezer-safe storage container (photo 7)(I use these containers) and freeze until firm (aproximately 2 hours).
Allow to sit at room temperature for 10-15 minutes before scooping (photo 8). If putting it in a loaf pan place plastic wrap on the top of the vegan ice cream for best results post freezing.
Using a Food Processor vs a high-speed Blender
If using a blender you'll need a work horse like a Vitamix. It easily can tackle frozen ingredient like this and produces a silky cream soft serve texture quickly (2-3 minutes). You will need to monitor, stop, stir and go again. As the mixture becomes creamy stirring to ensure the remaining frozen bananas get to the blade is key.
A food processor also work but will take a bit longer (up to 10 minutes) to fully blend the banana nice cream. It also is not quite as creamy as with a blender and it's harder to get little chunks completely smooth.
Nice Cream Flavors
It's easy to take the nice cream base and make different flavors.
After blending up the base recipe add these mix-in ingredients to create new nice cream flavors. Blend just to combine (don't overmix):
Peanut Butter Banana: 1-2 tablespoons creamy peanut butter or other nut butter (to taste and your dietary needs).
Nutella Banana: 1-2 tablespoons of Nutella (chocolate hazelnut spread).
Vanilla: 1 teaspoon pure vanilla extract or to taste.
Chocolate Banana nice cream: 1-2 tablespoons cocoa powder.
Banana Chocolate Chip: mix in ¼ cup of mini chocolate chips.
Mint Chocolate Chip: add ¼ teaspoon peppermint extract and ¼ cup mini chocolate chips.
Fruit Nice Cream ideas
When making fruit flavors add the frozen fruits when blending the bananas instead of afterwards as with the mix-in ingredients above.
With these ideas you may need to adjust the sweetness based on the fruit. For instance blended mango tastes like mango but is not always sweet. You can drizzle in a teaspoon of honey or maple syrup. To make it creamier add a little bit of milk (almond milk, coconut milk, oat milk, dairy milk).
Raspberry nice cream: 1 cup frozen raspberries
Pineapple: 1 cup frozen pineapple
Strawberry nice cream: 1 cup frozen strawberries
Mango: 1 cup frozen mango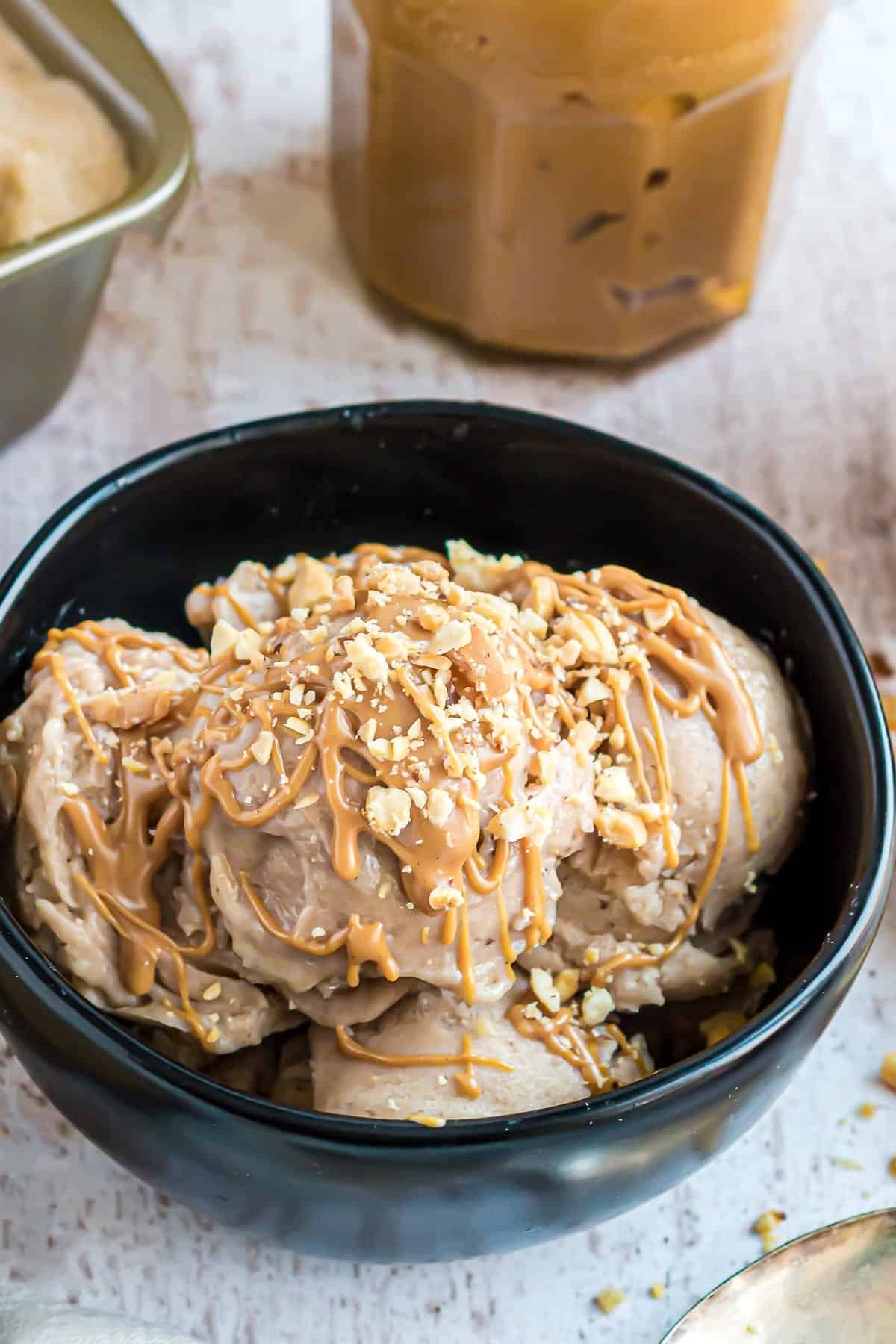 Topping Ideas
Just as with traditional ice cream adding favorite toppings is much of the fun. Here are some ideas:
sliced fresh bananas
mini chocolate chips
chopped nuts
peanut butter drizzle (soften creamy peanut butter in the microwave, stir until it's a pourable consistency)
sprinkle of toasted coconut
fresh berries or other fresh fruit
reduced fat whipped cream
Pro Tips
Use overripe bananas. This will give the sweetness you'll want without needing to add extra sweeteners.
Slice the bananas before freezing. This ensures the blender or food processor won't be overtaxed when blending.
Use any amount of bananas. Because bananas are the only ingredient you can make any size batch with bananas with brown spots!
How to freeze the bananas. To avoid a big clump of banana slices line a rimmed baking sheet with parchment and place the banana slices in a single layer. Place in the freezer until frozen. Transfer them to a freezer bag to store until use.
Frequently Asked Questions
How long can I store Nice Cream?
For 2-3 months. Store in an airtight freezer-safe container. We recommend using a container made for ice cream like this one from Tovolo. It has a cavity between the ice cream and exterior which better protects the ice cream from freezer burn.
What equipment do I need to make Nice Cream?
You'll need a 4-quart or 7-quart food processor or a powerful blender like a Vitamix. No ice cream maker is required.
More recipes you'll love!
Recipe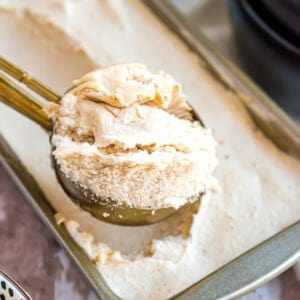 Nice Cream (1-ingredient Banana Ice Cream)
Click to track Weight Watchers Points
This easy, creamy frozen dessert only uses one ingredient: bananas! They blend up exactly like ice cream making a delicious low calorie dairy free dessert recipe.
Print
Pin
Rate
Servings:
4
¾-cup servings
Ingredients
4

large

bananas

sliced or cut into small pieces
Instructions
Place sliced bananas into a freezer bag and freeze for at least 4 hours until solid, preferably overnight.

Place frozen bananas into a food processor or heavy-duty blender (like a Vitamix) and begin pulsing.

In the food processor the bananas will resemble crumbs at first, similar to oatmeal. In the blender it will begin to look like soft serve ice cream when as it blends.

FOOD PROCESSOR: Continue processing and, as the mixture begins to get smoother, scrape down the food bowl with a silicone spatula.BLENDER: As the mixture becomes creamy, stop the blender and stir the mixture as needed to keep cycling the frozen bananas down to the blender blade.

When the mixture turns into a creamy consistency resembling a soft serve ice cream (this will take up to 10 minutes in the food processor and 2-3 minutes in the blender) blend for about 30 seconds longer to incorporate air into the ice cream.

Serve immediately for soft serve ice cream. For a firmer, scoopable ice cream, transfer the mixture to a freezer-safe airtight container, and freeze for about 2 hours, or until it reaches the desired texture.
Notes
Recipe times
Prep time: slicing the bananas and blending the ice cream (15 minutes)
Total time with 4 hour freezing time for the bananas FOR SOFT SERVE CONSISTENCY: 4 hours 15 minutes
Total time with 4 hour freezing time for the bananas FOR FIRM CONSISTENCY: 6 hours 15 minutes
How to Store
Store in the freezer-safe airtight container for up to 2-3 months. We recommend an ice cream container that will protect against freezer burn but any sealed freezer container will work.
Nutrition
Calories:
105
kcal
|
Carbohydrates:
27
g
|
Protein:
1
g
|
Fat:
1
g
|
Saturated Fat:
1
g
|
Polyunsaturated Fat:
1
g
|
Monounsaturated Fat:
1
g
|
Sodium:
1
mg
|
Potassium:
422
mg
|
Fiber:
3
g
|
Sugar:
14
g
|
Vitamin A:
76
IU
|
Vitamin C:
10
mg
|
Calcium:
6
mg
|
Iron:
1
mg