Light, fresh Spring Rolls are a great recipe option any time of the year. Once you learn to make them at home the possibilities are endless!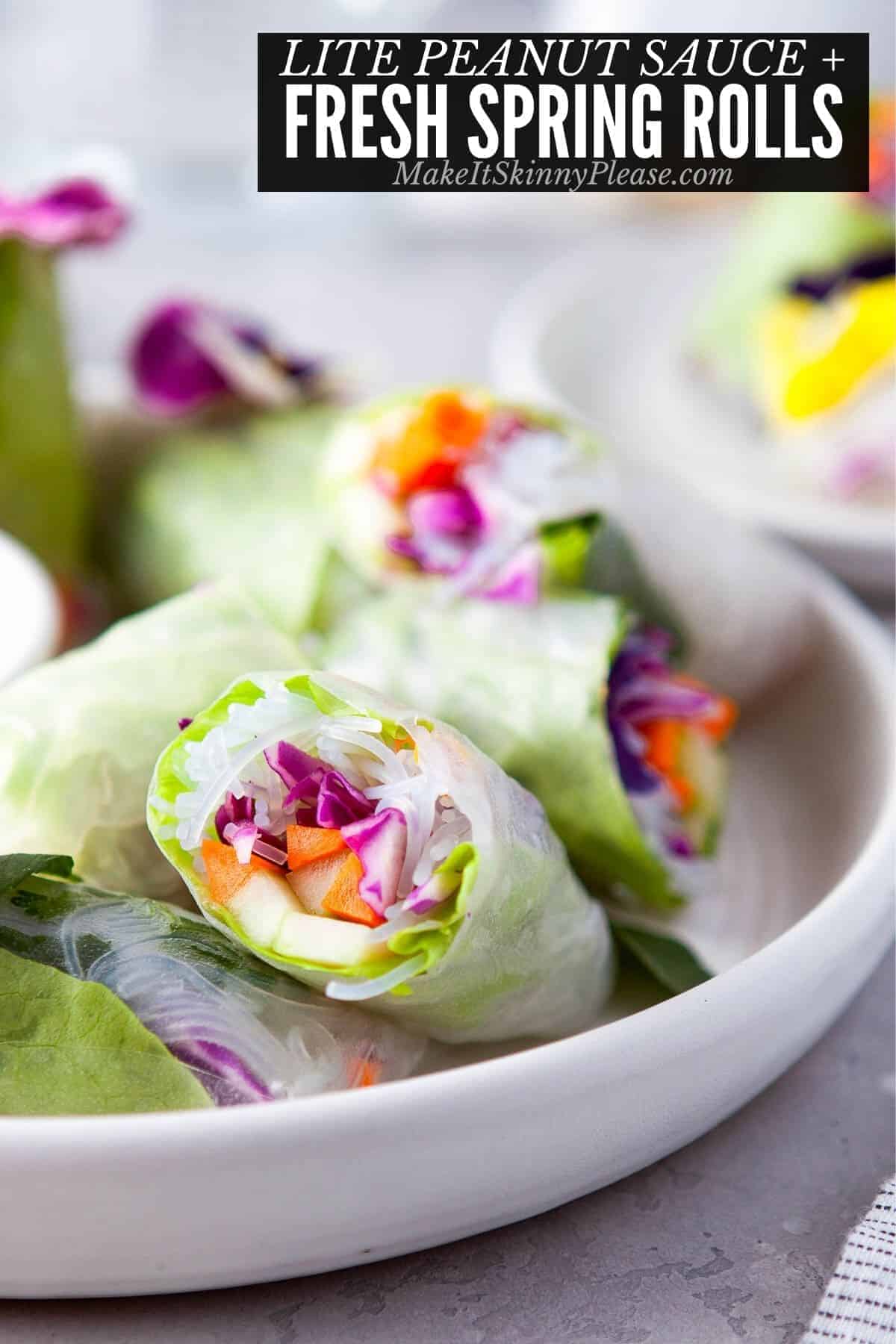 No need to go to a Vietnamese restaurant to enjoy fresh Vietnamese spring rolls at home. They are a delicious way to get more vegetables onto the dining table and are a calorie-friendly recipe.
Wrapped in rice paper sheets, packed with flavorful fresh ingredients these homemade spring rolls are filling and satisfying too.
Paired with a lightened up peanut dipping sauce recipe! Try our Shrimp Summer Rolls too!
Jump to:
Vietnamese Spring Rolls recipe
If you are scratching your head thinking spring rolls are fried; you aren't wrong. Those are Chinese spring rolls and they ARE wrapped in a wheat flour wrapper and deep fried.
Vietnamese spring rolls, also called fresh summer rolls, rice paper rolls, fresh spring rolls use a thin wrapper made of rice flour. They include fresh vegetables and light protein.
Typically they are eaten as an appetizer but also make a perfect light main dish recipe.
The ingredient options are endless as since they are made at home can be changed up whenever you feel like it.
This homemade Vietnamese spring roll recipe includes a quick pickling of the carrots, loads of colorful vegetables and several ways to customize them too!
What makes this skinny?
fresh vegetable filling ingredients
rice paper spring rolls require no deep frying as with egg rolls or Chinese spring rolls
the peanut sauce has been slimmed down too.
Recipe Ingredients + Notes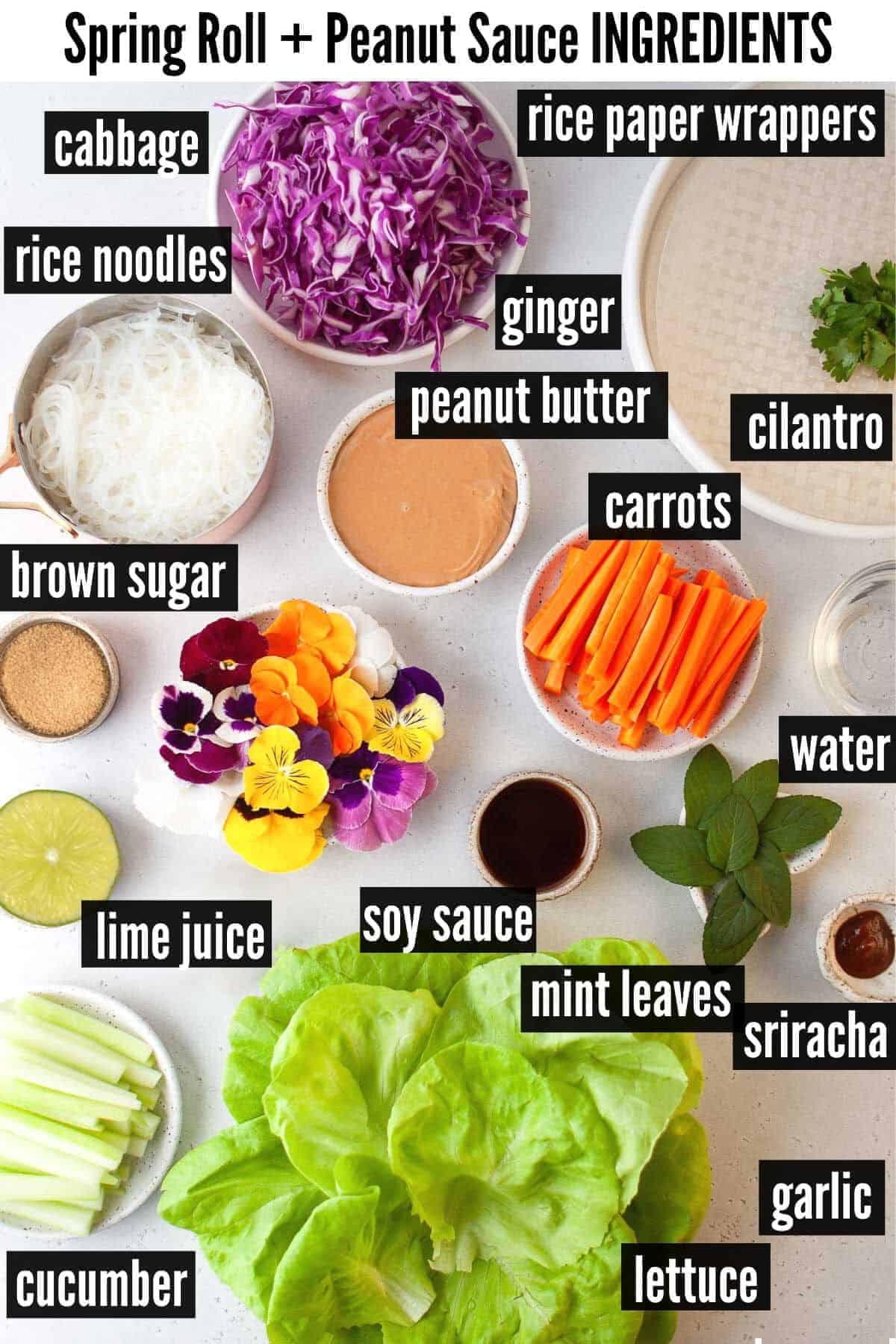 Rice paper wrappers. Also called spring roll wrappers these thin wrappers start as a brittle sheet and are transformed when soaked in water to pliable, roll-able transparent wrappers. They can be found in the International ingredients section of most grocery stores, Asian markets and online.
Carrot. Use medium size carrots. We'll cut them into matchsticks and pickle them for the fresh spring rolls.
Rice vermicelli noodles. These naturally gluten-free thin rice noodles add substance to the spring rolls. Also available in the international ingredients section, in Asian supermarkets or online.
You'll use about 4 ounces or 120 grams. This will most likely be a partial package of rice vermicelli noodles.
Cucumbers. These will be cut into slender sticks for easier rolling and a great texture when eating.
Fresh mint and fresh cilantro. Both are added to the spring rolls for a punch for flavor.
Shredded cabbage. This can be home shredded or store bought shredded cabbage can be used.
Small butter lettuce leaves. Butter lettuce is tender and perfect to add. Use the small inner leaves which are tender and pliable. If there is a firm rib in the center of the leaf remove it.
Peanut Dipping Sauce (a lower calorie version)
Peanut butter. Use smooth unsweetened peanut butter. Natural peanut butter is a great choice; if separated stir together before measuring.
Soy sauce. Regular or gluten-free soy sauce or tamari can be used.
Brown sugar. Just a teaspoon is used.
Garlic. Fresh minced garlic.
Ginger. Fresh minced ginger.
Lime juice. Use freshly squeezed lime juice if possible.
Sriracha sauce. This doesn't actually make the sauce really spicy but perks up the flavor.
Water. Use warm water which blends best with the peanut butter.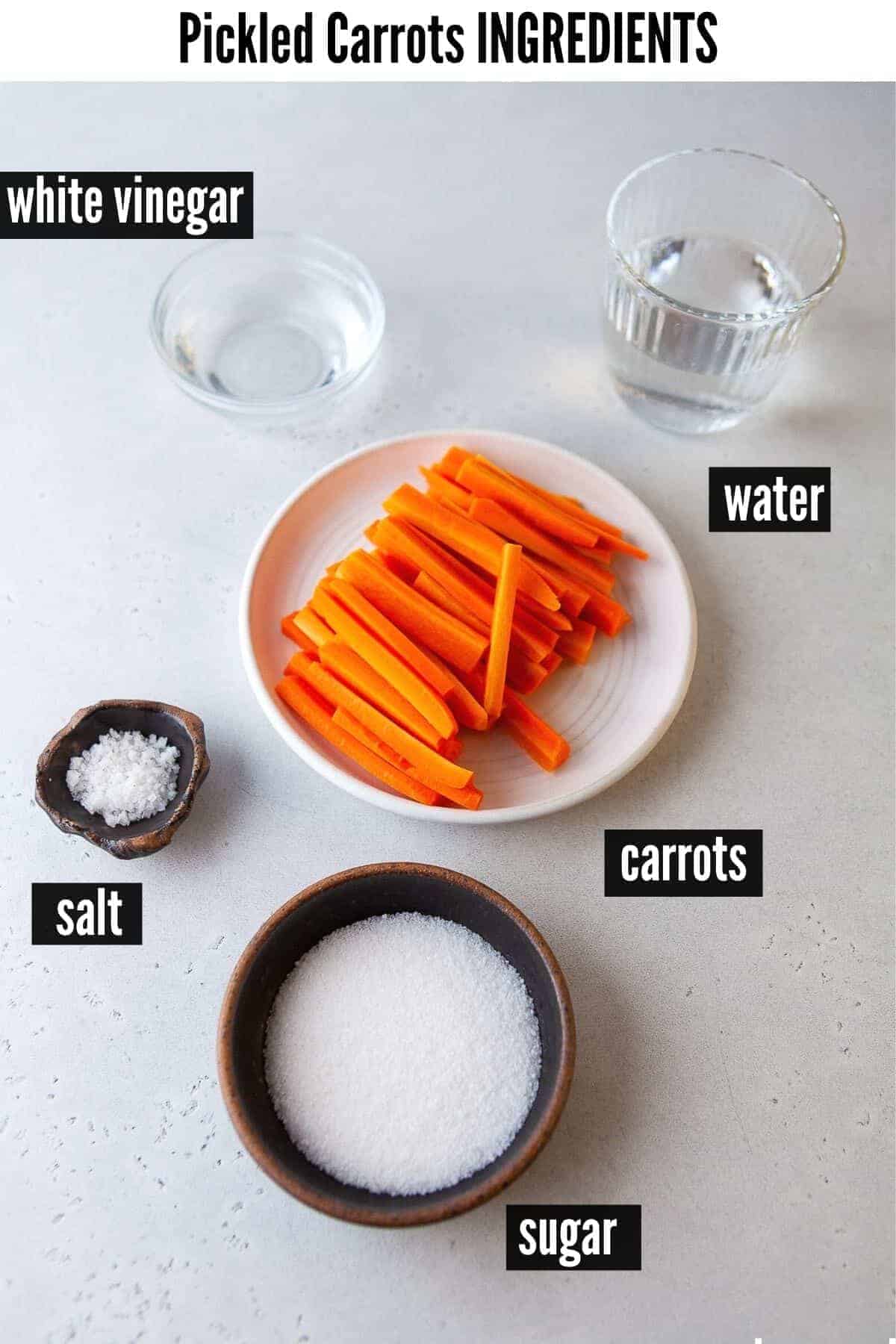 For pickling the carrots
White vinegar, granulated sugar (only a teaspoon), salt and water.
How to make Spring Rolls - Step-by-Step
If you've imagined you could never make vegetable spring rolls at home you'll be delighted to find how easy they are. Rolling them takes a bit of practice to get them uniformly snug but you'll be a pro in no time.
STEP 1. Pickle the carrots
Combine the pickling brine ingredients: sugar, water, salt and vinegar in a bowl. Add the carrots and allow to soak for at least an hour (photo 1).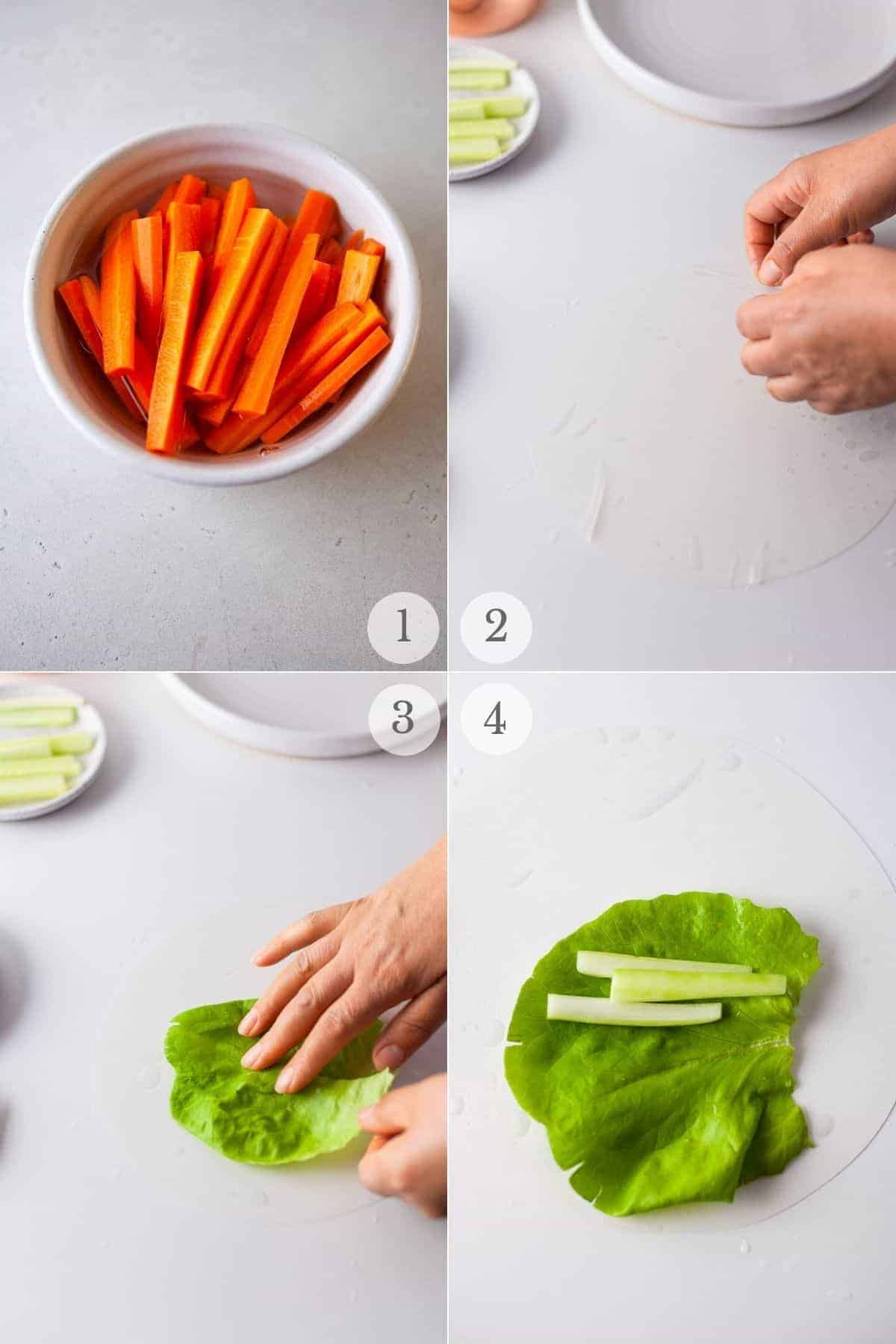 STEP 2. Preparation
Cook the vermicelli noodles as directed on the package.
Assemble all the vegetable filling ingredients.
STEP 3. Soften the rice paper wrappers
In a pan large enough to hold a rice paper wrapper (a pie plate works great for round wrappers) fill with 1 inch of lukewarm water. Dip the wrappers one at a time.
Place in the water and immerse fully. Remove and place on a plastic cutting board to roll the spring rolls (photo 2).
NOTE: if there is a texture side to the wrapper, place the smooth side down (this will become the outside).
If not using a plastic cutting board, allow the wrapper to stay in the water for 10-15 seconds. Do not oversoak or they can tear.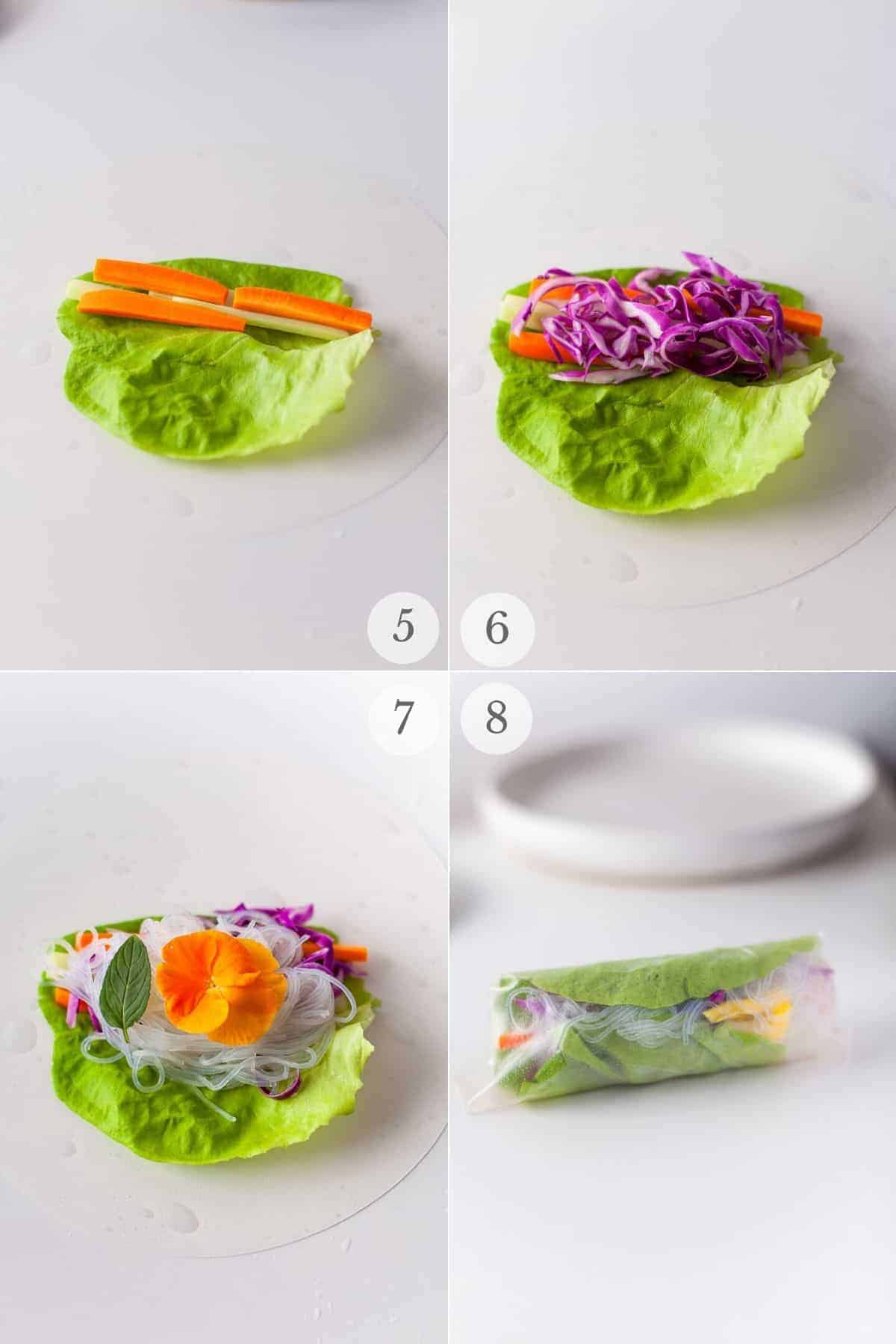 STEP 4. Roll the spring rolls
With the smooth side of the wrapper facing down, layer filling ingredients (starting with a lettuce leaf first - photo 3) for the filling approximately 2-3 inches from the bottom and in a rectangular pile. Just a few pieces of each ingredient are needed (photos 4-7).
Using dampened fingertips, fold the bottom up over the filling (photo 8). Fold each the right and left sides over vertically (photos 9-10).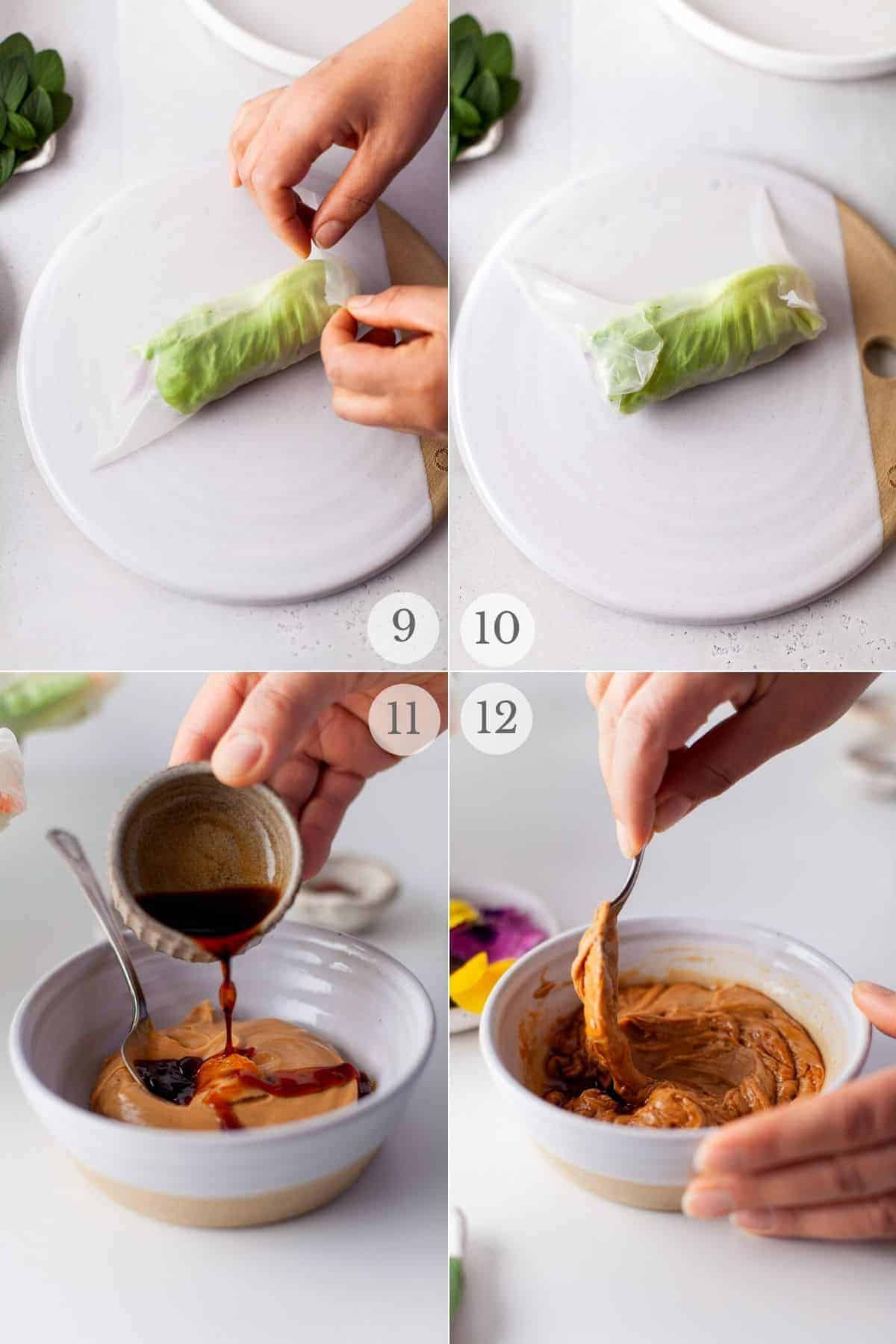 Using firm pressure, gently roll the end with the filling over to snugly seal the spring roll. The wrapper is self-sealing so will stick to itself.
Continue making spring rolls one at a time until using all the ingredients.
STEP 5. Make the peanut sauce
Combine all sauce ingredients in a bowl (photo 11) and stir (photo 12) or whisk until combined and smooth.
STEP 6. Serve
Serve the spring rolls whole or cut in the middle in two halves with the sauce.
Variations
Change the vegetables. Use your favorites or what's in season. Bell pepper cut into matchsticks are delicious and colorful. Purple cabbage instead of green again adds color. Bean sprouts add a nice crunch.
Add some fat. Avocado is delicious in homemade spring rolls.
Add some protein. Shrimp or shredded chicken are a great addition for a light flavor to complement the fresh veggies.
Add different herbs. The classic herbs to use are cilantro and mint but any fresh herbs can be used. Experiment with different flavors you love!
Add some edible flowers. Most grocery stores sell edible flowers in the fresh herb section. These are not only beautiful but additional flavor!
Change up the sauce. For the peanut sauce fish sauce can be substituted for soy sauce. Hoisin sauce is also a delicious addition or substitute.
Dipping Sauce for Spring Rolls
Serving a good peanut sauce is a classic combination with Vietnamese spring roll recipes.
This is where the wheels can come off the low calorie bus however. The most common dipping sauce, a Thai peanut dipping sauce, is delicious but packed with calories.
We've included a lighter version but it still can add up calorie-wise so go easy on the sauce if concerned about the calories.
Only a dip into the sauce is really needed to add extra flavor.
Another favorite is Nuoc Cham which is a sweet spicy light in texture dipping sauce. This recipe is on our sister site and calories are included.
Sweet Chili Sauce is another favorite.
Pro Tips for making fresh Spring Rolls
Use a flat surface. This plays into the next point but you'll need a work surface that's flat.
Use a plastic cutting board. There are many methods for wetting the rice wrappers. I've found dipping a wrapper in the water to just immerse it and moving it to a plastic cutting board works best.
While the wrapper sits on the cutting board it continues to soften. The plastic cutting board does not absorb any of the water on the dipped rice paper wrapper.
This allows the water to continue to sink into the wrapper.
Once you've assembled the filling for that spring roll, the rice paper wrapper will be the perfect texture to roll.
It won't be too stiff and not overly softened which could allow it could rip.
Keep moistened fingers while rolling. Working with moistened fingers helps the pliability of the assembly.
Textured side of the wrapper faced inside. Rice Paper Wrappers have a smooth side and a textured side.
The filling will be placed on the texture side inside the Spring Roll. The outside will be smooth.
Cut vegetables into thin slices. Matchstick size, long and thin, work great in spring rolls both for rolling and for eating them. They are easy to bite through.
Do not over fill a wrapper. Only a few pieces of each vegetable is needed. It might seem meager but after rolling the spring roll it's the right size.
Sharp vegetables may puncture the wrapper. Starting with butter lettuce (with the center rib removed so they are pliable) protects the rice wrapper from any sharp pieces of vegetables.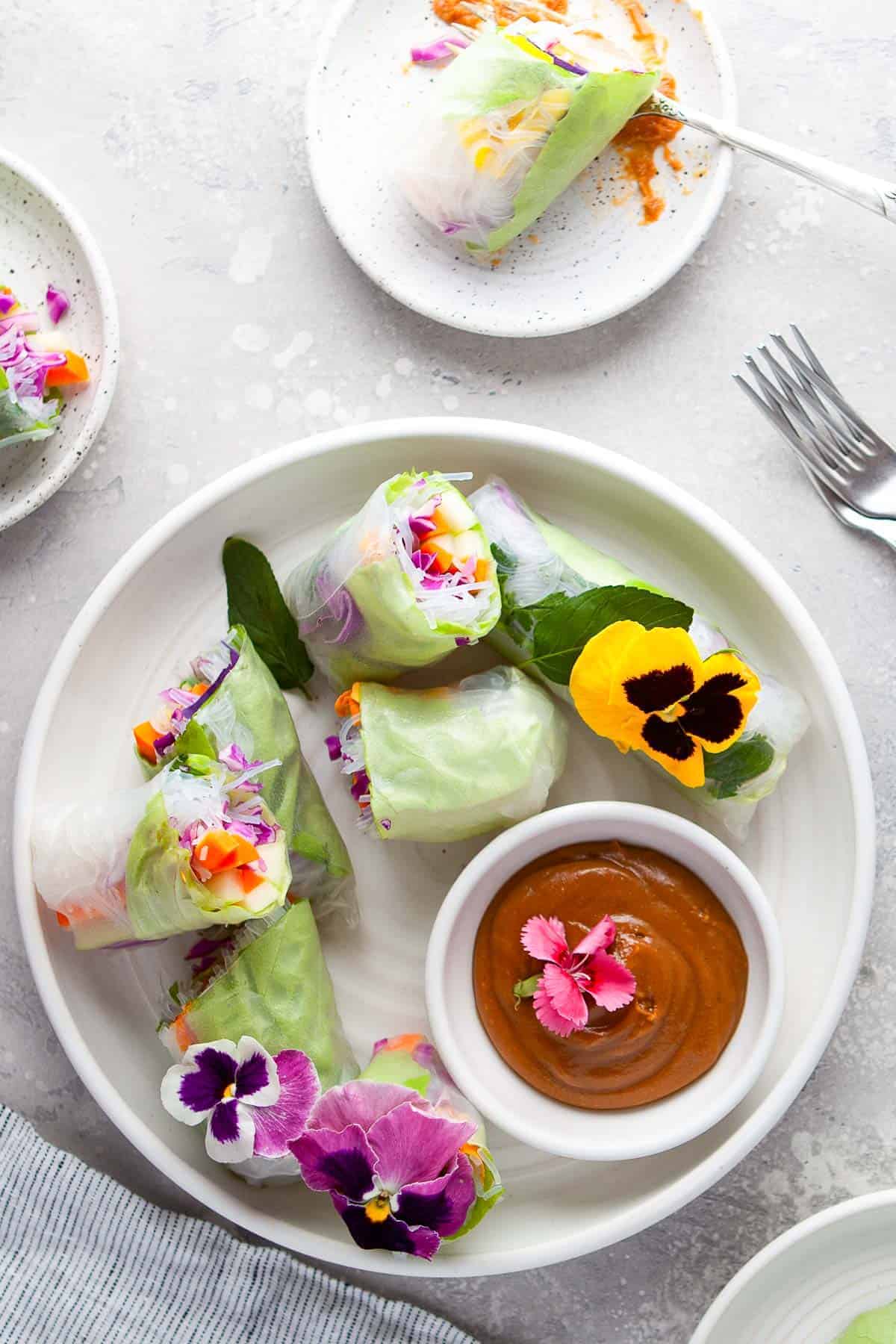 How to Store
These fresh rolls are best enjoyed when they are made. They can be stored for a day in an airtight container in the refrigerator.
If storing place a lettuce leaf between them so they do not stick together risking the wrapper ripping when separated.
Recipe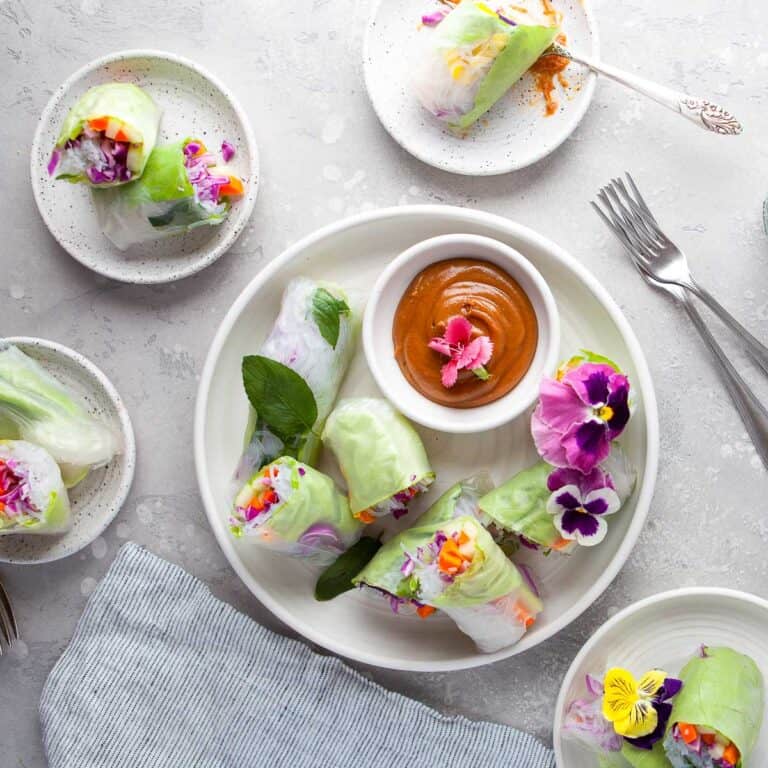 Fresh Spring Rolls with slimmed down Peanut Sauce
Click to track Weight Watchers Points
Fresh Spring Rolls are full of delicious vegetables, rice vermicelli noodles and big flavor. Paired with a lightened up peanut sauce they are a great appetizer or light main dish that's big on flavor and light on calories.
Print
Pin
Rate
Servings:
10
spring rolls and ½ cup (total yield) peanut sauce
Ingredients
Pickling solution (for carrots)
½

cup

distilled white vinegar

1

teaspoon

salt

1

teaspoon

granulated sugar

½

cup

water

2

medium

carrots

peeled and cut into matchsticks
Spring Roll ingredients
10

rice paper wrappers

also called spring roll rice wrappers

4

ounces

vermicelli rice noodles

about 120 grams; measurement before cooking

¾

medium

cucumber

peeled, seeds removed and cut into thin slices

½

cup

shredded cabbage

10

small

butter lettuce leaves

¼

cup

fresh mint leaves

rinsed and patted dry with paper towels

¼

cup

fresh cilantro leaves

rinsed and patted dry with paper towels

Water

to soften the rice paper wrappers
Peanut Sauce (calorie reduced)
¼

cup

creamy peanut butter (unsweetened)

3

tablespoons

warm water

1.5

tablespoons

soy sauce

regular or gluten-free (Tamari can be used)

1

tablespoon

fresh lime juice

1

teaspoon

brown sugar

1

teaspoon

minced fresh garlic

1

teaspoon

minced fresh ginger

peel ginger before mincing

1

teaspoon

sriracha sauce
Instructions
Pickling the carrots
Mix the vinegar, salt, sugar and water in a bowl. Stir to dissolve the sugar and salt.

Add the carrots. Soak for a minimum of 1 hour.
Making the Spring Rolls
Softening the rice paper wrappers: Add an inch of lukewarm water to a pan large enough to fit a wrapper.

Dip one wrapper into the water to submerge it. Remove and place on a plastic cutting board with the smooth side facing down towards the cutting board.NOTE: if a plastic cutting board is not available allow the wrapper to soak for 10-15 seconds only (soaking too long can lead the wrapper to tear).

Add a lettuce leaf and layer a few pieces of each ingredient for the filling approximately 2-3 inches from the bottom and in a rectangular pile.

(1/10th of the ingredients for each spring roll).

Using dampened fingertips, fold the bottom up over the filling. Fold each the right and left sides over vertically.

Using firm pressure, gently roll the end with the filling over to snugly seal the spring roll. The wrapper is self-sealing so will stick to itself.
Making the Peanut Sauce
Combine all ingredients in a bowl. Stir or whisk to fully combine into a sauce.
Notes
Recipe yield
10 spring rolls
½ cup peanut sauce
Serving size
1 serving=1 spring roll plus 2.5 teaspoons of the peanut sauce
WW SmartPoints: 1 spring roll and 1/10th of the peanut sauce (aproximately 2 ½ teaspoons of peanut sauce per serving).
Weight Watchers Points Note
The link for Weight Watchers Points above is only for the spring rolls. This is the link for the reduced calorie Peanut Sauce (1 point per serving).
Weight Watchers points on previous program (WW SmartPoints):
Green: 3
Blue: 3
Purple: 3
Nutrition
Calories:
153
kcal
|
Carbohydrates:
25
g
|
Protein:
5
g
|
Fat:
4
g
|
Saturated Fat:
1
g
|
Polyunsaturated Fat:
1
g
|
Monounsaturated Fat:
2
g
|
Cholesterol:
2
mg
|
Sodium:
565
mg
|
Potassium:
181
mg
|
Fiber:
2
g
|
Sugar:
3
g
|
Vitamin A:
2628
IU
|
Vitamin C:
4
mg
|
Calcium:
32
mg
|
Iron:
1
mg