Sparkling Fruit Sangria is a delicious fruit-filled wine cocktail that's easy to make! Seasonal fresh fruit infuse with favorite red wine for a delicious drink topped off with some sparkle!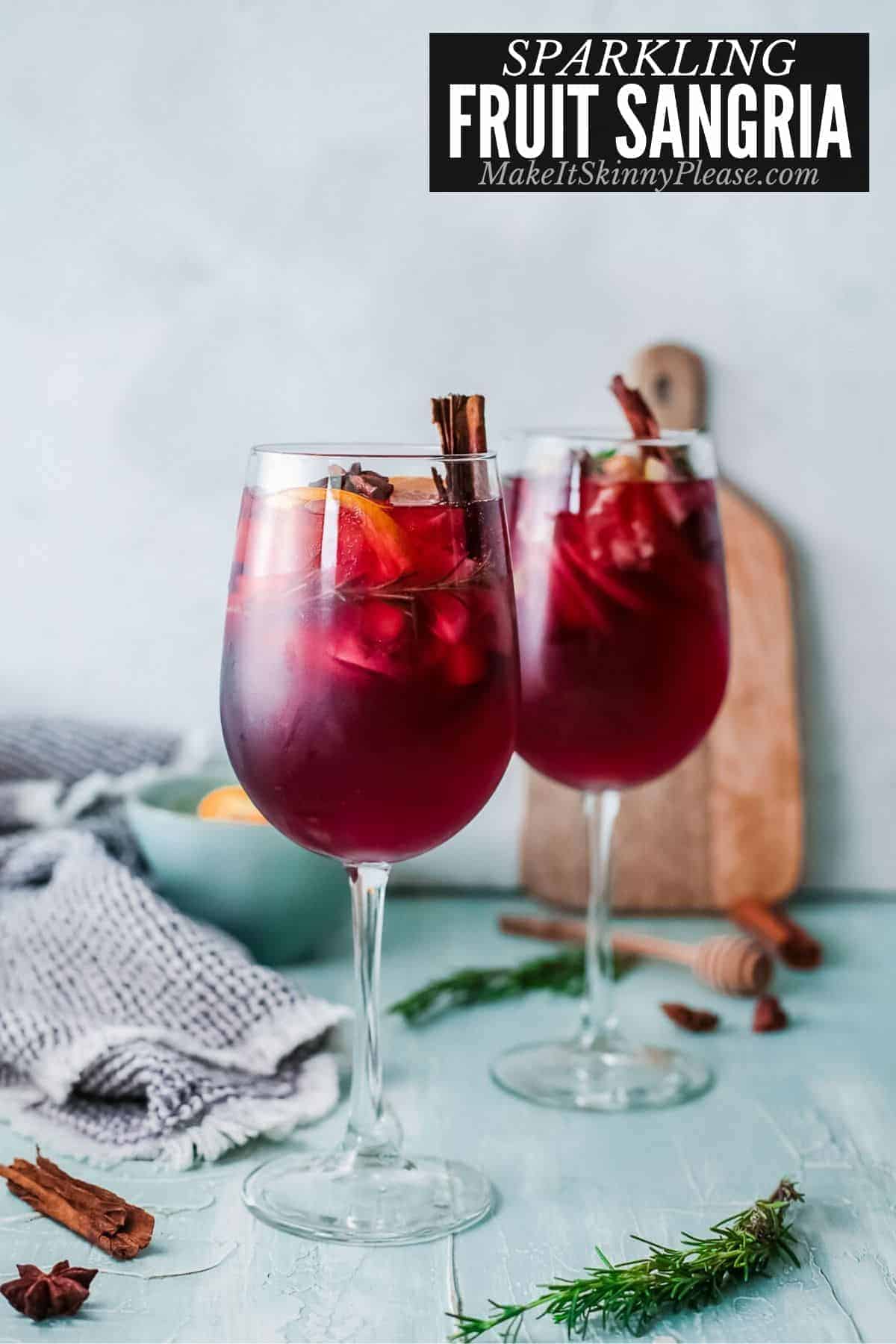 This classic Spanish drink is a favorite. It's full of exciting flavors and can be changed up with different types of wine and fruit or fruit juice. It's a refreshing option in the summer and a great option when entertaining during the holidays too.
The beauty of sangria is that it's nearly impossible to make wrong. Full of colorful fruit
Jump to:
What is Sangria?
Traditional Sangria originates from Spain and Portugal. The term sangria means 'bloodletting' and the roots of that are unclear.
It's typically made with red wine, seasonal fruit with some other alcoholic spirits added to bolster the alcohol content and flavor. Think of it as a fruity wine punch.
Though red wine sangria is traditionally thought of when thinking of this fruity drink, white wine sangria is equally popular. It's especially nice in warmer months served cold.
Delicious sangria is easy to make a perfect for easy entertaining. It's a popular drink for holiday parties because it's made ahead of time.
It's a wonderful way to relax and enjoy friends rather than fussing over cocktail mixing.
What makes this skinny?
no extra sweet liqueurs or other liquor added (e.g. triple sec, brandy, etc)
no fruit juices
no sweeteners like simple syrup added
Skinnier TIP: Make it sparkling with fewer calories by using sparkling water or even low sugar soda instead of sparkling wine.
Sangria can have 200-300 calories is it's made with other liqueurs, sweeteners and juices. Our version has about 120 calories and 4 WW SmartPoints on all plans.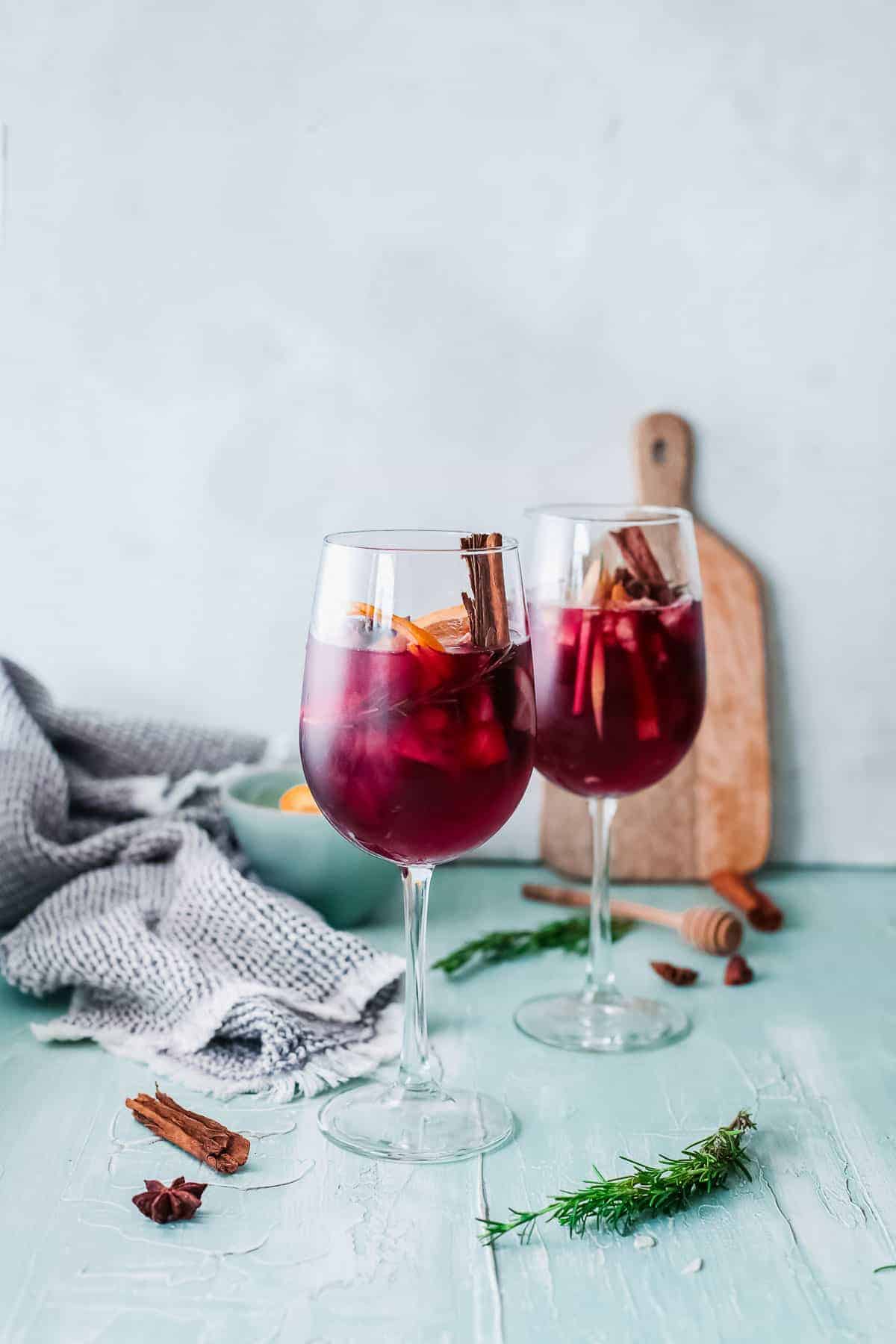 Recipe Ingredients + Notes
Red Wine. You'll need one 750-ml bottle of wine your favorite red wine. We share some classic red sangria recipe choices below.
Sparkling wine. A 750-ml bottle of champagne or sparkling wine is used to add the sparkle and some sweetness.
Orange. One orange is sliced and infused in the sangria. Peel to avoid the bitter flavors of the peel and pith (the white portion under the skin).
Apple. One apple is thinly sliced and infused. Using a sweet-tart variety like Honeycrisp adds great flavor.
Half of a lemon. Thinly sliced half lemon is added. Peel after slicing. The lemon juice does not add a tart flavor but perks up the other flavors.
Best wine for red wine sangria?
Authentic Spanish sangria uses Spanish Rioja wine is traditional for a classic red wine sangria recipe. But selecting a favorite wine you love will make the best sangria for you!
Because the wine is changed with other ingredients selecting an inexpensive wine is a better way to go. I would never suggest cheap wine because you get what you pay for in how you feel from the wine quality.
Going with a dry red wine balances out the sweetness of the fruit and the sparkling wine added before serving. If picking a fruity red wine select something with low tannins. Tannins are naturally occurring in grapes (especially in the skin) and can produce a bitter or astringent flavor.
Here are some other excellent choices:
Garnacha (Spanish)
Rioja (Spanish)
Tempranillo (Spanish)
Zinfandel
Pinot Noir
Malbec
Cabernet Sauvignon
Variations
Change up the fruit. Use blood oranges in the winter months. Stone fruit in the summer months. There is no wrong fruit to use.
Make it skinner option. Instead of adding sparkling wine, sparkling water or club soda can be used for some fizz. Flavored or regular water work.
Because the champagne adds sweetness the sangria may also need a splash of orange juice is the champagne is not used.
How to make Fruit Sangria - Step-by-Step
Pour the wine into a large pitcher or jar with lid (photo 1).
Add the orange, apple, and lemon (photo 2).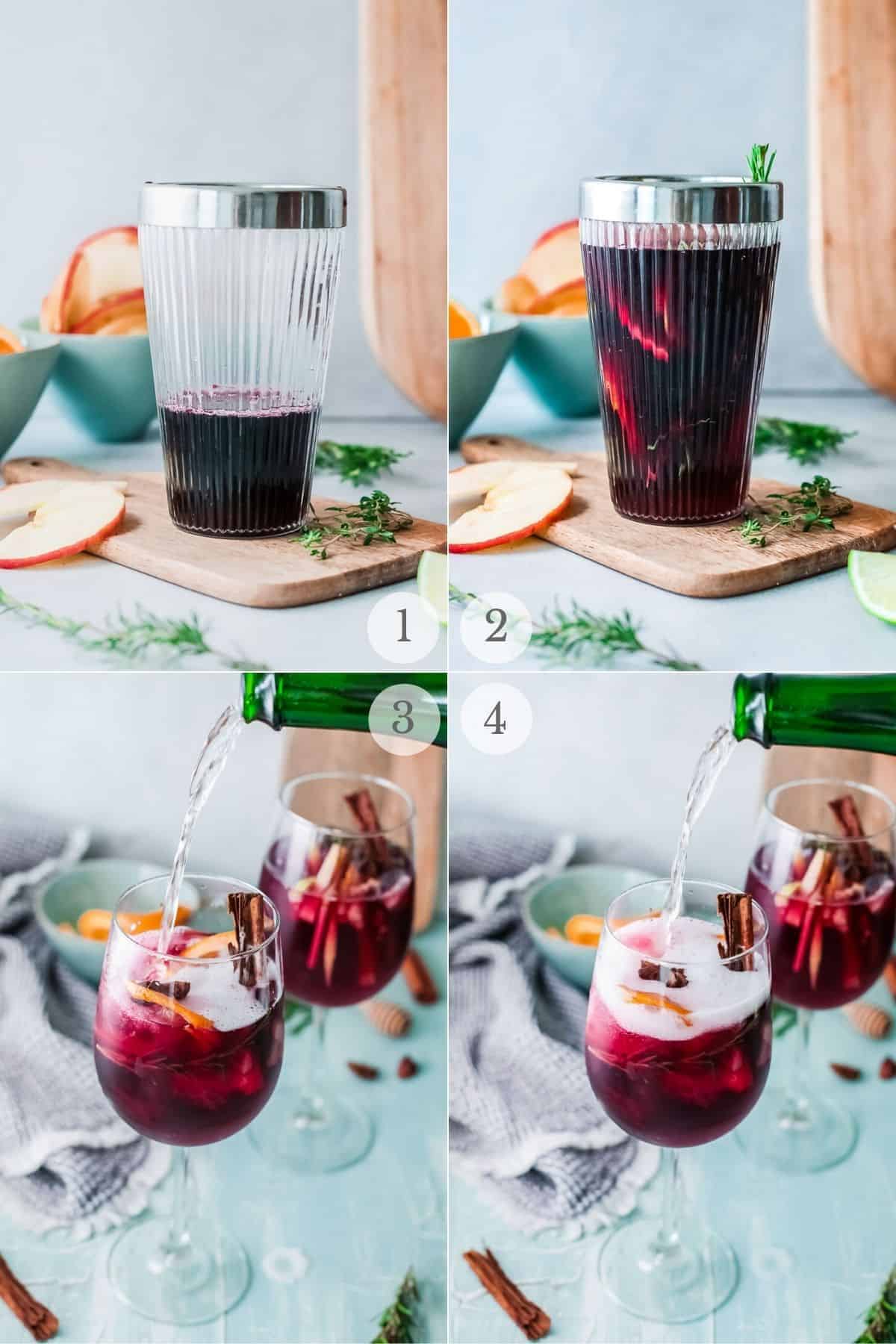 Refrigerate for at least 1-2 hours to allow the flavors to infuse.
Serve a pitcher of sangria pouring in the chilled sparkling wine just before serving (or serve in a punch bowl). Add some extra fruit for garnish.
Photos 3-4 show pouring the sparkling wine into the serving glass instead of a pitcher.
It can be served over ice cubes or just slightly chilled. Add a cinnamon stick in serving glasses during the winter!
Frequently Asked Questions
How long to let Sangria infuse?
This is a point of debate. Some experts say no more than 2 hours, others say at LEAST 2 hours and not more than 24. We think no less than one hour and no more than 6-8 is about right.
Can the fruit in sangria be eaten?
It can! However depending on the wine used and how long is infuses the fruit may have a slightly bitter flavor.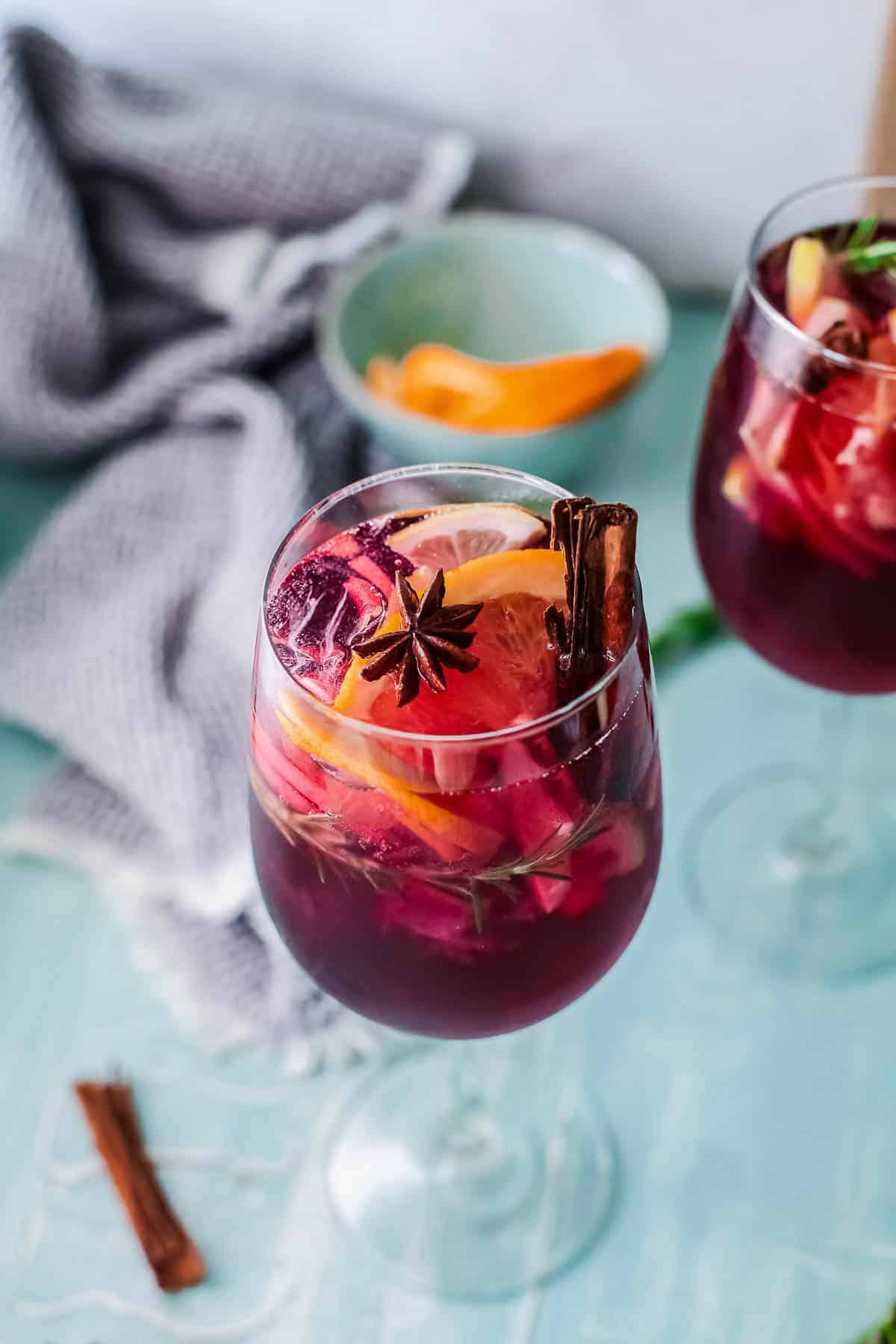 How to Store it
After the initial soaking time if there is leftover sangria remove the fruit and keep the sangria in the refrigerator. Removing the fruit prevents it from adding bitterness to the sangria.
The sparkling wine will go flat but add some fizz with club soda or sparkling water before serving leftovers.
More recipes you'll love!
Recipe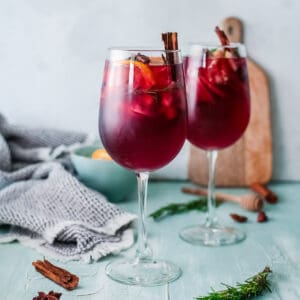 Sparkling Fruit Sangria
Click to track Weight Watchers Points
This classic Spanish wine punch is a delicious cocktail of red wine, fresh fruits and sparkling wine to cap it off. Great any time of the year especially for entertaining.
Print
Pin
Rate
Servings:
10
5-ounce servings
Ingredients
Sangria
1

750 ml bottle

red wine

1

750 ml bottle

sparkling wine

1

orange

peeled and thinly sliced

1

apple

thinly sliced

½

lemon

peeled and thinly sliced

Ice cubes
Optional garnish
Rosemary, thyme, cinnamon stick or star anise
Instructions
Pour the wine into a tall pitcher or jar with lid.

Add the orange, apple, and half lemon. Stir to combine. Refrigerate for at least 1 hour but up to 6 hours.

Fill glasses with ice. Pour the sparkling wine into the sangria before serving OR fill glasses halfway with sangria and fill the remaining half with sparkling wine (1:1 ratio of sangria to sparkling wine).
Notes
Infusing the sangria
Allow the sangria to infuse/soak for a minimum of 1 hour up to 6-8 hours. If not consuming all the sangria, remove the fruit when storing in the refrigerator. The fruit can be eaten but may be bitter depending on the wine used.
Wine suggestions
Garnacha (Spanish)
Rioja (Spanish)
Tempranillo (Spanish)
Zinfandel
Pinot Noir
Malbec
Cabernet Sauvignon
Weight Watchers points on previous program (WW SmartPoints):
Green: 4
Blue: 4
Purple: 4
Nutrition
Calories:
118
kcal
|
Carbohydrates:
7
g
|
Protein:
1
g
|
Fat:
1
g
|
Saturated Fat:
1
g
|
Polyunsaturated Fat:
1
g
|
Monounsaturated Fat:
1
g
|
Sodium:
9
mg
|
Potassium:
212
mg
|
Fiber:
1
g
|
Sugar:
5
g
|
Vitamin A:
42
IU
|
Vitamin C:
11
mg
|
Calcium:
20
mg
|
Iron:
1
mg