Satisfy your chocolate craving with easy Chocolate Chia Pudding! Packed with protein and fiber, this lower calorie dessert recipe is full of simple ingredients and delicious flavor. No cooking required.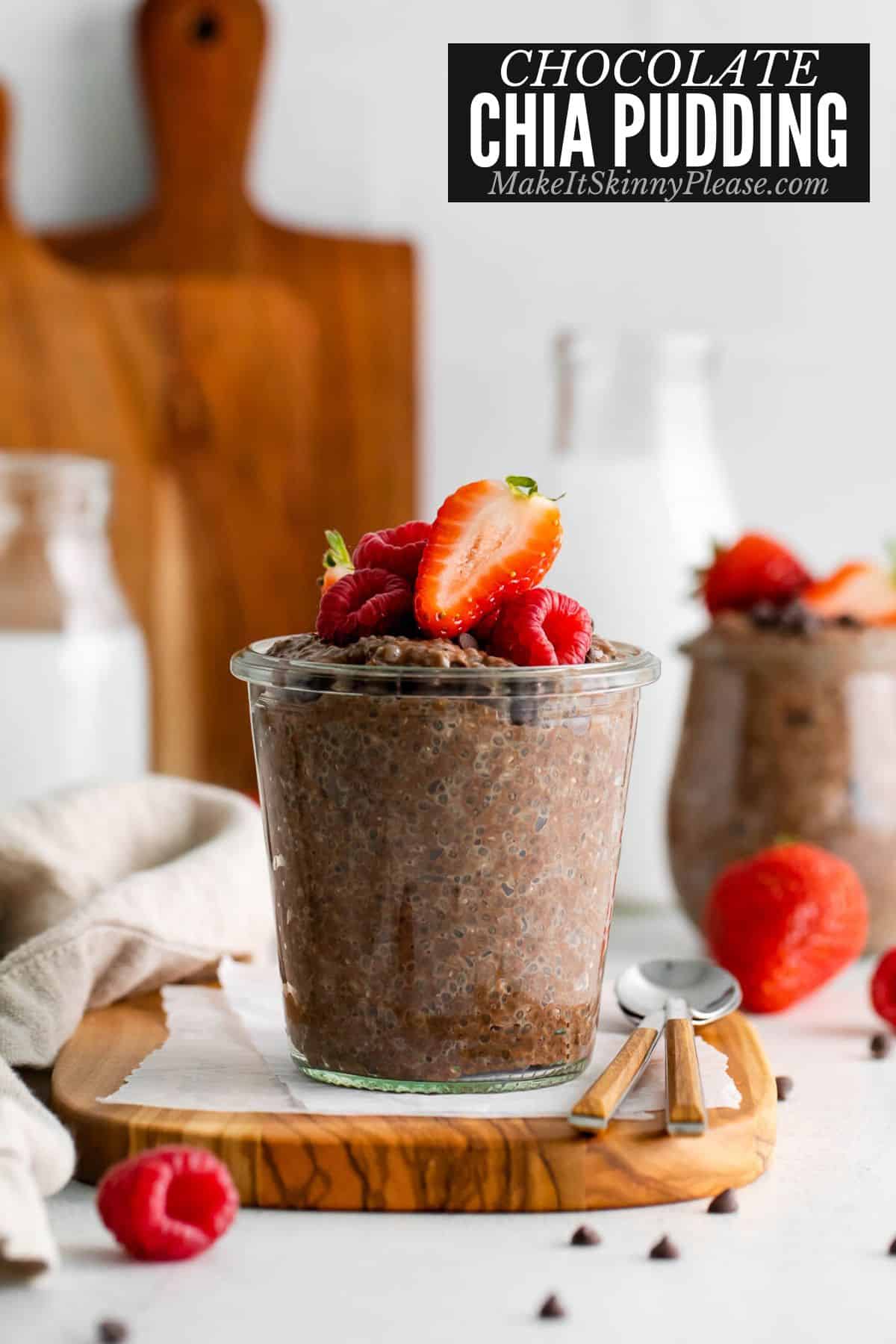 If you are a chocolate lover and don't know how to work that into a lower calorie eating plan Chocolate Chia Pudding is a great choice. It has dark chocolate flavor to satisfy a sweet tooth with a soft tapioca pudding-like texture. It's a great replacement for ice cream when you are having a sweet treat craving.
The protein and fiber content makes it a perfect for breakfast or a healthy snack too. It can be made at night like overnight oats and it's ready first thing in the morning with rich chocolate flavor.
We've made it just lightly sweet so its great on its own or you can sweetened up with toppings like fresh berries, low fat or low sugar whipped topping, mini chocolate chips or a drizzle of your favorite liquid sweetener. This makes the chia pudding recipe a healthy dessert option or a delicious breakfast choice too.
Jump to:
What is chia pudding?
Chia pudding is a type of pudding made from chia seeds, which are small, black or white seeds derived from the Salvia hispanica plant. Chia seeds have gained popularity due to their nutritional value and versatility in cooking.
To make chia pudding, chia seeds are combined with a liquid such as milk (dairy or plant-based), coconut milk, almond milk, or fruit juice. The chia seeds absorb the liquid and expand, creating a thick and creamy consistency similar to tapioca pudding. Some people prefer to sweeten their chia pudding by adding honey, maple syrup, agave nectar, or other natural sweeteners.
Once the chia seeds have absorbed the liquid, the mixture is typically refrigerated for a few hours or overnight, allowing the seeds to fully gel and the pudding to set. The resulting pudding can be enjoyed as a healthy and nutritious dessert or snack.
Chia pudding is often served chilled and can be garnished with various toppings to add flavor and texture. Common toppings include fresh fruits, nuts, seeds, granola, shredded coconut, or a drizzle of honey. The versatility of chia pudding allows for endless variations and customization based on personal preferences and dietary needs.
Chia pudding is known for its high fiber content, omega-3 fatty acids, and various essential nutrients. It is also a popular choice among those following a vegan, vegetarian, or gluten-free diet.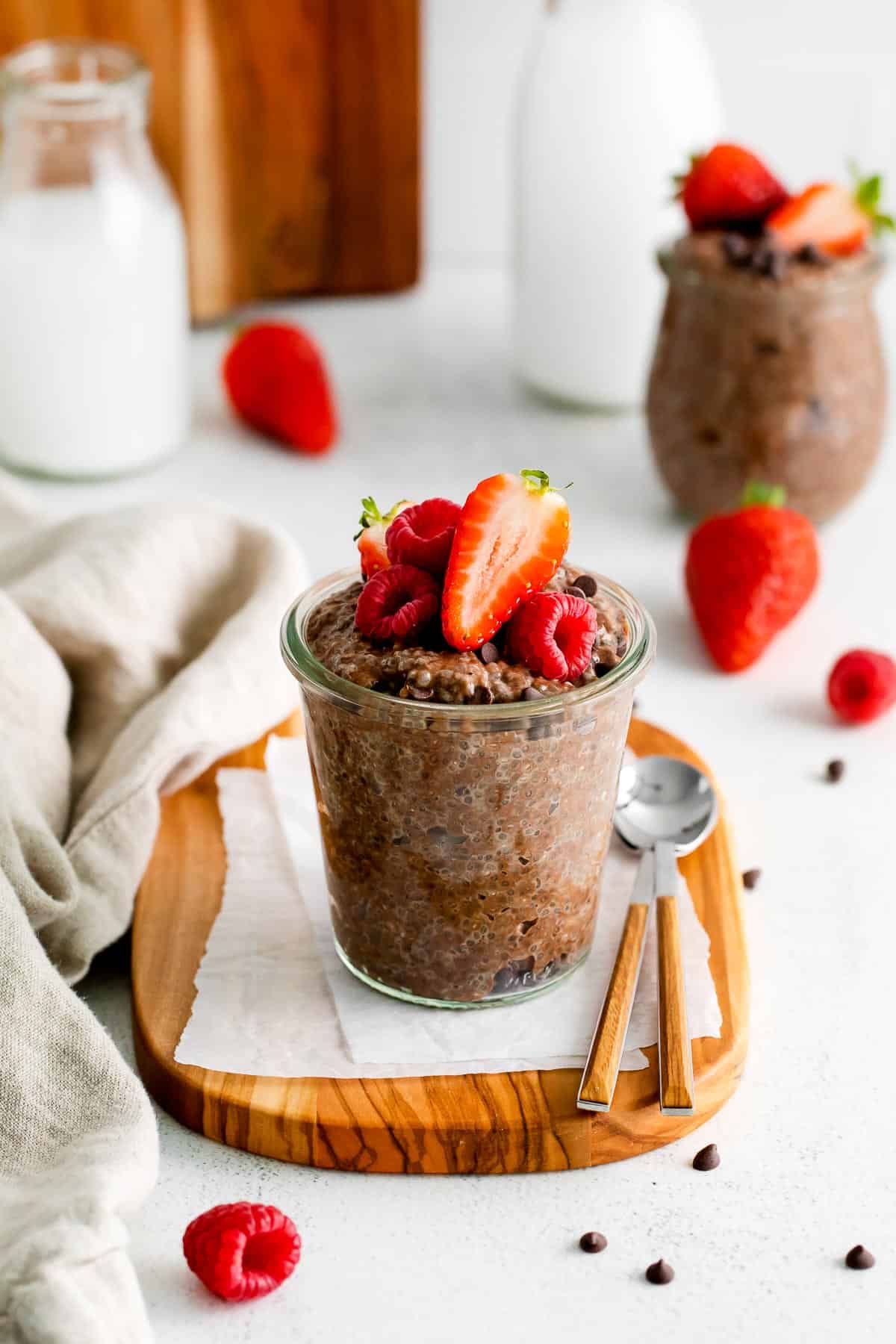 What makes this skinny?
On average, a ½ cup (120 grams) serving of chocolate chia pudding can range from approximately 120 to 180 calories (ours is 148 calories), depending on the specific ingredients and sweeteners used.
In contrast, a ½ cup (120 grams) serving of regular chocolate pudding can range from approximately 150 to 250 calories or more, depending on the recipe, type of milk, and added sugar.
Added protein: our chocolate chia pudding recipe has 5 grams of protein. Protein is both filling and takes longer to digest so it will keep you full longer.
High fiber content: Chia seeds are rich in dietary fiber, which can help you feel fuller for longer and reduce overall calorie intake. Ours has 9 grams of fiber per serving!!
Low in sugar: Chia pudding can be made with natural sweeteners like honey, maple syrup, or fruit, which are often healthier alternatives to refined sugar. By using these options sparingly or opting for sugar-free sweeteners, you can keep the overall calorie content of chia pudding relatively low.
Nutrient-dense: Chia seeds are packed with nutrients despite their small size. They are a good source of protein, healthy fats (including omega-3 fatty acids), vitamins, and minerals. By incorporating chia seeds into your dessert, you're adding nutritional value to your diet without significantly increasing calorie intake.
Customizable portion sizes: Chia pudding can be easily portioned according to your needs. You can make small servings or adjust the ingredient quantities to fit your desired calorie intake. This flexibility allows you to enjoy a satisfying dessert while still managing your calorie consumption.
Recipe Ingredient Notes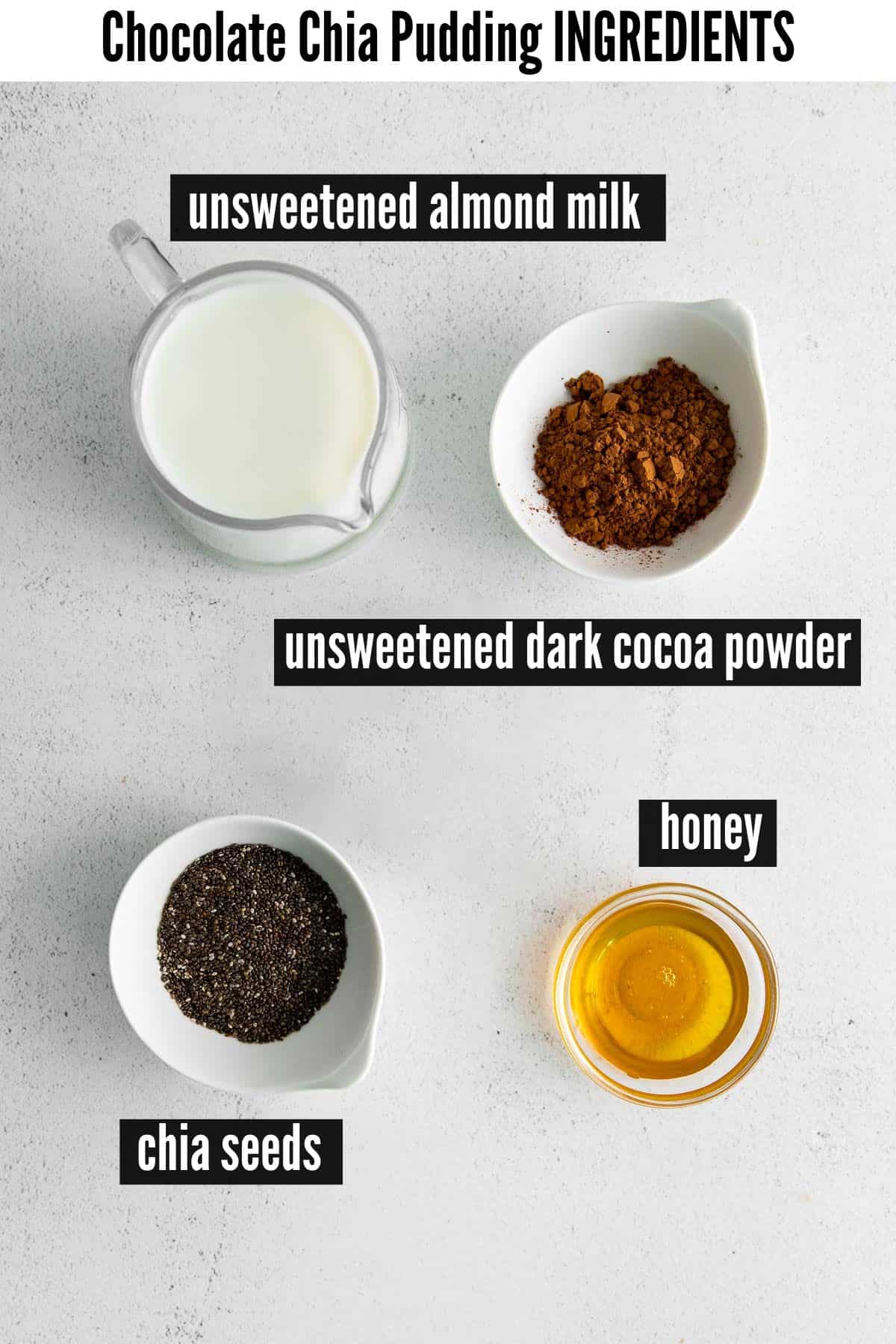 Chia seeds. You'll use ¼ cup whole chia seeds. They are available at your local grocery store in the baking section usually.
Dark unsweetened cocoa powder. We used Hershey's Special Dark 100% Cacao powder for a rich flavor. Any unsweetened cocoa powder will work.
Unsweetened almond milk. Though you can use any milk in this recipe, we chose unsweetened almond milk for the low calories. This non-dairy milk has a light, pleasing flavor.
Honey. To give the chia pudding a light sweetness two teaspoons of honey are used. You can add more to taste if desired.
Berries. For a sweet topping fresh ripe berries are a great choice. Fresh fruit like fresh raspberries, strawberries, blackberries or blueberries make this a great dessert (and add more natural sweetness and healthy fiber too).
How to make it
The pudding can be made in a large bowl and stored that way or be portioned into small Mason jars for individual servings.
STEP 1. Combine ingredients
In a large bowl stir together the chia seeds and unsweetened dark cocoa powder. Add the unsweetened almond milk and honey; whisk to fully combine (photo 1).
Either cover the bowl with plastic wrap or portion the pudding into jars.
STEP 2. Chill
Chill for at least 6 hours (photo 2 after chilling). Add favorite toppings and enjoy!
Variations
Leave out the cocoa powder. Add a different extract like vanilla extract, almond extract, lemon extract etc. for a different flavor.
Make it smooth. If you prefer a smooth creamy pudding, add the mixture to a high powered blender before chilling. If the blender is not powerful like a Vitamix the pudding may not become fully smooth.
Use different sweeteners. Pure maple syrup or agave syrup instead of honey. Liquid sweeteners work best because they blend easily with the other ingredients and don't need to dissolve.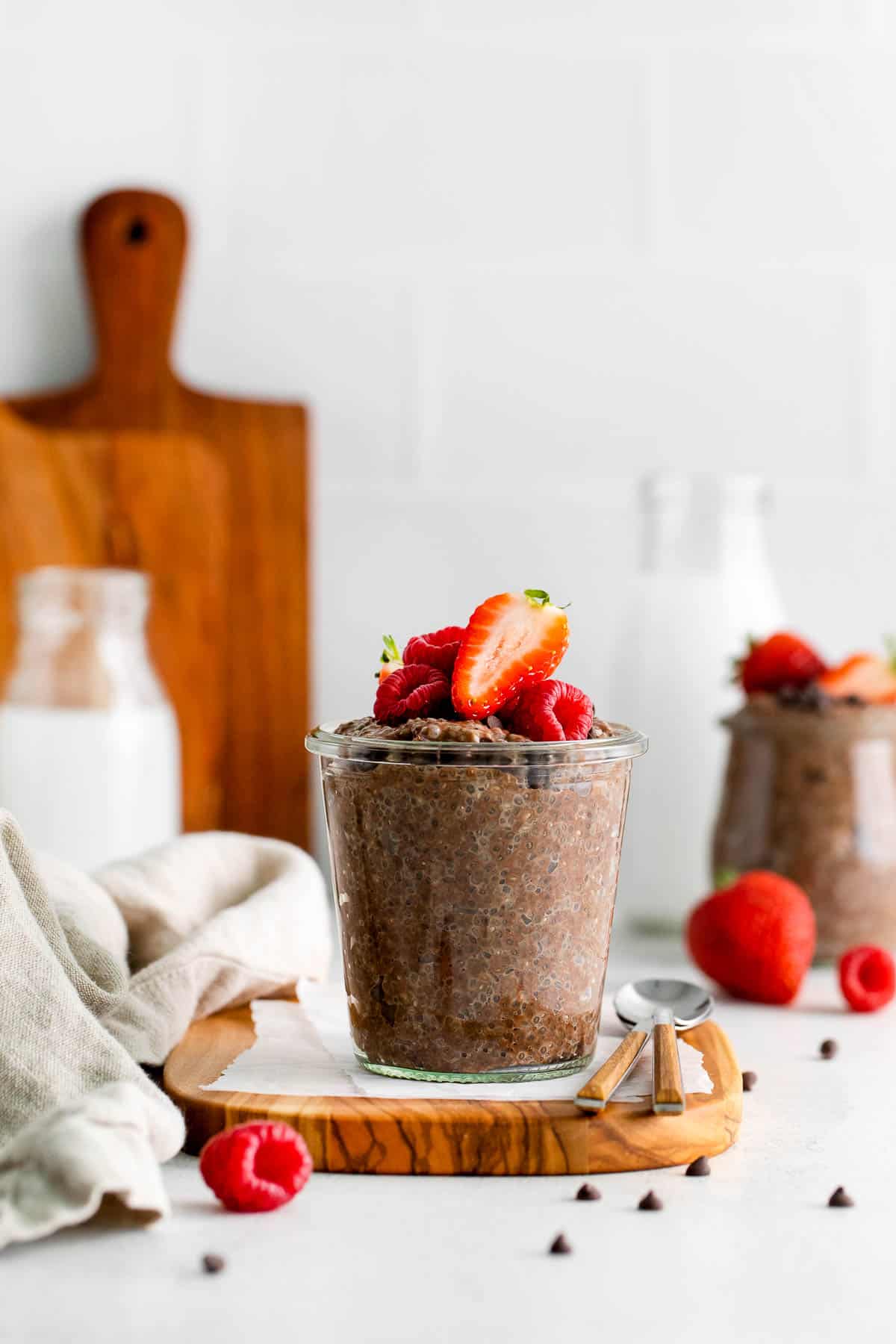 Frequently Asked Questions
Can I make it using a different kind of milk?
Yes. Any type of milk will work, non-dairy plant milk (oat milk, soy milk, etc.) or dairy milk. You'll need to adjust the calories depending on the milk you swap in.
How far ahead can I make this chia pudding?
We suggest it can be made up to two days before serving. Reserve any toppings to be added just before serving.
How to store it
Best method: store in individual an airtight container like pre-portioned jars with a lid for up to 5 days.
It can also be made in a bowl and sealed with a lid or plastic wrap. It making it in a large bowl it will be good for 3-4 days.
More recipes you'll love!
Did you make it? Please RATE THE RECIPE below!
Please SUBSCRIBE and FOLLOW ME on FACEBOOK, TWITTER, INSTAGRAM and PINTEREST
Recipe
Chocolate Chia Pudding
Click to track Weight Watchers Points
Lightly sweet with rich chocolate flavor makes this easy chocolate chia pudding a great option for a healthy dessert or a breakfast chia pudding. Add your favorite toppings like fresh berries or mini chocolate chips.
Print
Pin
Rate
Servings:
2
½-cup servings
Ingredients
¼

cup

chia seeds

1

tablespoon

unsweetened dark cacao powder

1

cup

unsweetened almond milk

2

teaspoons

honey

fresh berries

optional topping
Instructions
In a large bowl combine the chia seeds and cocoa powder. Stir to mix together.

¼ cup chia seeds,

1 tablespoon unsweetened dark cacao powder

Add the milk and honey. Stir or whisk to fully combine.

1 cup unsweetened almond milk,

2 teaspoons honey

Either cover and seal the top of the bowl with plastic wrap or portion the pudding into two small jars and seal. Chill for at least 6 hours.

Top with favorite toppings (fresh berries, low calorie whipped topping, mini chocolate chips, etc) and serve.
Notes
Actual nutrition information will be based on ingredients used.
How to store
Best method: store in individual an airtight container like pre-portioned jars with a lid for up to 5 days.
It can also be made in a bowl and sealed with a lid or plastic wrap. It making it in a large bowl it will be good for 3-4 days.
Nutrition
Calories:
148
kcal
|
Carbohydrates:
17
g
|
Protein:
5
g
|
Fat:
8
g
|
Saturated Fat:
1
g
|
Polyunsaturated Fat:
6
g
|
Monounsaturated Fat:
1
g
|
Trans Fat:
0.03
g
|
Sodium:
167
mg
|
Potassium:
128
mg
|
Fiber:
9
g
|
Sugar:
6
g
|
Vitamin A:
11
IU
|
Vitamin C:
0.4
mg
|
Calcium:
288
mg
|
Iron:
2
mg