There's nothing more satisfying when the hot weather hits than colorful, chilled Shrimp Ceviche. Full of fresh succulent shrimp, jalapeno peppers, shallots, sweet mango and fresh cilantro, it's a perfect low calorie (low WW points) light lunch.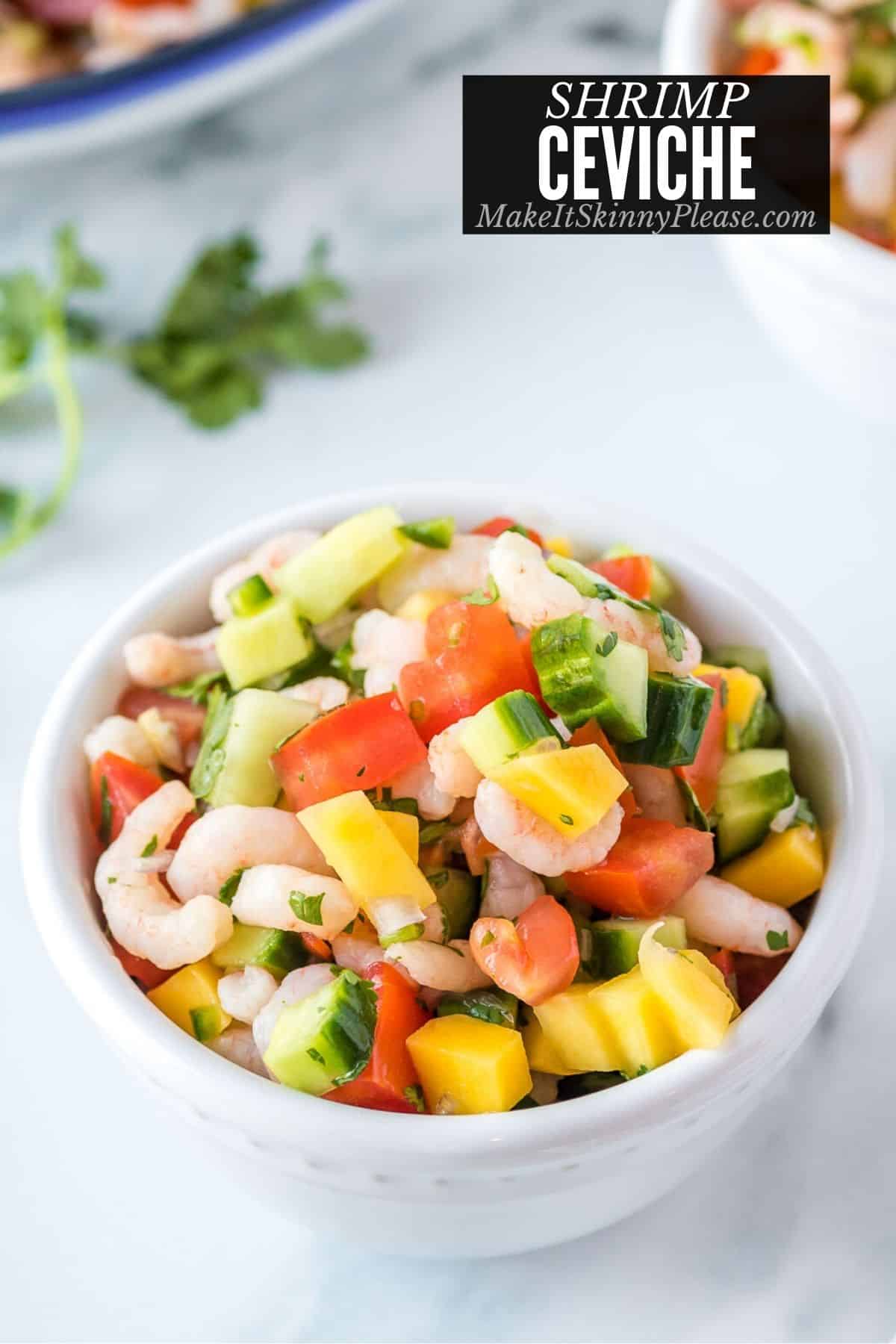 Ceviche is full of so many delicious flavors and textures with just a handful of ingredients. The flavors will remind you of pico de gallo with tomato, cilantro and jalapeno. Instead of onion we used shallot which has a flavor cross between onion and garlic. The cucumber makes it cool and refreshing.
Serve this quick easy Shrimp Ceviche recipe as a main dish with some tortilla chips, slices of crunchy jicama or plantain chips if you can find them. Add a skinny margarita too if you are in the mood!
If you love shrimp try our Shrimp Summer Rolls, Mediterranean Shrimp and Spicy Spaghetti Squash Shrimp too!
Jump to:
What is Ceviche?
Traditional ceviche is a South American dish of raw seafood, fresh fish or shrimp, cured in fresh citrus juice. Typically the seafood is not cooked with heat but the acid from the citrus juice (typically lemon juice or lime juice) cures it to a cooked state.
Other fresh simple ingredients are added to make it a flavorful light meal. It's especially delicious for the hotter months of the year.
To ensure any bacteria from shrimp to totally 'cooked' by the acidic marinade, we are using cooked shrimp. There are instructions of how to use raw shrimp included below too.
NOTE: pregnant women should not eat raw seafood so using cooked shrimp is the safest option.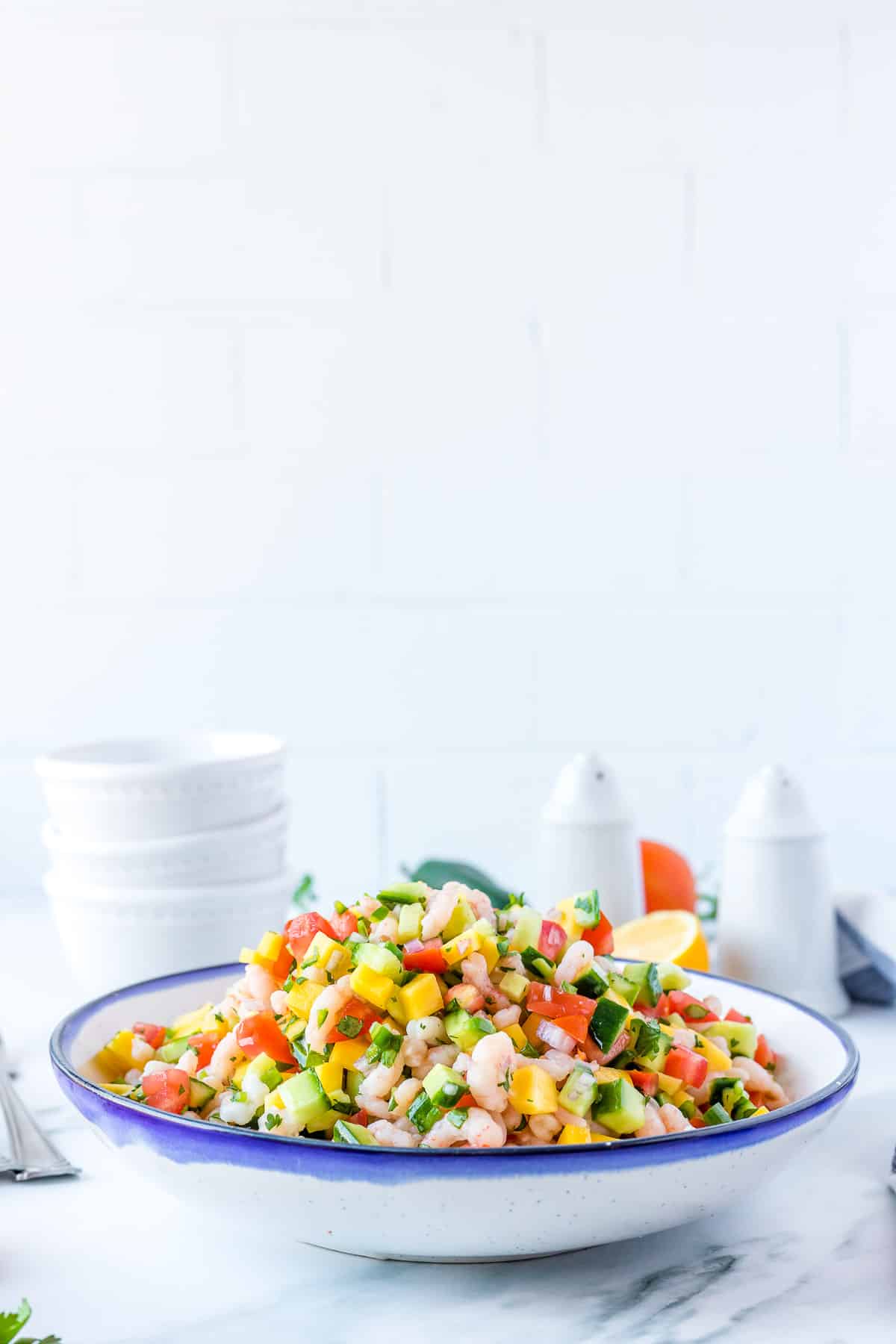 What makes this skinny?
Shrimp is very low calorie (low in fat, high in lean protein and essential micronutrients) to start and the rest of the ingredients are fresh veggies, fresh mango and lemon juice. No added fat is included.
Recipe Ingredients Notes
All the traditional ingredients should be available at your local grocery store!
Shrimp. You'll use small sized cooked and deveined shrimps. You can also use a larger size and cut the shrimp into smaller pieces. Pat the shrimp dry with paper towels before adding them to the recipe.
Plum tomatoes. These are also called plum tomatoes. We use this type of tomato both for a stronger tomato flavor and because they are less watery.
English cucumber. These cucumbers are basically seedless and do not need to be peeled. Choose a medium size; they can be quite large!
Jalapeno pepper. Remove the seeds before dicing. Always wash your hands after handing chile peppers and don't touch your eyes, nose or mouth after cutting them.
Lemon juice. Use freshly squeezed lemon juice.
How to make Shrimp Ceviche - Step-by-Step
STEP 1. Combine ingredients
In a large bowl combine the tomatoes, cucumber, jalapeno pepper, shallot, mango, cilantro and shrimp (photos 1-2). Squeeze the lemon juice onto the ceviche and toss to fully combine (photo 3).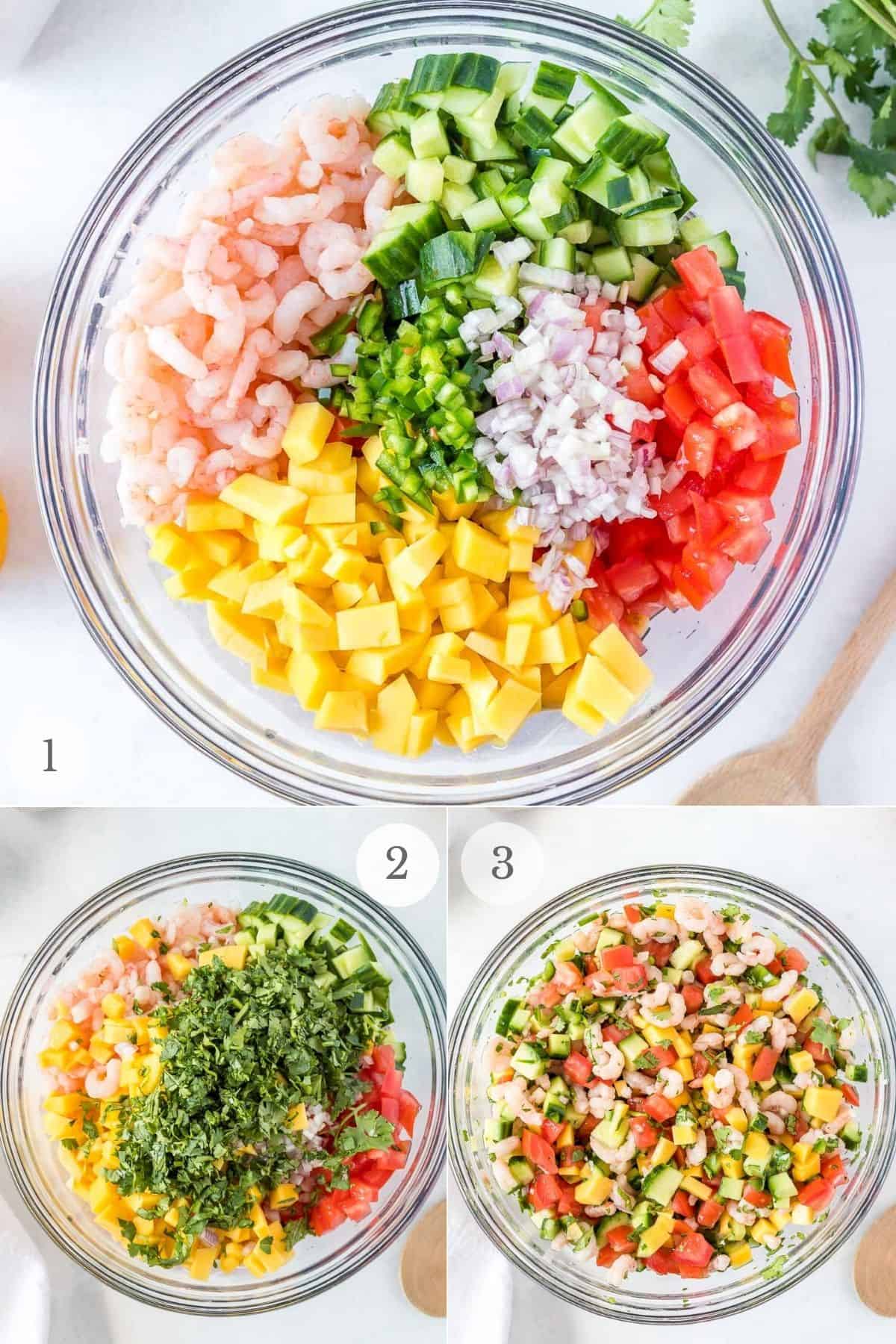 STEP 2. Chill
Cover and chill at least 30 minutes for the flavors to blend. Salt and pepper to taste before serving.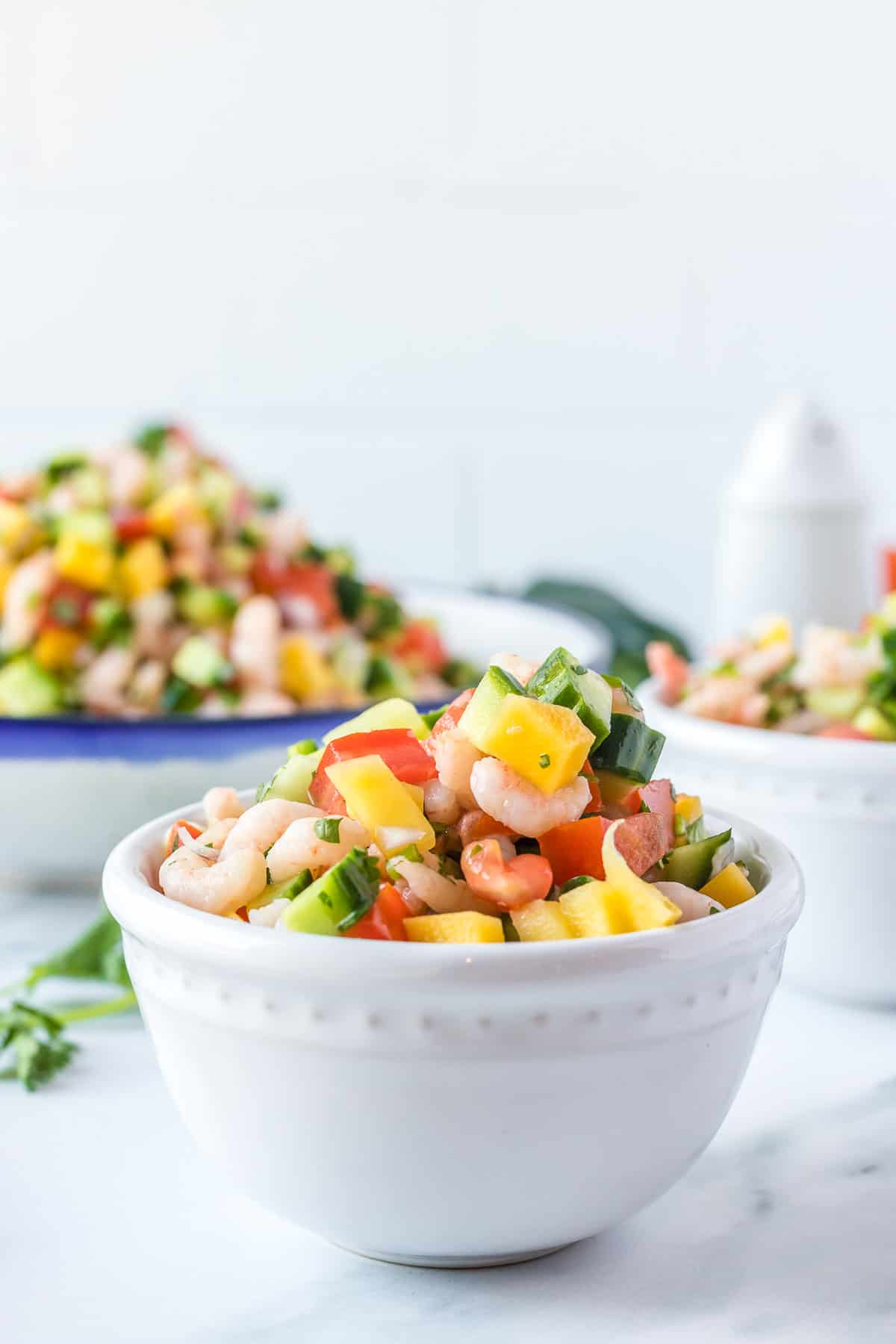 Variations
Avocado. Add come cubed creamy avocado for color, texture and some healthy fat.
Red onion. If you want a stronger onion flavor and more color, add some diced red onion. Uncooked onion can be quite strong in flavor so don't add a lot.
Use fresh lime juice. For a slightly different flavor use lime juice instead of lemon juice or a combination of lemon and lime juices.
Want it spicier? Swap in serrano peppers for the jalapeno. They are smaller but hotter. Be sure to dice into small pieces.
Frequently Asked Questions
Can I make this dish with raw shrimp?
Yes you can though to ensure it's properly 'cooked' by the acid marinade in the recipe we recommend parboiling the shrimp first or allow the shrimp to sit in citrus juice separately for 15-30 minutes before adding it to the ceviche recipe. To parboil: Bring a large pot of water to boil, add the shrimp and cook for 1-2 minutes in the boiling water (the shrimp will turn opaque white when cooked). Immediately place in an ice bath (a bowl of cold water and ice) to stop the cooking process so the shrimp do not become rubbery in texture.
Can I use frozen shrimp?
Yes. Be sure it's thawed completely. Select cooked shrimp or if using uncooked parboil it before adding or let the thawed shrimp sit in lemon, lime or orange juice before adding it.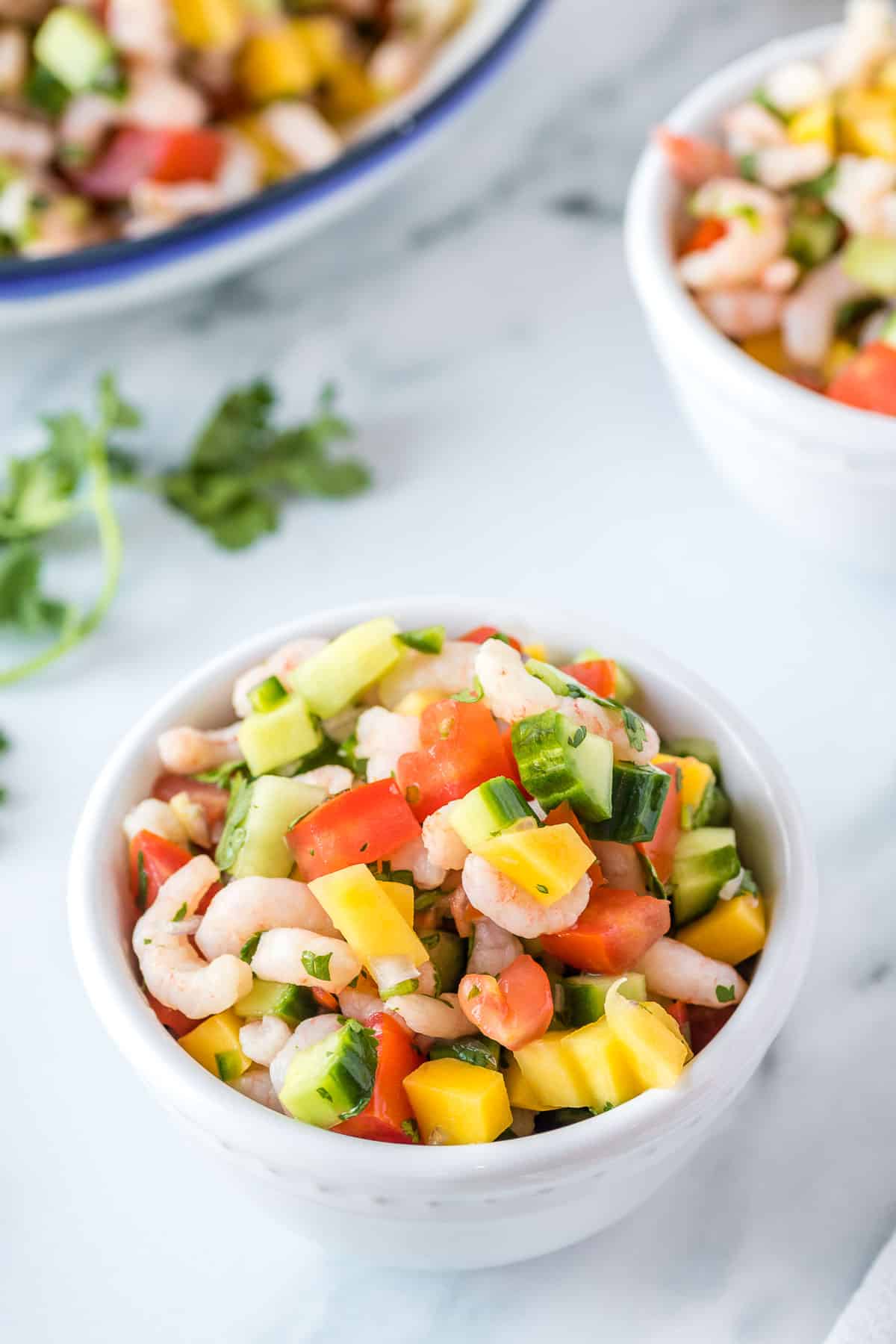 Storing Ceviche
It's best made and eaten the same day for freshness and texture however it can be stored for up to 2 days in an airtight container in the refrigerator. After that time the shrimp can become rubbery from sitting in the citric acid.
More recipes you'll love!
Recipe
Shrimp Ceviche
Click to track Weight Watchers Points
Fresh colorful Shrimp Ceviche is full of vibrant flavors: spicy, sweet, cooling. It's a light main dish perfect for hot weather that's low in calories and fat.
Print
Pin
Rate
Servings:
8
1-cup servings*
Ingredients
1

pound (3 cups)

small cooked/deveined shrimp

larger shrimp can be used and cut into small pieces

2

plum (Roma) tomatoes

chopped

1

medium

English cucumber

chopped

1

mango

chopped

1

medium

jalapeno pepper

seeds removed, diced

¾

cup

fresh cilantro

chopped

2

2-inch

shallots

diced

Juice of 2 lemons

about 4 tablespoons

Salt and pepper to taste
Instructions
Combine the shrimp, tomatoes, cucumber, mango, jalapeno, cilantro, shallot, and fresh cilantro in a large bowl. Stir to mix together.

Squeeze the lemons (or drizzle on the juice) over the ceviche; toss to combine.

Cover the ceviche and refrigerate for 30 minutes to allow the flavors to develop and for it to chill.

Salt and pepper to taste before serving chilled or at room temperature.
Notes
This recipe will make 9 cups of ceviche which will settle into closer to 8 cups as it chills.
How to make with raw shrimp
We recommend using one of two options if using raw shrimp:
Place the shrimp in lemon juice for 15-30 minutes until they are cooked before adding to the ceviche mixture, or
Parboil first. Add the raw shrimp to a large pot of boiling water for 1-2 minutes until they are opaque in color. Remove and immediately place in an ice bath until chilled.
How to Store
Ceviche is best made and served the same day. However leftovers can be stored in an airtight container in the refrigerator for up to 2 days. The shrimp can get rubbery if stored too long and the vegetables are not as fresh.
Nutrition
Calories:
75
kcal
|
Carbohydrates:
7
g
|
Protein:
12
g
|
Fat:
1
g
|
Saturated Fat:
1
g
|
Polyunsaturated Fat:
1
g
|
Monounsaturated Fat:
1
g
|
Trans Fat:
1
g
|
Cholesterol:
91
mg
|
Sodium:
70
mg
|
Potassium:
306
mg
|
Fiber:
1
g
|
Sugar:
5
g
|
Vitamin A:
569
IU
|
Vitamin C:
18
mg
|
Calcium:
48
mg
|
Iron:
1
mg