Air Fryer Egg White Bites are a fast high protein low carb low calorie start to the day! This version has feta cheese, sundried tomatoes and green onion for a nutritious breakfast with only 10 minutes cook time.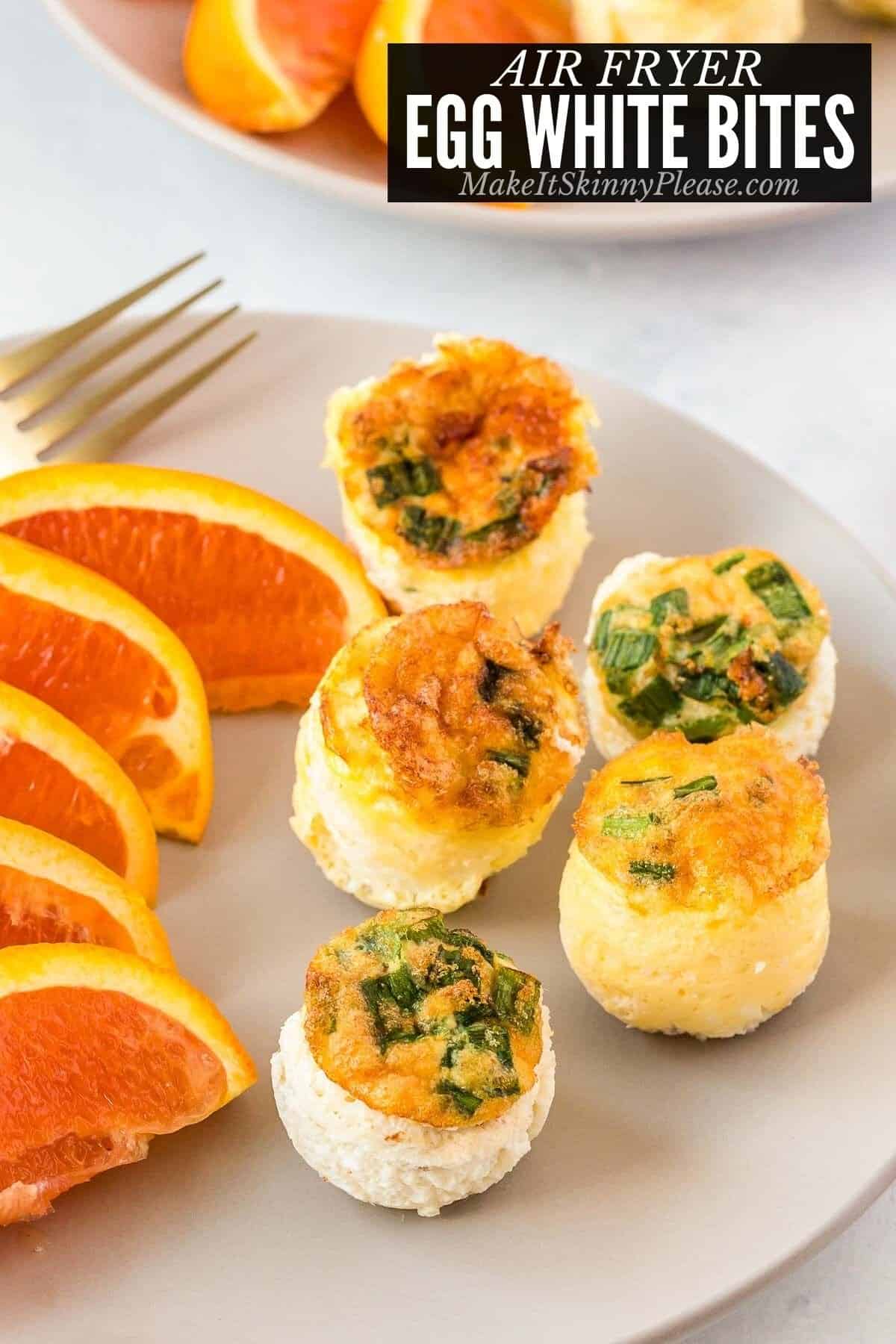 Air Fryer breakfasts are perfect for busy weekdays and lazy weekends too! Egg muffins or in our case egg white bites, are a lean easy breakfast. All the ingredients are whisked together and cooked in an silicone egg mold for just 10 minutes. They are soft on the bottom with a crispy top.
These air fryer eggs can be chilled for a few days and easily reheated in the microwave. They can also be frozen and microwaved making them great for breakfast meal prep.
The original idea for egg bites was supposedly from Starbucks sous vide egg bites. Making them in the air fryer is so much easier (most people don't have a sous vide machine). It's a great way to start the day or a protein-rich snack. Easy to change up too.
Try our Air Fryer Frittata and Instant Pot Egg Bites recipe (Tex Mex) too!
Jump to:
What makes these skinny?
Unlike most egg bites these are made only using the egg whites. Egg whites have very few calories; most of an egg's calories are in the yolks.
Adding the just a few flavor-packed ingredients gives these egg white bites great, satisfying flavor without any guilt!
Recipe Ingredients Notes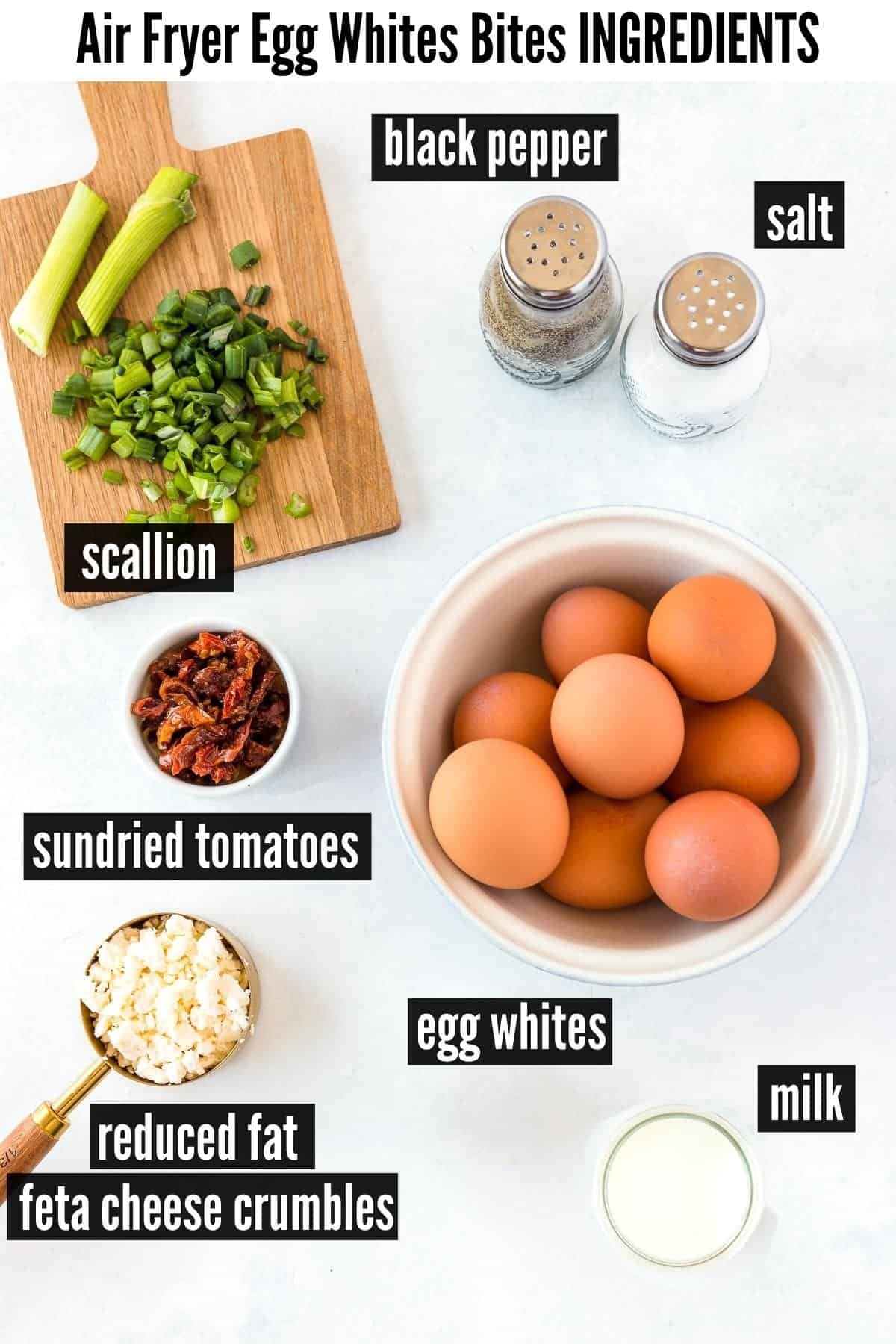 Egg whites. You'll need 6 fresh egg whites. We use the whites from large eggs. Liquid egg whites can also be substituted: use ¾ cup.
Milk. We used 1% milk to have a bit of fat to bind the egg bites. Any fat percentage dairy milk would work. The nutritional information is based on 1% milk.
Feta cheese crumbles. We used reduced fat feta cheese crumbles. You can buy feta cheese and crumble it yourself too. Keep the crumbles very small for better distribution in the egg white bites.
Sundried tomatoes. Do not use sundried tomatoes in oil for this recipe. Soft sundried tomatoes are available in sealed pouches at the grocery store. If you buy them dried (not in oil) and they are stiff, reconstitute them in hot water to soften before draining and chopping.
Silicone egg bite molds. You'll need this type of mold. Each one has 7 cavities. Most work both for air fryer recipes and in the instant pot. The silicone mold comes with a lid; do not use the lid for this air fryer recipe.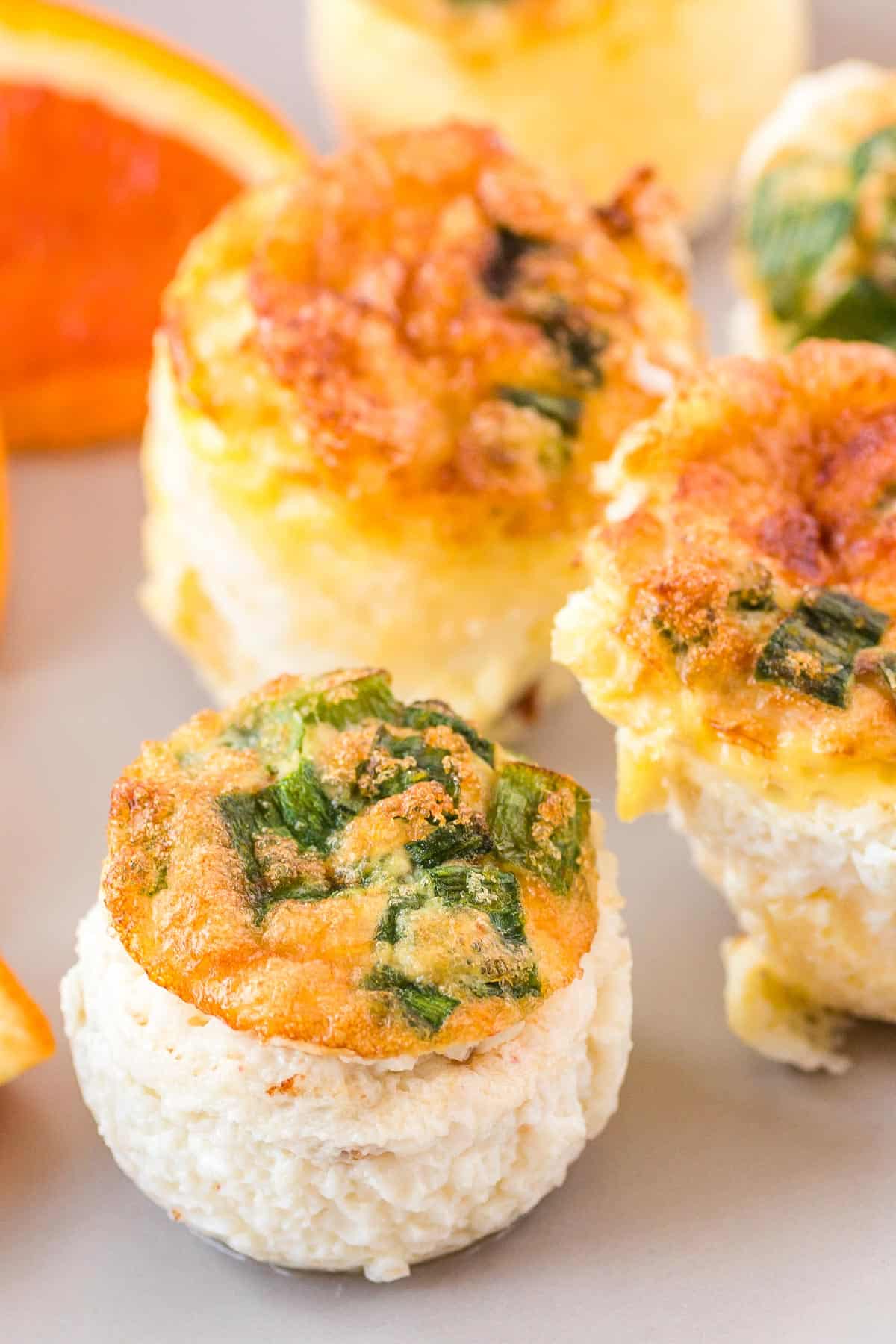 How to make Air Fryer Egg Bites - Step-by-Step
STEP 1. Preparation
Lightly spray a silicone egg bite mold with non-stick cooking spray.
STEP 2. Mix ingredients
In a large bowl combine the egg whites, milk, feta cheese, chopped sundried tomatoes, sliced green onions, salt and black pepper. Whisk to fully combine; be sure all the egg white is fully mixed in (photo 1).
Evenly divide egg mixture and spoon or pour egg mixture between the 7 cavities in the egg bite mold (photo 2).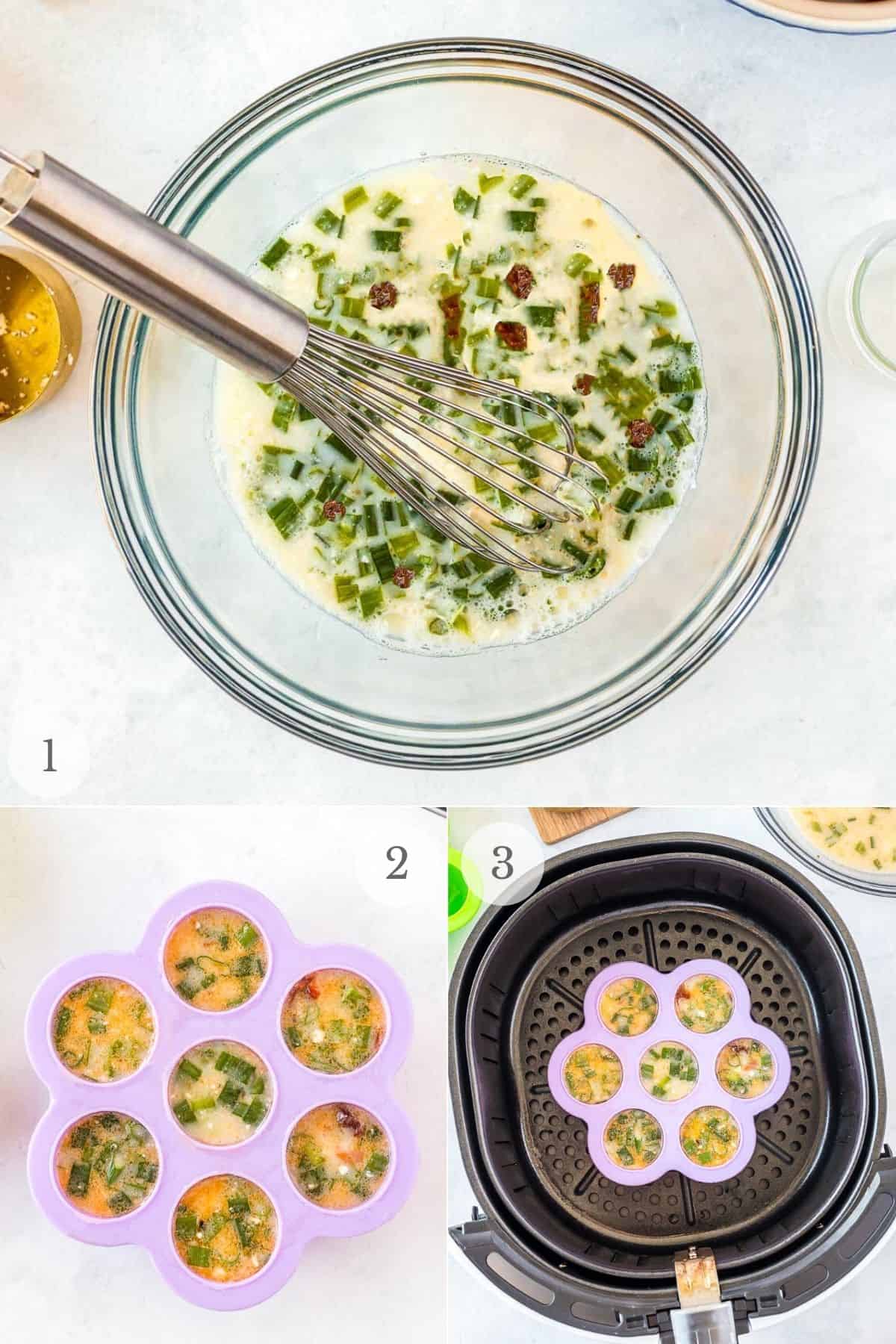 STEP 3. Cook
Place the filled mold into the air fryer basket (photo 3). DO NOT use the cover on the mold.
Cook at 350 degrees for 12 minutes. Remove the mold from the air fryer and allow to rest for 5 minutes.
NOTE: the egg bites will be inflated after cooking and will settle and become denser as they rest.
Remove the egg bites from the mold and allow them to sit outside of the mold for 1-2 minutes (they'll still be very hot).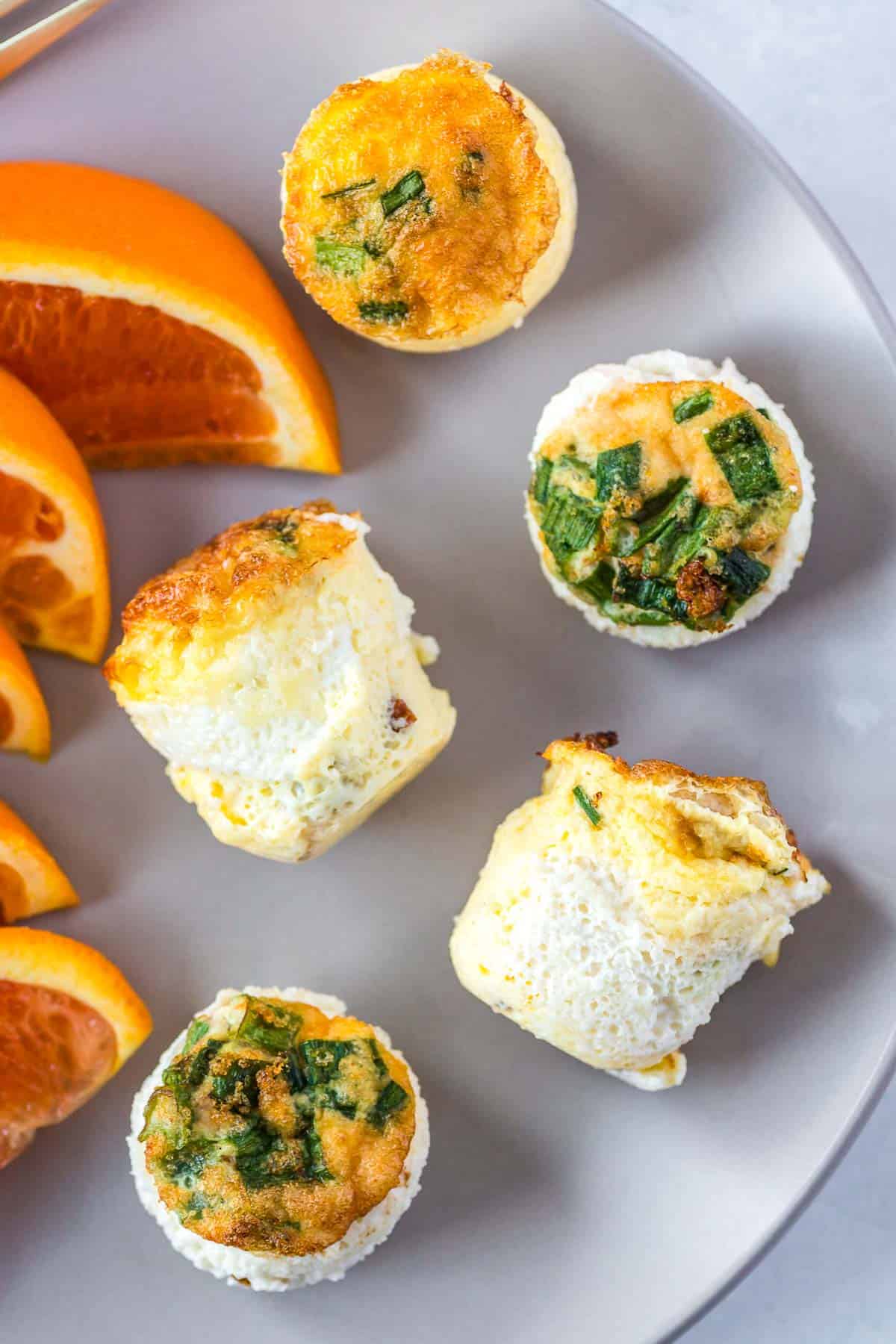 Variations
Adding different ingredients. A great thing about this recipe is being able to change up the ingredients. Please check our Pro Tips for best results!
Ingredient ideas:
cooked finely chopped bacon, a bit of ham (perfect for leftover ham), deli turkey, cooked crumbled turkey breakfast sausage
goat cheese, parmesan cheese, finely grated cheddar cheese
fresh diced herbs (basil, thyme, cilantro, Italian parsley)
you can add a variety of veggies (finely diced pre-cooked): bell pepper, onion, broccoli florets, mushrooms, spinach
Easy way to pre-cook veggies to use. Microwave with a bit of water or cook in the air fryer for a few minutes before adding to egg bites (allow to cool before adding to the egg mixture).
Air Fryer Cooking Times
Every brand and size of air fryer cooks slightly differently. These egg bites were cooked in a 5.8 quart Cosori air fryer which is a 1700 watt air fryer (on the higher powered end of the scale). Always check for food doneness in your air fryer and add a minute or two additional cooking time if needed.
Recipe Pro Tips
Too many mix-in ingredients can cause the egg whites to not bind together so you won't end up with a solid egg bite.
Vegetables and meats needs to be pre-cooked before adding and any excess moisture removed (use paper towels to press and soak in any moisture).
Heavier ingredients will sink to the bottom of the mold. You can stir the egg bites part way through cooking to allow the ingredients to mix in better.
Any mix-in ingredients should be chopped into a very small pieces to better mix in.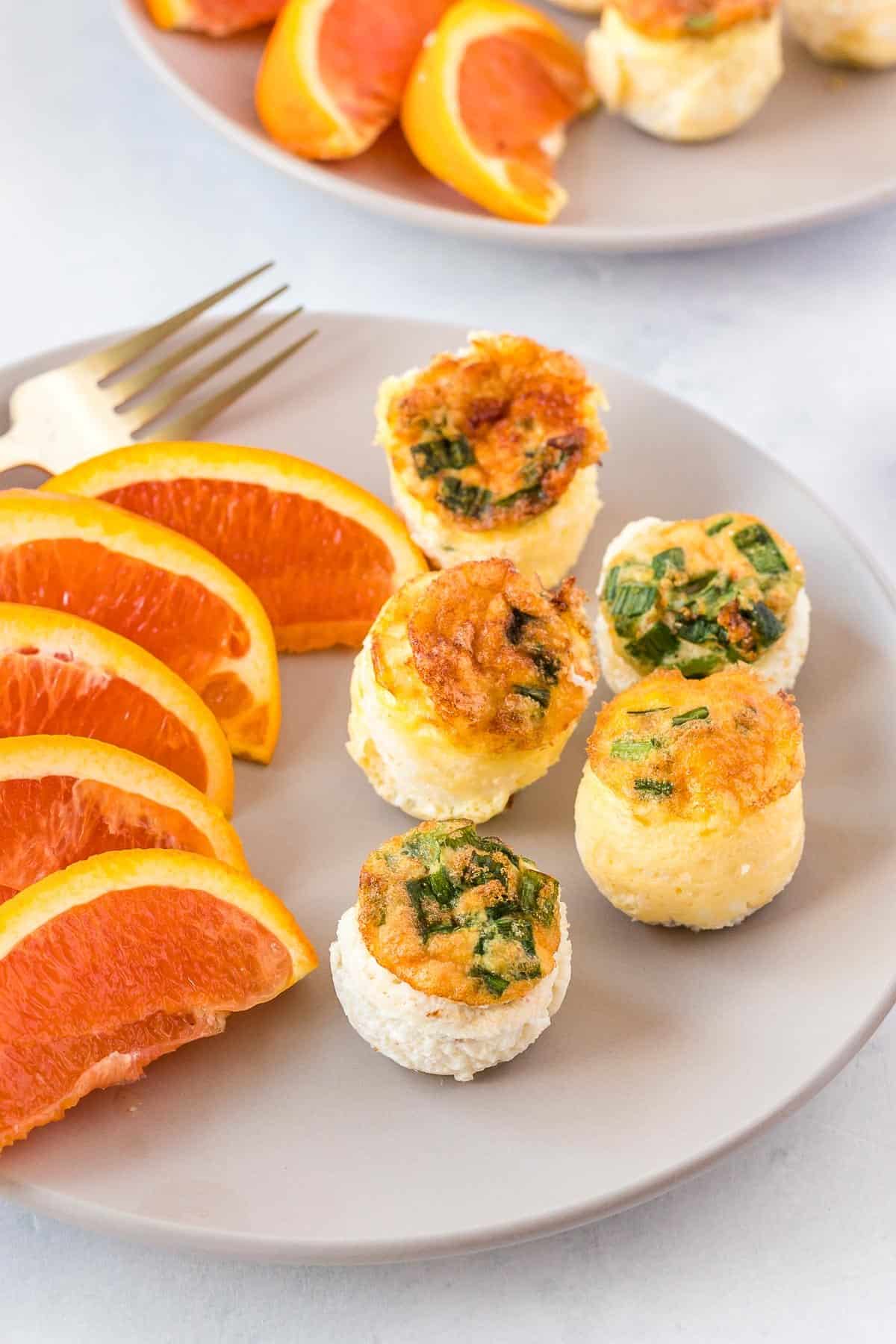 How to Store
The cooked egg bites can be kept in the refrigerator for up to 4 days or frozen for up to 2 months.
How to Freeze
Place the cooled egg bites in a single layer on a baking sheet and place in the freezer. Allow them to freeze for about 1 hour.
When they have flash frozen add them to a freezer bag or container. By freezing this way you can remove them one by one instead of an entire batch.
How to reheat Egg Bites
If refrigerated, they can be reheated in the microwave for 15-20 seconds on a paper towel (this absorbs excess liquid).
Frozen egg bites can be microwaved for 46-60 seconds (check for your microwave); no thawing required. NOTE: the texture of the egg bites changes slightly when reheated from frozen.
More recipes you'll love!
Recipe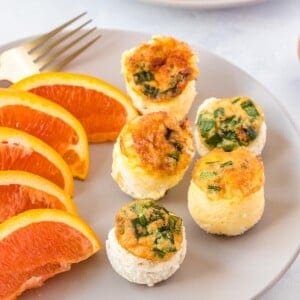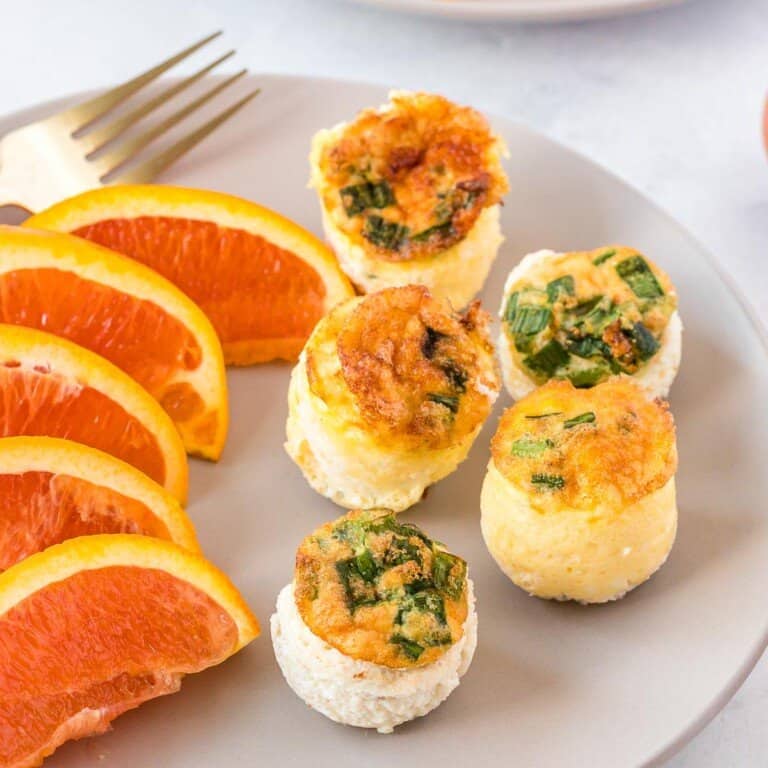 Air Fryer Egg White Bites
Click to track Weight Watchers Points
Easy Air Fryer Egg White Bites make a perfect protein packed low carb low calorie breakfast. Full of feta cheese, sundried tomatoes and scallions, they have great flavor in a little package!
Print
Pin
Rate
Ingredients
non-stick cooking spray

6

large

egg whites

or ¾ cup liquid egg whites

2

tablespoons

1% milk

2

tablespoons

crumbled reduced-fat feta cheese

1

tablespoons

finely chopped sundried tomatoes

1

scallion (green onion)

sliced (white and green portions)

⅛

teaspoon

kosher salt

⅛

teaspoon

freshly ground black pepper
Instructions
Lightly spray a 7-cavity silicone egg bite mold and set aside

Add all the ingredients (egg whites, milk, feta cheese crumbles, sundried tomatoes, scallion, salt and pepper) in a large bowl and whisk to fully combine (the egg whites should be completely blended in).

Divide the egg mixture evenly between the prepared cavities in the mold. Place the mold into the air fryer basket.

DO NOT use the lid that comes with the mold!

Cook at 350 ˚ F for 12 minutes. Open the air fryer and remove the mold, Allow the egg bites to site in the mold for 5 minutes.

NOTE: the egg bites will be inflated when coming out of the air fryer. As they sit they will deflate and become denser.

Remove the egg bites from the mold and place on a paper towel on a plate for 1-2 minutes before serving.
Notes
Serving size
For nutritional tracking purposes (and WW Personal Points tracking) we indicated 1 egg bite per serving. An actual serving size may be multiple egg bites but this allows for accurate tracking.
Air Fryer cooking times
All air fryer types and brands vary slightly. Monitor the egg bites and add 1-2 minutes if needed.
Storing and Reheating
Store in the refrigerator for up to 4 days or the freezer for up to 2 months. Reheat chilled egg bites for 30 seconds in the microwave. Reheat frozen egg bites for 1 to 1.5 minutes in the microwave. Microwaves can vary to start with less heating time and add more as necessary.
Nutrition
Calories:
28
kcal
|
Carbohydrates:
1
g
|
Protein:
4
g
|
Fat:
1
g
|
Saturated Fat:
1
g
|
Polyunsaturated Fat:
1
g
|
Monounsaturated Fat:
1
g
|
Cholesterol:
3
mg
|
Sodium:
129
mg
|
Potassium:
83
mg
|
Fiber:
1
g
|
Sugar:
1
g
|
Vitamin A:
32
IU
|
Vitamin C:
1
mg
|
Calcium:
10
mg
|
Iron:
1
mg