Most adults leave a fruity popsicle for the kids but you'll think twice after you enjoy these fun popsicle cocktails. Perfect for backyard barbecues, a pool party and as a brunch cocktail. It's a delicious way to make it through a hot day.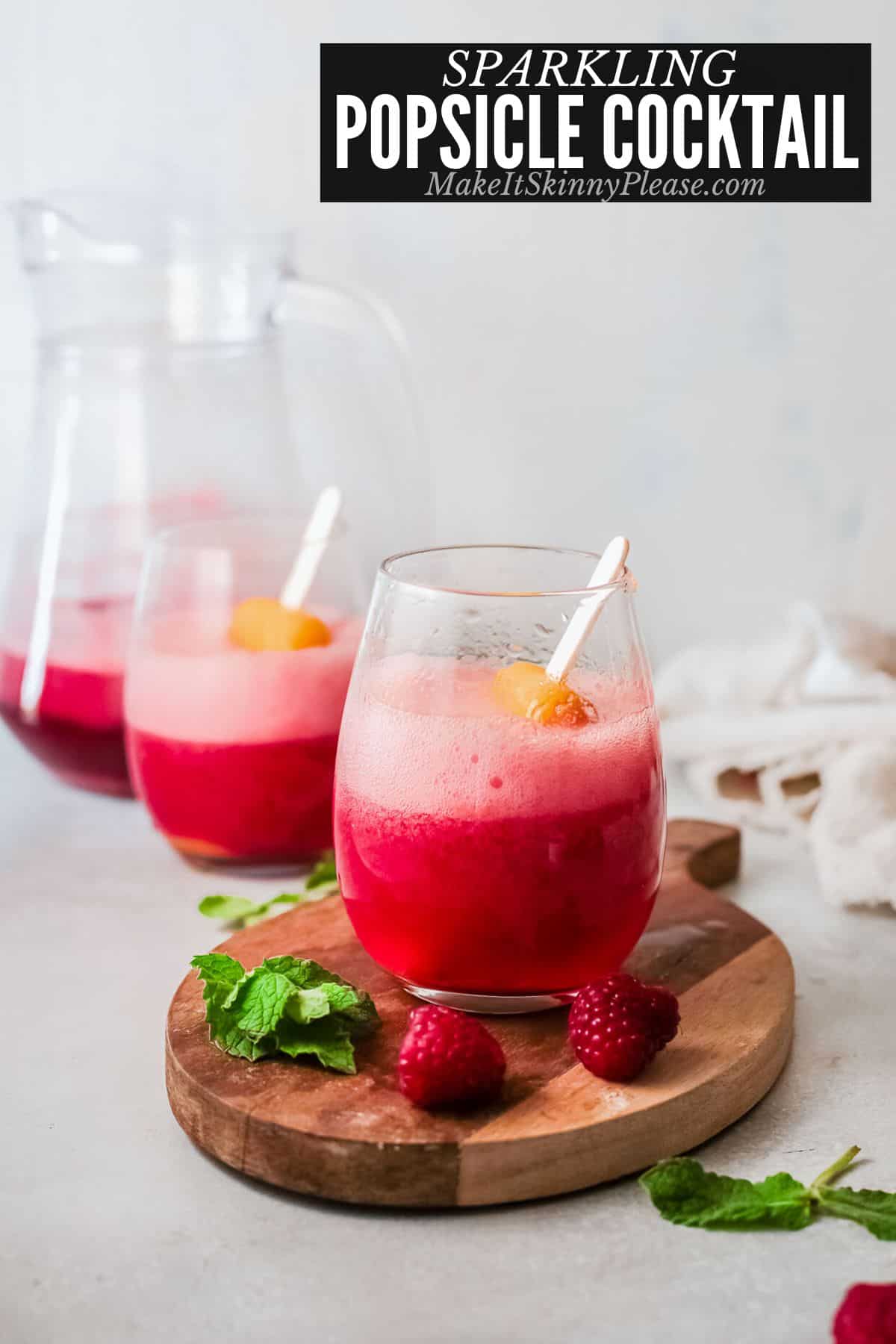 The addition of a popsicle to the sparkling cocktail provides a perfect complement of flavor and on-trend coolness. You can eat the popscile or let the popsicle melt into the drink adding more flavor (or a little of both!).
Cool down with our Frozen Aperol Spritz cocktail, Frozen Malibu Rum Punch or Mango Passion Fruit Wine Slushy too!
Jump to:
What makes this skinny?
Using brut Rose sparkling wine or champagne has less sugar and fewer calories while still being sweet.
We used Light raspberry lemonade. Simply Lemonade brand has 25 calories per cup versus 110 calories per cup of their non-light version
Using fruit pops keeps the calories down. Use a popsicle that is 50 calories or less if possible.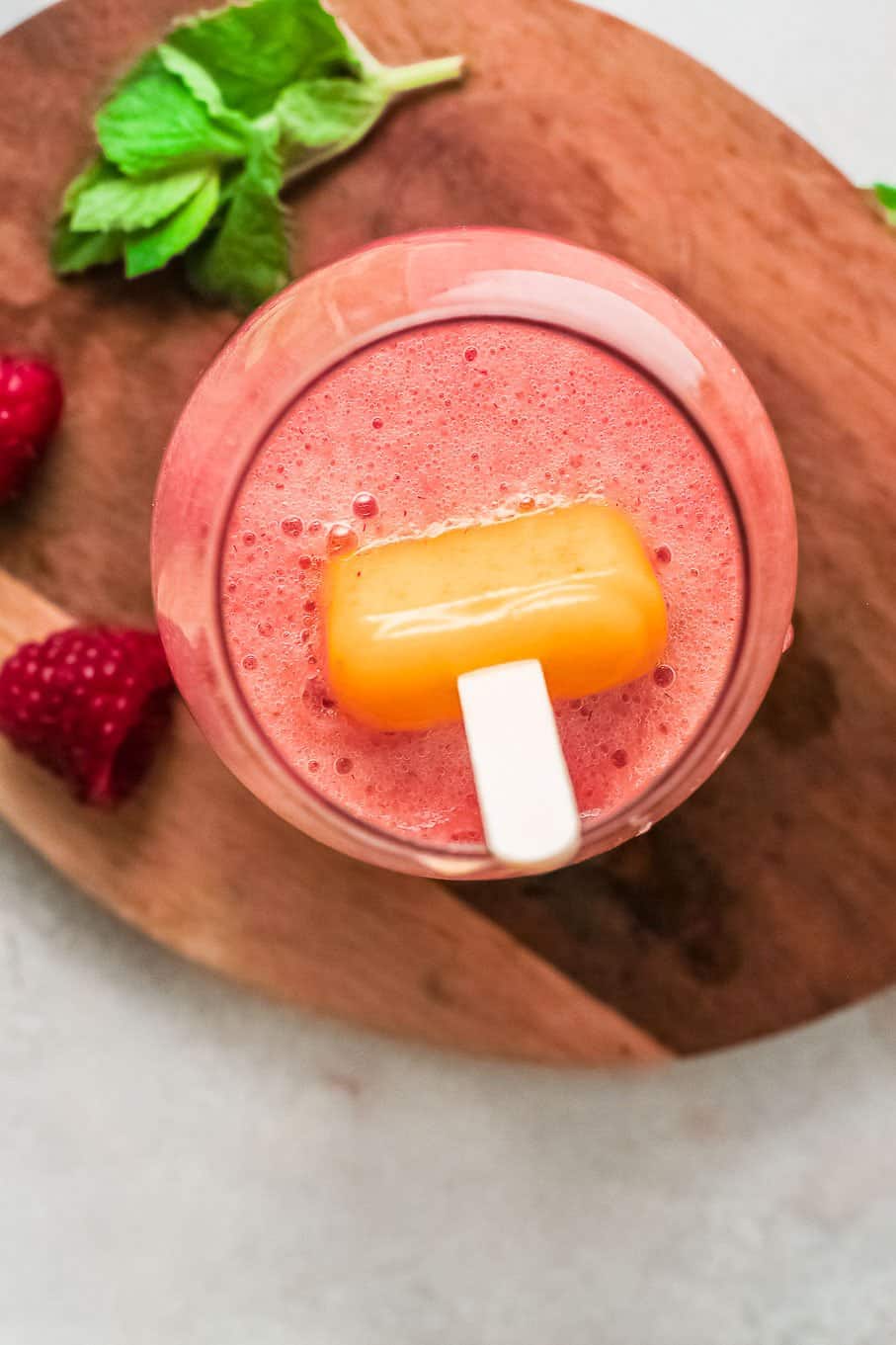 Recipe Ingredient Notes
Rose Brut Champagne. You'll need one bottle (750-ml) of Rose Brut champagne or sparkling wine. We use brut because it's a 'drier' wine meaning it's less sweet and has less sugar which means less calories! It still tastes sweet just compared to other sparkling wines has less sugar.
Light Raspberry Lemonade. I used Simply Light brand Lemonade with Raspberry. It adds some lemon and raspberry flavor and only has 25 calories per cup.
Mango popsicles. We recommend Halo Top Mango Fruit Pops which are delicious with a wonderful texture and 45 calories per popsicle (with less sugar too). Any mango popsicle will work but check the nutritional info on the package. Some can soar up to 120 calories per popsicle.
How to make this Poptail (Popsicle Cocktail)
Combine the champagne or sparkling wine and the lemonade in a pitcher. Stir together. Add 8 ounces per glass.
Remove the wrapper from a popsicle and place popsicles into the cocktail (popsicle stick facing up).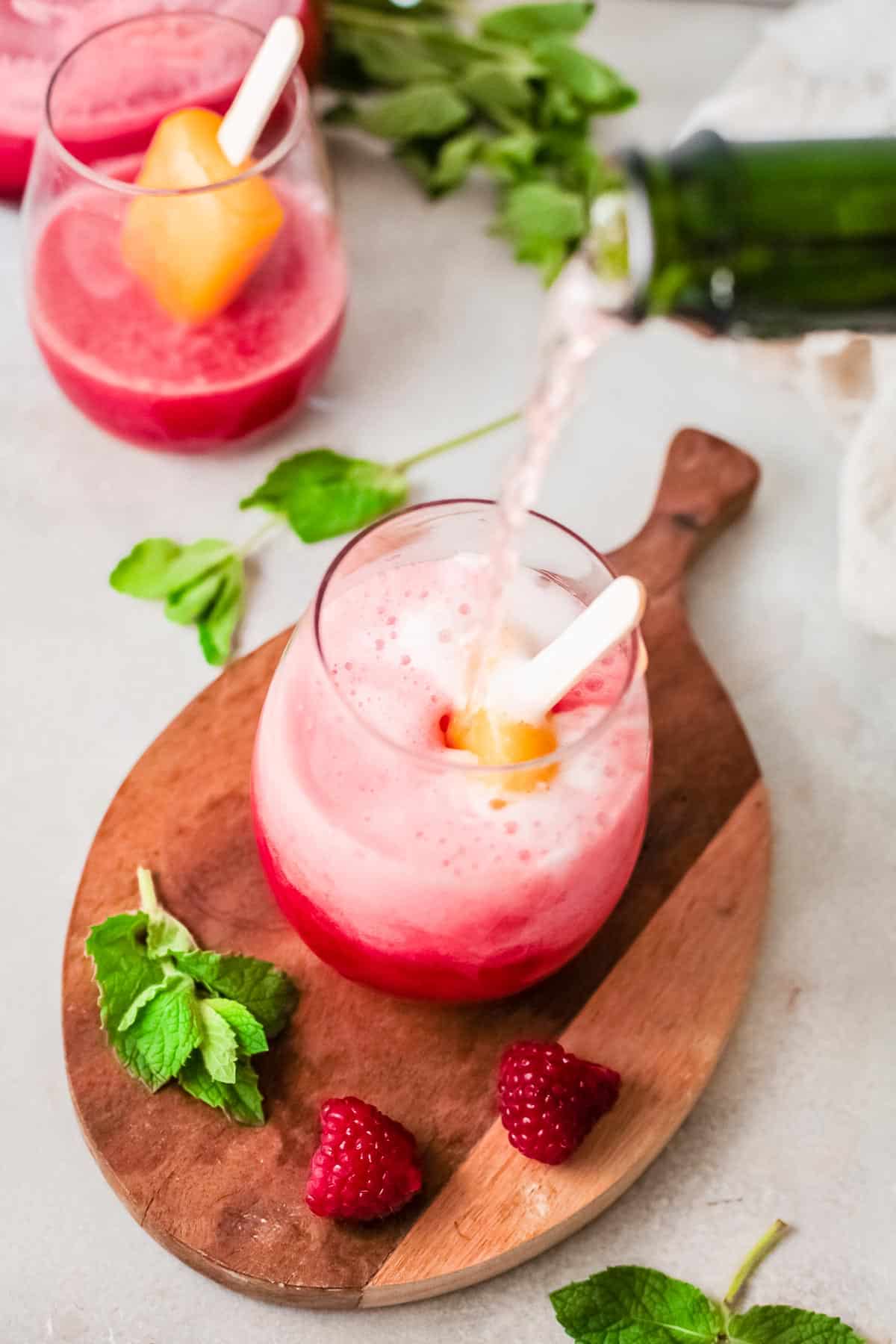 Variations
Try a different popsicle flavor. Almost any fruit popsicle flavor can be used in the wine cocktail for different flavor combinations. Because you'll eat the popscile and it will melt into the cocktail choose a flavor combination you'll enjoy. We do not recommend a coconut popsicle or creamy popsicles. Use fruit pops.
Use regular sparkling wine. If preferred you can use non-Rose sparkling wine. Brut will have slightly fewer calories but any type will work.
Try a sugar free popsicle. These popsicles come in all your favorite flavors and have very few calories. Unfortunately we could not get our hands on any when testing this recipe so can't make a recommendation on a brand. But if you have one you like, try it!
Homemade ice pops. If you make popsicles at home using a popsicle mold you can also make your own using your favorite ice pop recipes.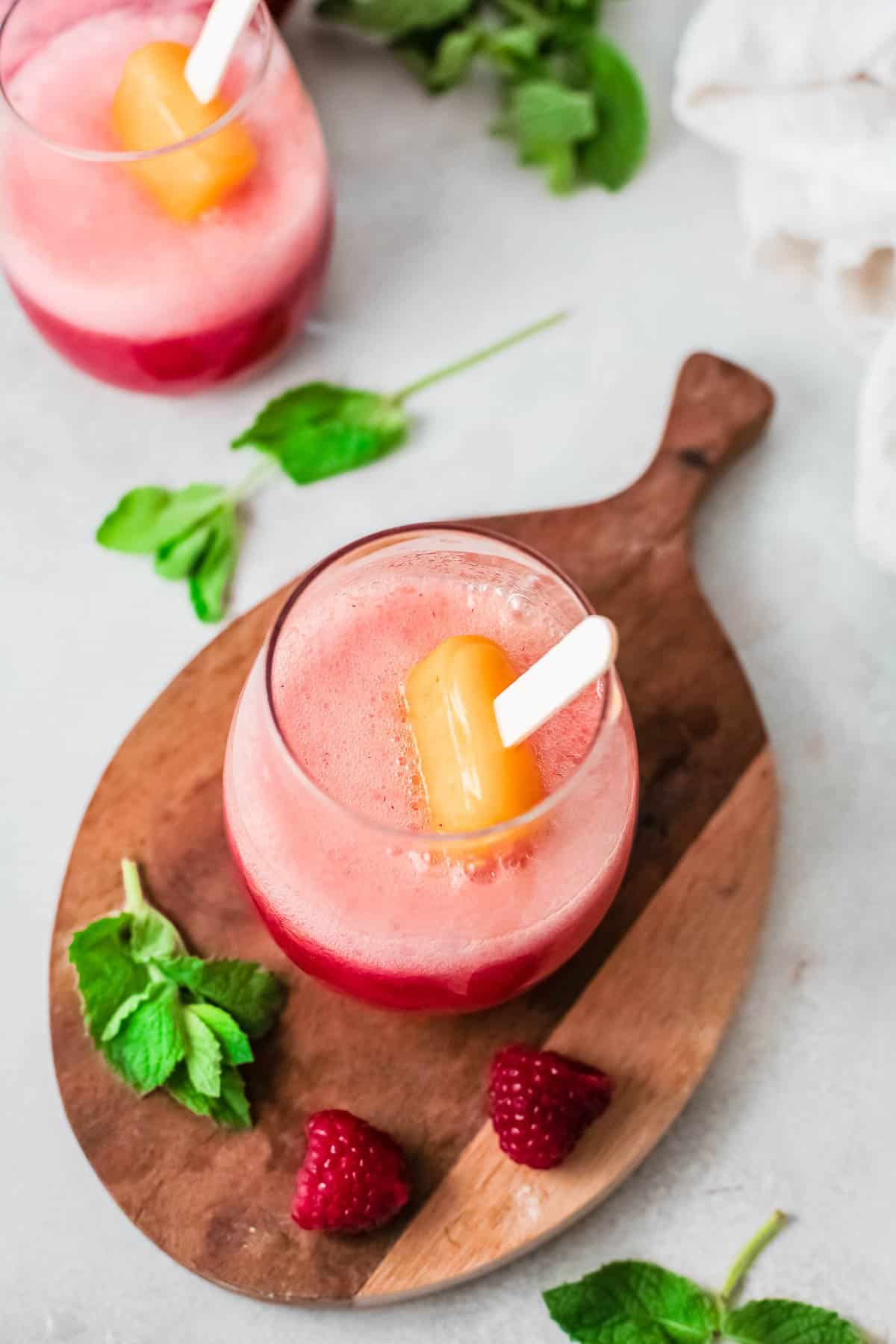 Expert Tips
Champagne vs Sparkling Wine. Champagne is sparkling wine produced in the champagne region of France. To be called champagne it has to originate there. Sparkling wine is the same thing made in other places. Either rose champagne or rose sparkling wine can be used.
Brut means less sugar and less calories. If a wine has the name 'brut' it means it's a drier wine which means less sugar. It's not really dry. We selected it for this popsicle cocktail both because it did not need more sweetness but also to keep the calories as low as possible while still having great flavor.
Start with chilled drinks. Have the rose and lemonade chilled before mixing together.
Frequently Asked Questions
Can I make this a mocktail?
Yes! Substitute sparkling water or seltzer for the champagne. Choose a lightly flavored version like lime for extra flavor.
More recipes you'll love!
Did you make it? Please RATE THE RECIPE below!
Please SUBSCRIBE and FOLLOW ME on FACEBOOK, TWITTER, INSTAGRAM and PINTEREST
Recipe
Sparkling Raspberry Popsicle Cocktail
Click to track Weight Watchers Points
What's more fun and refreshing than a fizzy raspberry lemonade cocktail? One with a popsicle dunked in it too. A delicious flavor combination that's so cooling on a summer day!
Print
Pin
Rate
Ingredients
1

750 ml bottle

rose brut sparkling wine

3

cups

light raspberry lemonade

6

mango fruit pops
Instructions
Combine the sparkling wine/champagne and light raspberry lemonade in a pitcher. Allow the bubbles to subside slightly before pouring into glasses.

Divide between 6 serving glasses pouring 8 ounces into each one.

Place one popsicle with wrapper removed into each cocktail glass with the stick facing up. Serve immediately.
Notes
Ingredients Notes
The nutritional calculation is based on rose brut champagne, Simply Light Lemonade with Raspberry (brand) and Halo Top Mango Fruit Pops. Using equivalent ingredients will work however the nutritional information may need to be adjusted.
Start with chilled lemonade and sparkling wine.
Other flavors of popsicles can be substituted. Use fruit pops (not creamy popsicles). Try to use popsicles that are 50 calories or less for calorie-savings.
How to make it a mocktail
Substitute sparkling water or seltzer for the champagne. Choose a lightly flavored version like lime for extra flavor.
Nutrition
Calories:
158
kcal
|
Carbohydrates:
36
g
|
Protein:
0.1
g
|
Fat:
0
g
|
Sodium:
9
mg
|
Potassium:
110
mg
|
Sugar:
24
g
|
Calcium:
11
mg
|
Iron:
0.5
mg