If you love a tropical cocktail but don't want the calories, this slimmed down Frozen Malibu Rum Punch is the answer! We've kept all the classic flavors of the original cocktail but in a new way that makes this fruity alcoholic drink a satisfying sipper with a Caribbean twist!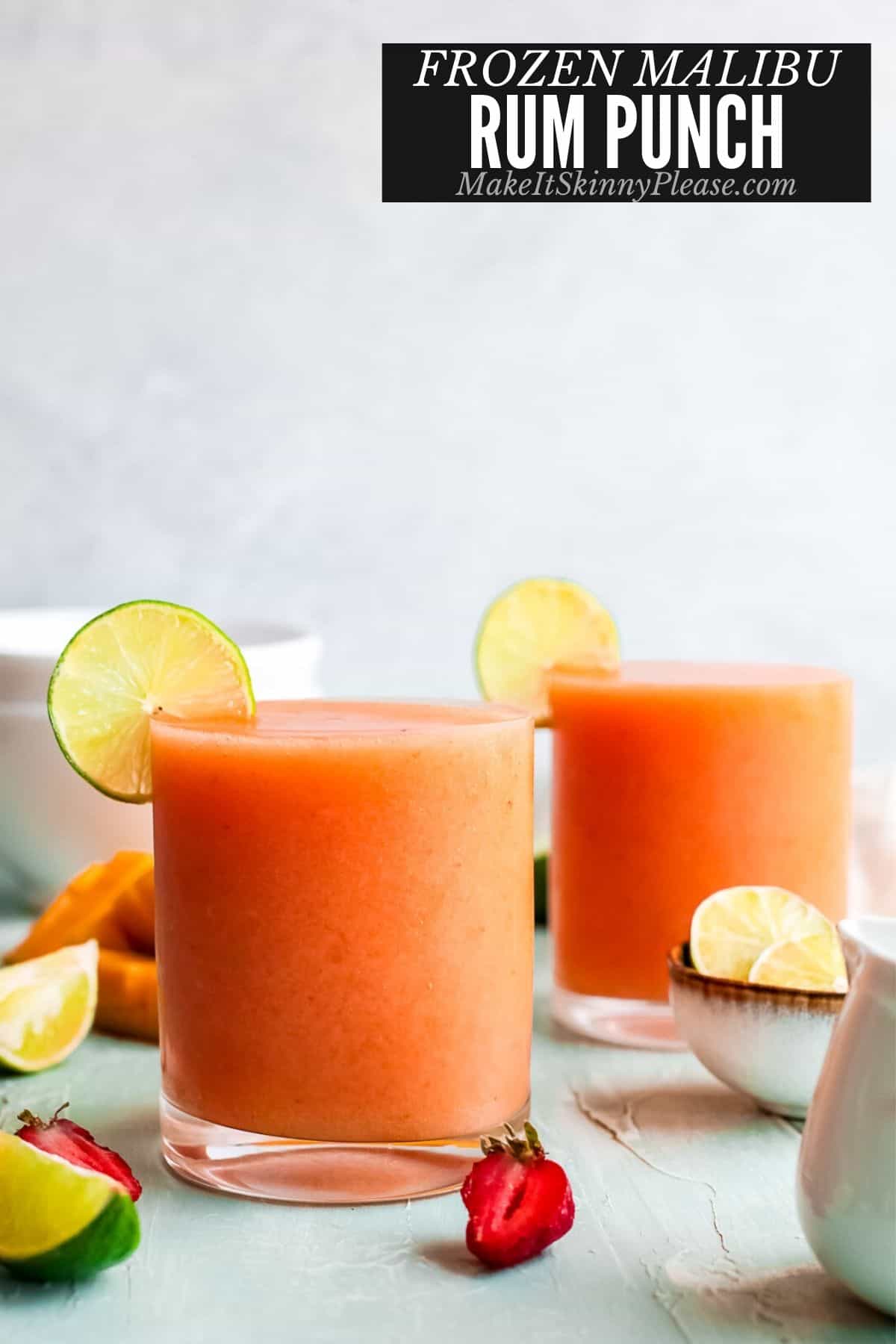 This coconut rum punch recipe is a favorite drink to battle the summer heat. Any drink with Malibu Caribbean rum tastes like a tropical vacation! Natural coconut flavor with pineapple, lime, orange, strawberry and mango flavors whipped up into a frozen refreshing cocktail.
We are always looking for new exciting ways to slim down classic cocktails and this delightful blend of Caribbean rum beams with sunshine spirit. Pop in a cocktail umbrella and relax.
For more taste of the tropics cocktails try our Mango Passion Fruit Wine Slushy and Skinny Mango Margarita too!
Jump to:
What's in a Malibu Rum Punch cocktail?
Typically is will include rum (coconut, light and/or dark rum), a variety of fruit juices (most typically pineapple juice and orange juice but also lemon or lime) and grenadine for color.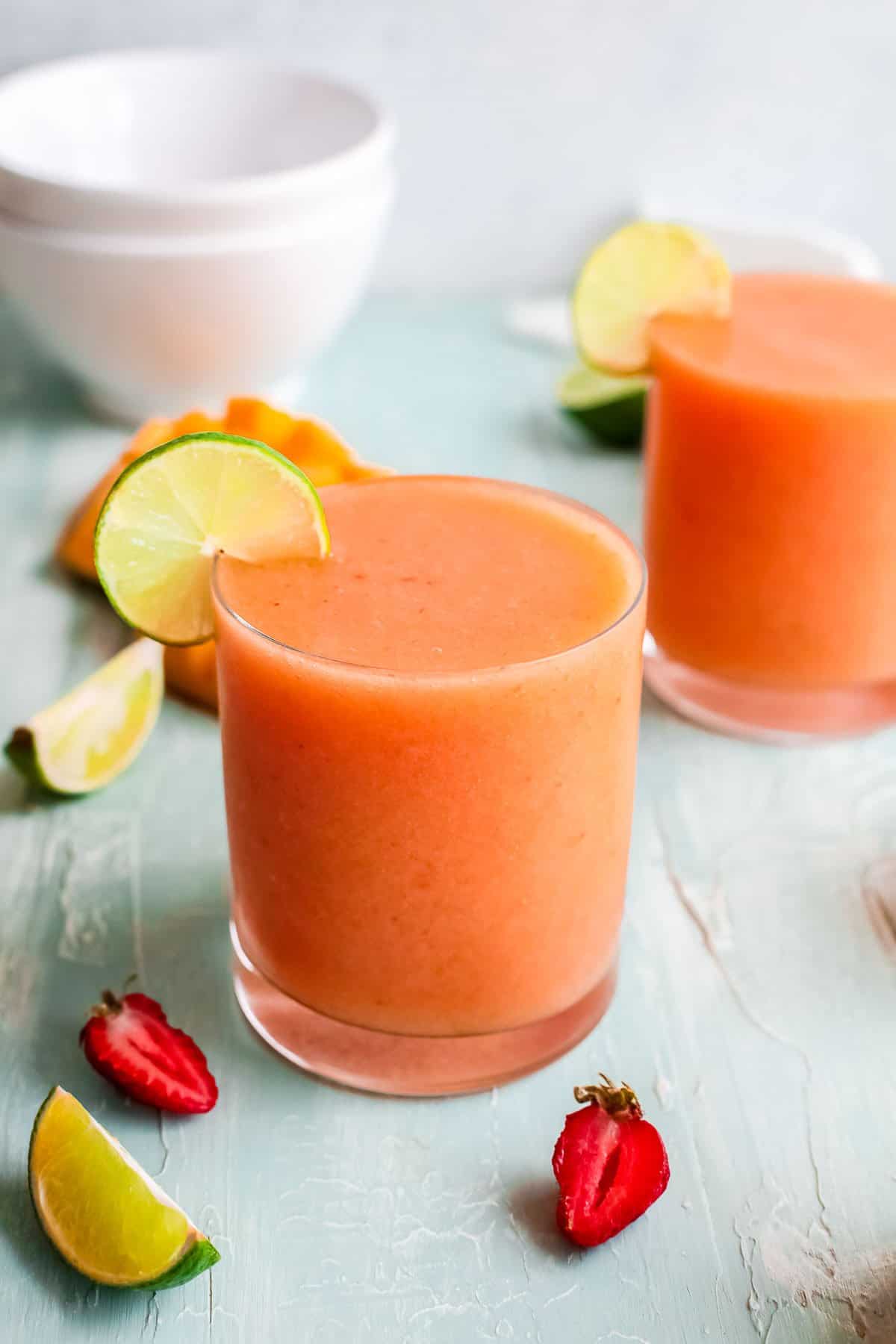 What makes this skinn

ier

?
Cocktails like rum punch cocktails typically are not skinny. They include multiple types of fruit juice which can be calorie-heavy especially if they've been sweetened. There can also be sweeteners added to the cocktail.
To slim this classic fruity drink down while keeping the original key flavors we did a few things:
Swapped in frozen unsweetened pineapple in for pineapple juice. One cocktail usually has about ½ cup of pineapple juice (66 calories) while ours uses ½ cup spread across 4 cocktails (35 calories for ½ cup frozen pineapple divided by 4 cocktails). The frozen pineapple does double duty to thicken the cocktail too so less ice is used (less watering down of the flavors).
Used fresh mango and strawberries. This adds extra nutrients, natural sweetness, some fiber and color as well as creates more volume of the cocktail with less caloric ingredients.
Left out the grenadine. It's typically used to give the drink it's soft pink color. Grenadine is the red syrup found in the bottom of Shirley Temple drinks and is used in drinks to give the red color. One tablespoon of grenadine has 54 calories so we used the mango to get the same color instead!
We did use freshly squeezed lime juice and orange juice to keep the traditional flavors. Bottled orange juice is often condensed or has added sugar so both for flavor and calories we think fresh is best.
Making it 'frozen' extends the volume of the cocktail too so you get a larger serving for fewer calories!
Because there isn't a standard recipe for a Malibu Rum Punch cocktail it's difficult to compare calories head-to-head but the original version has up to 300 calories for a regular size cocktail; ours is 184 calories for a 10 ounce serving.
Recipe Ingredients Notes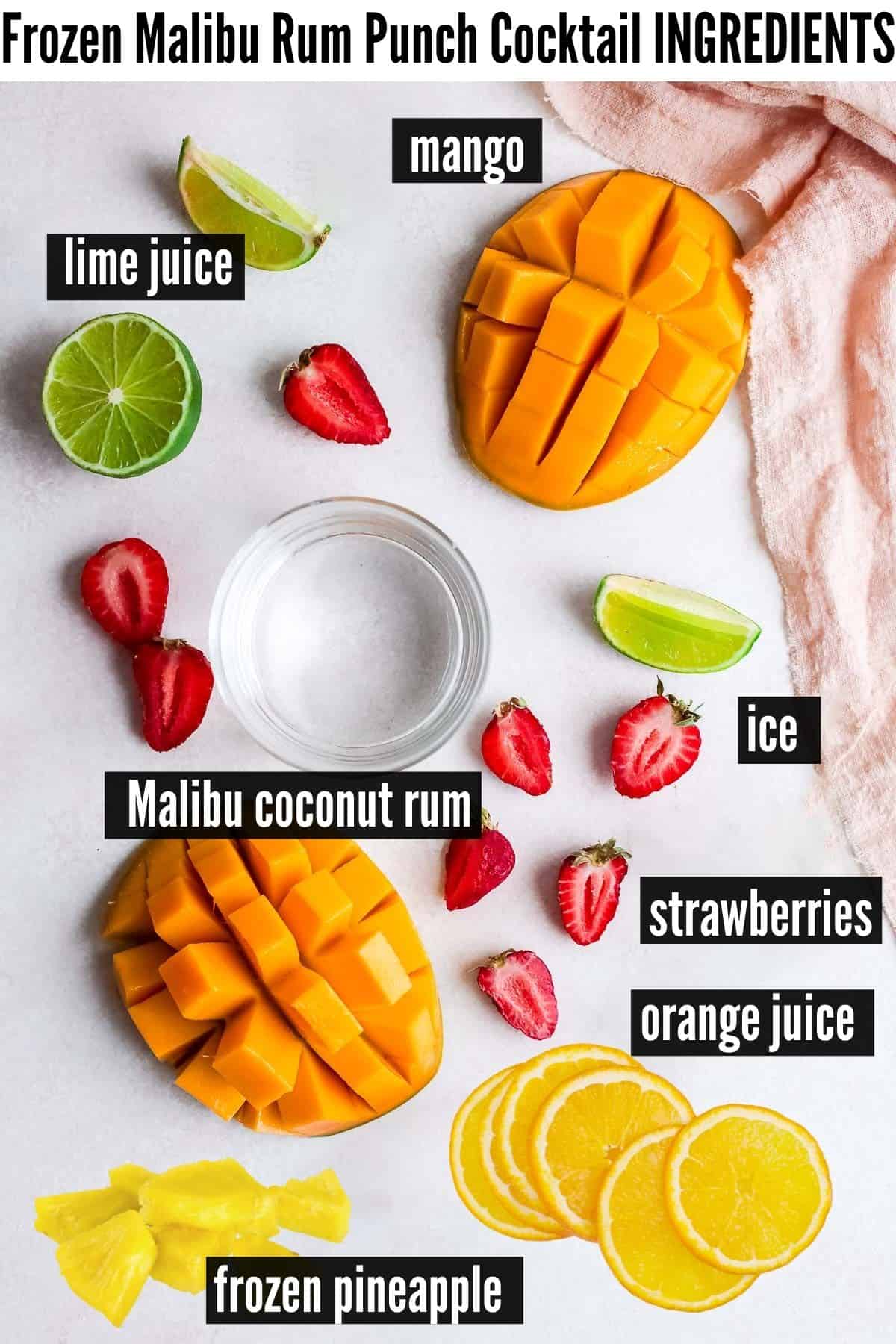 Malibu Rum with coconut liqueur. Malibu (brand name) rum is a coconut flavored rum popular for tropical cocktails like this one. Be sure to use the actual rum and not one of their prepared drinks or a different flavor of their rum.
Mango. You'll need 1 cup of fresh mango. Be sure the mango is ripe. Unripe mango is not very sweet and the swetness in the fruit takes away the need to add sweeteners to the cocktail.
Strawberries. You'll need 1 ½ cups fresh strawberries. As with the mango make sure to use ripe strawberries.
Lime juice and orange juice. For best results use fresh squeezed.
Frozen pineapple. Instead of using just ice we add some frozen unsweetened pineapple. This both helps the drink become a frozen version and also includes the classic pineapple flavor not using juice (more fiber and fewer calories).
How to make this Malibu rum punch cocktail
STEP 1: Combine the rum, mango, strawberries, lime juice, and orange juice to a blender (photos 1-4). Blend until smooth.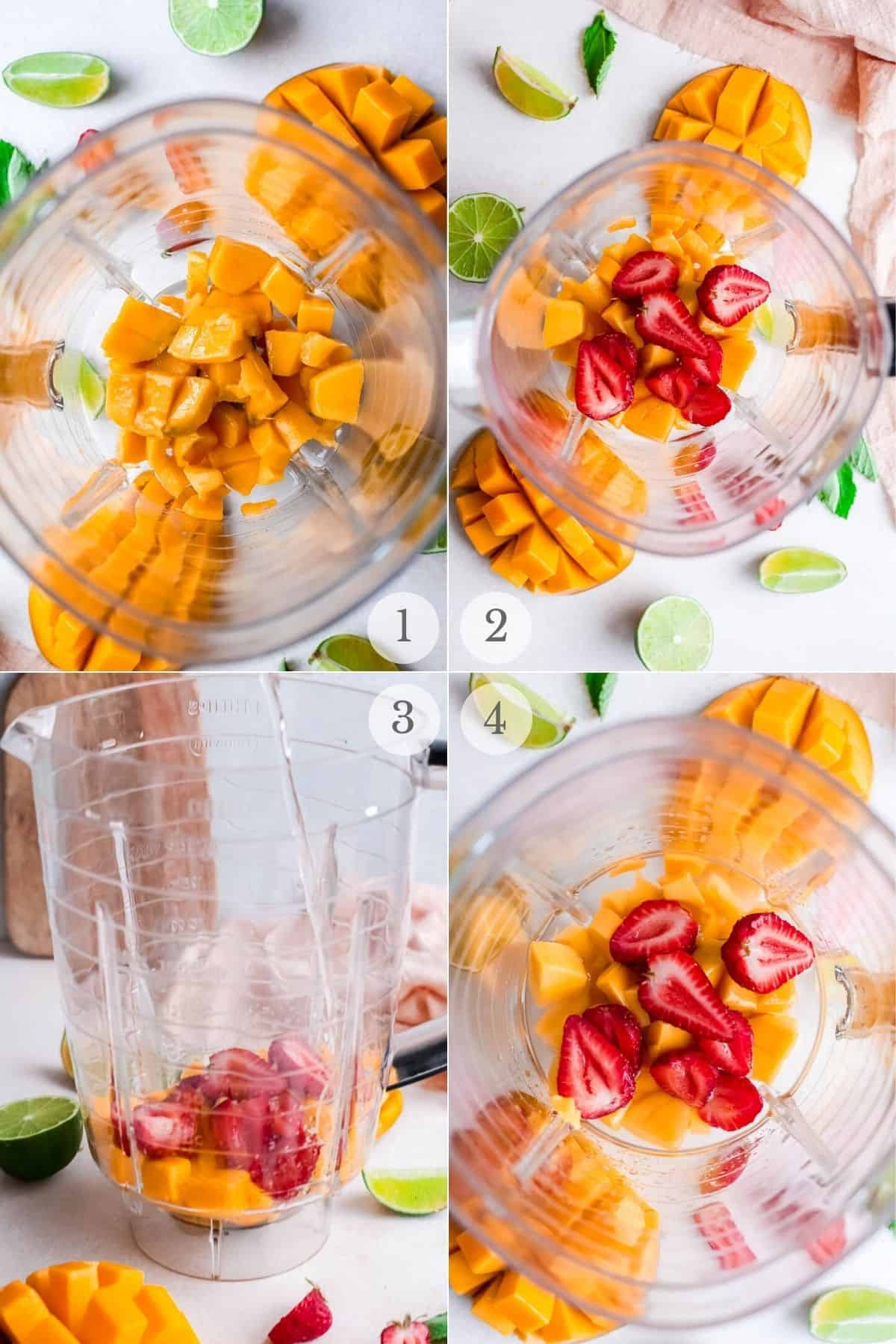 STEP 2: Add the frozen pineapple and ice (photo 5). Blend until smooth and thick (photo 6).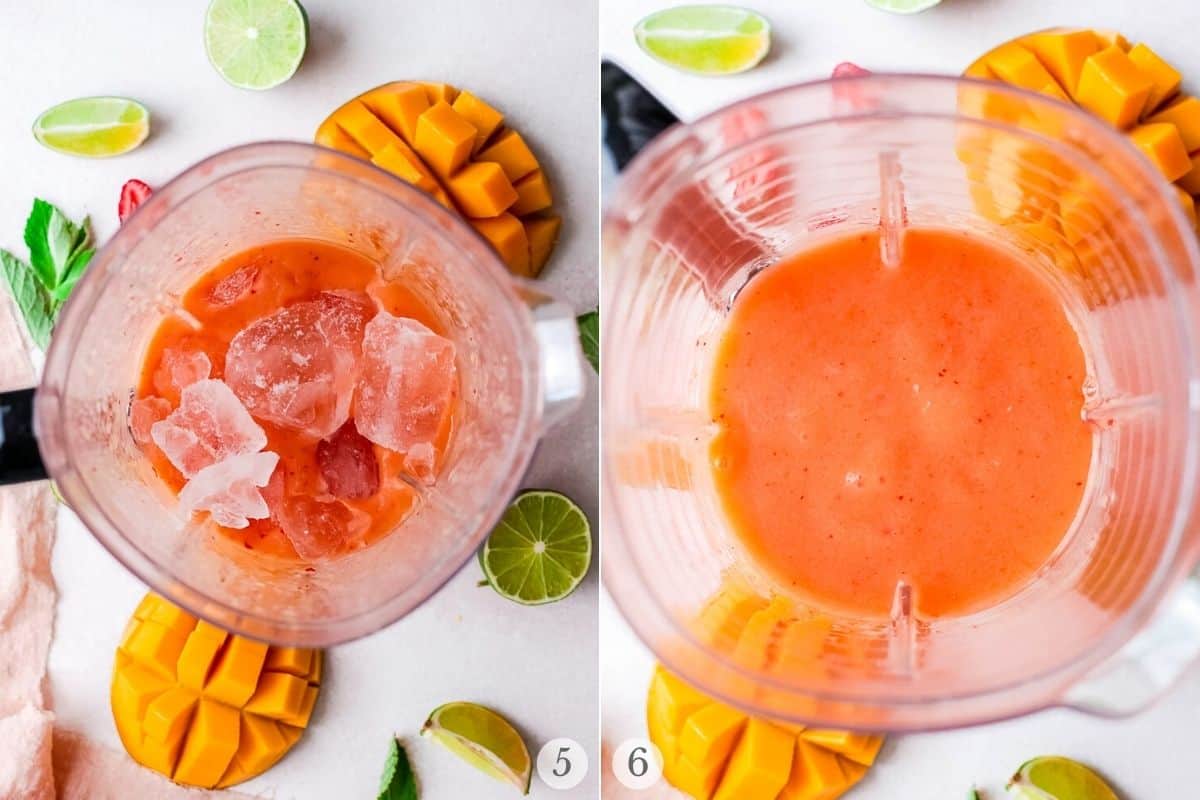 Divide between four glasses, garnish (if desired) and serve.
Expert Tips
Use fully ripe fruit. The ripeness of the fruit will determine the amount of flavor and sweetness. Using unripened fruit may require adding extra sweetener to the cocktail which will increase the calories.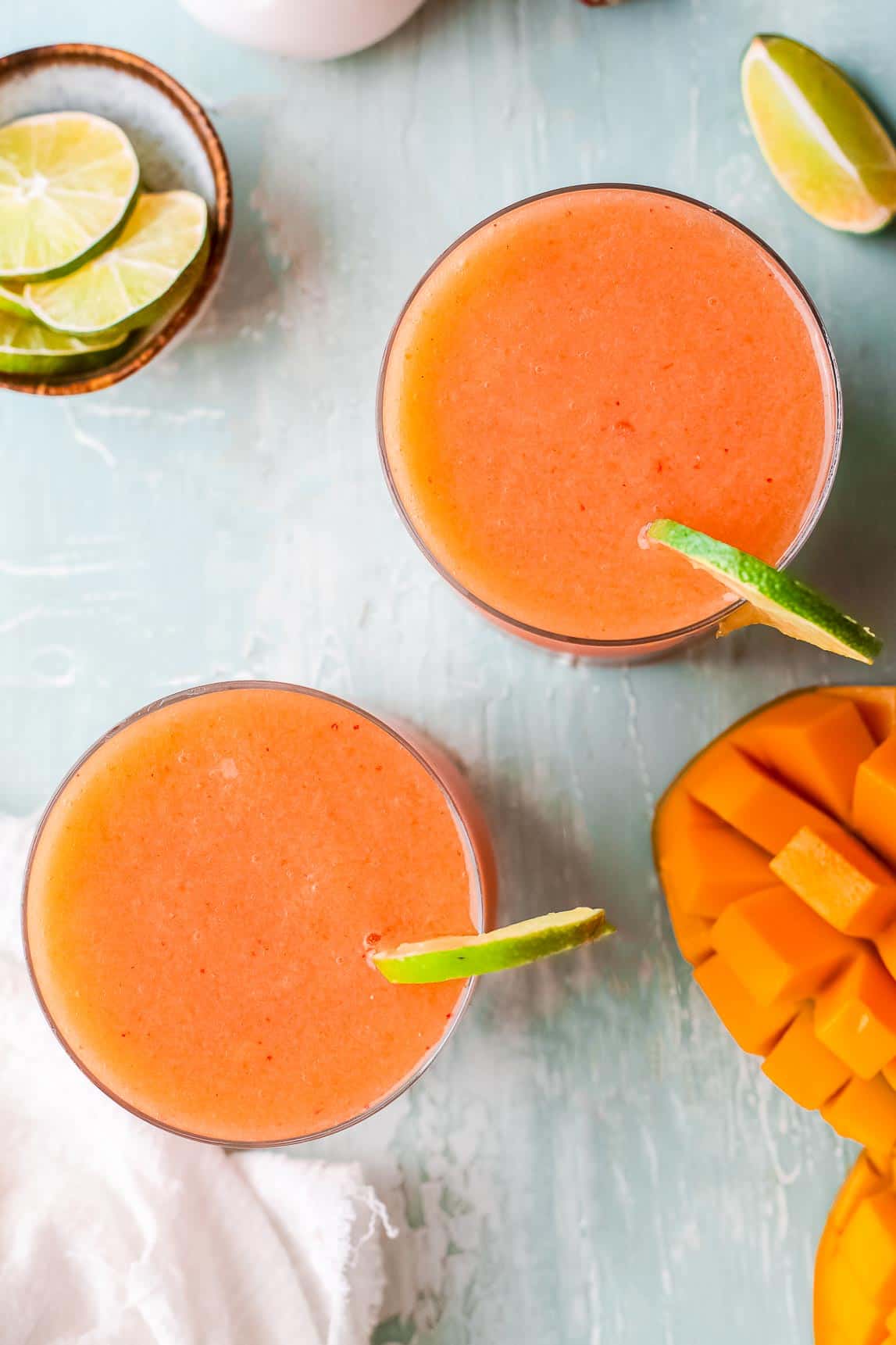 Frequently Asked Questions
I don't like (or can't have) coconut. What can I substitute for the coconut rum?
You can substitute different kinds of rum: light rum (white rum), dark rum or a mix of the two. The calories are very close to coconut rum too.
I want to make this for a party. How could I make it ahead of time?
To save some time you could blend everything except the ice cubes and frozen unsweetened pineapple. Store the blended ingredients in the refrigerator. Before
serving add it to the blender with the ice and pineapple and blend. I'd suggest doing this the same day you are planning to serve so the ingredients have the best quality and flavor.
More recipes you'll love!
Did you make it? Please RATE THE RECIPE below!
Please SUBSCRIBE and FOLLOW ME on FACEBOOK, TWITTER, INSTAGRAM and PINTEREST
Recipe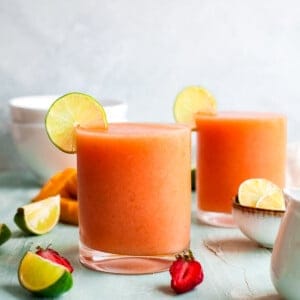 Frozen Malibu Rum Punch
Click to track Weight Watchers Points
This classic rum punch has been changed up with fresh ingredients and blended into a refreshing tropical sipper. Coconut rum, fresh mango and strawberries, frozen pineapple and freshly squeezed juices deliver a slimmed down version of the original Malibu rum punch.
Print
Pin
Rate
Servings:
4
10-ounce servings (total yield=5 cups)
Ingredients
1

cup

Malibu rum with coconut liqueur

1.5

cups

strawberries

1

cup

mango

⅓

cup

lime juice

¼

cup

orange juice

1

cups

ice

½

cup

frozen pineapple
Instructions
Add the rum, strawberries, mango, lime juice and orange juice to a blender. Blend until the ingredients are smooth.

Add the ice and frozen pineapple. Blend until thick and smooth.

Divide between 4 glasses. Garnish is a lime or orange slice and serve!
Notes
Pro Tips
Use fully ripe fruit for best flavor and natural sweetness. If unripe a sweetener may need to be added.
Don't like coconut (or can't have it)? Substitute light rum or dark rum (or a combination of the two).
Can it be made ahead? You can blend the ingredients except the ice and frozen pineapple. Then just before serving blend with ice and pineapple. We don't recommend blending the first portion more than a few hours before you'll serve it for best results.
Nutrition
Calories:
185
kcal
|
Carbohydrates:
29
g
|
Protein:
1
g
|
Fat:
1
g
|
Saturated Fat:
1
g
|
Polyunsaturated Fat:
1
g
|
Monounsaturated Fat:
1
g
|
Sodium:
5
mg
|
Potassium:
229
mg
|
Fiber:
2
g
|
Sugar:
25
g
|
Vitamin A:
506
IU
|
Vitamin C:
70
mg
|
Calcium:
22
mg
|
Iron:
1
mg