Easy Turkey Roll Ups are a great party appetizer and perfect for a healthy, quick lunch. Our rainbow version turkey pinwheel recipe is brimming with fresh colorful vegetables, lean turkey and low fat cream cheese for a guilt-free turkey wrap.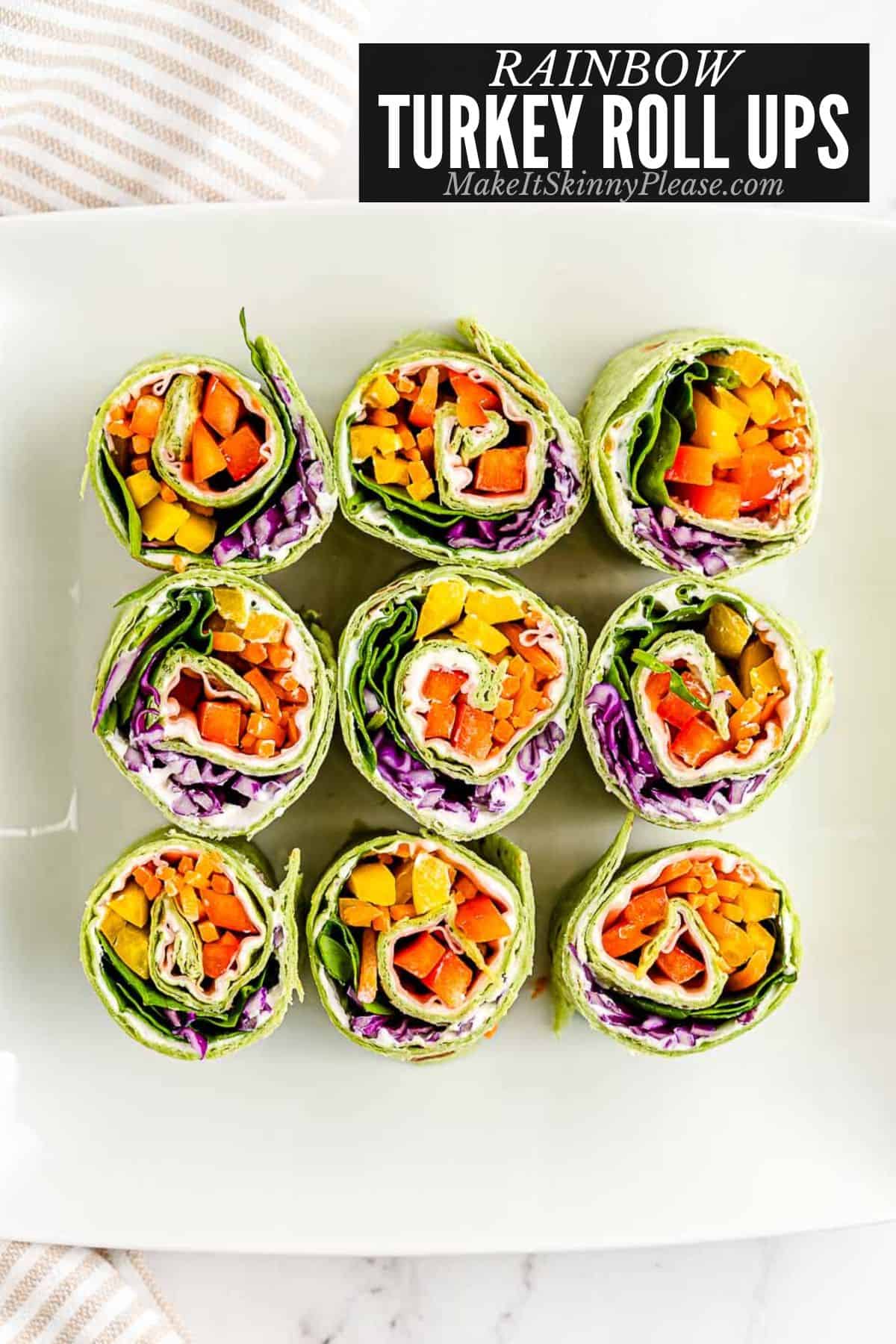 If you've never made turkey pinwheels or easy turkey roll-ups (they are the same thing with different names) you'll love this recipe! It's an easy lunch, very easy to change up and a fantastic way to combine lean protein and vegetables in a delicious satisfying way.
We love the rainbow vegetable look, nutrition and lower calories. They are a perfect meal for a lunch box too!
The combination of ingredients in these roll ups is a win and a great way to whip up a well balanced healthy snack any time of year. Lean slices of turkey adds protein which keeps you full longer.
An assortment of vegetables to eat the rainbow (more nutrients) that add crunch and are filling. Just enough light cream cheese for a bit of fat and flavor. All rolled up into a soft tortillas.
Simple ingredients, healthy comfort food that makes a quick snack or lunch for busy weekdays. Perfect for a lower calorie diet and meal prep too.
Jump to: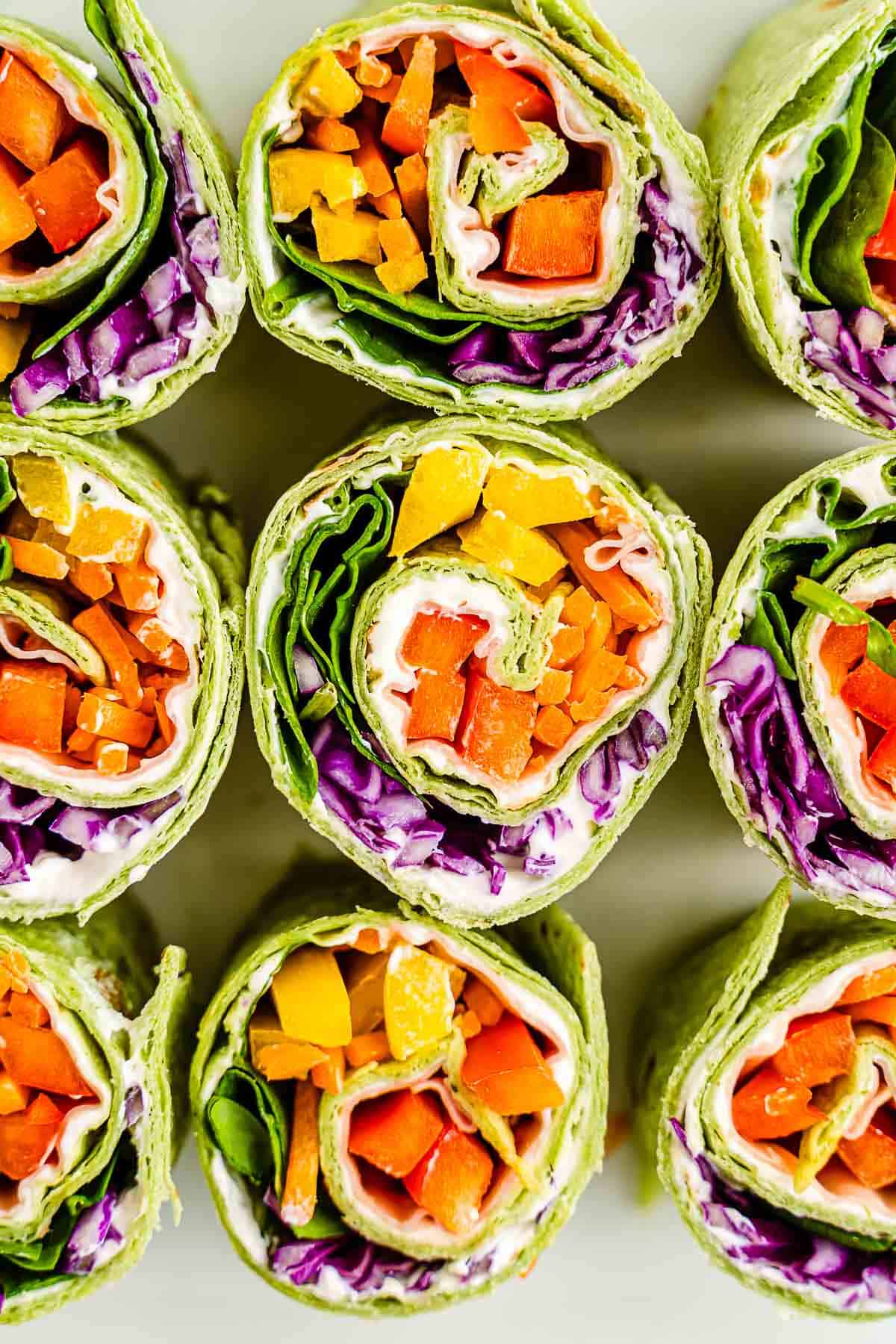 What makes this skinny?
Using lower calorie tortillas. Typically flour tortillas that are marketed as 'low carb tortillas' are lower in calories too. Low carb wraps that are also low calorie could also be used.
Lower fat cream cheese spread. This both has lower calories and is whipped making it easier to spread more thinly onto the tortillas.
No cheese. Often you'll see turkey cheese roll-ups but we've dumped the cheese. It keeps the calories lower and the roll ups stay fresher longer too.
Loads of vegetables! They add color, flavor, nutritional benefits, are low in calories but filling too.
Recipe Ingredient Notes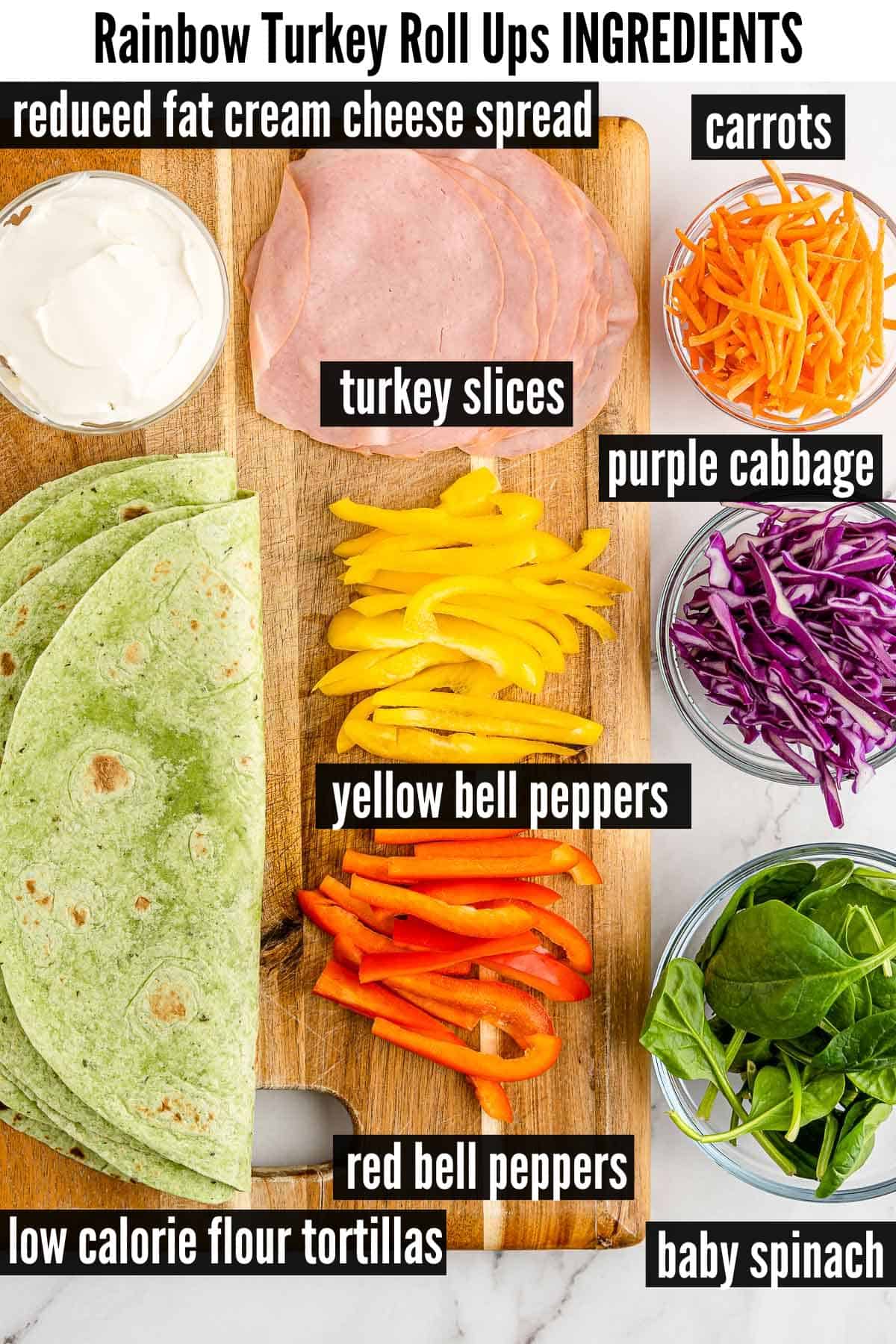 ⅓ Less Fat Cream Cheese Spread. Use the ⅓ fat reduced cream cheese spread in a tub for easier spreading onto the tortillas.
8-inch lower calorie flour tortillas. Use large tortillas (8-inch or 9-inch diameter). We used Mission Carb Balance Spinach Herb tortilla (more details below) which are low in calories, high in dietary fiber, have great flavor and we love that they are green.
Deli turkey. You'll need 8 slices which add some lean protein to the roll ups.
Red bell pepper and yellow bell peppers. These will be sliced into thin strips. You'll need ½-cup of each color.
Carrots. The carrots will be sliced into matchsticks and you'll need ½-cup.
Baby spinach. This gives some great nutrition and more color to the pinwheels.
Purple cabbage. Finely shredded red cabbage (or purple cabbage) adds some nice crunch to the roll ups. You'll need ½-cup.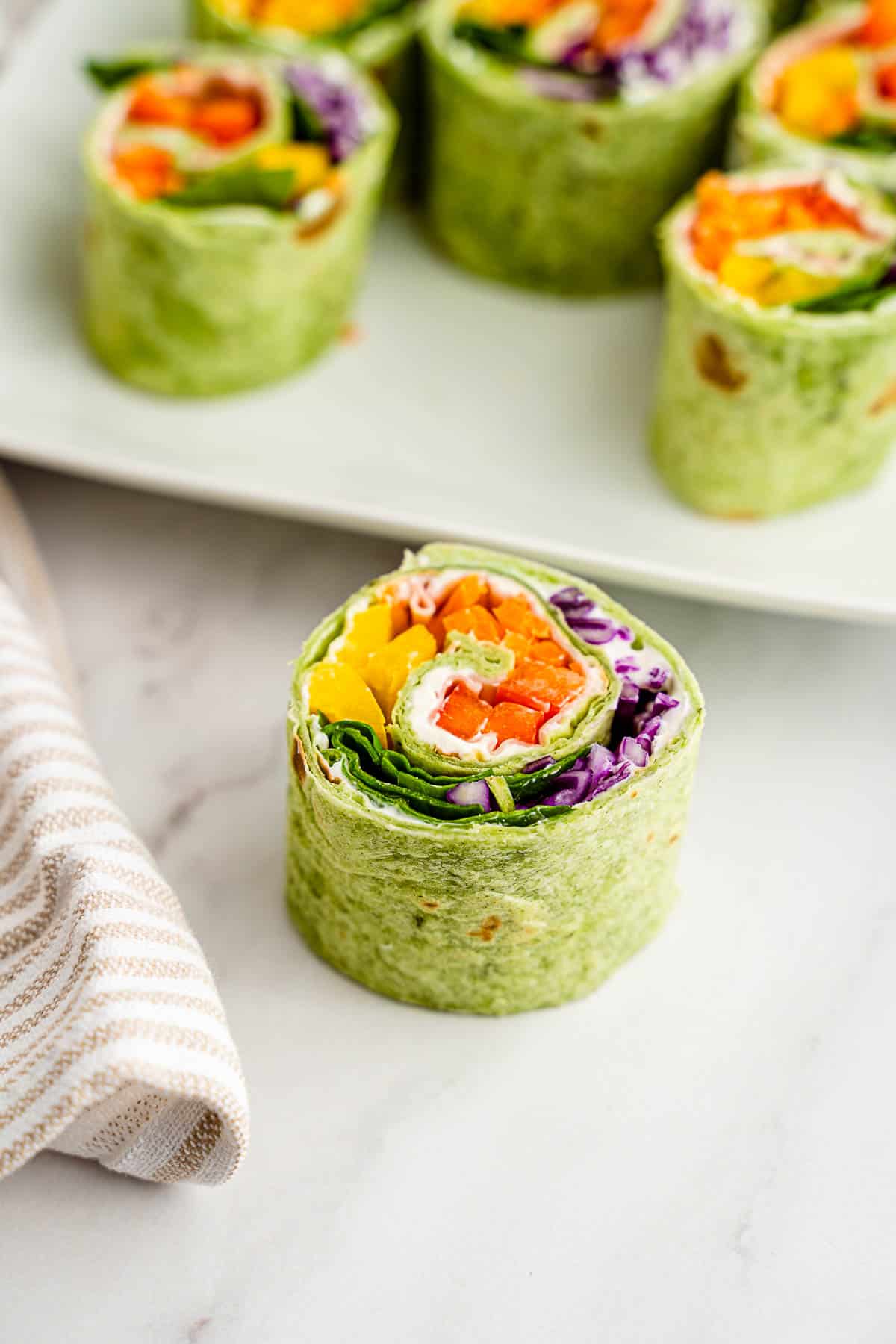 Low Calorie Flour Tortilla options
Mission Carb Balance Spinach Herb tortillas. This is what we used for the flavor, nutrition and only 60 calories per tortilla (8-inch tortilla).
Mission Carb Balance tortillas. These flour tortillas are 8-inch diameter tortillas with 70 calories (per tortilla).
Egglife Egg White Wraps. If you haven't tried these they are soft wraps that roll well. They come in multiple flavors. Southwest style, Italian style and Everything Bagel would go well with the flavors in the turkey roll ups.
Mr. Tortilla 1 Net Carb Tortillas. We found this brand through a low calorie tortilla article and haven't tried it but are intrigued by the nutritional values, and variety of flavors. The size in the article is only 4-inches in diameter.
We tracked down the 8-inch size and have included the nutrition information for those here. They are available on Amazon.
*all Egglife wraps are 0 Weight Watchers Points except the Everything Bagel flavor which is 1 point
How to make Rainbow Turkey Roll Ups
Printable recipe card at the end of the post.
STEP 1. Spread the cream cheese
Divide the cream cheese spread evenly between the four tortillas. Using a dining knife (not sharp) or pliable spatula gently spread the cream cheese spread to cover one side of each tortilla (photo 1). Spread it all the way to the edges.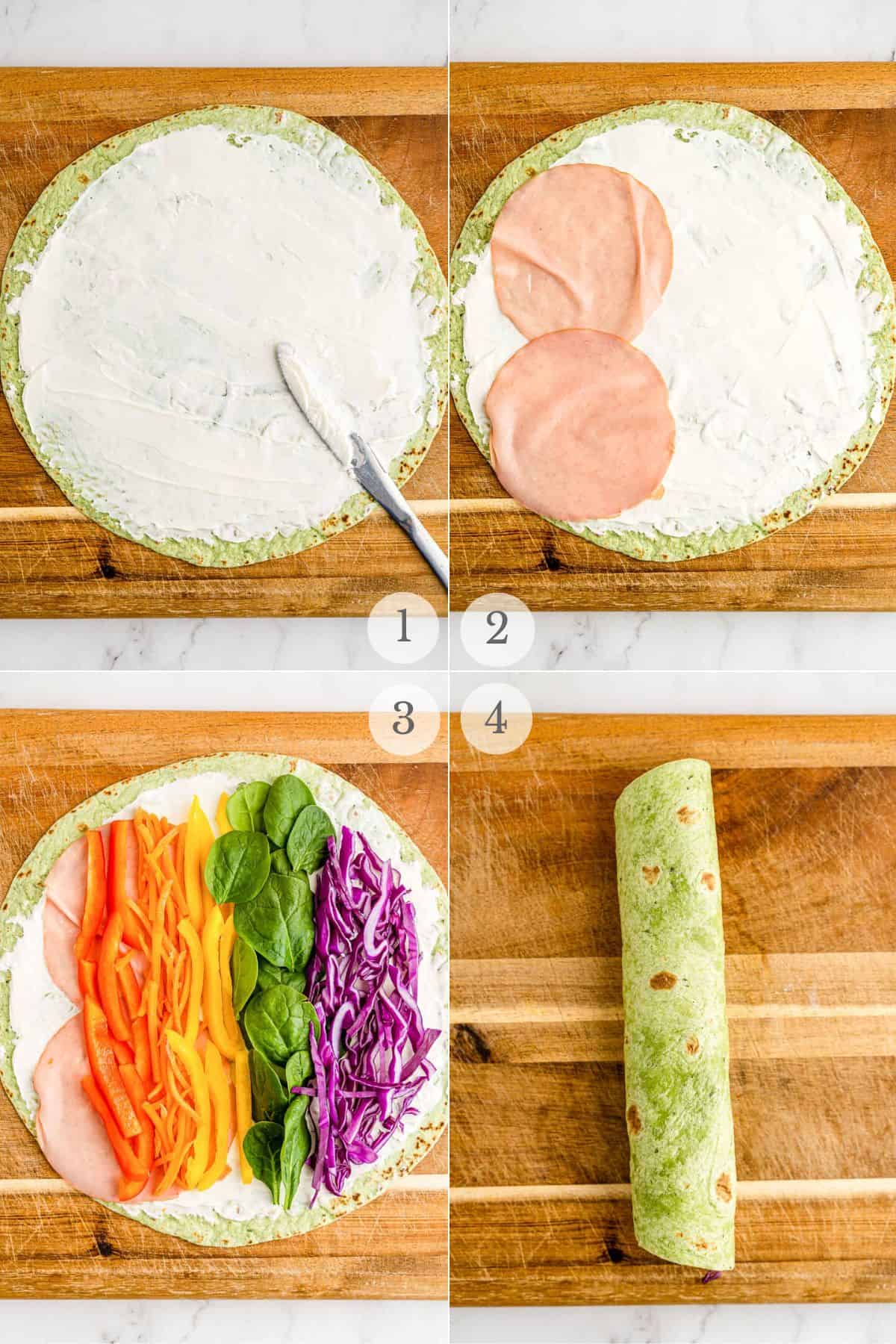 STEP 2. Add the filling
Place two turkey slices on one end of each tortilla (overlapping) (photo 2). Next place 2 tablespoons of each vegetables in 'stripes' onto the tortillas leaving 1-inch space at the border (so the filling doesn't squeeze out when rolled) (photo 3).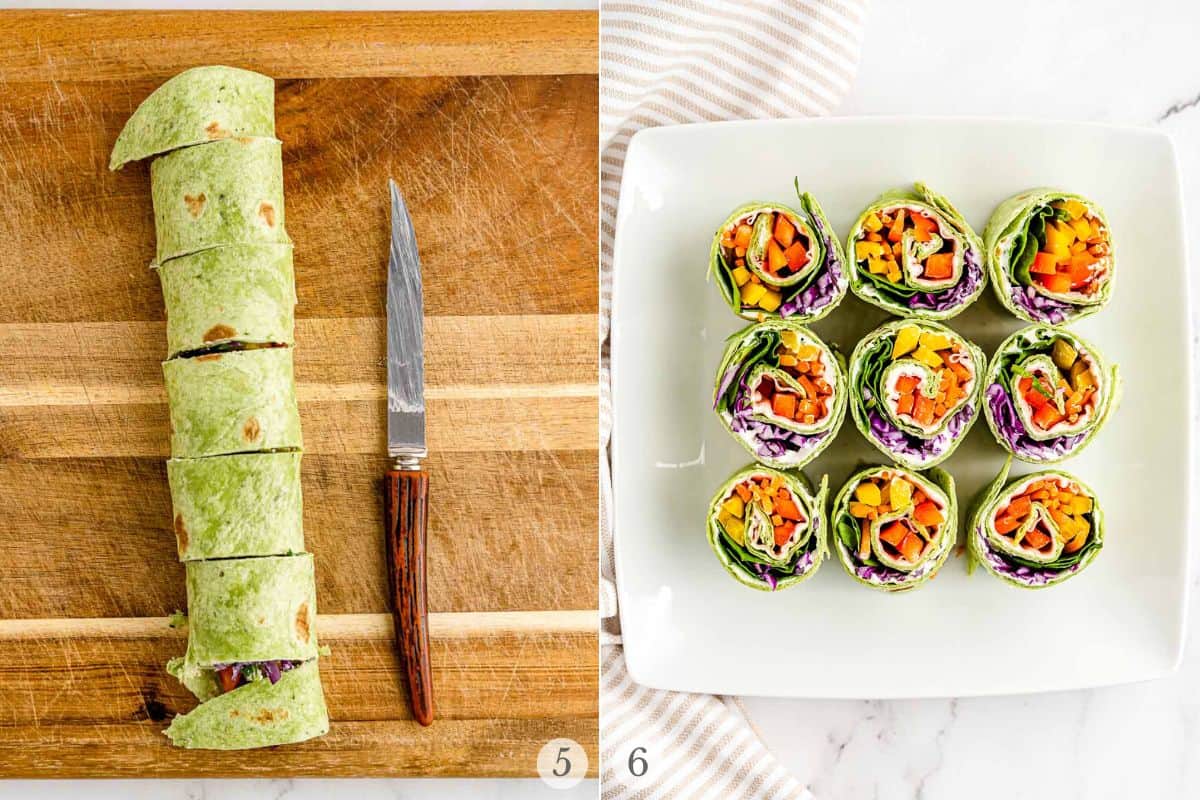 STEP 3. Roll and cut
Gently but firmly roll up the tortilla (photo 4). The end should seal the tortilla with the exposed cream cheese spread.
Cut each tortilla evenly into pinwheels ¾-inches to 2-inches thick depending on preference (photo 5-6). The ¾-inch size is great if serving as appetizers and the thicker size if using as a sandwich.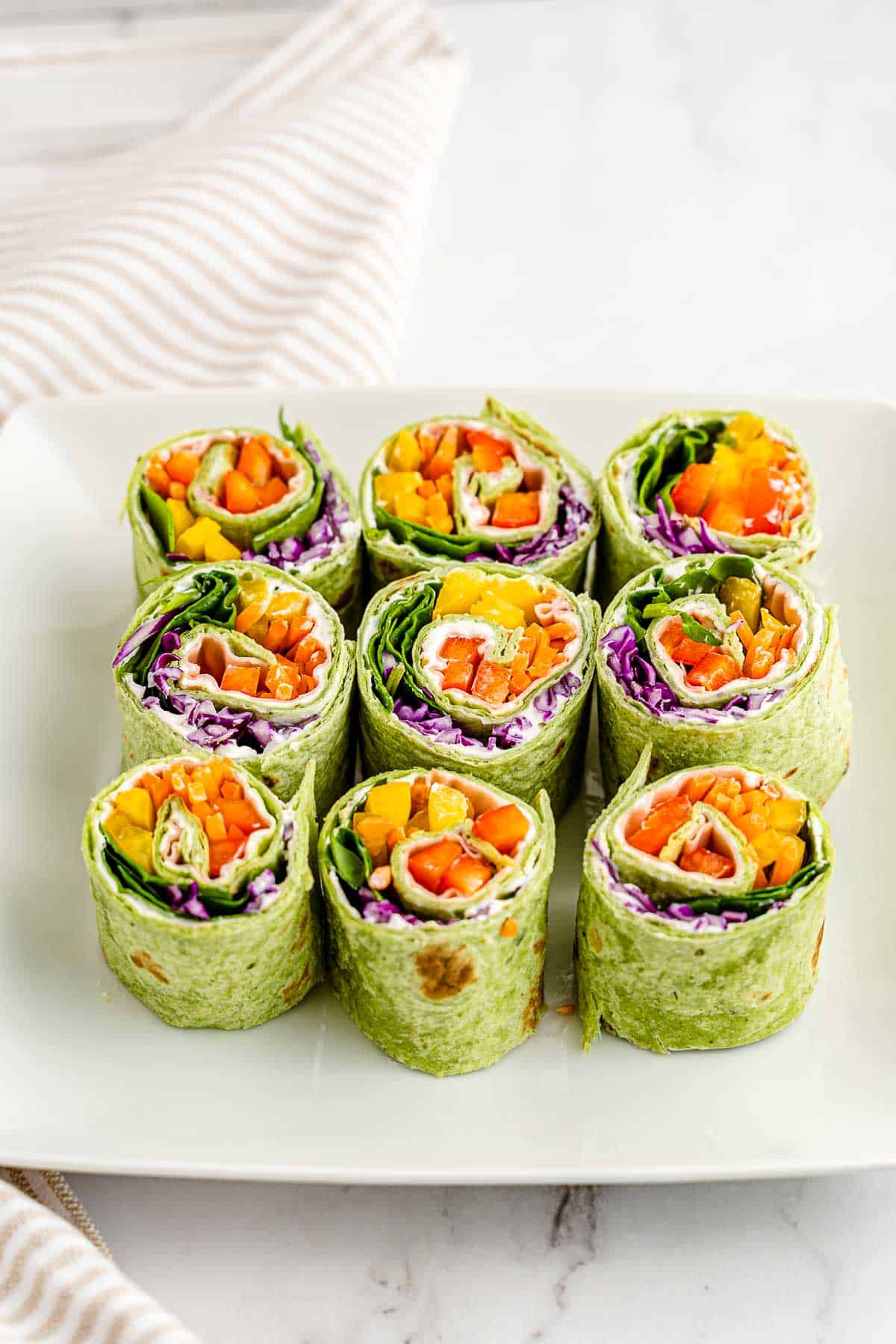 Variations
Make a homemade herbed cream cheese spread. For even more flavor combine the following with the low fat cream cheese:
3 tablespoons Fresh Basil Leaves chopped
2 Scallions (green onions): green portion only sliced or chopped
⅛-1/4 teaspoon Red Pepper Flakes
Kosher Salt to taste
Freshly ground Black Pepper to taste
Place in a food processor with the cream cheese and process until smooth. Use the cream cheese mixture instead of plain cream cheese in the recipe.
Swap in other lean meat. Smoked turkey slices, herbed turkey slices, deli chicken or ham all work.
Add spices to the cream cheese. Sprinkle on Italian seasoning, Mexican seasoning, Herbes de Provence or any other favorite seasoning to add more flavor.
Add fresh herbs. Fresh basil, thyme leaves, cilantro, Italian parsley or other fresh herbs can be added to the vegetables. Don't add too much or the herbs may overpower the vegetables. Remove any woody stems before adding.
Substitute other greens. Baby arugula (less spicy than full grown arugula), baby kale (softer than regular kale) or mixed greens could be used instead of spinach.
Serving at a party? Use a decorate toothpick inserted through the turkey roll ups to ensure they stay together and are easier for guests to pick up off a serving tray.
Serve it with a dip or salad dressing. When slicing them thinly you can also serve them with our Skinny Green Goddess Dressing or Low Calorie Blue Cheese dressing for dipping.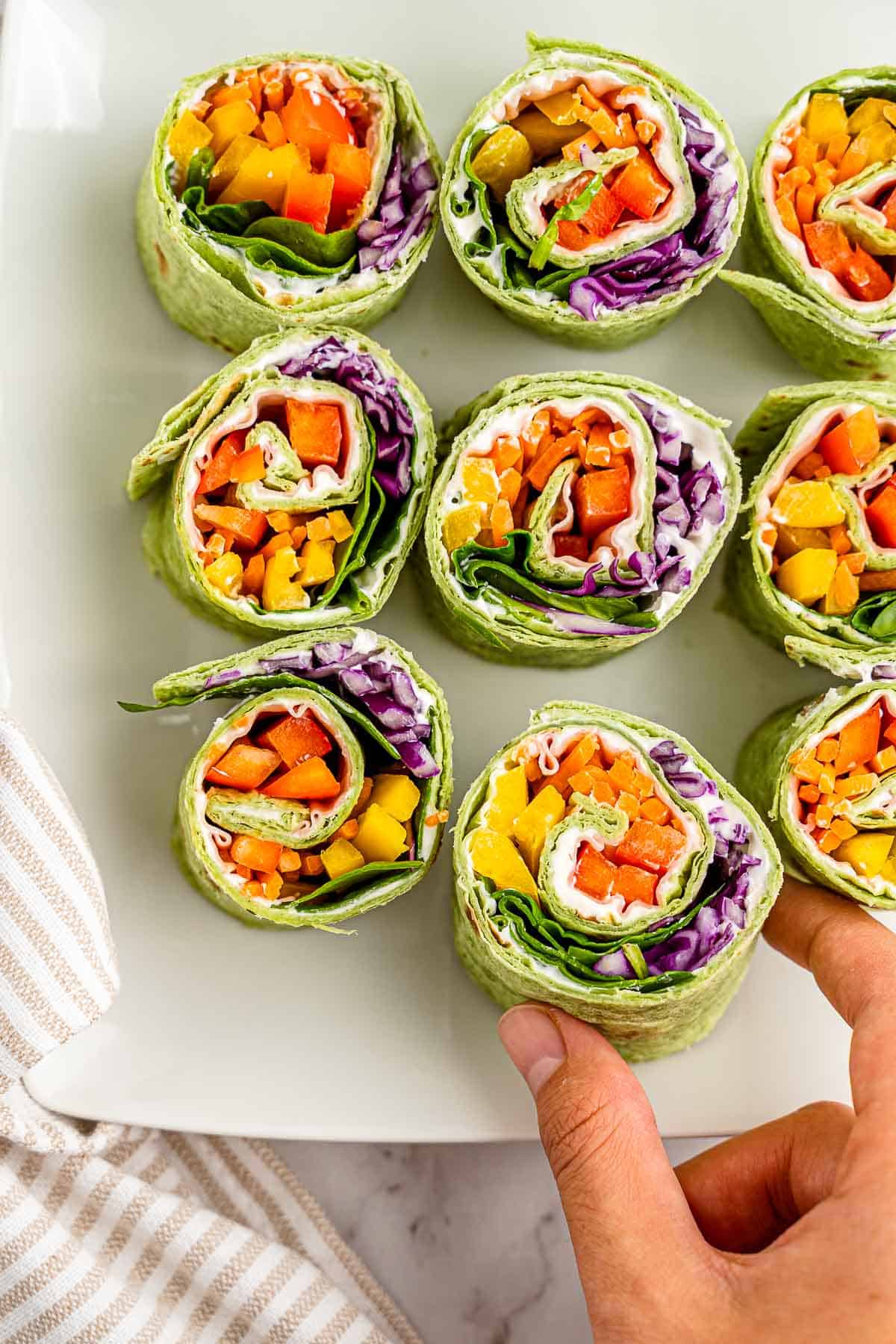 How to Store
Store in an airtight container in the refrigerator for up to 3 days. Best served up to 4 hours after making (if making for a party).
Frequently Asked Questions
Can I use corn tortillas instead of flour tortillas?
Unfortunately corn tortillas break when rolled so are not recommended for turkey roll-ups.
More recipes you'll love!
Did you make it? Please RATE THE RECIPE below!
Please SUBSCRIBE and FOLLOW ME on FACEBOOK, TWITTER, INSTAGRAM and PINTEREST
Recipe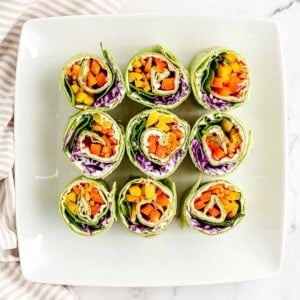 Rainbow Turkey Roll Ups
Click to track Weight Watchers Points
These colorful pinwheel sandwiches are loaded with fresh vegetables, lean turkey, low fat cream cheese all rolled up into a healthy low calorie lunch or appetizer option.
Print
Pin
Rate
Ingredients
4

8-inch

low calorie flour tortillas

we used Mission Carb Balance Spinach Herb tortillas

⅔

cup

⅓ reduced fat cream cheese spread

8

slices

deli turkey

½

cup

thinly sliced red bell pepper strips

½

cup

matchstick carrots

½

cup

thinly sliced yellow bell pepper strips

½

cup

baby spinach leaves

½

cup

shredded purple cabbage
Instructions
Using a butter knife (non-sharp knife) or pliable spatula, spread ¼ of the cream cheese thinly onto one tortilla, spreading to the edges. Repeat with the other 3 tortillas.

4 8-inch low calorie flour tortillas,

⅔ cup ⅓ reduced fat cream cheese spread

Place two turkey slices onto one side of a tortilla. Add 2 tablespoons of each vegetable in stripes onto the tortilla leaving a 1-inch border between the filling ingredients and the edge of the tortilla (so the filling doesn't squeeze out).

Repeat with the other three tortillas.

8 slices deli turkey,

½ cup thinly sliced red bell pepper strips,

½ cup matchstick carrots,

½ cup thinly sliced yellow bell pepper strips,

½ cup baby spinach leaves,

½ cup shredded purple cabbage

Gently and firmly roll up the tortilla. Cut the rolled pinwheel crosswise into ¾-inch thick pinwheels for appetizers or 1 ½-inch lengths for pinwheel sandwiches.

Serve immediately or refrigerate for later use.
Notes
Serving notes:
1 serving (for nutritional facts and WW points matching) = ½ a tortilla rolled up
For appetizers: slice ¾-inch thick for approximately 10 slices (5 slices/serving)
For pinwheel sandwiches: slice into 1 ½-inch slices for 5-6 slices (3 slices/serving)
How to store
Store in an airtight container in the refrigerator for up to 3 days. Best served up to 4 hours after making (if making for a party).
Nutrition
Calories:
87
kcal
|
Carbohydrates:
13
g
|
Protein:
6
g
|
Fat:
5
g
|
Saturated Fat:
2
g
|
Polyunsaturated Fat:
0.2
g
|
Monounsaturated Fat:
1
g
|
Cholesterol:
13
mg
|
Sodium:
176
mg
|
Potassium:
155
mg
|
Fiber:
1
g
|
Sugar:
2
g
|
Vitamin A:
1995
IU
|
Vitamin C:
33
mg
|
Calcium:
39
mg
|
Iron:
0.3
mg