Do you love sweet, spicy Bang Bang sauce but not the high calories? We've kept the same classic flavors but slimmed it WAY down for your guilt-free enjoyment! This creamy sauce is the perfect sauce for dipping or as a coating on protein.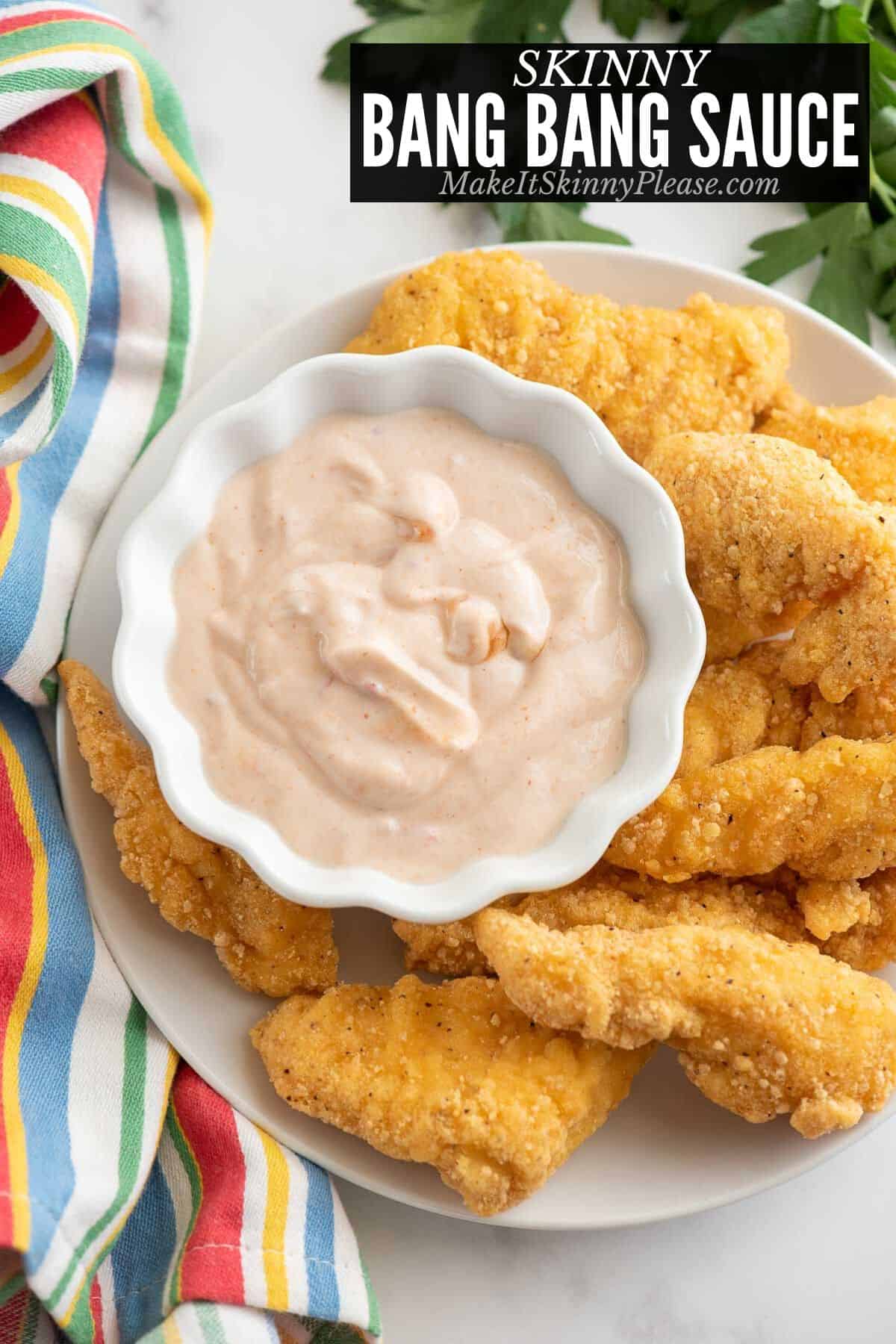 This homemade version of well-loved creamy bang bang sauce uses four simple ingredients. It's a great dipping sauce and has a spicy kick!
You may have had this easy sauce at the Bonefish Grill restaurant which made it popular as Bang Bang Shrimp sauce. This homemade delicious sauce as a great calorie-friendly alternative to the traditional mayo-based sauce.
Jump to:
What is Bang Bang Sauce?
Bang Bang Sauce is a popular creamy and spicy sauce that is often used as a dipping sauce or drizzled over various dishes, particularly seafood. It's known for its combination of flavors that include creaminess, sweetness, and a kick of heat.
The exact ingredients and recipe for Bang Bang Sauce can vary, but a typical version might include mayonnaise, sweet chili sauce, garlic, spicy Sriracha or other hot sauce, and sometimes additional seasonings like soy sauce, lime juice or rice vinegar for added depth of flavor.
The sauce is commonly associated with dishes like Bang Bang Shrimp or Bang Bang Chicken, where the protein is coated in the sauce and then either fried or baked. The term "bang bang" in the name of the sauce is often used to describe the explosive flavor profile that combines the spicy and sweet elements.
Bang Bang Sauce has gained popularity in various restaurant chains and home cooking, and it has become a versatile condiment used not only for seafood but also for other dishes like sandwiches, wraps, and salads (ideas included below).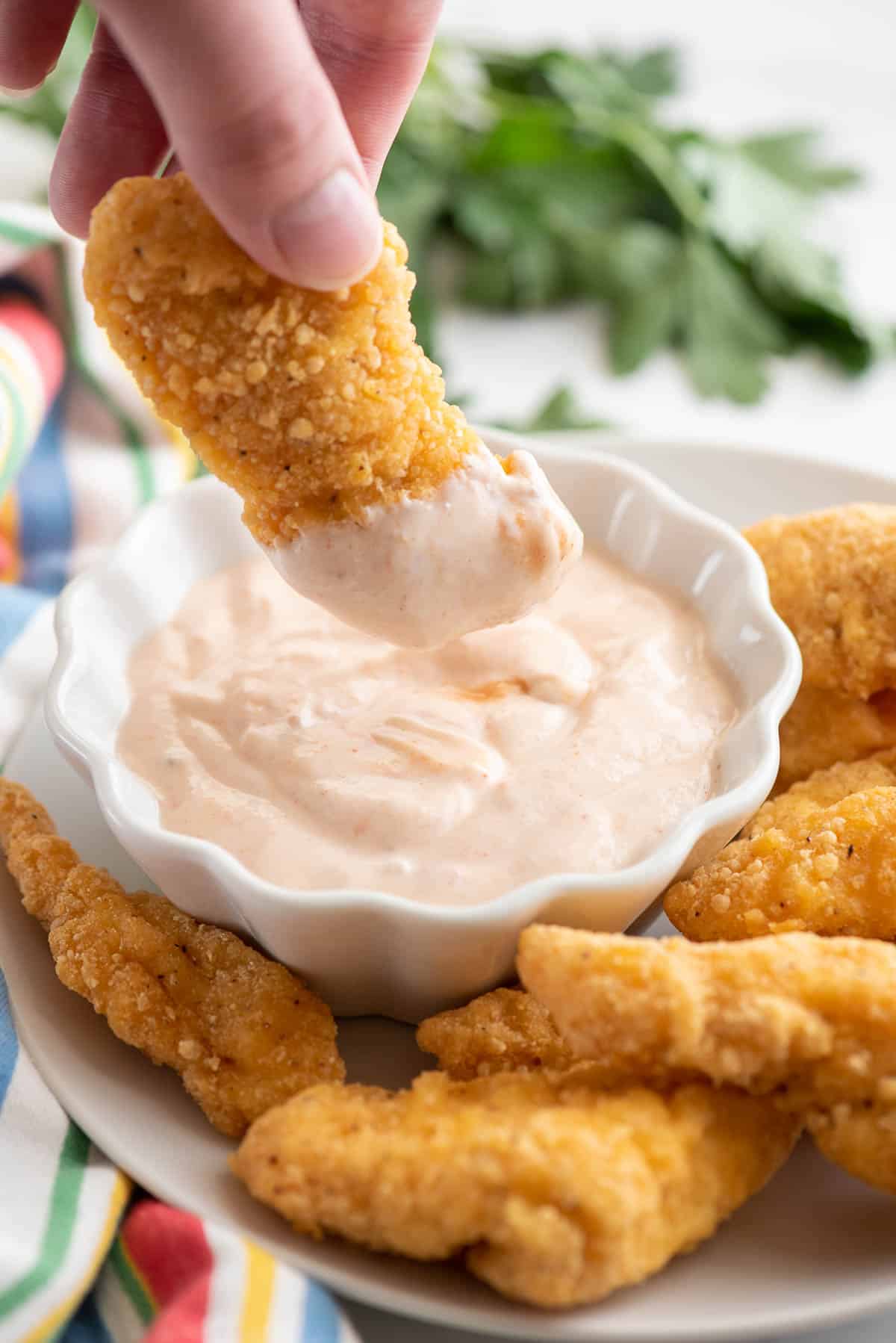 What makes this skinny?
Our slim down of Bang Bang sauce: 14 calories/2 tablespoons (and 0 WW Points) serving vs. 112 calories/2 tablespoons serving made the traditional way!
Substituting plain non-fat Greek yogurt. The swap of non-fat Greek yogurt for mayonnaise is a significant calorie savings:
½ cup of non-fat plain Greek yogurt = 60 calories
½ cup mayonnaise = 458 calories
Even using light mayo = 280 calorie (½ cup)
We love a calorie savings of 398 calories.
Using sugar free Thai chili sauce. We used G. Hughes brand sweet chili sauce which tastes exactly like regular Thai sweet chili sauce but is not as intensely sweet.
The calorie difference is 5 calories for 2 tablespoons (G. Hughes) versus 70 calories for regular Thai sweet chili sauce. So the entire recipe has 8 calories vs. 105 calories (regular).
​Recipe Ingredients Notes
Non-fat plain Greek yogurt. This thick, creamy mild flavored yogurt is perfect for this sauce. We use and recommend Chobani brand, for it's flavor and consistency. It's lightly tangy but not overly tart.
Sugar-free Thai Chili Sauce. We used G. Hughes brand but if you can find another low calorie brand that will work too. This adds sweetness, spicy heat and some acidity.
Sriracha sauce. Start with 1 teaspoon and after combining the sauce bump up to 2 teaspoons if you prefer more spicy heat (but the sauce has a spicy finish as written).
Garlic powder. Just a ¼ teaspoon amplifies the other flavors and rounds out the sauce.
How to Make
Printable full recipe card at the end of the post.
Combine all ingredients in a small bowl and whisk together.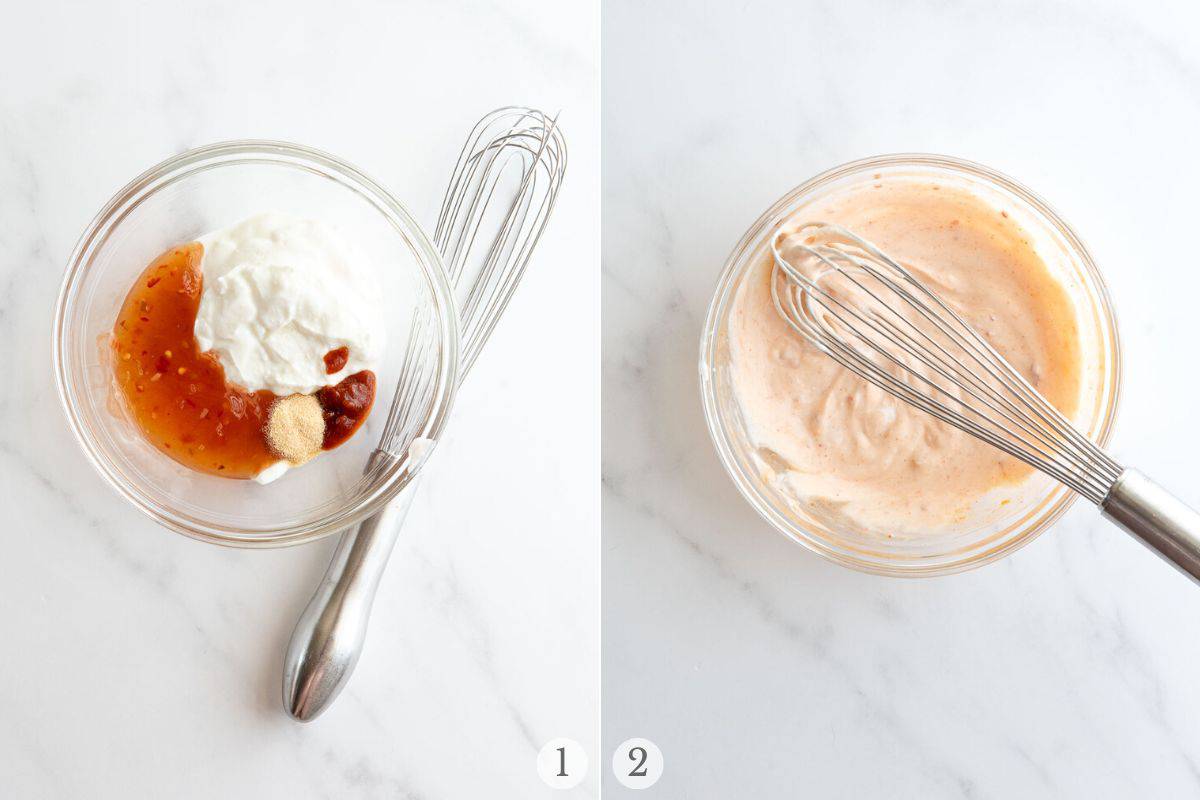 How to Use it
This versatile sauce is great for many uses.
Dipping Sauce: Use the low-calorie Bang Bang Sauce as a dipping sauce for baked or grilled shrimp, chicken, fish, vegetables, or tofu. We love it on our coated chicken tenders and naked chicken tenders too.
Salad Dressing: Thin out the sauce with a little water or lemon juice and use it as a creamy and spicy salad dressing.
Sandwich/Wrap Spread: Spread a thin layer of the sauce on sandwiches, wraps, or sliders to add flavor without excessive calories.
Bowl Topping: Drizzle the sauce over grain bowls, a rice bowl, or Buddha bowls to enhance the taste of your ingredients. This popular sauce makes the perfect drizzle!
Veggie Dip: Serve the sauce as a dip for raw vegetables or whole-grain crackers as a healthier alternative to traditional dips.
Stir-Fry Sauce: Add the sauce to stir-fries with plenty of vegetables and lean protein for a burst of flavor.
Marinade: Use a slightly thinned version of the sauce as a marinade for proteins like chicken, shrimp, or tofu before cooking.
Spice Up Snacks: Use the sauce as a dipping sauce for baked sweet potato fries, air-fried vegetables, or other healthy snacks.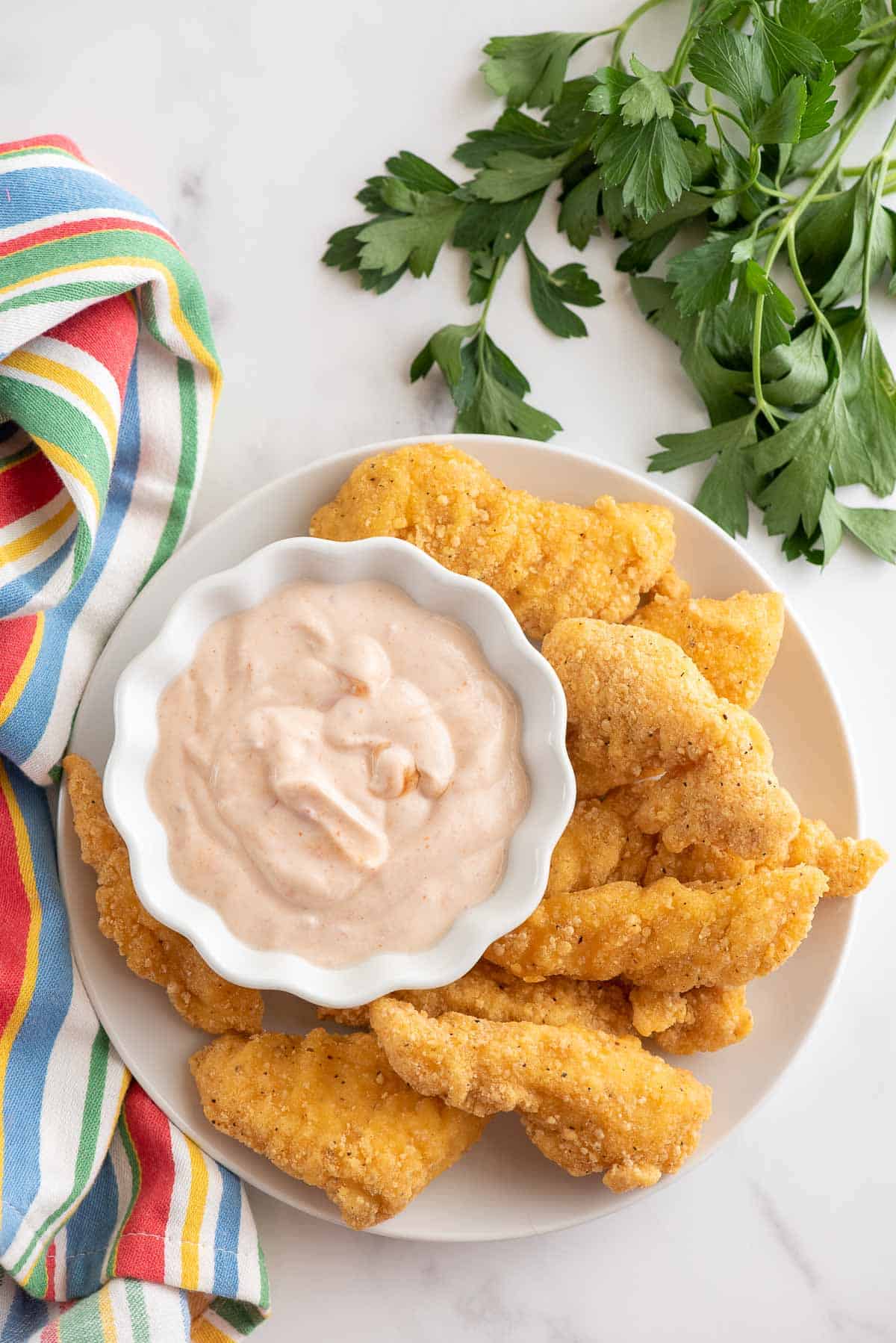 Pro Tip - Adjust the sauce to taste
The sauce is very flexible. Once you make it if you want it on the sweeter side add more sweet Thai chili sauce. Want to bump up the spice level? Add more sriracha hot sauce (sparingly; taste as you go).
How to Store
Store any leftover sauce in an airtight container in the refrigerator for up to 5 days.
Frequently Asked Questions
Can I use regular Thai Sweet Chili sauce?
Yes. The calorie difference is 110 calories when using regular sauce (vs. 8 calories for our recipe). If tracking calories you'll need to add 102 calories to the overall recipe. Also start with 2 tablespoons, and taste the sauce to see if you need the third tablespoon.
Is BangBang sauce the same as Yum Yum Sauce or Boom Boom Sauce?
No. There are commonalities between each but they also each have a key ingredient or more that distinguishes from each other.
More recipes you'll love!
Recipe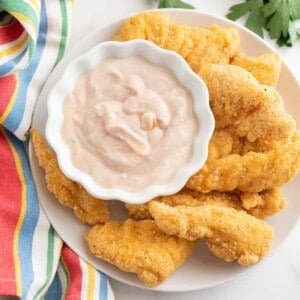 Skinny Bang Bang Sauce
Click to track Weight Watchers Points
Spicy and sweet Bang Bang Sauce is perfect for dipping or a marinade for meat and so much more. This slimmed down version is totally guilt-free!
Print
Pin
Rate
Servings:
5
2-tablespoon servings (total yield: ½ cup plus 2 tablespoons or 10 tablespoons)
Ingredients
½

cup

non-fat plain Greek yogurt

we use and recommend Chobani brand

3

tablespoons

sugar-free sweet Thai chili sauce

we used G. Hughes brand

1

teaspoon

Sriracha sauce

¼

teaspoon

garlic powder
Instructions
Combine all ingredients in a small mixing bowl.

½ cup non-fat plain Greek yogurt,

3 tablespoons sugar-free sweet Thai chili sauce,

1 teaspoon Sriracha sauce,

¼ teaspoon garlic powder

Whisk together into a creamy sauce.
Notes
How to Store
Store in an airtight container in the refrigerator for up to 5 days.
Nutrition
Calories:
14
kcal
|
Carbohydrates:
1
g
|
Protein:
2
g
|
Fat:
0.1
g
|
Saturated Fat:
0.02
g
|
Polyunsaturated Fat:
0.004
g
|
Monounsaturated Fat:
0.01
g
|
Trans Fat:
0.002
g
|
Cholesterol:
1
mg
|
Sodium:
28
mg
|
Potassium:
31
mg
|
Fiber:
0.02
g
|
Sugar:
1
g
|
Vitamin A:
2
IU
|
Vitamin C:
1
mg
|
Calcium:
22
mg
|
Iron:
0.03
mg