The only thing better than a traditional Moscow Mule cocktail is a Skinny Moscow Mule recipe! The refreshing ginger sipper is a perfect cocktail any time of year. They are easy to make and absolutely delicious.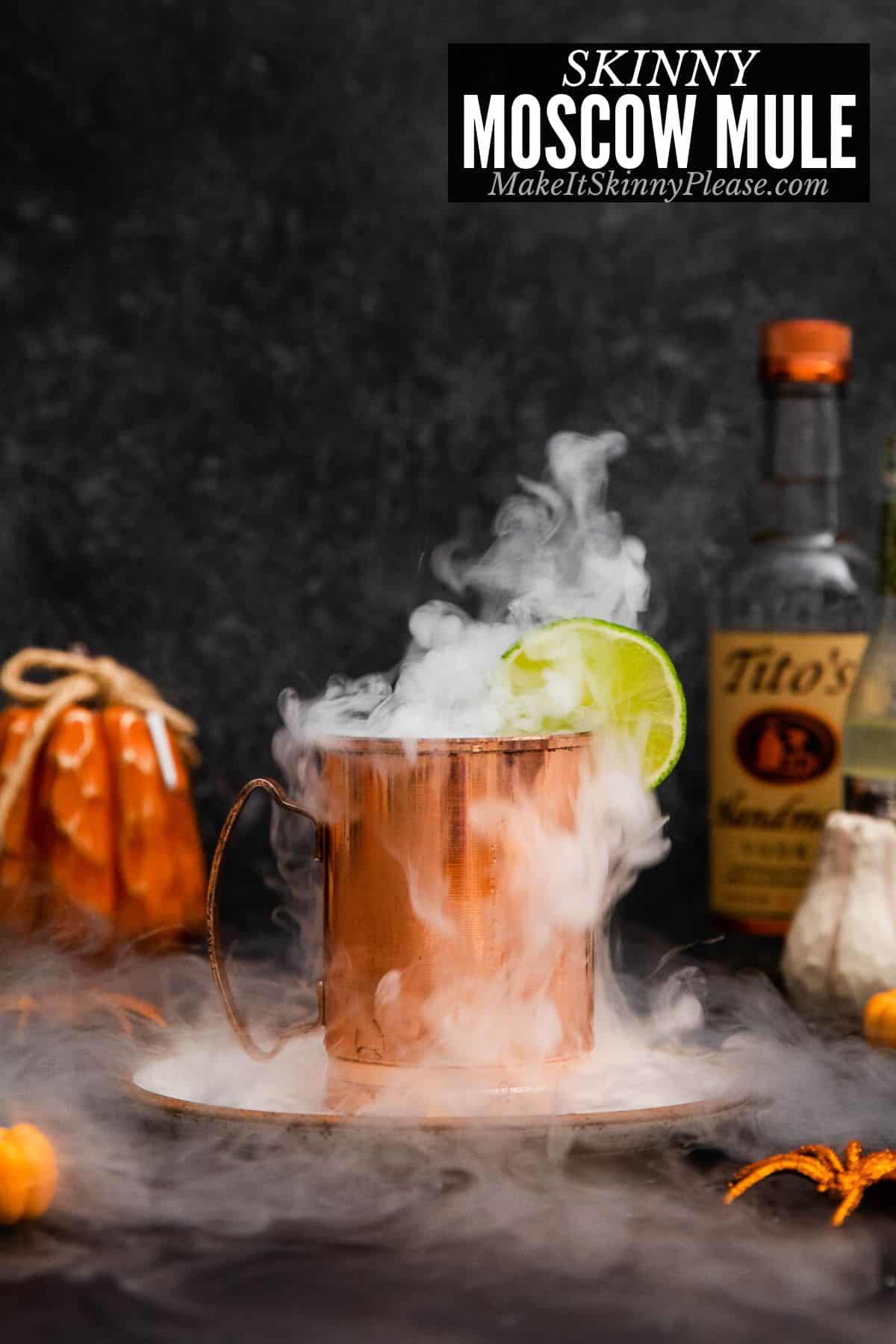 Everyone loves this cocktail because it's refreshing in the summer and the ginger flavors are warming in the winter. You never can go wrong with a tasty Moscow Mule. A standard Moscow Mule can end up with lots of calories from extra sugar in regular ginger beer, adding simple syrup or ginger syrup for sweetening.
Our skinny version takes care of all of that. You'll still have the classic ginger flavor just with far less sugar! There are lots of ways to change it up too (see Variations).
This classic cocktail is a great addition to your skinny cocktails collection! We even dressed this one up for Halloween.
Jump to:
What makes this skinny?
Using reduced calorie ginger beer. A traditional Moscow Mule can have up to 8 ounces of regular ginger beer which can add more calories to the cocktail.
Using a calorie-reduced version can reduce those calories to zero depending on the brand used. No flavor compromises for the skinny mule either!
Alcoholic drinks typically have 1 ½ to 2 ounces of alcohol in a serving. We've kept it at 1 ½ ounces which shaves some of the calories off too.
Recipe Ingredient Notes
Vodka. Use regular unflavored vodka not flavored vodka. We recommend using a decent quality.
Lime Juice. Always use fresh lime juice for the best flavor. Squeeze by hand or use a hand held juicer which does a great job extracting the most juice.
Ginger beer. Non-alcoholic ginger beer is a carbonated ginger drink it's available at grocery stores as well as at liquor stores as a mixer. You'll want calorie-reduced (light ginger beer, diet ginger beer, etc.) ginger beer. Our top picks below. Diet ginger ale can be substituted if desired (see Variations for a tip).
Lime wheel. Optional lime slices for garnish.
Ice cubes.
Best low calorie ginger beer
Ginger beer gives the traditional ginger flavor and some fizz to this cocktail. Spicy ginger beer has a far stronger ginger flavor than ginger ale which is why it's used. You'll want calorie-reduced (light ginger beer, diet ginger beer , etc)
To make this cocktail true to the authentic flavor selecting a lower calorie ginger beer with great flavor and with the best ingredients possible. We didn't want sugar replacements with funky flavor.
We did a lot of taste testing to settle on our top picks and loved the details shared in this article too. Here are our top picks for ginger flavor and calorie value (none taste like diet drinks by the way):
Copper Mugs
Moscow mules are easily identifiable because they are served in copper mugs. Ever wonder why?
It seems the origin was from complete happenstance. One version of the cocktail origin pairs a struggling vodka producer with a struggling ginger beer maker who paired up to concoct the now well-known cocktail which they served in a copper mug and that stuck.
The other version adds in a woman who made copper mugs to the creation of the cocktail that has grown to be one of the most popular cocktails in the world.
A frosty copper mug is not required for Moscow Mules but are traditional (a regular glass can be used). I purchased some copper mugs I love and swear they keep the cocktail colder and more refreshing.
How to make a Moscow Mule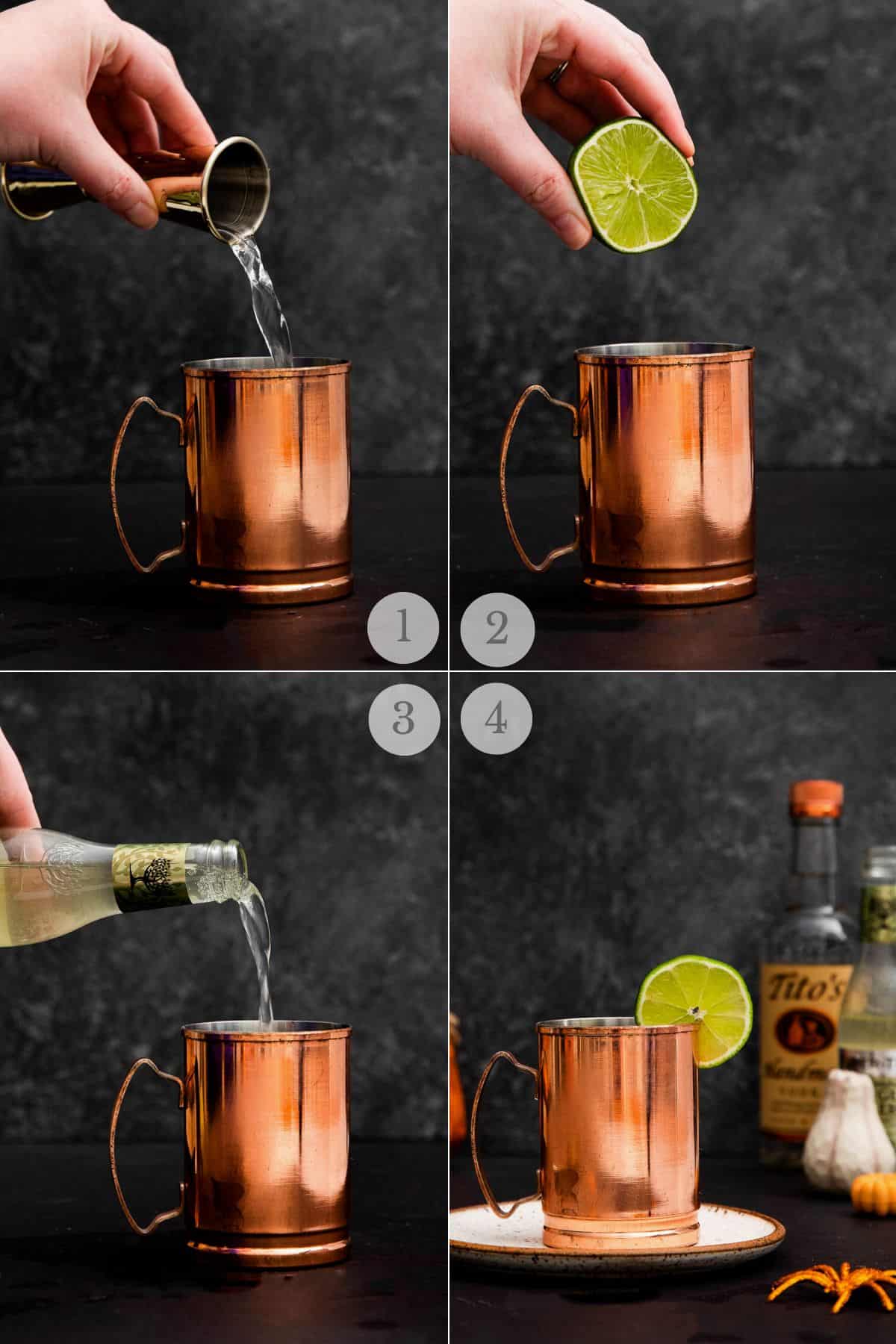 Divide the vodka and lime juice between two 16 ounce copper mugs filled with ice.
Fill with calorie-reduced ginger beer.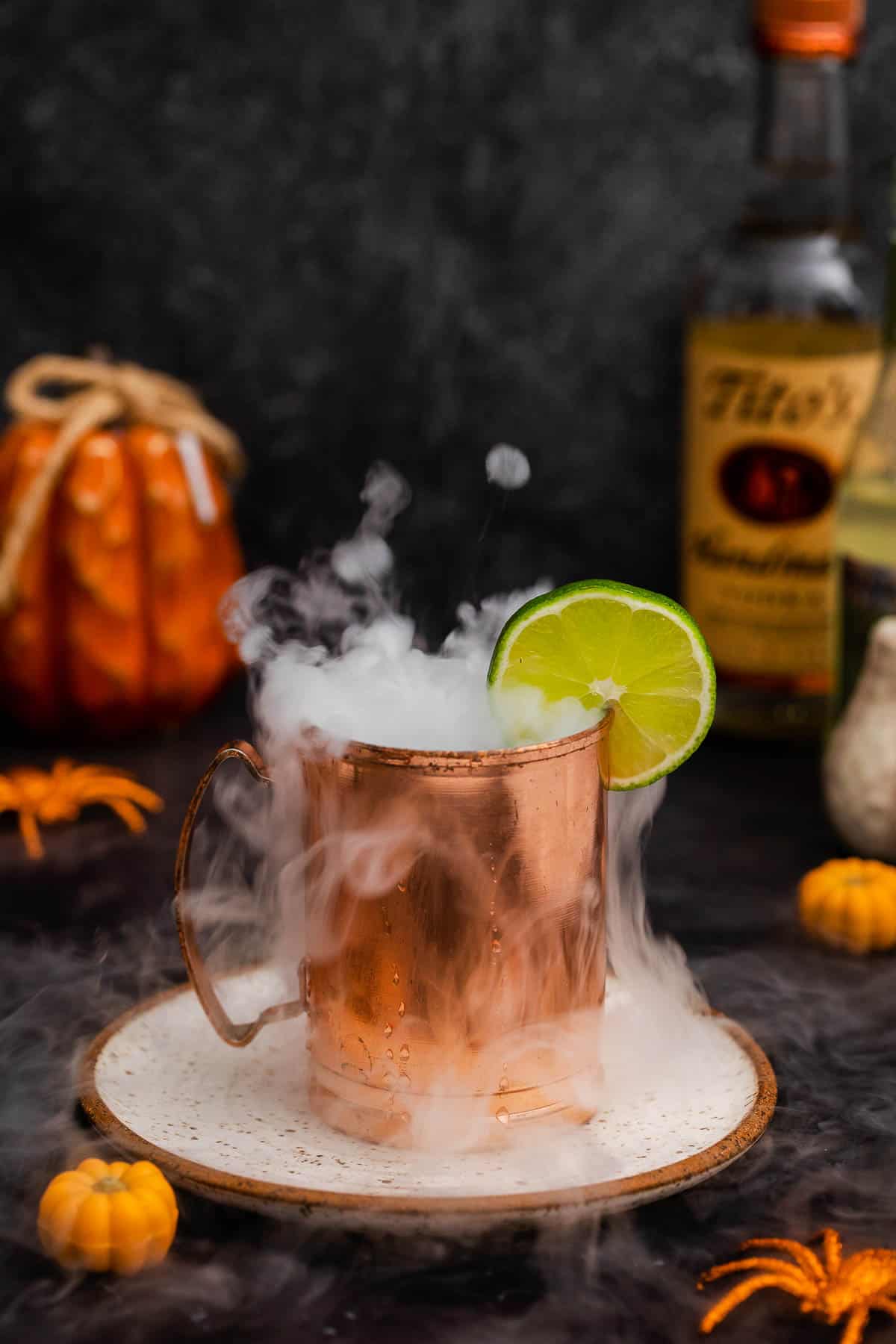 Variations
Substituting ginger ale. If needing to substitute ginger ale for ginger beer, muddle it with some fresh ginger to increase the strength of the ginger flavor.
A Mummy Mule for Halloween. Make the cocktail as directed and add a small piece of dry ice for a spooky fog.
Always handle dry ice carefully.
Use temperature proof gloves and silicone utensils when handling dry ice– never touch dry ice with your bare hands.
Never consume dry ice.
Store dry ice in a well ventilated container.
It's great for a foggy effect before serving but remove the ice before drinking.
Refer to this Dry Ice Guide for details.
NOTE: the dry ice will cause the Skinny Moscow Mule to bubble so do not overfill the mug if using dry ice.
Dark and Stormy cocktail. If you swap the vodka with dark rum you have a Dark and Stormy cocktail!
Cranberry mule. Add a splash of cranberry juice for a festive cocktail during the holidays.
Mexican mules. Swap tequila in for the vodka and you have a Mexican mule cocktail.
Kentucky mule. Swap in bourbon for the vodka to make this southern favorite spin on a Moscow mule.
More recipes you'll love!
Recipe
Ingredients
ice

3

ounces

unflavored vodka

1

ounce

freshly squeezed lime juice

12-16

ounces

low calorie ginger beer

we used Reeds Zero Sugar Extra ginger beer
Instructions
Fill two 16-ounce copper mugs with ice. Divide the vodka between the mugs (1 ½ ounces each) and add the lime juice (½ ounce per mug).

Fill with reduced calorie ginger beer. Garnish with lime slice (optional).
Notes
Our favorite low calorie ginger beer:
Nutrition
Calories:
102
kcal
|
Carbohydrates:
1
g
|
Protein:
0.1
g
|
Fat:
0.01
g
|
Polyunsaturated Fat:
0.01
g
|
Sodium:
1
mg
|
Potassium:
17
mg
|
Fiber:
0.1
g
|
Sugar:
0.2
g
|
Vitamin A:
7
IU
|
Vitamin C:
4
mg
|
Calcium:
2
mg
|
Iron:
0.02
mg