Empress 1908 gin makes a magical cocktails with its natural indigo hue; but that's just the start. Gin lovers will flip when tonic water is added transforming the color before their eyes! This color-changing gin is makes a perfect cocktail any time of the year and is perfect for Halloween!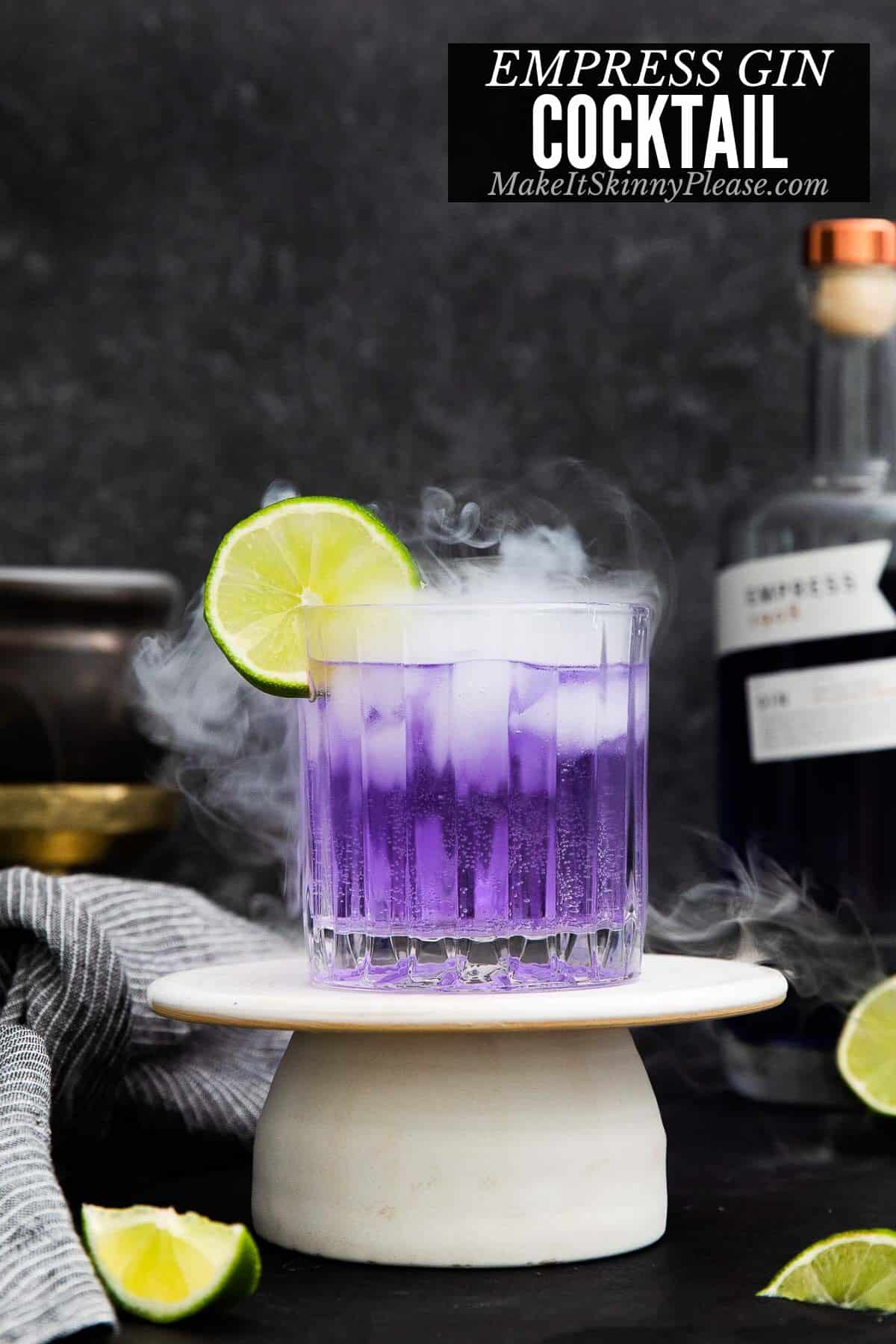 Watching the dark indigo color of this perfect gin change to bright lavender is a show stopping event making it ideal for celebrations. The signature color is a wow factor by itself but it's the color transforming behavior of this unique gin (and its unique flavor profile) that make it a favorite.
We decided to dress it up for Halloween with some spooky dry ice but this great cocktail is a simple cocktail a gin lover can enjoy any time of the year.
Jump to:
What makes it skinny?
Most hard liquor is similar in calories. Empress gin is about 70 calories per ounce, so 105 calories for a cocktail. That's comparable to other gin brands.
The real calorie savings is in the tonic water. Using reduced calorie tonic water saves about more than half the calories. By comparison regular tonic water is around 10 calories per ounce. We used Fever Tree Refreshingly Light Premium Indian Tonic Water which is 4.5 calories per ounce. It has a great flavor that enhances Empress gin cocktail recipes too!
Recipe Ingredients Notes
Empress gin. For this recipe Empress 1908 gin must be used. The unique botanical composition is what creates the color change! Regular gin will not do this. You'll use 1.5 ounces per cocktail
Tonic water. For two cocktails you'll use 6 ounces tonic water. It's best to pour the tonic in with the drinker there to see the wonder of the color change OR serve it on the side and allow them to pour it in.
Ice cubes
Lime slices. To garnish the cocktails if desired.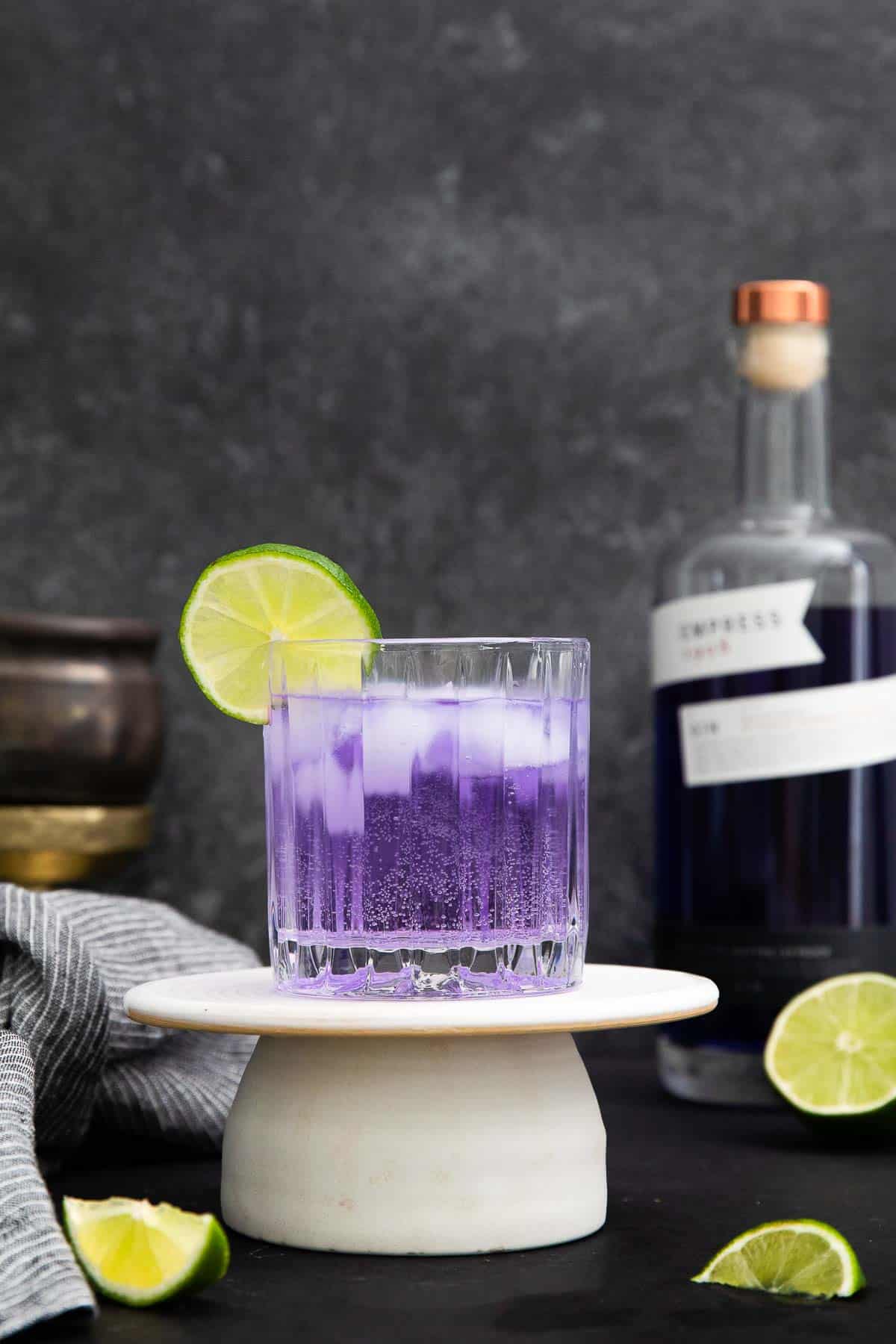 What is Empress 1908 gin?
This gin is crafted in small batches by Victoria Distillers in Canada. This inspiration behind it stems from the tea blends served daily for afternoon tea by the legendary Fairmont Empress Hotel in Victoria, British Columbia (which opened in 1908).
Gin is a liquor made from juniper berries (they give it the distinct classic gin flavor) along with other botanicals which create a unique flavor. Butterfly pea blossom gives Empress 1908 a beautiful and unusual indigo blue color (most gin is clear). They also give the gin an earthy flavor.
There are eight natural botanicals including the butterfly pea flowers (including black tea from the Empress Hotel, grapefruit peel, coriander seed, cinnamon bark, rose petal and ginger root) and no artificial colors in the gin but the wow factor is a little secret: it changes color with the right mixer.
When mixing the gin with a citric acid (tonic water or lemon juice) the gin turns from blue to a lavender color. It's magical to behold and will thrill guest when watching cocktails be mixed.
This favorite gin makes beautiful drinks out of such easy cocktails thanks to the beautiful indigo color. These purple cocktails are so much fun to serve. Keep some of this exquisite gin in your cocktail bar to whip up other gin cocktails any time!
How to make this Empress Gin Cocktail
Add the gin to two highball glasses with ice.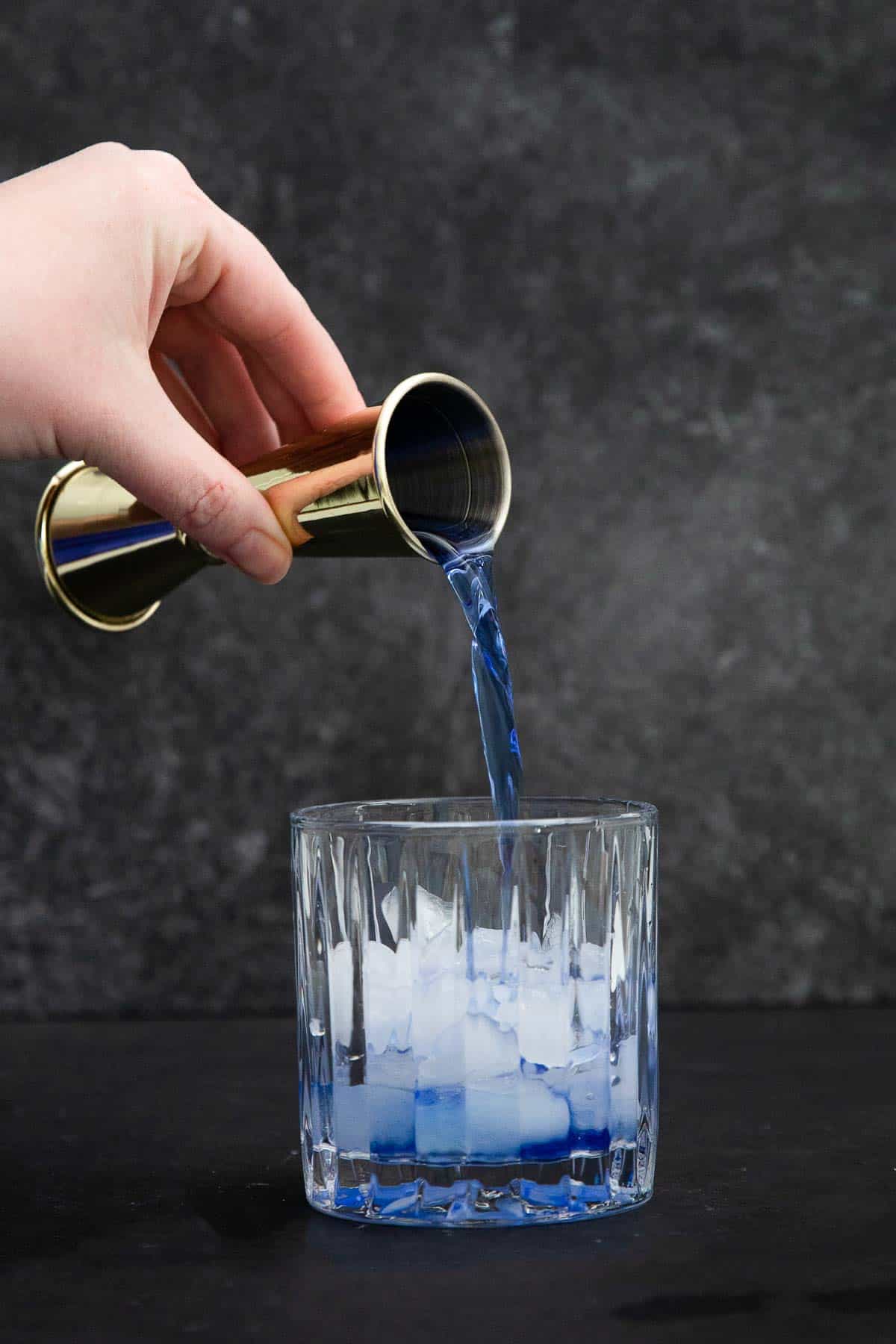 Slowly pour over the tonic water (make sure everyone is watching) or serve it on the side for individuals to add their own. Garnish with a slice of lime.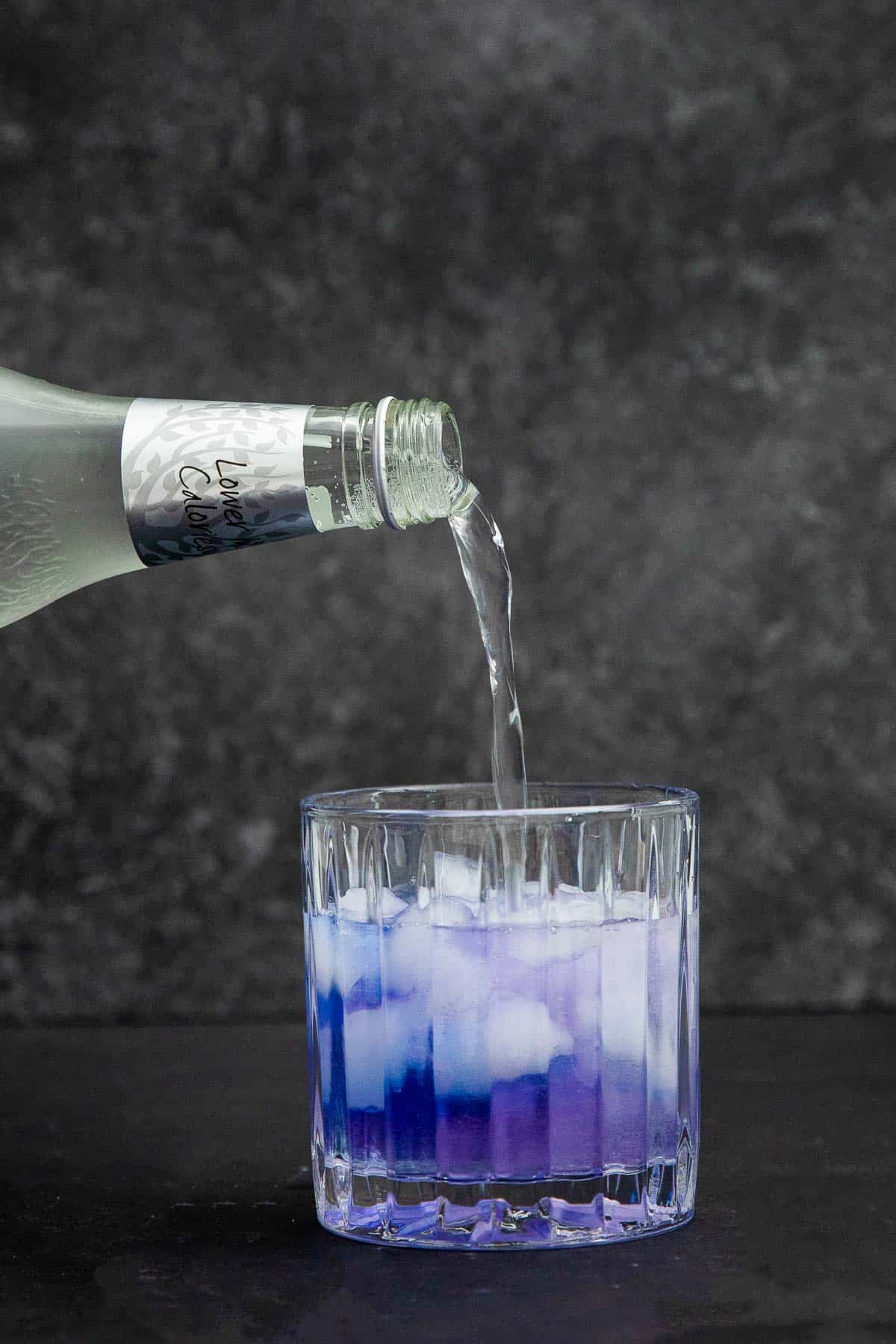 For a Halloween version
(Optional) Carefully add a small piece of dry ice (1 inch or smaller). he drink will begin to smoke for about 5 minutes. When the smoking has stopped completely, the drink is ready to enjoy. Note: dry ice will cause the tonic to bubble quite a bit so fill your glass no more than ½ way full before adding the dry ice.
Expert Tip
Do not mix the cocktail until ready to serve so guests can watch the color change!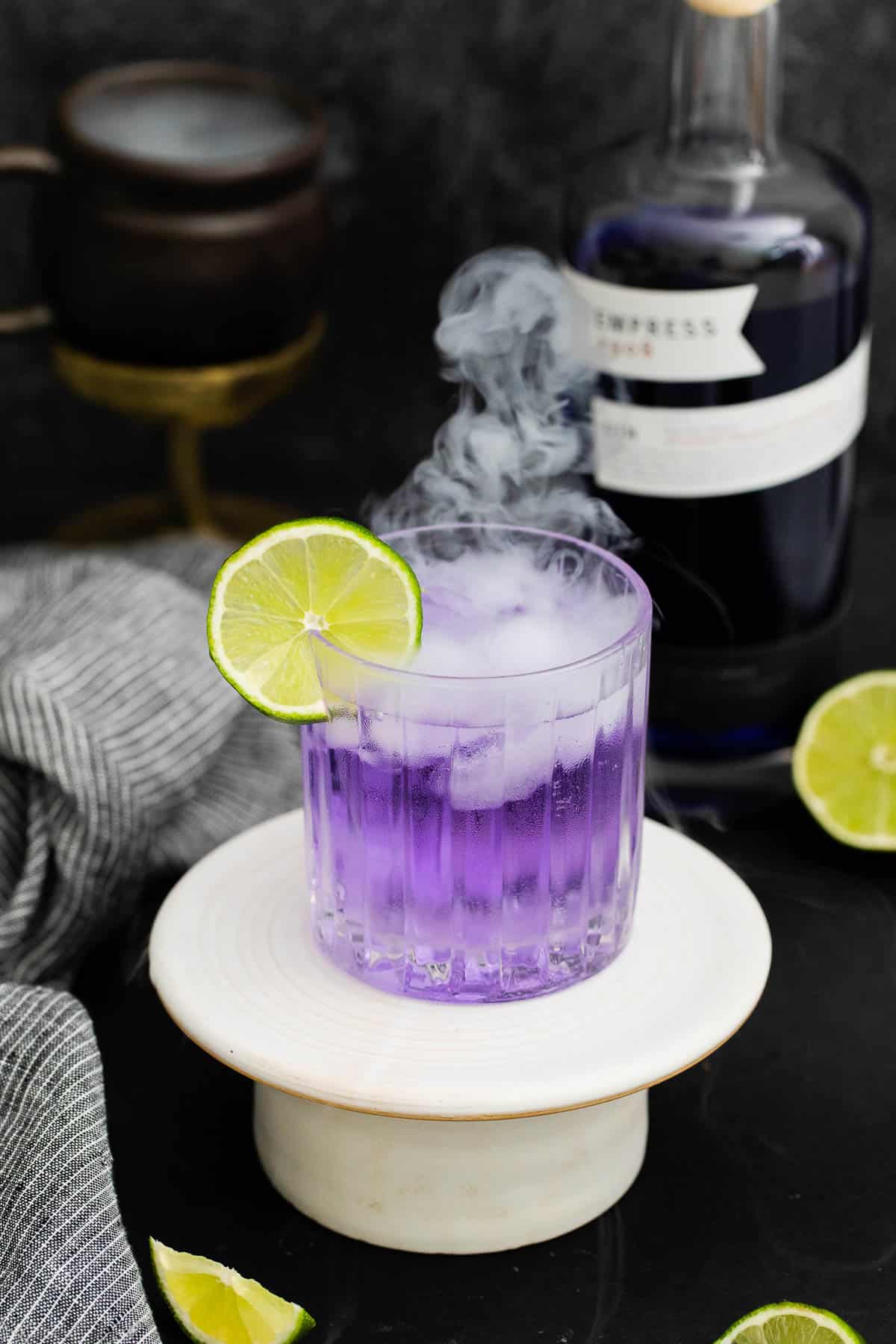 Halloween dry ice option
When dry ice is added to liquid it begins to smoke creating an eerie fog effect. There are some tips to know before using it. Review this Dry Ice Guide before using.
It will cause the drink to bubble up so do not fill the glass more than halfway with the cocktail if planning to use dry ice.
Dry ice will smoke for about 5 minutes then should be removed before drinking the cocktail (if swallowed it can cause burns)
Always use caution when handling dry ice. Never touch dry ice– always use insulated gloves and silicone utensils.
Never consume dry ice– wait until all drinks have finished smoking before enjoying.
Keep dry ice in a well ventilated container and never leave dry ice where it is accessible to children and/or pets.
Frequently Asked Questions
How to make Empress 1908 change colors?
The secret of the color change is all about pH of what is being added due to a quality of the butterfly pea blossoms (specifically pH reacting anthocyanins) . If an acid is added (fresh lemon juice or tonic water) it will turn a reddish pink color. If a base ingredient like cucumber is added the drink will turn bluer.
Does either regular tonic water or light tonic water turn the gin cocktail colors?
Yes! Both have a similar pH which is what makes the gin turn from a beautiful blue hue to purple or pink if adding more tonic.
More recipes you'll love!
Did you make it? Please RATE THE RECIPE below!
Please SUBSCRIBE and FOLLOW ME on FACEBOOK, TWITTER, INSTAGRAM and PINTEREST
Recipe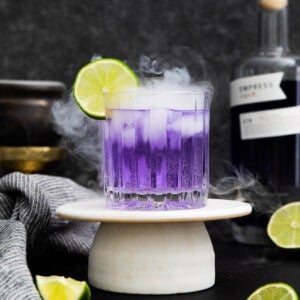 Empress Gin Cocktail (skinny color-changing cocktail)
Click to track Weight Watchers Points
This magical cocktail transforms a standard gin and tonic into an event. The combination of Empress 1908 gin and light tonic water creates a spectacular show and has less calories than a classic G & T!
Print
Pin
Rate
Ingredients
ice

3

ounces

Empress 1908 gin

6

ounces

light tonic water

lime slices

garnish
Instructions
Fill two highball or rocks glasses with ice. Pour in the Empress gin.

When ready to serve (the color only changes when the tonic is added) slowly pour in the tonic and watch the cocktail color change!

Garnish with lime slices and serve immediately.

Halloween option: add a very small piece of dry ice to create a smoking effect. Allow the smoking to stop before consuming and remove any remaining dry ice.

NOTE: the dry ice will cause the drink to bubble vigorously so do not fill the glass full before adding the dry ice.
Notes
Refer to this Dry Ice Guide before using dry ice in this or other cocktails.
Ingredient notes
Tonic water: there are other low calorie (maybe even no calorie) tonic water options which also could be used. We like the quality and flavor of the Fever-Tree refreshingly light tonic but use what you love!
Gin: regular gin will not create the color change. There are other gin brands that use butterfly pea flower which would have a color change but we have not tried them.
Nutrition
Calories:
113
kcal
|
Carbohydrates:
4
g
|
Protein:
0
g
|
Fat:
0
g
|
Sodium:
0.4
mg
|
Potassium:
1
mg
|
Iron:
0.01
mg