If you love a variety of ingredients, loads of fresh vegetables, exciting flavors and a hearty plant-based dish this Buddha Bowl if for you! This vibrant dish is loaded with color, texture and different flavors to tantalize your taste buds.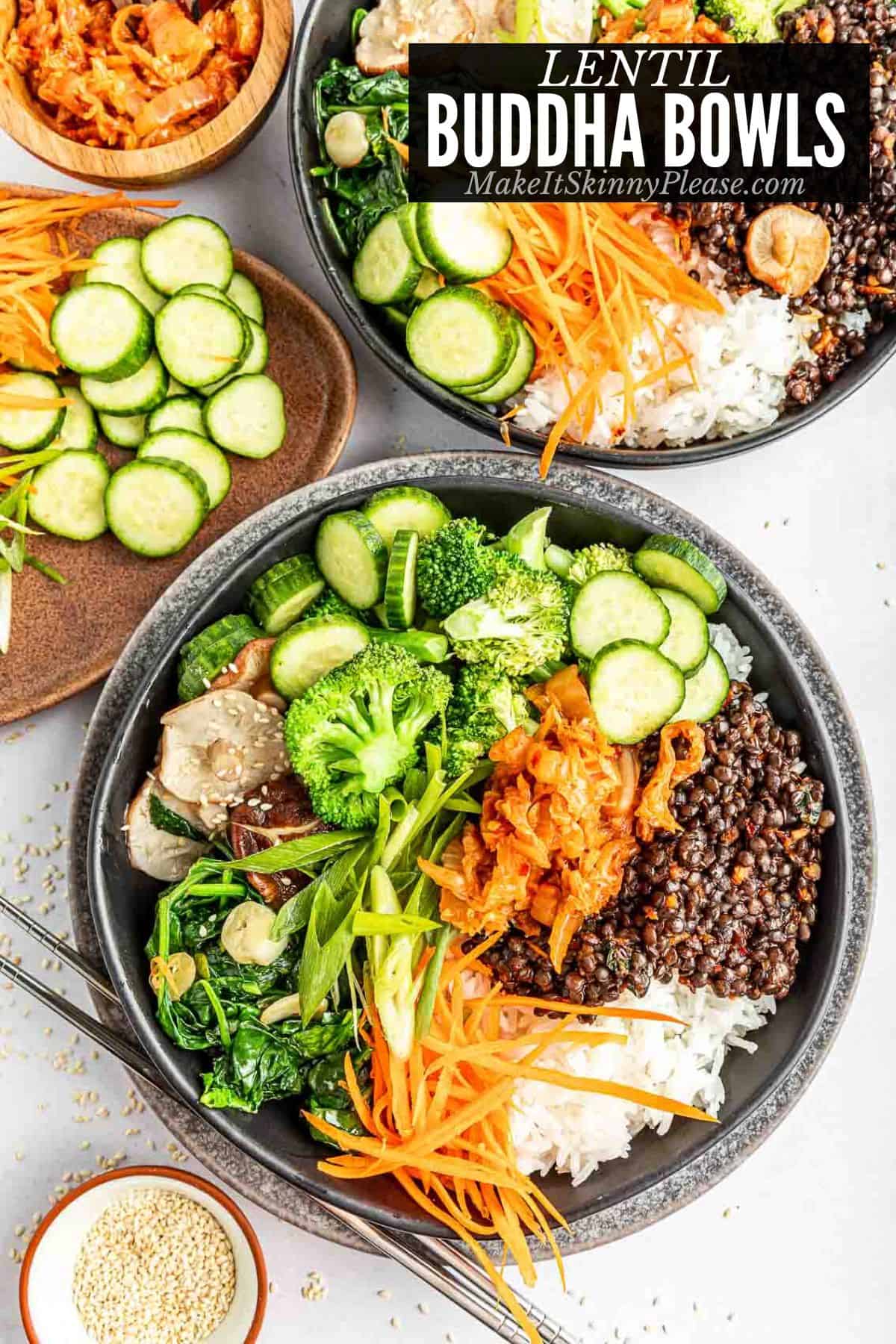 Buddha Bowls have become wildly popular in the past couple years. They are a one-bowl meal and feel like a hippie bowl for all the color and fresh vegetables. But there is a reason they are so popular. A basic buddha bowl is brimming with healthy veggies, plant protein, small portions of lots of different ingredients for an ultimate nutrient-packed vegetarian meal.
Don't be scared off by the mention of vegetarian. This delicious recipe is full of bold flavors and different components creating a filling balanced meal and colorful bowls. Bowl recipes are a bit more preparation intensive but totally worth it for the end result!
Jump to:
What is a Buddha Bowl?
You may have heard the term Buddha Bowl and wondered what the heck one is! Any confusion is understood. It's a term for a plant-based protein bowl but like charcuterie boards has taken on liberal definition with no consistent ingredients.
Buddha bowls are plant-based bowls with a variety of ingredients to provide different flavors and different types of ingredients to create a balanced assortment of ingredients, with one not out weighing another in portion. They are similar to a grain bowl but don't have to contain a grain. They can have a dressing but don't have to.
Ours follows this principle with black lentils being the protein superstar of the dish. They are warmed in a spicy, salty, sweet sauce alleviating the need for a dressing.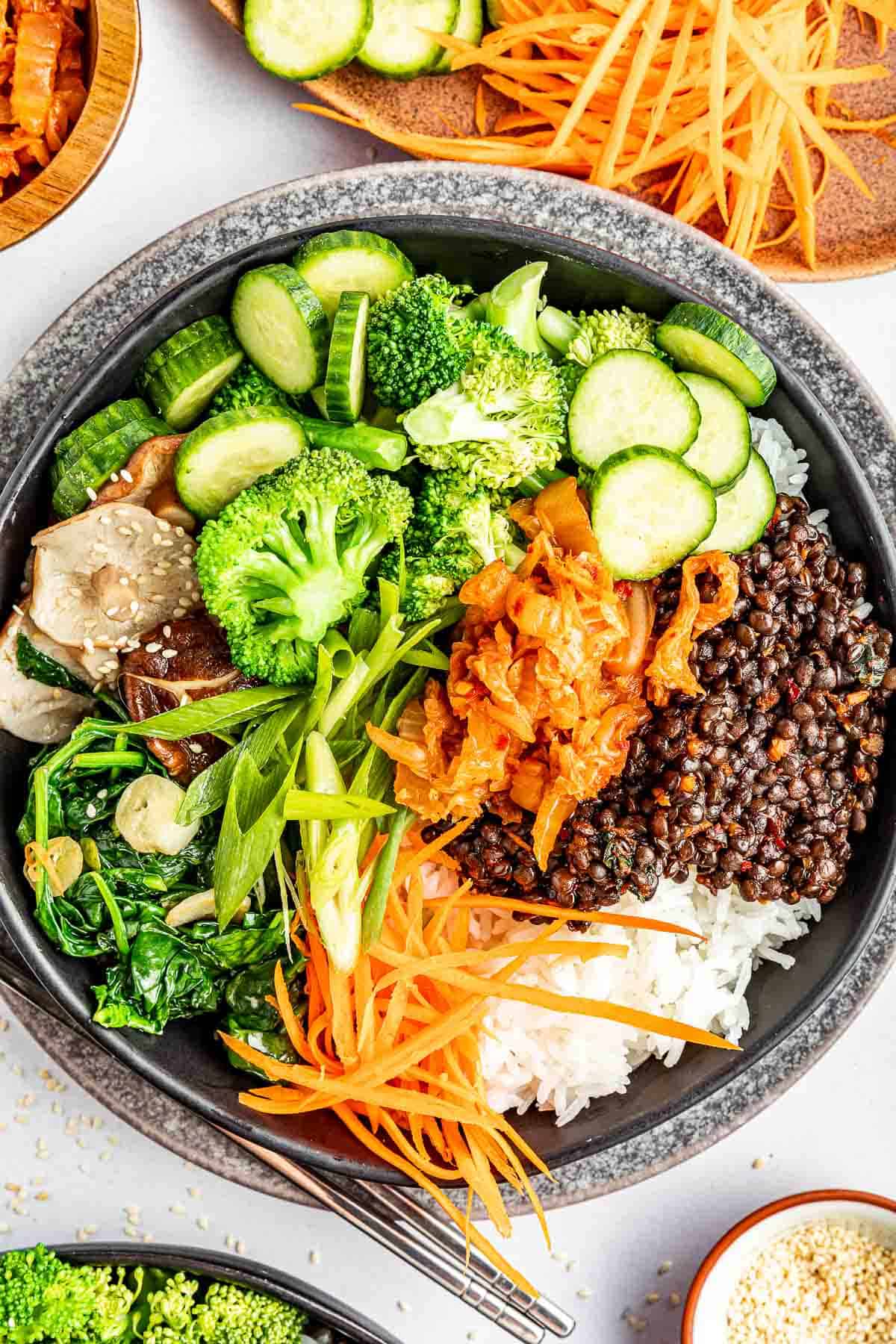 What makes this skinny?
Loads of fresh vegetables and lower calorie ingredients to create a filling and satisfying meal
Using cauliflower rice instead of regular rice
Scaling back the oil to the minimum needed to cook the components of the bowl recipe. Using a non-stick skillet is key to keep the oil amount lower.
Recipe Ingredient Notes
For the complete ingredient list and amounts, refer to the printable recipe card at the end of the post.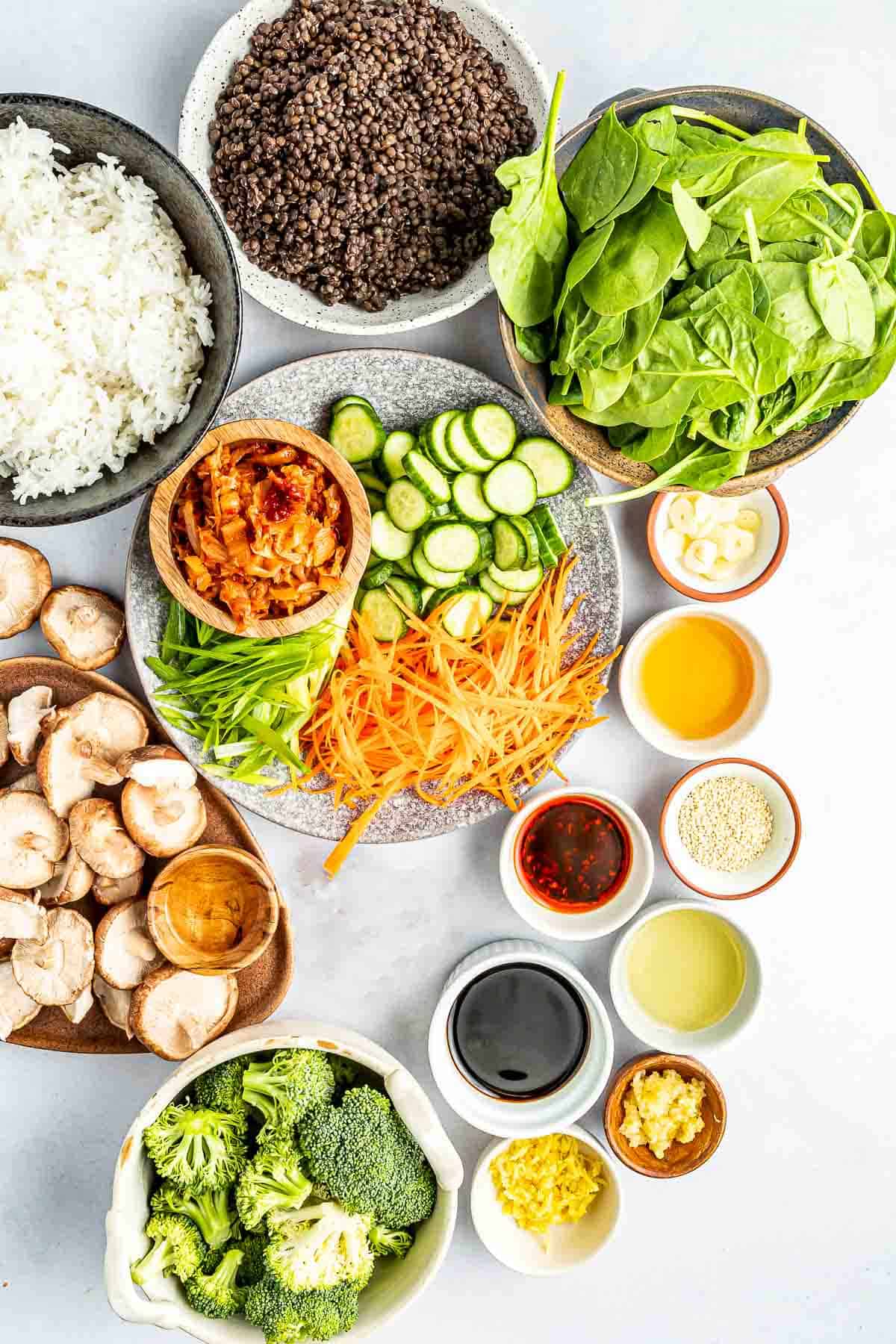 Olive oil. One tablespoon of olive oil is used for sautéing the mushrooms.
Mushrooms. Two cups of sliced mushrooms are sauteed as an ingredient for the bowl. Any type of mushrooms can be used. I love baby bella mushrooms which are young portobella mushrooms. They have a meaty flavor. As a time saver you can purchase them already sliced from the grocery store.
Rice vinegar. Also called rice wine vinegar, you'll want the unseasoned vinegar for this recipe. It's light tangy and slightly sweet. Can be found with Asian foods or vinegar at the grocery store.
Garlic. Fresh garlic cloves are used in two aspects of this Buddha Bowl. Two cloves are thinly sliced and cooked with the fresh spinach. Three cloves are pressed and cooked with the sauce for the lentils.
Fresh baby spinach. You'll need 5 ounces of fresh spinach leaves. This is one of the main sizes of plastic containers of spinach found at the store. The leaves have already been washed and are ready to use. Rough chop the leaves before starting the recipe.
Chili oil. This spicy oil is used in the sauce for the black lentils. It adds loads of flavor and some heat. You'll use two teaspoons.
Fresh ginger. Minced fresh ginger builds zesty flavor in the black lentils.
Low sodium soy sauce or tamari. Either low sodium soy sauce or low sodium tamari can be used.
Honey. One teaspoon of honey adds just a touch of sweetness to the salty, spicy sauce for the lentils.
Black lentils (beluga lentils). You'll need to start with two cups of cooked black lentils. They can be canned (rinsed and drained) or cooked from scratch (instructions on the package). Black lentils are smaller than regular lentils; they look similar to caviar which is where the 'beluga' reference originates. They hold their shape when cooked making for an appealing texture. They are also the most flavorful and nutritious of the lentil varieties and have the lowest calories. The high protein level of lentils makes them a great plant-based meat substitute.
Cauliflower rice. Most Buddha Bowls or grain bowls contain some whole grains like rice. This bowl can definitely be made with brown rice or white rice. For calorie savings we recommend making the bowl with cauliflower rice. You can use prepared or frozen and prepared cauliflower rice. Or make it from scratch using this cauliflower rice recipe as a guide (just skip the added ingredients).
Steamed broccoli. Another great ingredient in the Buddha bowl. For a shortcut use a microwaveable bag of fresh broccoli. Ready in a couple minutes.
Persian cucumbers. These mini cucumbers are perfect for bowl recipes. Like English cucumbers they have a thin skin and just need to be rinsed, patted dry and thinly sliced. You'll need two.
Scallions (green onions). Two will be sliced to be added to the bowl.
Carrots. Two medium carrots are peeled and julienned (cut into short thin sticks).
Kimchi. If you have not tried kimchi it's a star in this recipe. Kimchi is a traditional Korean dish made of salted and fermented vegetables. It adds a spicy, tangy, sour flavor to the bowl. It's spicy, delicious and available at most grocery stores.
Sesame seeds. These are a garnish and can be regular or toasted. You'll use two teaspoons sprinkled across the four bowls (½ teaspoon per bowl).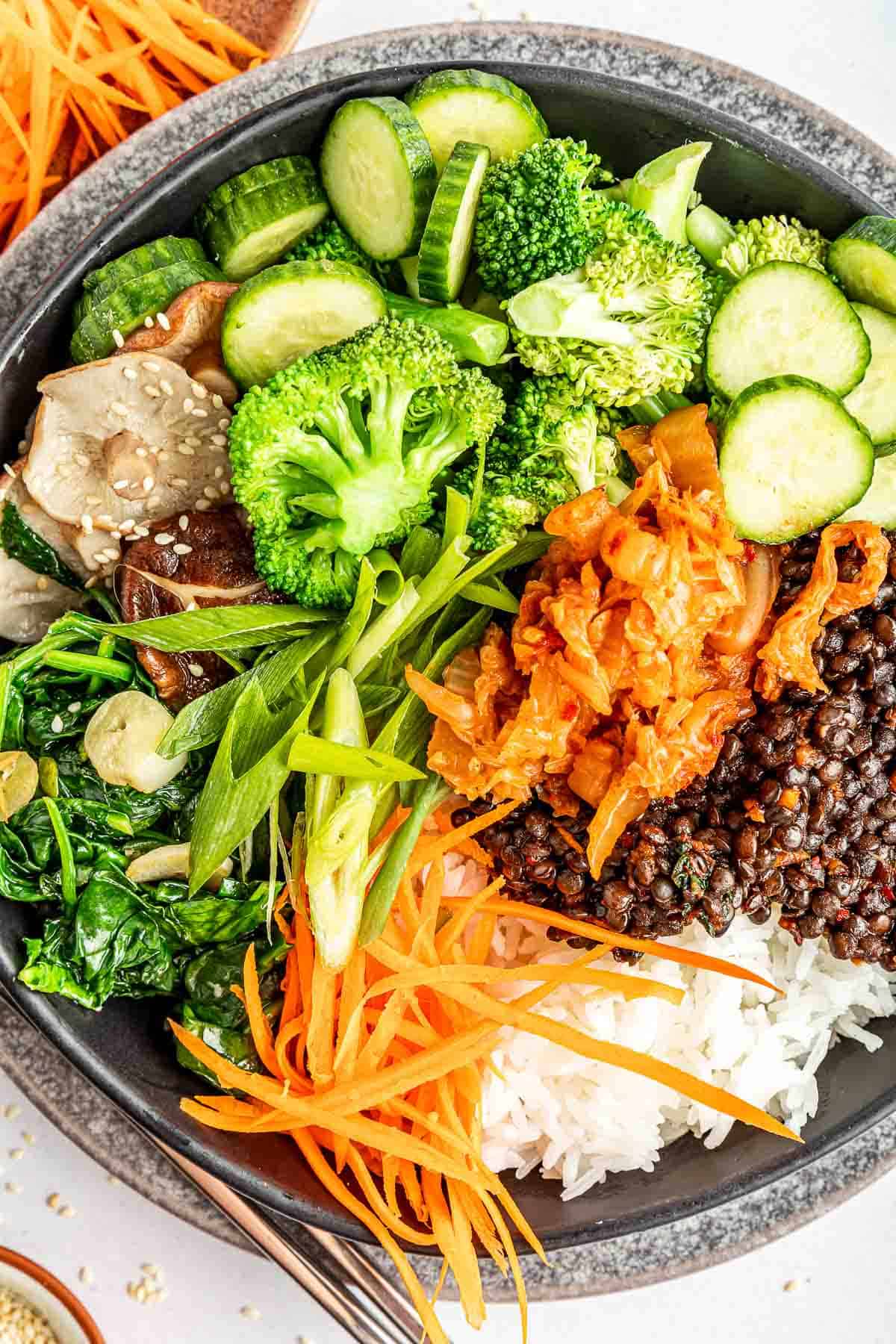 How to Make it
STEP 1. Make the sauce for the lentils
In a small bowl whisk together chili oil, 3 cloves of pressed garlic, fresh ginger, soy sauce or tamari, and honey (photo 1). Set aside.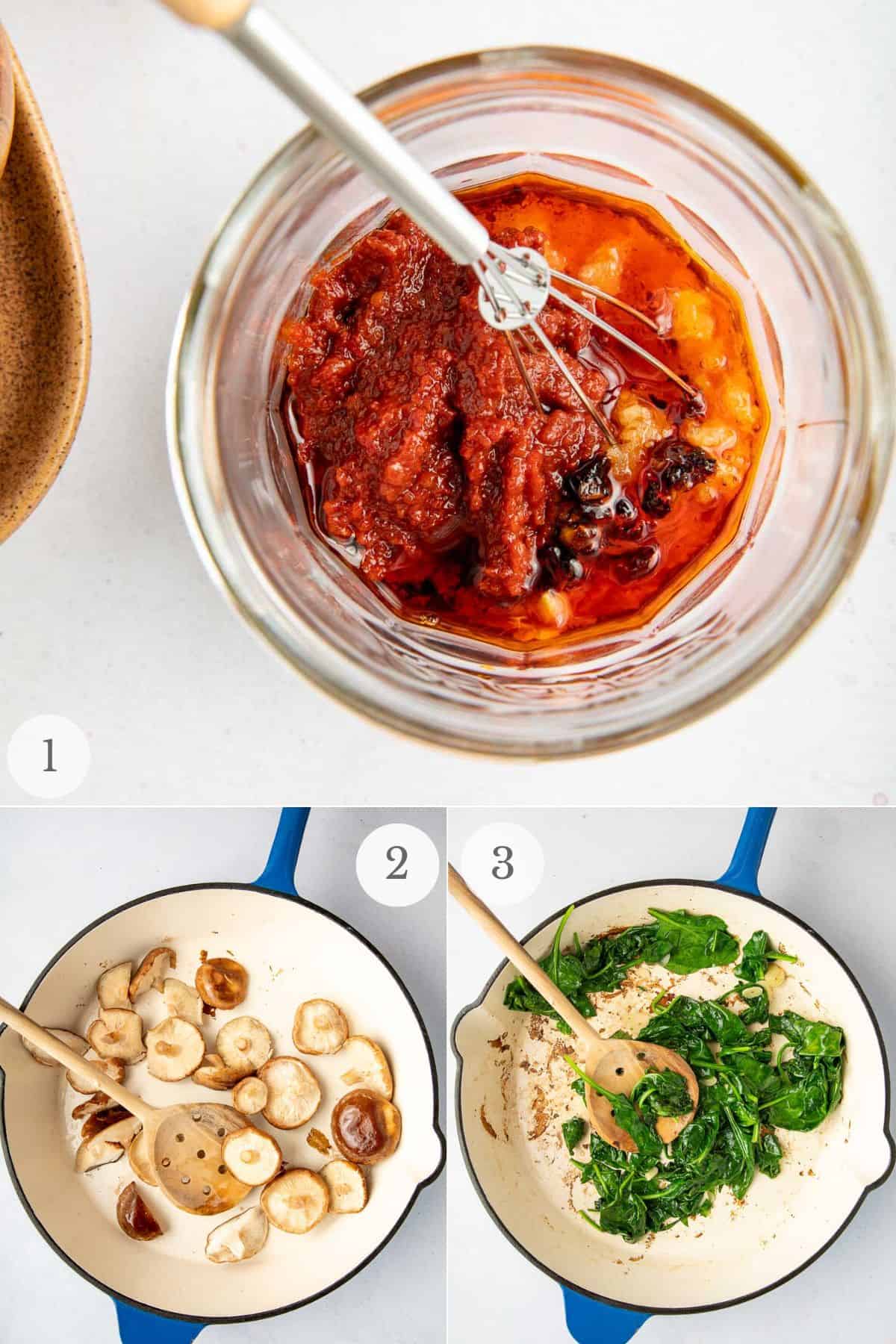 STEP 2. Sauté the mushrooms
IN a large non-stick skillet heat the olive oil over medium-high heat. When hot add the mushrooms and sauté stirring often until the mushrooms begin to brown and release their moisture (3-4 minutes) (photo 2).
Pour in the rice vinegar to deglaze the pan, scraping up any browned bits sticking to the pan (cook 1 minutes). Remove the mushrooms from the skillet and set aside.
STEP 3. Cook the spinach
In the same hot skillet spritz with olive oil spray and add the sliced garlic. Sauté for 30 seconds and add the chopped spinach leaves. Stirring constantly cook just until the leaves are wilted (photo 3). Remove from pan and set aside.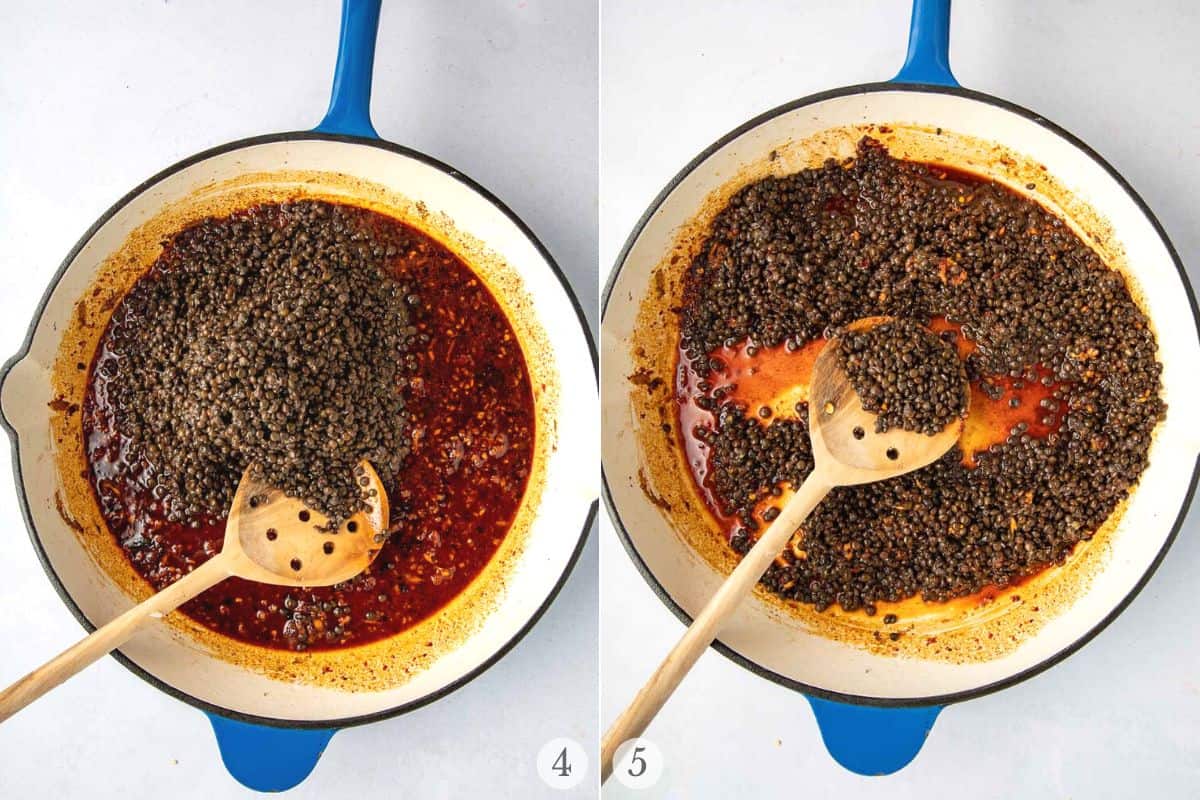 STEP 4. Black Lentils + Sauce
Still using the same skillet over medium-high heat, add the sauce from Step 1 (if the honey has settled whisk before pouring into the pan). It will quickly come to a simmer. Add the cooked black lentils (photo 4) and simmer for 2-3 minutes stirring often (photo 5).
STEP 5. Assemble the Buddha Bowls
In each of four bowls (or in meal prep containers if making ahead) evenly add the cauliflower rice, steamed broccoli, cucumber slices, sliced scallions, carrot sticks, kimchi, mushrooms, wilted spinach and the lentils. Sprinkle each bowl with ½ teaspoons of the sesame seeds.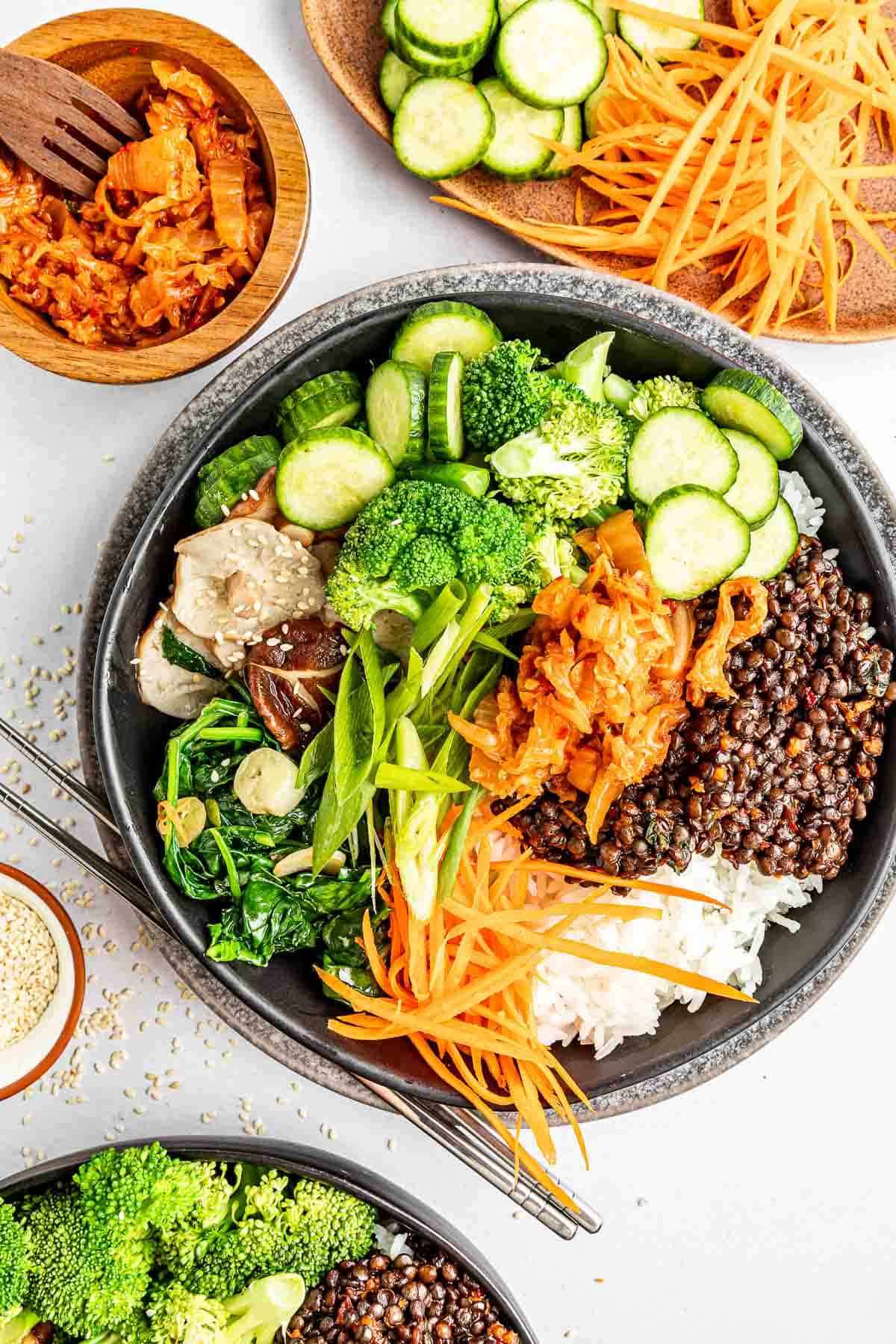 Variations
If you are tracking calories or Weight Watchers Points substitutions may change the calorie values listed for this bowl.
Flexibility is one of the best parts of bowl recipes. If there is something you don't care for or have on hand you want to use up, substitute away. Use different fresh veggies or your favorite vegetables, a grain instead of cauliflower rice, add a sauce like our lower calorie peanut sauce; it's really easy to do that. It's easy to create your own Buddha Bowl.
Try other vegetables. Some other vegetables to consider are snow peas, red bell pepper slices (or other bell peppers), red cabbage, green beans, thinly sliced romaine lettuce, air fryer brussels sprouts other seasonal veggies, some fresh cilantro.
Lentil substitution. If you want to use a different type of lentil stick with green or brown which retain their shape when cooked. For a different plant-protein try crispy tofu.
Cauliflower rice substitution. If you want to add healthy grains consider fluffy quinoa, black rice, wild rice or regular white or brown rice.
To make a vegan buddha bowl recipe. You can swap the honey with maple syrup in the sauce to make this bowl vegan. This bowl is also gluten-free if using tamari instead of soy sauce.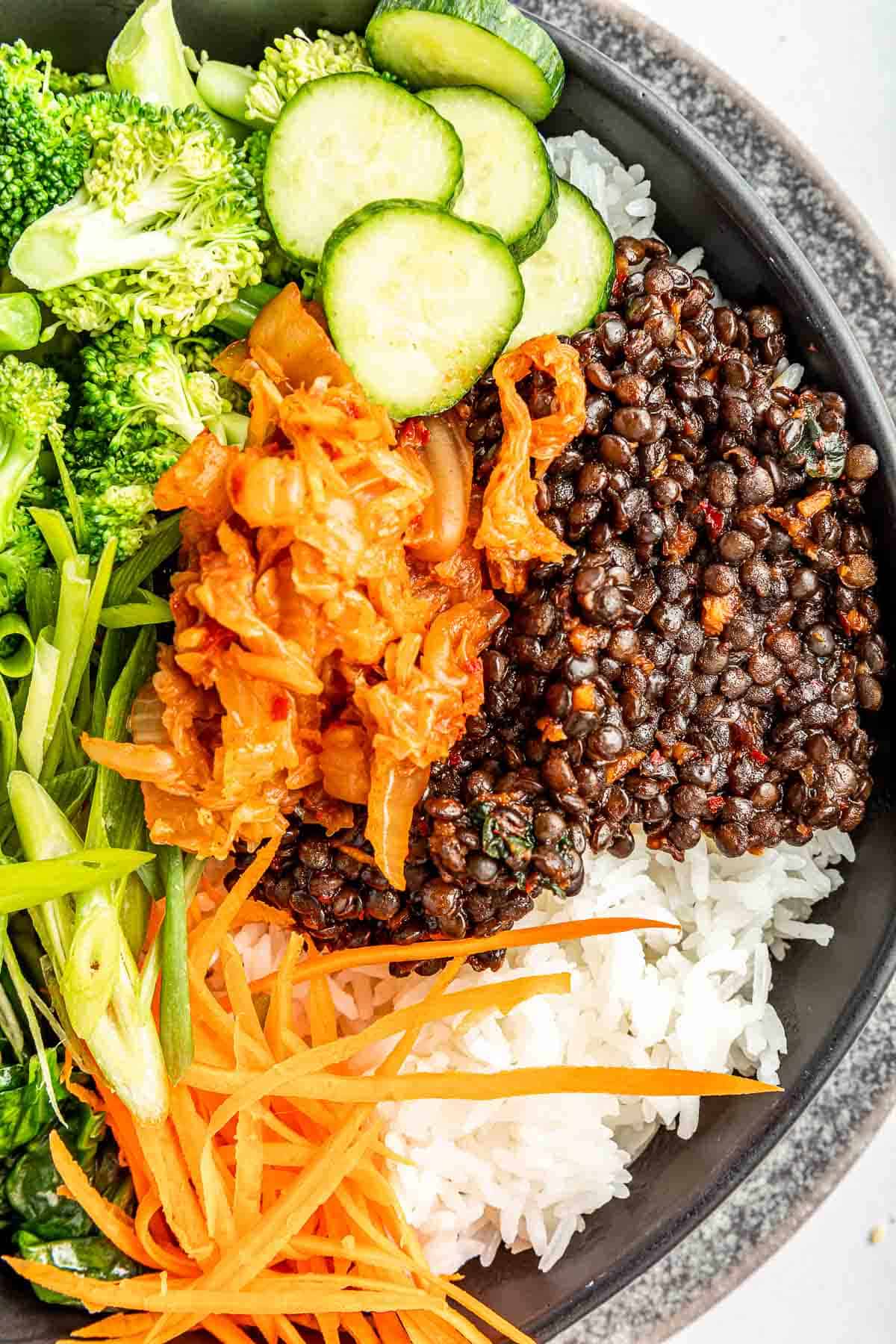 How to Store
If not eating the Buddha bowl immediately they can be stored in an airtight container in the refrigerator for up to 4 days. It's a delicious meal prep dish too!
Frequently Asked Questions
Can I use black beans instead of lentils?
We don't recommend swapping them into this recipe due to their flavor not match the flavors of the sauce and may conflict with some of the other bowl ingredient flavors too.
More recipes you'll love!
Recipe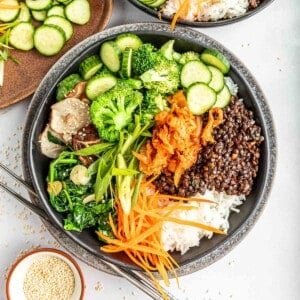 Buddha Bowl Recipe
Click to track Weight Watchers Points
Buddha Bowls offer a little bit of lots of different components for a colorful, satisfying plant-based one dish meal. The combination of salty, sour, tangy, sweet flavors and appealing textures make this recipe an exciting dish to tantalize your taste buds.
Print
Pin
Rate
Ingredients
2

teaspoons

chili oil

3

cloves

garlic

pressed

1

tablespoon

minced fresh ginger

¼

cup

low sodium soy sauce or tamari

1

teaspoon

honey

1

tablespoon

olive oil

2

cups

sliced mushrooms

any type will work (I love Baby Bellas)

2

teaspoons

rice wine vinegar

unseasoned

2

cloves

garlic

thinly sliced

5

ounces

chopped fresh spinach

2

cups

cooked black lentils
Bowl ingredients: Have these prepared before starting the rest of the recipe
2

cups

cooked cauliflower rice

2

cups

steamed broccoli

2

Persian cucumbers

thinly sliced

2

green onions

thinly sliced

2

carrots

thinly julienned

½

cup

kimchi

2

teaspoons

toasted sesame seeds
Instructions
In a small bowl, whisk together the chili oil, garlic, ginger, soy sauce and honey. Set aside.

2 teaspoons chili oil,

3 cloves garlic,

1 tablespoon minced fresh ginger,

¼ cup low sodium soy sauce or tamari,

1 teaspoon honey

Heat the olive oil in a large non-stick skillet over medium-high heat. Once hot, add in the mushrooms and cook for 3-4 minutes until browned and releasing moisture. Add the vinegar, scrapping up any bits on the bottom.

Remove the mushrooms from the pan and set aside.

1 tablespoon olive oil,

2 cups sliced mushrooms,

2 teaspoons rice wine vinegar

Lightly spritz the skillet with non-stick cooking spray or olive oil spray. Add the sliced garlic stir for 30 seconds. Add the chopped spinach. Cook, stirring constantly, just until the spinach is wilted, remove and set aside.

2 cloves garlic,

5 ounces chopped fresh spinach

Add the ingredients from step 1 and the lentils to the skillet, still over medium-high heat. Bring to a simmer and cook for 2-3 minutes until the sauce is incorporated into the lentils (they will still be saucy).

2 cups cooked black lentils
Assembling the bowls
Evenly divide between four bowls: the cauliflower rice, broccoli, cucumber, green onion, carrot, kimchi, mushroom, spinach, and lentil mixture. Sprinkle with sesame seeds and serve.

2 cups cooked cauliflower rice,

2 cups steamed broccoli,

2 Persian cucumbers,

2 green onions,

2 carrots,

½ cup kimchi,

2 teaspoons toasted sesame seeds
Notes
Variations
We've combined multiple ingredients, with different textures, flavors, temperatures to create this exciting Buddha Bowl. Bowl recipes are very flexible to be changed up with your favorite vegetables, grains or proteins. Swap in (and out) to make this your favorite. Swaps will change the nutrition facts, calories and Weight Watchers Points potentially.
How to Store
If not eating the Buddha bowl immediately they can be stored in an airtight container in the refrigerator for up to 4 days. It's a delicious meal prep dish too!
Nutrition
Calories:
455
kcal
|
Carbohydrates:
69
g
|
Protein:
32
g
|
Fat:
8
g
|
Saturated Fat:
1
g
|
Polyunsaturated Fat:
1
g
|
Monounsaturated Fat:
4
g
|
Sodium:
744
mg
|
Potassium:
990
mg
|
Fiber:
26
g
|
Sugar:
7
g
|
Vitamin A:
8800
IU
|
Vitamin C:
98
mg
|
Calcium:
180
mg
|
Iron:
11
mg