Need some healthy Halloween snacks that don't break the calorie bank? These sweet treats are a fun way to celebrate without loads of sugar. A Halloween fruit platter idea is always a great solution and delicious!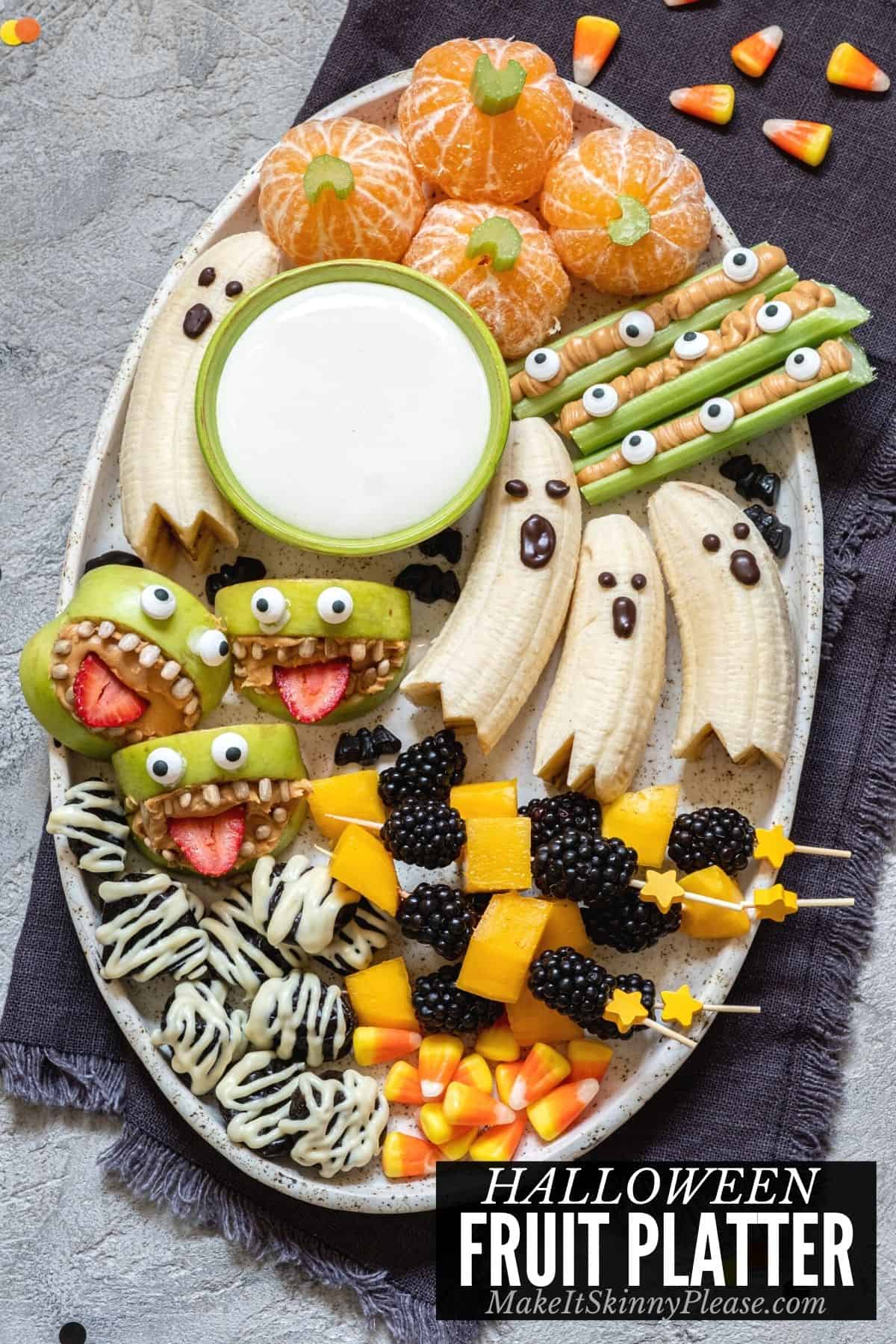 Healthy Halloween treats does not mean BORING Halloween treats. These fresh fruit healthy snacks are calorie-friendly and wholesome. The ingredients are easy to find and they can be whipped up at the last minute.
They are a great option for a school snack or school parties to avoid sugar overload too. Easy Halloween treats are fun for kids and adults.
Pair this with our skinny Charcuterie Board or Halloween Veggie Tray and your Halloween party menu will be a hit. Great for guilt free class parties too.
Jump to:
What you'll need!
To make these healthy Halloween recipes and fun treats you'll need the following (this list for all the treats):
Apples (we love green apples)
Raw sunflower seeds or slivered almonds
Nut butter*
Edible candy eyes. Can be found where baking supplies are sold (grocery store, kitchen or craft stores) or online.*
Strawberries
Clementines or tangerines
Celery
Bananas
Mini Chocolate Chips*
Regular size chocolate chips*
Large seedless grapes
Mini cookie cutters (optional)
Canned lychee fruit
Blueberries
Mango
Blackberries
Weight Watchers Points
Currently fruit is zero points on WW (formerly Weight Watchers) making this fruit platter a great choice for a health and calorie-friendly solution. Items with an * in the list above will need to be factored into your daily points.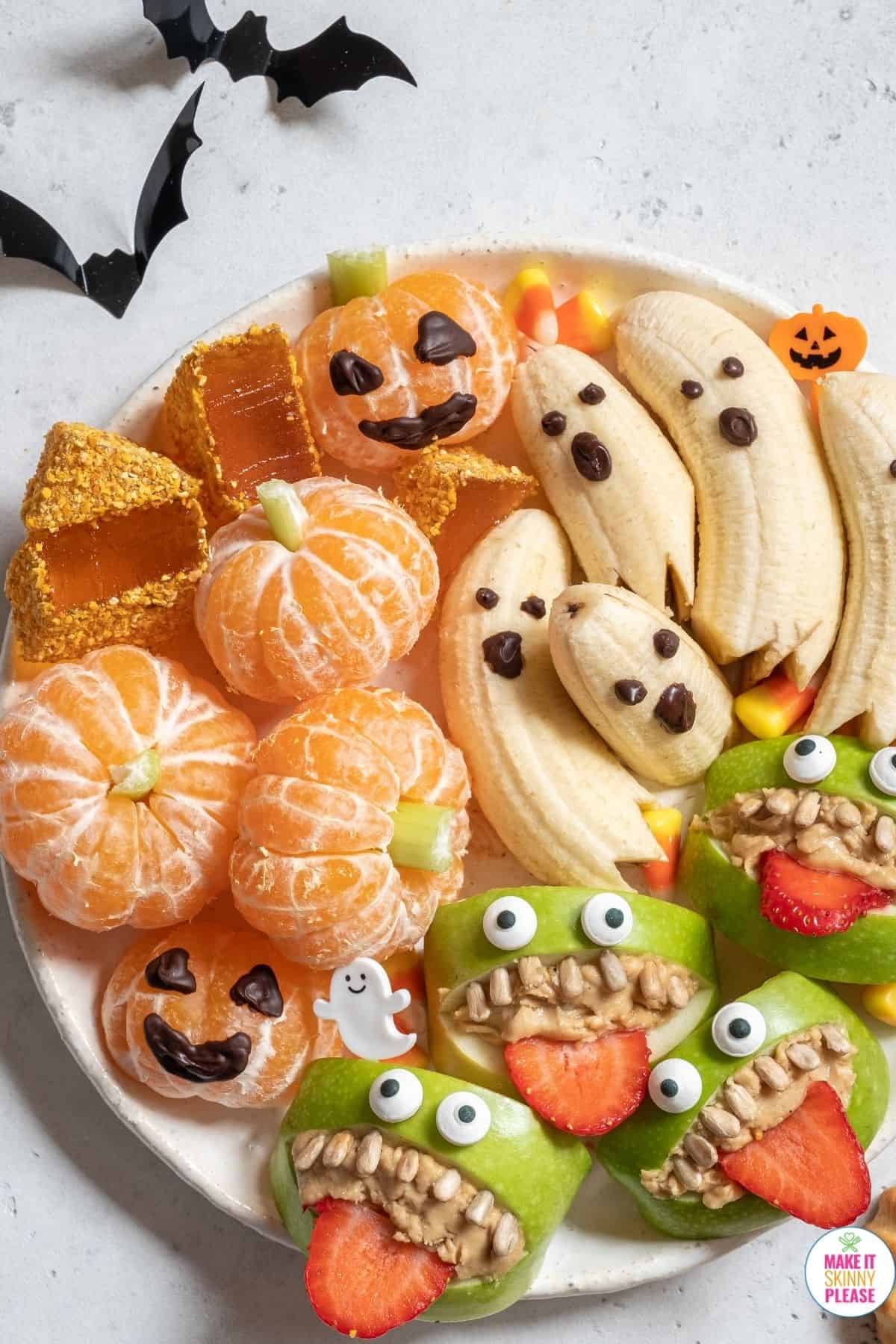 Halloween Fruit Tips
Fruits like apples, pears and bananas will oxidize when left sitting out, meaning they will turn brown. It's best to prepare these treats close to when you'll serve them.
Dipping the fruit in lemon juice can slow the browning but you can taste it a bit too.
Store in an airtight container in the refrigerator to slow the browning also.
How much to serve?
We planned one of each treat per guest in the recipe card below. The treats can be mixed and matched or just make one or two!
The amount you'll need depends on what else is being served, if this is for appetizers or part of a Halloween buffet.
Apple Monster Mouths
These apple snacks are wholesome and so funny. You'll need green apples, sunflower seeds, peanut butter (or other nut butter), strawberries and edible candy eyes.
The apples are cut into quarters and a V cut out of the front.
Smear a small amount of nut butter on the bottom of the inside of the mouth.
Insert sunflower seeds in the top for teeth.
Place a slice of strawberry on the nut butter for a tongue.
'Glue' the edible eyes on above the mouth with some nut butter.
All the ingredients can be found at the grocery store. The candy eyes can be purchased where baking supplies are sold or online.
You can substitute other nuts for the teeth: slivered almonds or pumpkin seeds. A sharp point helps insert the seeds or nuts to stay in place.
An alternative is to use mini marshmallows for teeth.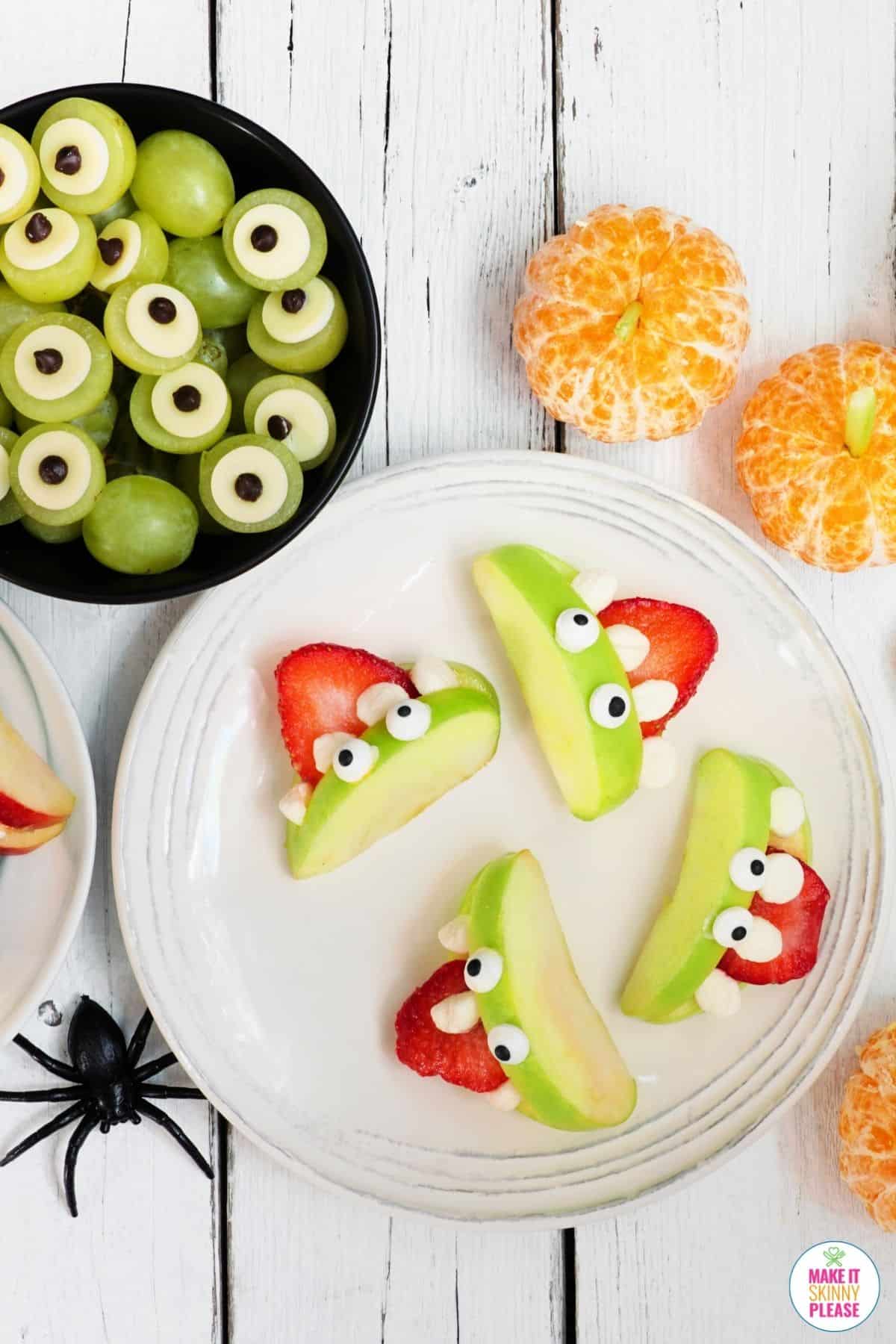 Mini Fruit Pumpkins
All you need for this is some clementines or tangerines and celery.
Peel the clementine and cut pieces of celery small enough to insert in the hole on top (between the segments) for a stem!
You can even cut the celery stick from the top of the stalk and include a leaf or two!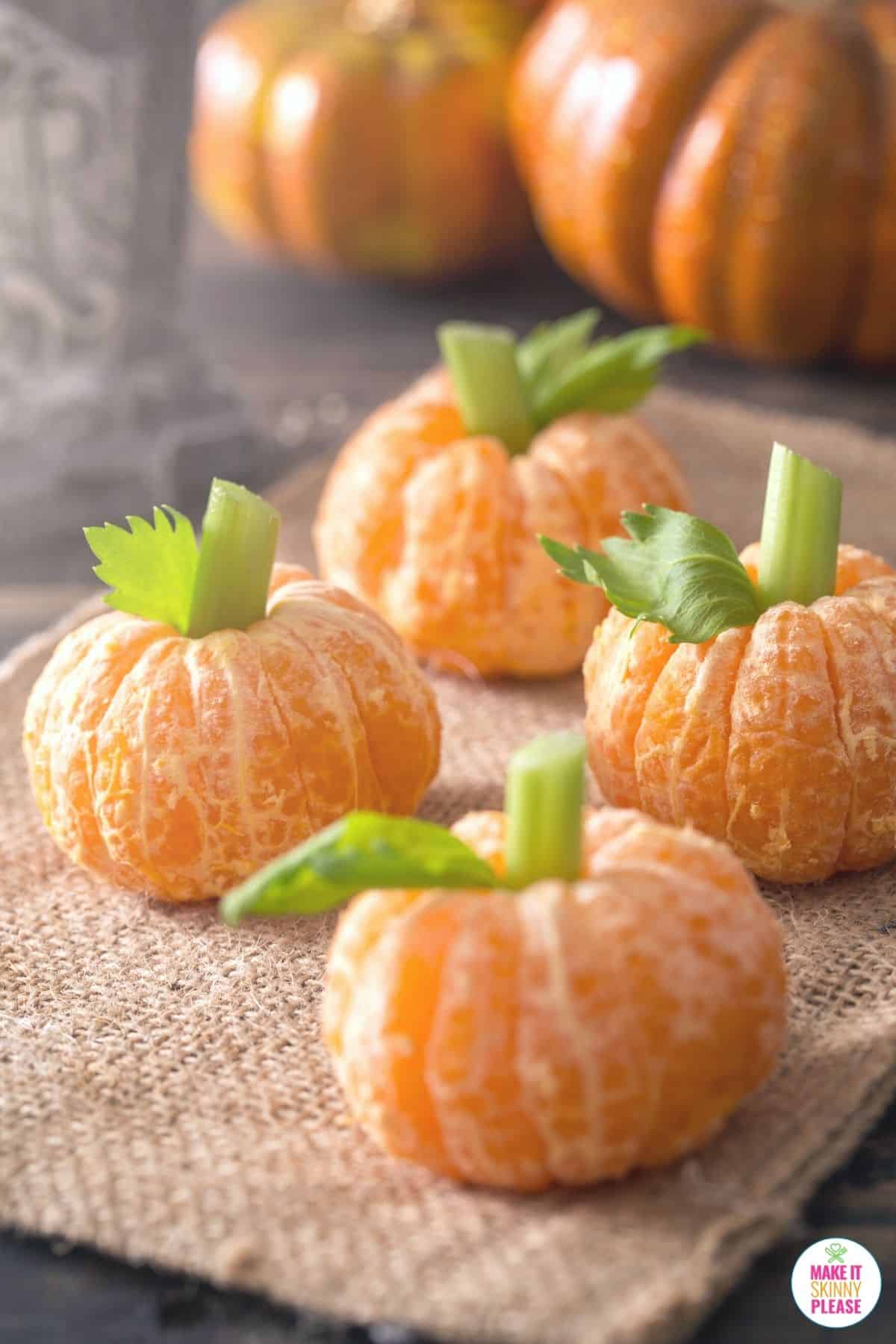 Banana Ghosts
Slice a half banana and insert mini chocolate chips for eyes and a full size chocolate chip for a mouth. Done in 30 seconds.
You can also melt chocolate to paint on a mouth and eyes but the chocolate chip method is fast and easy.
For fun add a popsicle stick in the bottom for a special treat.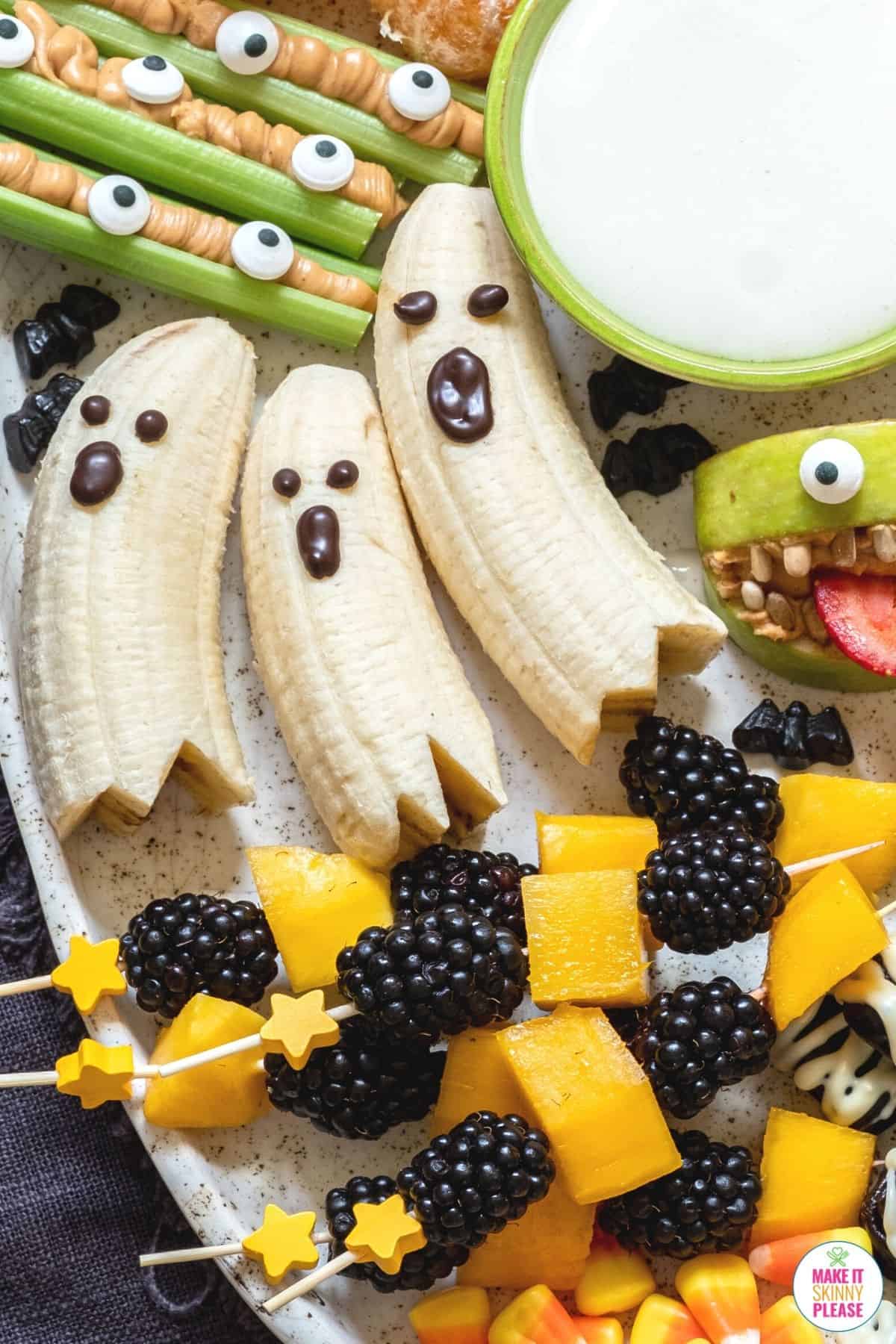 Grape Googly Eyes
Select large seedless grapes and slice them in half across the middle.
Set the grapes on their uncut end in a serving tray.
Place a candy eye in the middle of the cut section.
The moisture from the grape will keep them in place provided the grapes are snugly placed on the serving tray.
Spooky Celery Sticks
Fill celery sticks with nut butter and add a few edible eyes. Edible eyes on anything makes some Halloween fun!
Pro Tips: use smooth peanut butter and not natural peanut butter which separates. You can place the nut butter in a piping bag and pipe it into the celery stalk for a quick, tidy way to spread it.
Lychee Eyeballs
Lychee fruit is a sweet delicious tropical fruit available in cans. They are a plump white fruit with a natural hole in the end. Add a blueberry in the hole and you have bulbous edible eyes!
Fresh lychee can be found in Asian grocery stores and stores specializing in a broader range of fruits (like Whole Foods market). See photo below.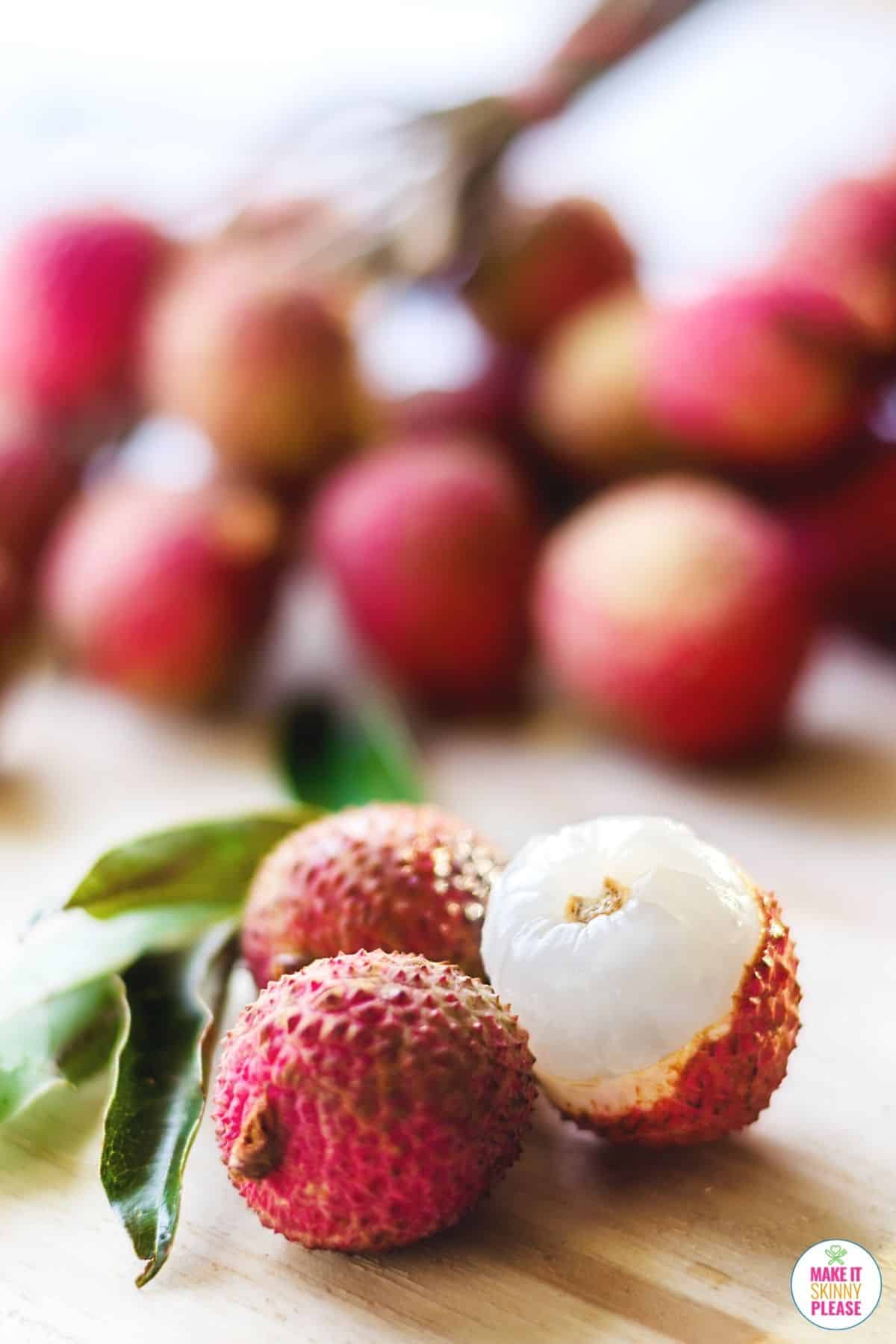 Fruit Skewers
Cut up pieces of mango and add with black berries for an orange and black fruit skewer. Use decorative skewers to make it more festive.
Cookie Cutter shapes
Mini Halloween cookie cutters can also be used to cut out fruit in spooky shapes. Like little jack o lantern faces! Cut thick slices of kiwi fruit (cut across the fruit) or pineapple to cut out shapes.
Recipe
Halloween Fruit Platter
This combination of cute spooky healthy Halloween treats make a perfect Halloween fruit platter. Simple, quick to make ideas that bring some wholesome sweet snacks to the Halloween party!
Print
Pin
Rate
Ingredients
Apple Monster Mouths
2

green apples

3

tablespoons

nut butter

16

edible candy eyes

1

package

slivered almonds

or shelled sunflower seeds

3-4

strawberries

stems removed, cut into ⅛-thick slices lengthwise
Clementine pumpkins
8

tangerines or clementines

peeled

1

stalk

celery
Banana Ghosts
4

bananas

cut in half across the middle

16

mini chocolate chips

8

regular size chocolate chips
Grape Eyes
4

large

seedless grapes

cut in half across the middle

8

candy edible eyes
Spooky Celery Sticks
2

large

celery stalks

rinses, trimmed and cut into 4 pieces per stalk

2.5

tablespoons

nut butter

24

candy eyes
Lychee Eyeballs
8

lychee fruit

fresh and peeled or canned and drained

8

blueberries
Orange and Black Skewers
24

fresh blackberries

rinsed and patted dry with paper towels

24

bite-size pieces of mango
Instructions
Apple Monster Mouths
Cut the apples into quarters. Cut out the seeds. Cut a wedge out of the skin side of the apple for the mouth.

Divide 2 ½ tablespoons of the nut butter between the apples and spread inside the cut out wedge.

Insert slivered almonds or sunflower seeds into the top of the mouth. Place a slice of strawberry on the nut butter on the bottom of the mouth for a tongue.

Dip the back of two candy eyes in the remaining nut butter and stick to the apple above the mouth.
Clementine pumpkins
Cut the celery stalks into pieces that will fit into the center top of the tangerine or clementine. Option: cut from the top of the stalk to include some leaves.

Insert into the top of the fruit.
Banana Ghosts
Insert two mini chocolate chips for eyes and one regular size for a mouth.
Grape Eyes
Place the grapes uncut side down on a serving platter. Place a candy eye on the cut side of the grape.
Spooky Celery Sticks
Spread the nut butter evenly between the cut celery pieces (aproximately 1 teaspoon per celery piece). Add 3 candy eyes on the nut butter.
Lychee Eyeballs
Insert one blueberry into the hole at the end of the lychee fruit.
Orange and Black Skewers
Thread each skewer with 3 blackberries alternating with 3 pieces of mango.
Notes
Nutrition information. These are guidelines and can change based on ingredients used. For instance what type of nut butter is used. These facts are for 1 of each of the treats as a full serving.
Weight Watchers Smart Points: If following a Weight Watchers plan as of the writing of this fruit is zero points so the points that would need to be counted would be for the nut butter, chocolate chips and candy eyes.
WW Personal Points
We recommend adding the ingredients for whichever fruit treats you plan to serve into your personal WW app for the correct points values.
Prep time: estimation for making all the treats in the recipe card.
Scaling the recipes. To make more or less either increase or decrease the ingredients proportionately in each treat recipe.
Nutrition
Calories:
584
kcal
|
Carbohydrates:
130
g
|
Protein:
9
g
|
Fat:
10
g
|
Saturated Fat:
2
g
|
Polyunsaturated Fat:
2
g
|
Monounsaturated Fat:
5
g
|
Trans Fat:
1
g
|
Cholesterol:
1
mg
|
Sodium:
16
mg
|
Potassium:
1572
mg
|
Fiber:
16
g
|
Sugar:
109
g
|
Vitamin A:
7428
IU
|
Vitamin C:
262
mg
|
Calcium:
153
mg
|
Iron:
2
mg